2019 Beer Cider Love Brings Together Fort George Brewery, Finnriver Cider and Hair of the Dog Brewing
|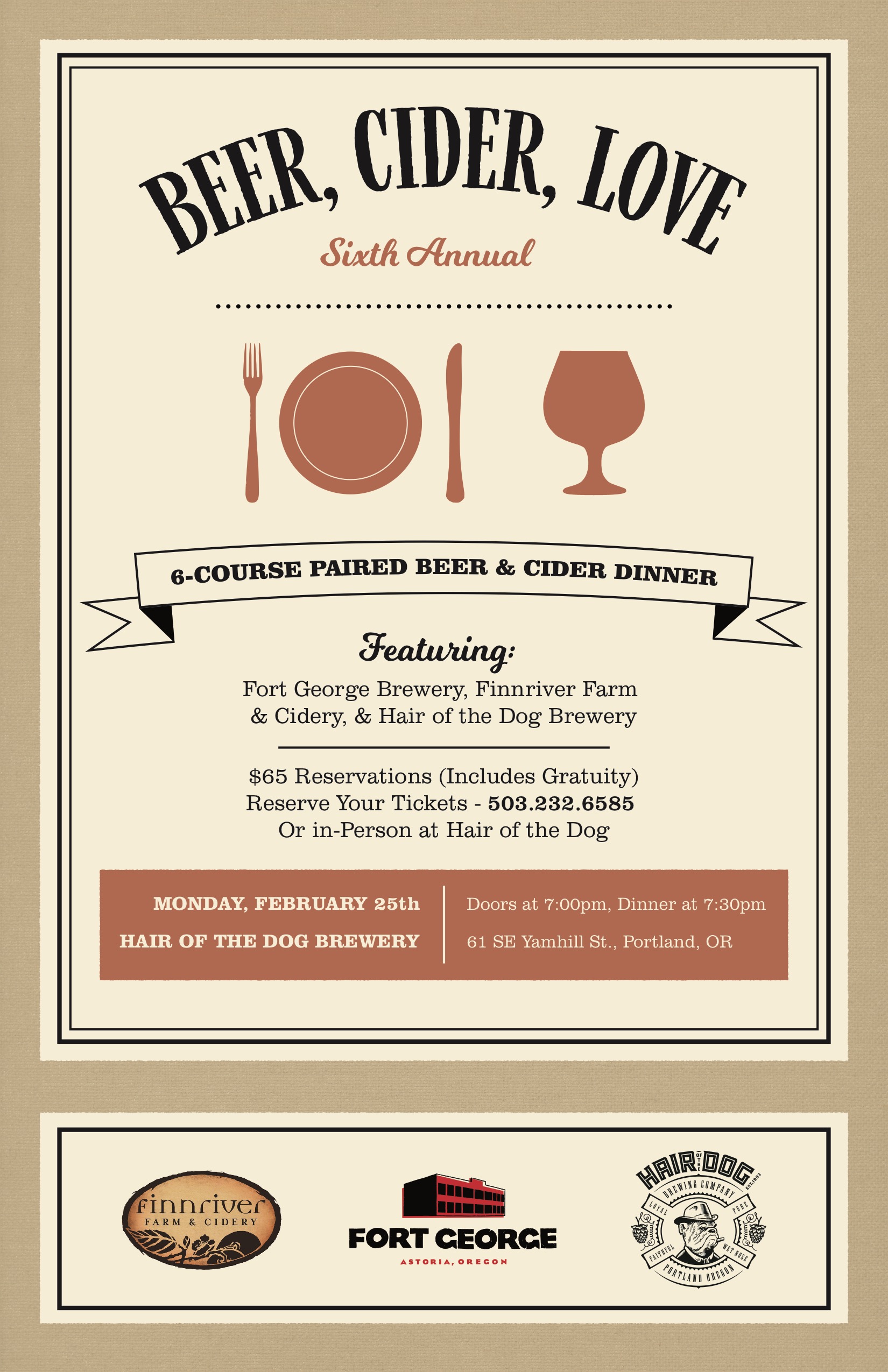 The 2019 edition of Beer Cider Love returns with Fort George Brewery, Finnriver Cidery and Hair of the Dog Brewing Company. All three beverage producers will unite for a six-course beer and cider paired dinner on Monday, February 25th at Hair of the Dog Brewing.
Beer Cider Love is now in its sixth year as it brings together beer and cider from the loving partnership of Fort George and Finnriver's sales managers, Tim Ensign and Jana Daisy-Ensign. This year the couple is honored to collaborate with their long-time mentor and friend, Alan Sprints and the amazing culinary team at Hair of the Dog.
The 2019 Beer Cider Love dinner brings together two craft breweries and a cidery with innovative cuisine. Doors open at 7pm, dinner starts at 7:30pm.
Beer Cider Love Dinner Menu:
1st Course – Gaeng Prik Hot and Spicy Thai Consommé
served with Finnriver Solstice Saffron Cider
2nd Course – Parmesan Crisp, Caramelized Onion and Garlic Custard, Macerated Fig
served with Fort George Fields of Green IPA
3rd Course – Crisp Kale and Brussels Sprout Leaf Salad, Smoked Vegetable & Pear Cider Vinaigrette
served with Hair of the Dog Cherry Adam from the Wood
4th Course – House Cured Pancetta Spaghetti Carbonara
served with Finnriver Barrel & Bramble (Sour Black Currant) Cider
5th Course – Butter Poached True Cod, Mushroom Risotto, Saffron Cream
served with Fort George Matryoshka Stout
6th Course – Cinnamon Apples Anna, Marionberry Chutney, Hopped Apple Sugar Tuiles
served with Hair the Dog Bourbon Fred from the Stone
Tickets to this beer and cider dinner are $65 per person includes six courses, pairings and gratuity. Reservations can be made in person at Hair of the Dog or by calling (503) 232-6585.
Hair of the Dog Brewing
61 SE Yamhill Street
Portland, OR 97214