4th Annual Portland Hot Sauce Expo – August 17-18, 2019
|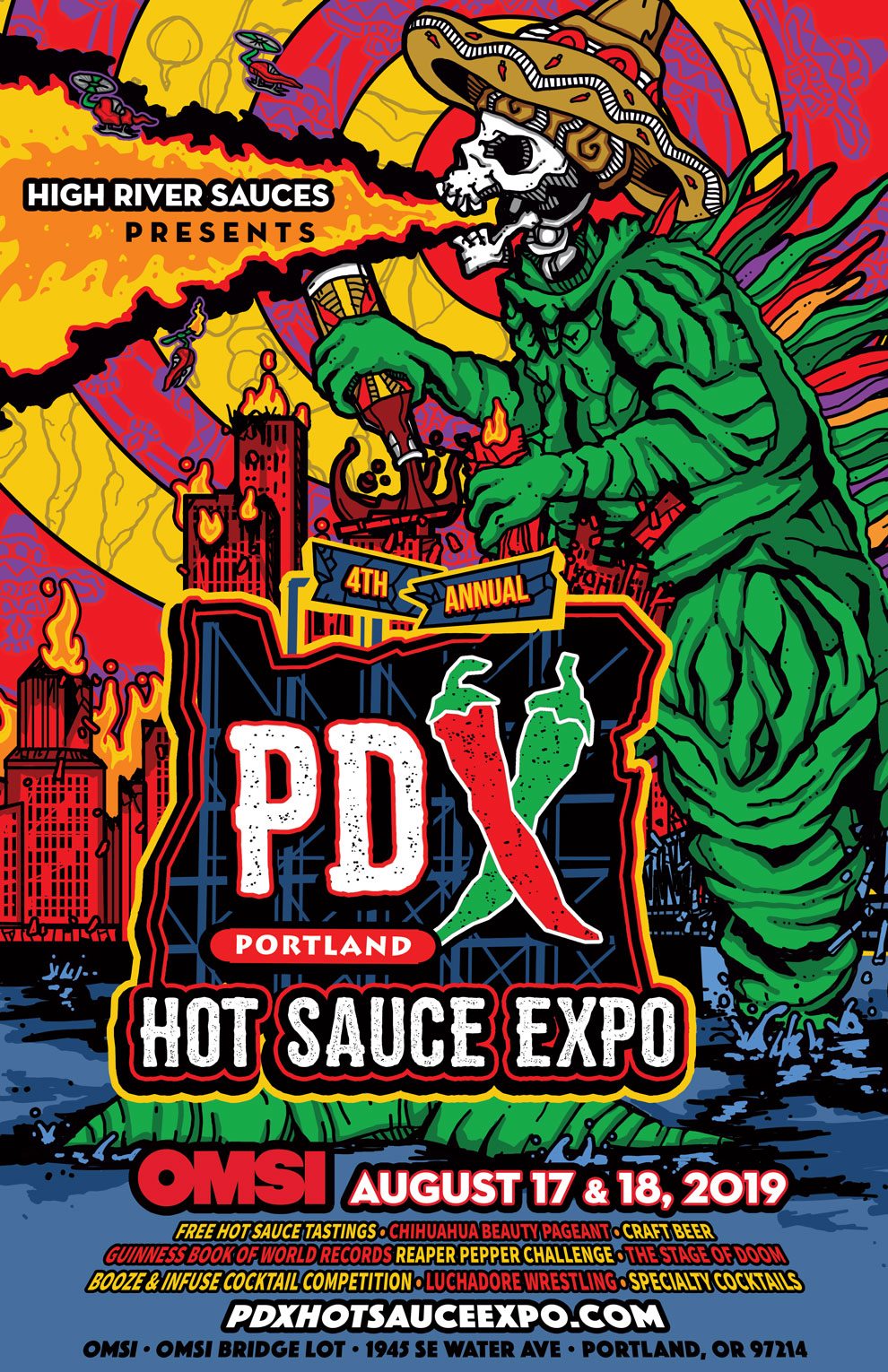 Prepare your taste buds for the hottest festival around when the 4th Annual Portland Hot Sauce Expo returns to the Rose City on Saturday, August 17th and Sunday, August 18th. This two-day expo is not for the faint of heart at it's an assault on your senses!
Held outdoors on the southside of OMSI with easy access from TriMet and the Portland Streetcar, The PDX Hot Sauce Expo will bring together over 40 hot sauce providers, The Stage of DOOM, and Action Sport Wrestling while a playlist of metal music blares on the PA system. There will also be beer from Lagunitas, Spiked Agua Fresca, KOI Fusion and other spicy food and more. If it's hot and spicy, it'll be at the Hot Sauce Expo.
Founded by Steve Seabury, the PDX Hot Sauce Expo is now in its fourth year. He's been hosting these expos for the past seven years in New York and decided to bring it to Portland four years ago. Each year the attendance continues to grow as he brings to together some of the best hot sauces in the country, including his High River Sauces, a company that he founded in 2011.
Prior to hosting his Hot Sauce Expos, Seabury spent time in the world of rock n' roll. He even authored MOSH POTATOES, a cookbook of recipes from various rock musicians.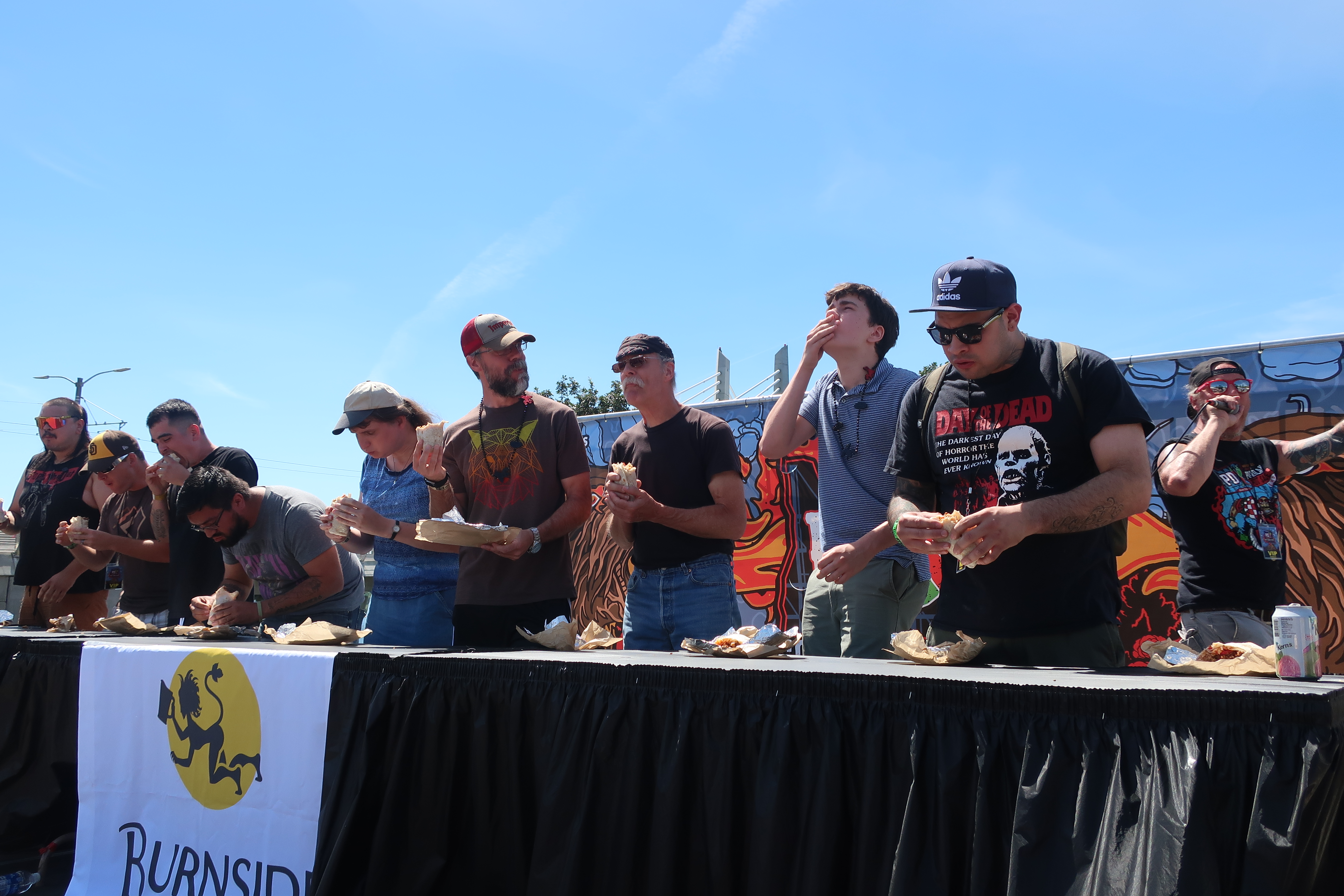 Circling back to the Hot Sauce Exp, earlier we mentioned The Stage of DOOM. This is the main stage where the various extreme eating challenges are held. Its were contestants challenge themselves on eating hot, spice foods. On Saturday there will be the Doughnuts of Death, Sausage of Destruction, Spicy Pizza, and Chili Dogs From Hell challenges. On Sunday there will be Fiery BBQ Pork and Carolina Reaper Burrito challenges.
Then to close out the expo on Sunday at 4:30pm, The Guinness Book of World Records Reaper Eating Challenge will take place with a $1000 Grand Prize! Contestants will vie for this big prize but only one will be crowned the winner after eating the most Carolina Reapers in 60 seconds. For many of the contestants the aftermath is not very pleasant. If you have what it takes then enter any of the expo's spicy food challenges spaces are limited but you can sign up here: info@pdxhotsauceexpo.com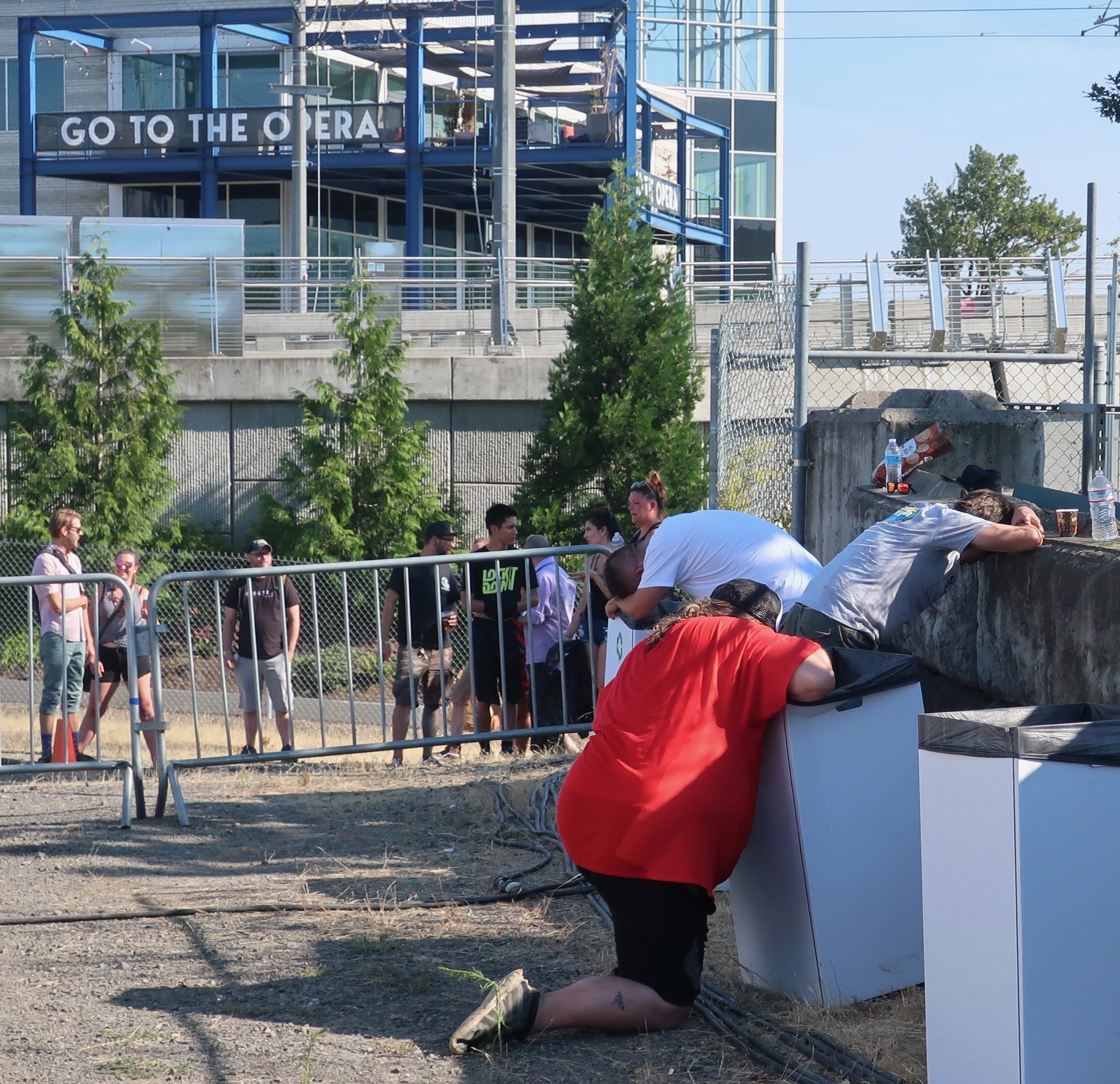 Here's the schedule of hot fun for the two-day PDX Hot Sauce Expo.
SATURDAY, AUGUST 17th SCHEDULE:
10:00am – Doors Open
12:00pm – Doughnuts of Death Challenge
1:00pm – Sausage of Destruction Challenge
1:30pm – Wheatley Vodka Cocktail Demo
2:00pm – The Judgement Day Challenge
3:00pm – Fuego Box Choco Challenge – $1000 Grand Prize
3:30pm – Duke Bourbon Cocktail Demo
4:00pm – Burns & McCoy presents The Demon Chili Dogs From Hell – $250 Prize
5:00pm – Spicy Pizza of Doom Challenge
6:00pm – Closing
SUNDAY, AUGUST 18th SCHEDULE:
10:00pm – Doors Open
12:00pm – Fiery Pork BBQ Challenge
1:00pm – Annual Chihuahua Beauty Pageant – $150 Prize
1:30pm – Wheatley Vodka Cocktail Demo
2:00pm – Slaytanic Burrito Challenge
3:00pm – Wheatley Vodka, Duke Bourbon, Southern Comfort & Hornitos Tequila Present The Booze & Infuse Cocktail Competition – Portland Preliminary Round – Winner Goes To NYC For National Championship & $5000.
4:30pm – Puckerbutt Pepper Company Presents The Guinness Book of World Records Reaper Eating Challenge – $1000 Grand Prize
6:00pm – Closing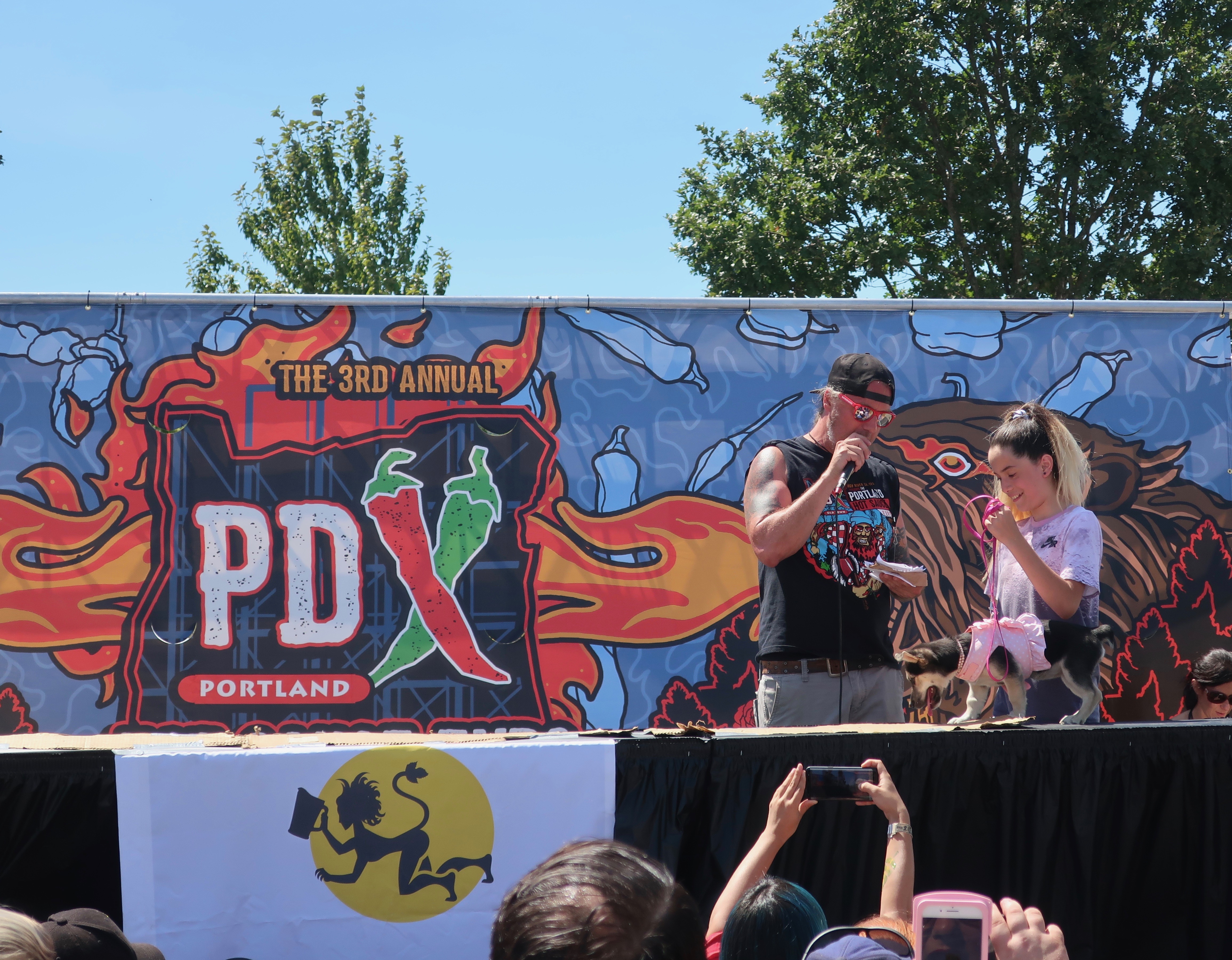 There are three ticket package options to choose from for the 4th Annual PDX Hot Sauce Expo including an entry level General Admission ($7), Craft Beer Package ($25), and Ultimate VIP Package ($75). Tickets can be purchased by CLICKING HERE. At the door General Admission Tickets will be $15 each and kids age 10 and younger are free with an adult.
General Admission Ticket includes FREE Tastings from all of the Hot Sauce Vendors, the Stage of Doom & Wrestling. Enjoy the best food vendors serving up the spiciest creations with plenty of craft beers and specialty cocktails at the bar.
Craft Beer Package includes a GA Ticket w/ FREE Hot Sauce Tastings, 3 Craft Beer Tokens and a bottle of High River Sauces Hot Sauce. (21 & over).
Ultimate VIP Package includes an All-Access Back Stage Pass into the exclusive VIP area. You will enjoy Complimentary Cocktails and Spirit Tastings, Craft Beers, free Bottle of High River Sauces, Limited Edition Expo T-Shirt and VIP Gift bag stuffed with sponsorship goodies. The Deal of The Century. (21 & over)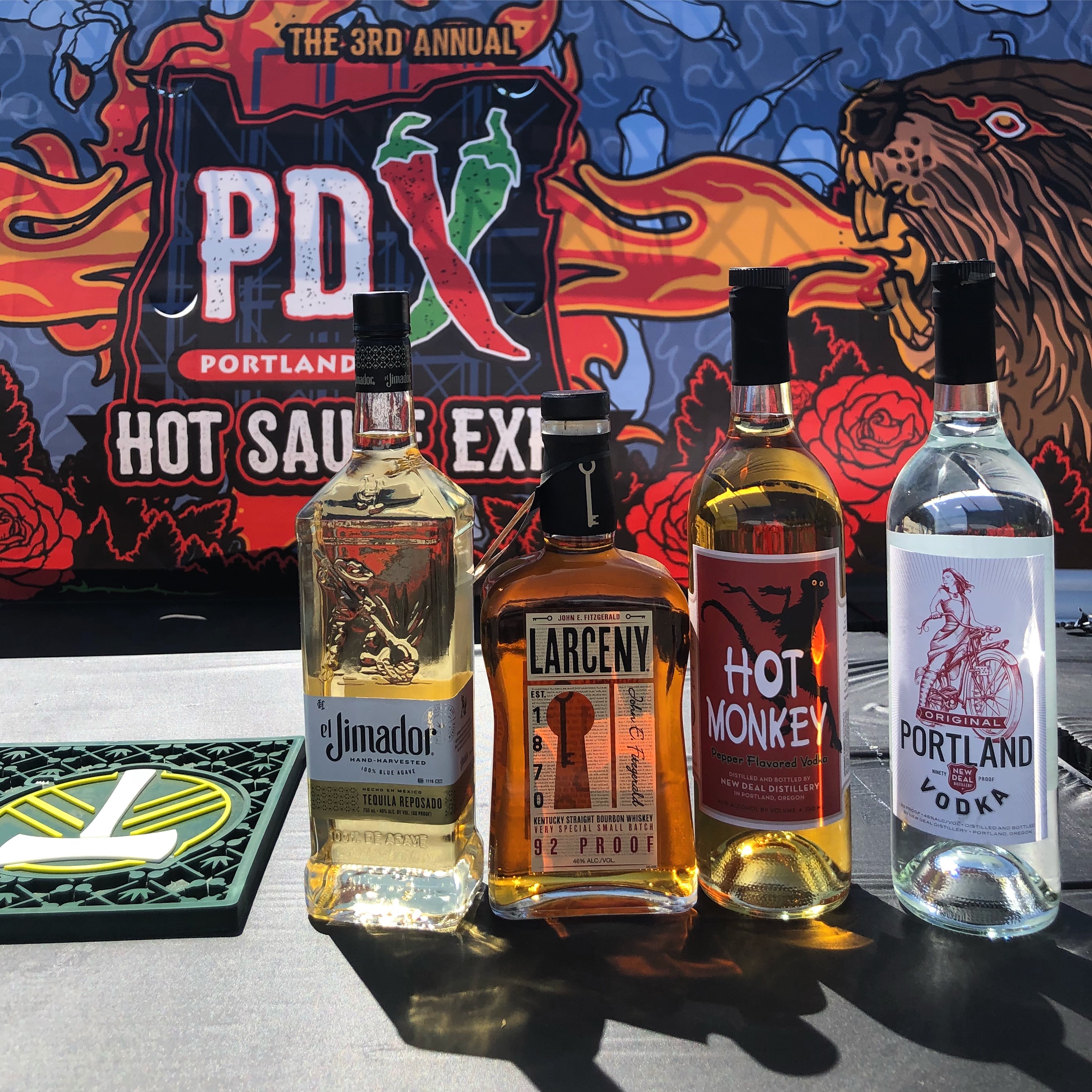 The 2019 PDX Hot Sauce Expo will feature over 40 hot sauce vendors sampling over 100 different hot sauces, all included with your admission beginning at $7.00. It's also a great time to stock up on bottles of hot sauce as the vendors will be selling its sauces, many at a discounted price.
One of our favorite sauces from last year's expo was Eat Beer Hot Sauce, created by Sean Paxton, the Homebrew Chef. This Nor Cal Mole sauce is made with Anderson Valley Brewing Barney Flats Oatmeal Stout and Humboldt Hotsauce.
Here's a preview of hot sauce vendors.
Hot Sauce Tastings:
Angry Chiles – Eureka, CA
Angry Goat – White River Junction, VT
Ballyhoo Hot Sauce – Seattle, WA
Bravado Spice – Houston, TX
Burns & McCoy – Fort Collins, CO
Charman Brand – Ventura, CA
El Fuego – Bellingham, WA
Fraktured Sauce – Perkiomenville, PA
Fresco Spice – Los Angeles, CA
Fuego Box – Los Angeles, CA
Gaskins Family Foods – Arcata, CA
Gorilla Sauces – Puyallup, WA
Hab Sauce – Portland, OR
Habgoblin Hot Sauce – Eugene, OR
High River Sauces – Long Island, NY
Hoss Soss – Salem, OR
Hot Mama Salsa – Portland, OR
Hotter Than El – Sanford, FL
Humboldt – Arcata, CA
Inferno Farms – San Diego, CA
Los Roast – Portland, OR
Lucky Dog – Hayward, CA
Lucky Foods – Tualatin, OR
Mago Hot Sauce – David Point, CA
Mikey V's – Georgetown, TX
Miss Delta – Portland, OR
NW Elixers – Portland, OR
Odd Farms – Oregon City, OR
OEM Media Twisted Sister Sauce – Vancouver, WA
Pepper Preppers – Benton City, WA
Puckerbutt – Fort Mill, SC
Rads Barrel Aged – Bellingham, WA
Seafire Gourmet – Edmonds, WA
Secret Aardvark – Portland, OR
Silagy Sauces – Battle Ground, WA
Smoke Show – Portland, OR
That's Good Garlic – Battle Ground, WA
Thrive Sauce – Portland, OR
TX Rib Rangers – Denton, TX
Wet Wizard – Portland, OR
Wiltshire Farms – Melksham, Wilshire (England)
World Foods – Portland, OR
Yellowbird – San Marcos, TX
Just remember to bring some antacid along, if not you may regret it!
OMSI Bridge Lot
1945 SE Water Ave
Portland, OR 97214