Alesong Brewing Presents 12 Days of Beer and Food Pairings at Alesong on 5th
|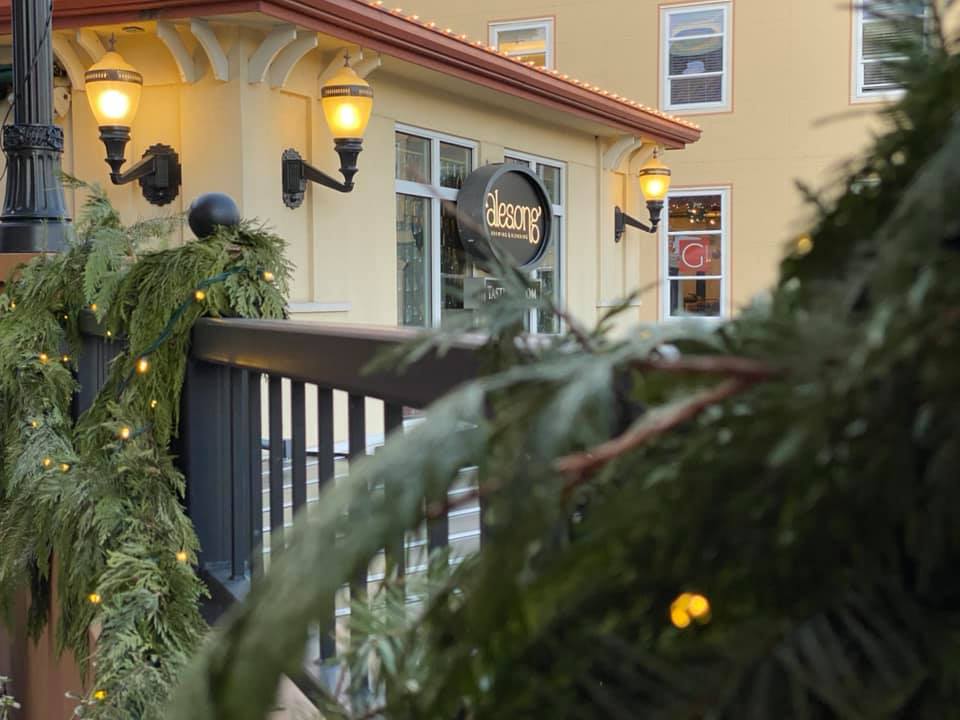 One week after opening its doors for outdoor service at its new satellite tasting room, Alesong on 5th will host 12 Days of Food & Beer Pairings. Leading up to the holidays from December 11th – 22nd, Alesong Brewing & Blending will feature a complimentary small-bite pairing with the purchase of a unique glass of its barrel-aged beer.
Alesong on 5th is located in the 5th Street Market district in downtown Eugene.  This area of town is expanding with a new hotel and a new shopping area that will soon be anchored by a Nike store. The new Alesong on 5th is located on the second level mezzanine above the Pendleton Woolen Mills store and adjacent to the Inn at the 5th. For the time being while we manage our way through the pandemic, Alesong will be serving its beers and bites on the outdoor patio.
After making a visit to Alesong on 5th this past Friday, they have their system down pat. Just walk wearing your mask while maintaining social distancing and the server will take your beer orders and find a seat for you on the patio. Currently the patio features a tent with a few heaters to keep the chill at bay. It'll be a lovely spot to enjoy a barrel-aged beer in the fresh air.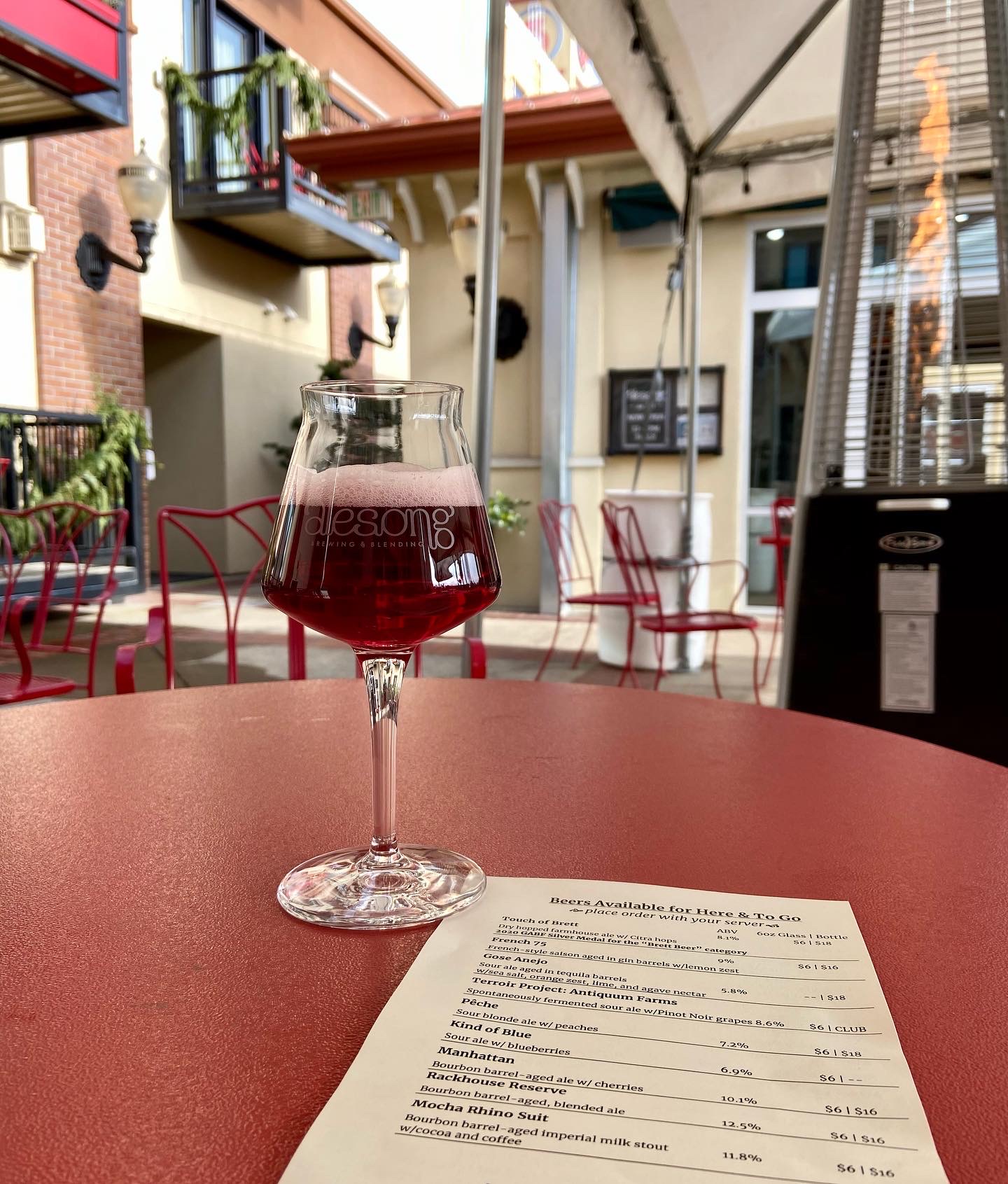 Here's a preview of the 12 days of beer pairings…
12/11: Kind of Blue- Angel food cake with cranberry coulis & blueberry
12/12: Rackhouse Reserve- Dried cherries & Parmigiano Reggiano
12/13: Pêche- Bucheron goat cheese with meadowfoam honey
12/14: Manhattan- Davey's Manhattan Cream chocolate
12/15: Gingersnap- Gingersnap cookie & chocolate-covered espresso beans
12/16: Kentucky Kilt- Artikaas aged gouda & candied pecans
12/17: French 75- Lemon shortbread & gin botanical-infused whipped cream
12/18: Raspberry Rhino Suit- Cocoa gateau with raspberry reduction
12/19: Deux Fermes Syrah- Salami Etna from Olympia Provisions
12/20: Mocha Rhino Suit- Vanilla ice cream from Prince Pückler's
12/21: Framboise- Dark chocolate truffle
12/22: Maestro- Rogue Caveman Blue cheese & Marcona almonds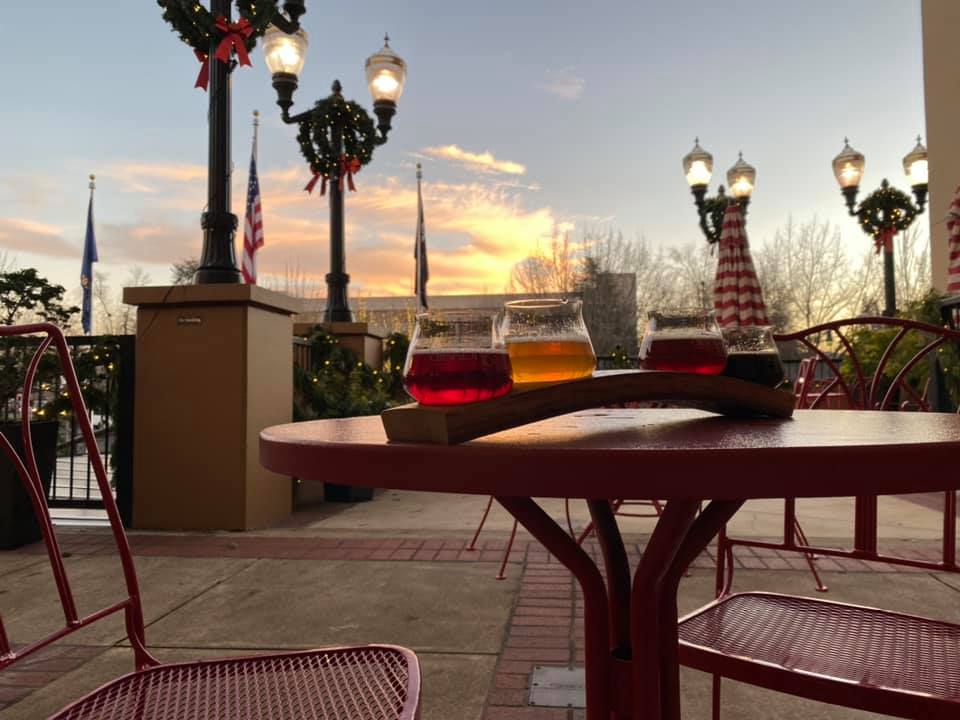 Alesong on 5th is open daily from Noon – 8:00pm with outdoor seating under a tent with heaters. After checking in and being seated by the server, enjoy cheese and charcuterie or small bites served alongside an amazing lineup of Alesong beers.
Alesong on 5th
296 E 5th Avenue
Eugene, OR 97401