Baker's Dozen Beer and Doughnut Fest Returns to Portland in April 2022
|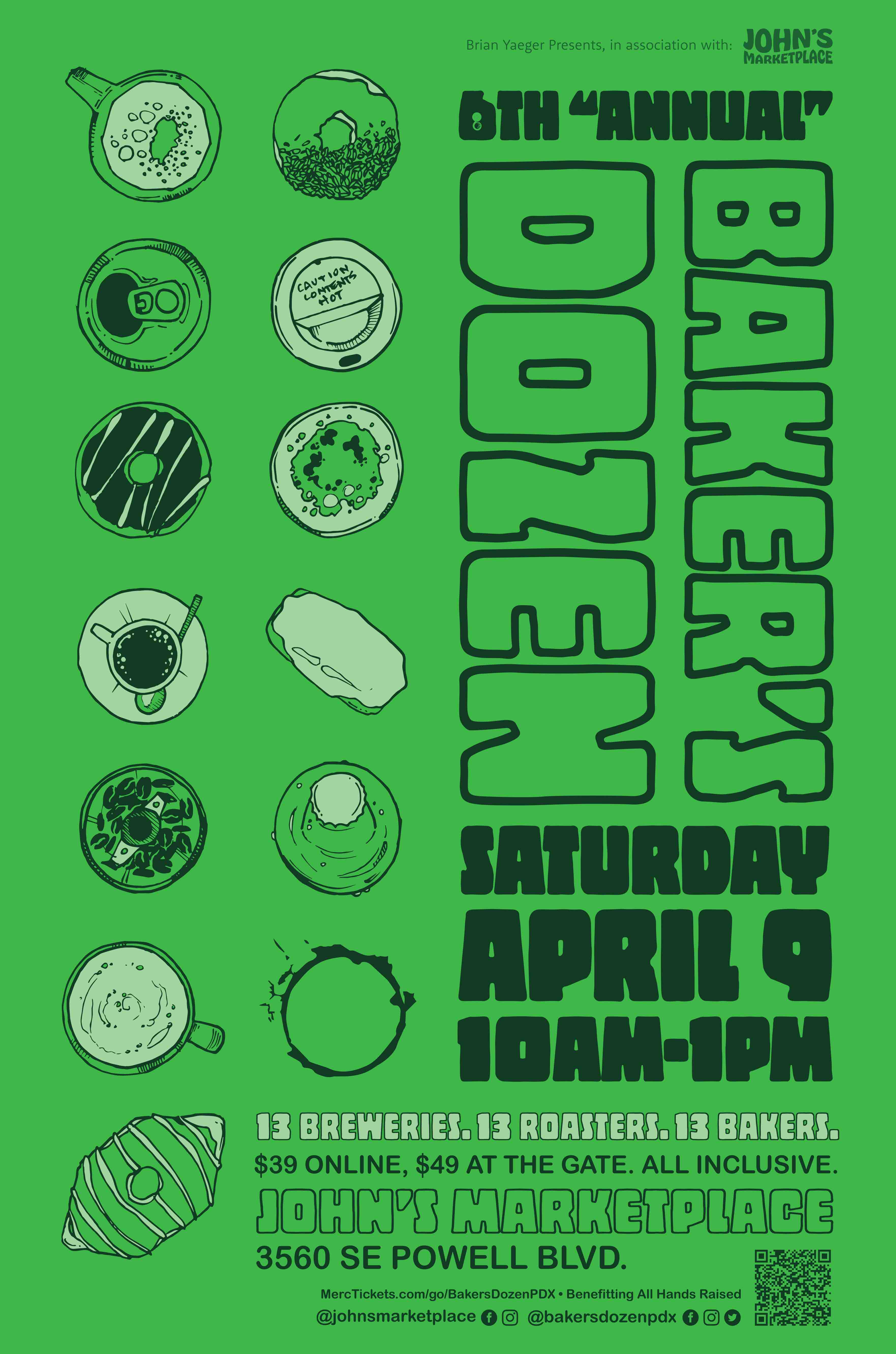 As we look forward a month or so, Spring beer events are slowly beginning to take shape. One making a return to Portland is annual Baker's Dozen, Oregon's renowned coffee beer and doughnut festival!
Now in its sixth year and after a two-year pandemic-induced postponement, the 6th Annual Baker's Dozen returns to Portland on Saturday, April 9, 2022 to a new venue – John's Marketplace on SE Powell Avenue. The event that's organized by Brian Yaeger features three things Portland does best: beer, coffee, and doughnuts, each represented by a baker's dozen of artisans. The name is a throwback to when bakers, to thank their customers, would throw in an extra something-something when they purchased one dozen of doughnuts.
Attendees suffer no FOMO; admission includes samples of absolutely everything including many of the specific coffee roasts featured in the beers. The festival moves to a new venue with a covered patio, John's Marketplace (3560 SE Powell Ave.) on Saturday, April 9, from 10 a.m. to 1 p.m. Baker's Dozen is open to all ages, but one must be of legal drinking age to enjoy the coffee beers.
Note that the 2020 event sold out in advance and this year tickets are more limited (to ensure attendees don't miss out and keep lines shorter) and are available for $39 ($43.41 after fees) and $49 at the door if available. Advance tickets can be purchased at Merctickets.com/go/BakersDozenPDX.
This year's line-up features seven breweries new to the event. Each beer incorporates a different local roaster's beans. Beer samples come in three-ounce pours, roasters will be pouring unlimited coffee samples of the coffee used in the beers, and delectable doughnut morsels will be quartered.
2022 Breweries (beers subject to change):
Barley Brown's (made with Sorbenots Coffee, also in Baker City)
Ecliptic (made with Caffe Vita)
Fracture (made with Good Coffee)
Great Notion (made with Coava Coffee)
Leikam (made with Tov Coffee Bus)
Little Beast (made with Kainos Coffee)
McMenamins (made with house-roasted coffee and aged in house-distilled Hogshead Whiskey)
Old Town (made with Case Study Coffee)
Pono w/ John Lovegrove (made with BadBeard's Microroastery)
Reuben's Brews (made with Kuma Coffee, also from Seattle)
Rosenstadt (roaster Water Avenue Coffee)
Threshold Brewing (made with MuddWorks Roastery)
Von Ebert (made with Sterling Coffee)
The doughnut lineup at the 2022 edition of Baker's Dozen is beginning to take shape and will soon be ready for the fryer. Of the twelve confirmed bakeries, many are returning to the event after a two-year hiatus while a few will be first timers! And if you prefer coffee for dipping your doughnuts, there will be plenty of coffee for sampling while at the event.
2022 Bakeries:
Angel's
Annie's Donuts
Big Elephant Kitchen
Blue Star
Churros Locos
Coco Donuts
Delicious Donuts (Double D)
Heavenly Donuts
Helen Bernhardt Bakery
Joe's Donuts
Matt & Memere's
NOLA Doughnuts
13th TBD
Baker's Dozen benefits All Hands Raised, a nonprofit organization benefiting Portland public schools, with a focus on racial equality, which is committed to improving education for children and youth throughout Multnomah County from cradle to career.
Baker's Dozen Links:
Ticketing Merctickets.com/go/BakersDozenPDX ($39 online, $49 at the door if available)
Facebook: Facebook.com/BakersDozenPDX
Instagram: @BakersDozenPDX
Twitter: @BakersDozenPDX
Visit John's Marketplace online at JohnsMaretplace.com or at 3560 SE Powell Avenue, Portland, OR.