Brewvana turns five: Your busy Craft Beer Wednesday
|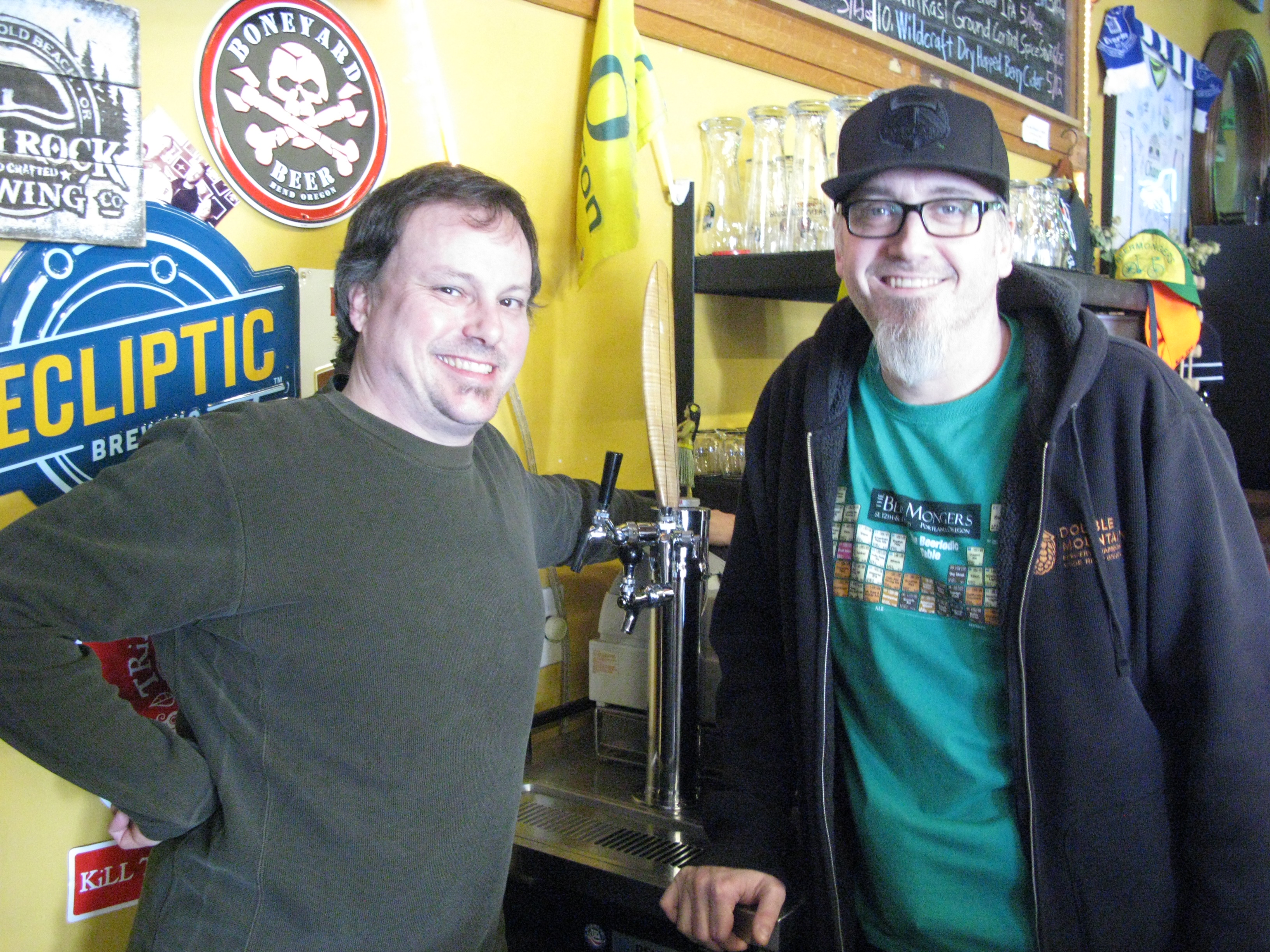 Brewvana turns five today and the rest of your busy craft beer Wednesday and one Thursday event for good measure.
Brewvana's Fifth Anniversary
5-9 p.m. Wednesday April 6, Ecliptic Brewing, 825 N. Cook St.; $12 at the door.
The Brewvana tour buses have become a great part of the Portland brewing scene and the crew is celebrating five years in typical Brewvana fashion: with good beer and giving back to the community. They've partnered with the Oregon Brewshed Alliance to donate $2 from every ticket directly back to their organization to keep Oregon's precious natural resources healthy and thriving. Join them for a family friendly evening of great beer, small appetizers, and local music performed by Space Shark, a unique pairing of KIND bars with Ecliptic beers on tap. There'll also be a raffle showcasing local businesses such as KEEN, Betsy and Iya, Shwood Eyewear, Nike, work/shop, Marine Layer and Timbuk2
Evil Twin Molotov Cocktail Party
4 p.m. Wednesday April 6, Roscoe's, 8105 S.E. Stark St.;
Join Jeremy, Quyen & crew for the tapping of four tasty versions of Evil Twin Brewing Molotov Cocktail IPA. They'll tap the original Molotov Cocktail, Molotov Single Hop Simcoe, Molotov Heavy, and Molotov Lite and all four will be available in a taster tray so that they can be tasted side by side.
Hip Hop IPA Night
4 p.m.-close Wednesday April 6, Lompoc Tavern, 1620 NW 23rd Ave.;.
Lompoc and friends love to brew them some IPAs: According to head brewer Bryan Keilty, "If someone suggests a them and it sounds like fun, we'll do it!" Hip Hop IPA Night celebrates five of their Hip Hop themed IPAs, including:
World Class Wreckin Brew: Brewed in collaboration with Willamette Week writers Martin Cizmar and Parker Hall, this is the first in the series. Pale orange in color with a strong tropical fruit aroma with hints of fresh lime zest. Hopped with Simcoe, Huell Melon and Mandarina Bavaria, then aged in a brite tank on mango puree. 6.3 percent.
Mama Said Hop You Out: this IPA packs a punch, with additions of Nugget, CTZ, Hull Melon, Mandarina Bavaria, Wakatu hops and a subtle malty balance. Tropical fruit, citrus and earthy notes will keep you coming back the next time round. 6.3 percent.
Hotel Motel Holiday Inn: The 3rd in the Hip Hop IPA series has a copper-orange hue. Brewed with nine different hop varieties, there is a chalky aroma with flavors of orange and apricot, finishing very smooth. 5.6 percent.
MCA IPA: The 4th in the Hip Hop series of IPAs is a collaboration with Lompoc bartender Cody Bottorf. Nugget, Cascade and Galaxy hops give this copper-colored IPA aromas of pine, tropical fruit and citrus. 6.2 percent.
Hopster's Paradise: Brewed in collaboration with former Lompoc brewer Josh Merrick, this is the 5th in the Hip Hop series of IPAs. Copper to orange in hue and hopped with five different hop varietals, this beer gives off a flowery, citrus aroma. A resiny flavor with hints of pine and tangerine mingle on the tongue. 6 percent.
All five beers will be available on a taster tray or individually by the pint. Lompoc will also have a Gin & Juice cocktail special featuring Aria Portland Dry Gin.
Manhattan NW 2014 Release
Wednesday April 6, Cascade Brewing Barrel House, 939 SE Belmont St, and brewery, 7424 SW Beaverton Hillsdale Hwy.;
Cascade Brewing release its Manhattan NW 2014 Project in 750 ml bottles and on draft Wednesday. The 9.6 percent beer is a blend of sour quad and blond ales aged in bourbon barrels with sour pie cherries and apricot noyaux. A tribute to the classic Manhattan cocktail, it features flavors of bourbon, maraschino cherries, bitter almond and a hint of malt sweetness. Bottles will cost $30; draft will cost $8 for a glass or $3 for a taster. The brewery will also be offering vintage draft and bottles to celebrate the new release, including the 2011 and 2013 on draft and the 2013 in bottles.
Knee Deep Tap Takeover
6-9 p.m. Wednesday April 6, NW IPA, 6350 S.E. Foster Rd.;
Knee Deep Brewing in Auburn, CA are killing the IPA game right now and the N-Dubs crew couldn't wait any longer for someone from the brewery to come up here, so they're throwing their own party with your new favorites such as Breaking Bud and Lupulin F'n River plus Tanilla Imperial Stout – and some tasty exclusive beers too.
Culmination/Altabira National Beer Day
3:30 p.m. – close Thursday April 7, Altabira City Tavern, 1021 NE Grand Ave.;
With a name that translates to "tall beer" in German, the recently opened Altabira City Tavern is celebrating National Beer Day with guest brewer Paul Francis from Culmination Brewing. Altabira will serve a flight of Culmination beers paired with beer-inspired cuisine in the restaurant and bar and out on the patio. Beers include Cold and Calculated Golden Ale, Euphoric Brett IPA, Phaedrus IPA, Choco Mountain Stout and more.