Celebrate International Stout Day with Guinness Extra Stout Ribeye Suva Skewers Recipe
|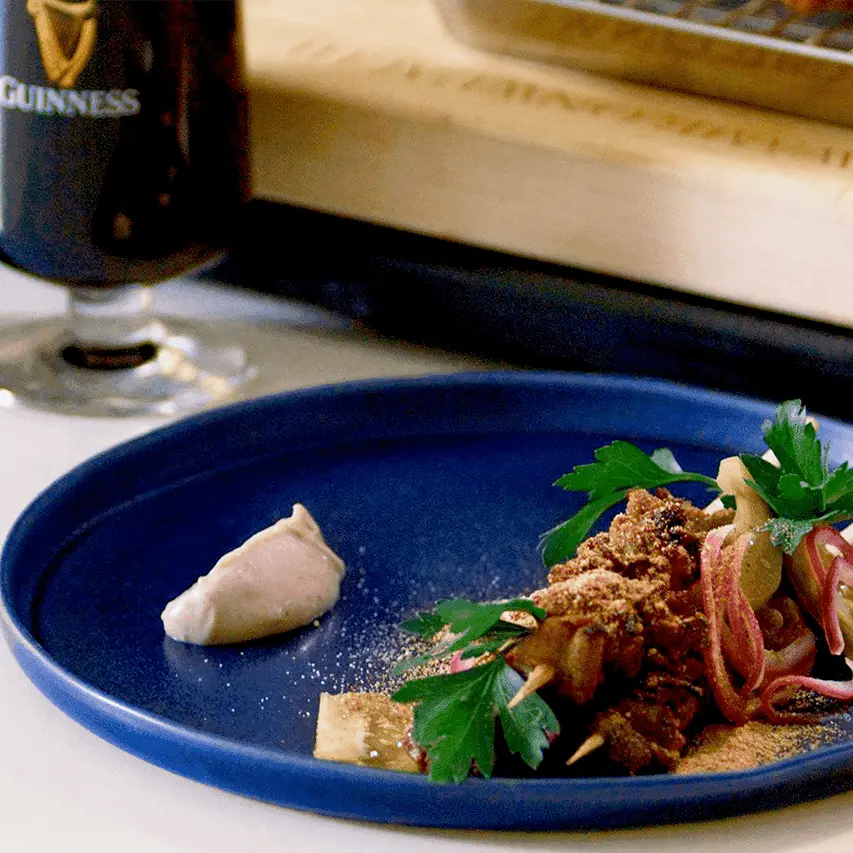 Today is International Stout Day, always the first Thursday of November, and there are plenty of ways to celebrate. An easy way to do so is to visit your local brewery or pub to enjoy the dark, rich aromas and flavors of this classic beer style that's been around for over two centuries.
To take International Stout Day to the next level, the fine folks at Guinness sent us over a mouth-watering recipe that off course incorporates a serving of Guinness Extra Stout. Created by celebrity Chef Kwame Onwuachi, he brings to light a recipe to make Ribeye Suya Skewers with Peanut and Guinness Extra-Stout Aioli.
This traditional recipe that's part of the Guinness Flavor Series showcases the versatility of stout in the kitchen, while embracing its unique flavor to deliver a flavorful experience.
The prep time for the Ribeye Suva Skewers is 25 minutes and the cooking time is 10 minutes. Though the time spent is not very much, this recipe is a bit involved but Is well written by Chef Kwame Onwuachi.
RIBEYE SUVA SKEWERS RECIPE
Ingredients
Suya
3 Pounds Boneless ribeye steak, excess fat trimmed, cut into 1-inch cubes
4 1/2 tablespoons Suya Spice (below), divided, plus more to garnish
1 1/2 teaspoons Kosher salt, divided
1/4 cup Roughly chopped parsley, to serve
Pickled tomato & onion (below) to serve
Lime wedges, to serve
Suya Spice
2 tablespoons + 1 1/2 teaspoons (25g) Grains of paradise (or alligator pepper)
5 cubes Maggi seasoning (vegetable flavor)
6 tablespoons + 1 1/2 teaspoons (150g) cayenne
½ cup (50g) Peanut butter powder
2 tablespoons + 1 1/2 teaspoons (25g) sweet paprika
2 tablespoons + 1 1/2 teaspoons (25g) granulated onion
2 tablespoons + 1 1/2 teaspoons (25g) granulated garlic
2 tablespoons (13g) Ground ginger
Spice Pickle
1 3/4 cups (415 ml) White wine vinegar
1/4 cup (50g) White granulated sugar
3 tablespoons + 1 teaspoon (25g) kosher salt
12 Sprigs (5g) thyme sprigs
4 teaspoons (5g) Whole coriander seeds
1/2 Habañero pepper (3g), stemmed and roughly chopped
2 Long, thin slices (8g) ginger
Pickled Tomato & Onion
1 cup Spice Pickle
1 Medium red onion, large dice
1 Medium ripe tomato, large dice
Method
Suya
Place the steak in a bowl and season the Suya Spice and a 1 1/2 teaspoon kosher salt, mixing well to combine.
Cover with plastic wrap and refrigerate for at least 1 hour – up to 48 hours
Suya Spice
Blitz the grains of paradise in a high-powered blender or spice grinder until finely powdered, then set aside in a medium bowl.
Blitz Maggi cubes until finely ground, then add to the bowl with the grains of paradise.
Add all the other ingredients to the bowl and whisk well to combine.
Spice Pickle
Place all the ingredients in a medium pot along with 2 1/4 cups (500 ml) water and bring to a boil over high heat.
As soon as it comes to a boil, remove it from the heat. Let cool completely, then strain through a fine-mesh sieve and transfer to a clean jar with a tight-fitting lid.
Pickled Tomato & Onion
Bring the Spice Pickle to a boil in a small pot.
Place the onion and tomato in a non-reactive bowl and pour the hot Spice Pickle over them, stirring to combine well.
Let cool to room temperature, about 1 hour, before serving. You should have about 3 cups of pickled tomato & onion.
Peanut and Guinness Extra Stout Aioli
First, make the syrup by simply pouring 1-2 bottles of Guinness Extra Stout into a pot and bring to a boil over high heat.
Once boiling, lower heat to medium and reduce the liquid to a syrup – be sure to scrape the pan frequently using a high-heat rubber spatula to prevent burning.
Once reduced, remove from heat and let cool.
Once cooled, add all ingredients to a bowl. Mix well and season to taste with kosher salt. Reserve the aioli in the refrigerator until ready to serve.
One hour before cooking, soak skewers in water.
When ready to cook, prepare a grill for high heat. Let heat for 10 minutes. Meanwhile, thread the steak onto skewers.
Grill, turning occasionally until deeply browned and cooked to your liking, about 2 to 4 minutes.
Place the suya skewers on a platter, dust with extra Suya Spice, and sprinkle with parsley.
Serve with pickled tomato & onion, peanut & Guinness Extra Stout aioli, and lime wedges for squeezing.
Cheers to a perfect stout and food pairing!