Collabos, coffee beers, giant IPAs, stouts and more: your craft beer menu for the week of January 29
|
Here's a roundup of Portland area craft beer events beginning on Friday, January 29th.
Samuel Smith Salute
6-9 p.m.; Friday Jan 29, Saraveza, 1004 N. Killingsworth St.;
Celebrate the lasting impact of England's famous Samuel Smith brewery and sample some of the beers it's inspired over the years. The Saravezans will be featuring Breakside ESB, Ecliptic Capella Porter, StormBreaker Opacus Oatmeal Stout and Seattle's Machine House English Mild,
and they'll have representatives from each brewery here to speak about their experience and influence from Samuel Smith's timeless classics.
NW Coffee Beer Invitational
Noon -7 p.m. Saturday Jan, 30, Goose Hollow Inn, 1927 SW Jefferson St.; $15 includes festival glass and eight tix.
The third NW Coffee Beer Invitational once again features the Northwest's two favorite brews. Sixteen talented brewers were asked to create freshly-brewed beer made with locally-roasted coffee. With the emphasis on flavors, and an abv of 7 percent or less, look for a wide range of innovative, flavorful beers from the likes of 10 Barrel Brewing, 54˚40' Brewing, Buoy Beer, Burnside Brewing, The Commons Brewery, Cascade Brewing, Deschutes Brewery, Double Mountain, Everybody's Brewing, Feckin Brewing, Fire on the Mountain Brewing, Gigantic Brewing, Lucky Labrador Brewing, Lompoc Brewing, Pints Brewing, and Widmer Brothers Brewing.

Second Annual Collabofest
Saturday Jan. 30, Base Camp Brewing Co., 930 S.E. Oak St.; $40 for VIP session (1 -2 p.m.) $25 for general admission session, 2-8 p.m.
Base Camp along with Country Malt Group and the Portland Mercury celebrates the collegial spirit of Oregon brewers with a festival that brings together eighteen local breweries and cideries for its second festival of collaboration beers.
Third Annual Stout Bout
1-6 p.m. Saturday Jan. 30, Baerlic Brewing, 2235 S.E. 11th Ave.;
If you love stouts, you'll want to be at this homebrewer's comp featuring stouts – more than 60 of 'em this year. So many that they've split the entries into a few style categories: American Stouts, Sweet Stouts, Oatmeal Stouts, Imperial Stouts, Wood-aged Stouts, Mixed Fermentation/Sour Stouts, Spiced/Herb/Veg Stouts. You can do your part, too. There's now a People's Choice award which allows 10 of the top scoring stouts to be sampled by the public at Baerlic on Saturday.
Barrel Aged Beer and Cider Fest
Noon – close, Saturday Jan. 30, Civic Taproom and Bottle Shop, 621 S.W. 19th Ave.; $25 includes glass and complete tasting flight of every beer and cider on tap.
The Civic is dedicating its entire tap system to barrel aged libations for its first barrel aged beer and cider fest, which features special beers collected over the last several months.
Here's the line up:
Beers
Base Camp – Bourbon Barrel Aged Triple Bock
Burnside – Mum Bourbon Barrel Aged Wheat Stout in Collaboration w/Ramses Bier
Crux – 2015 Tough Love Bourbon Aged Russian Imperial Stout
Ex Novo – Biere de Rye French Farmhouse w/Pumpkin Aged in Ransom Rye
Gigantic – Pipewrench IPA Aged in Ransom Old Tom Gin Barrels
Heretic – Hibiscus Agony Aged in Wine Barrels
Hopworks – Kentucky Christmas Abominable Winter Ale Aged in Bourbon Barrels
Lagunitas – High West-ified Imperial Coffee Stout aged in Bourbon Barrels
New Belgium – 2015 Le Terroir American Wild Ale aged in Foeders
Payette – Twelve Gauge Bourbon Barrel Aged Imperial Stout
Ciders
Ace – Blackjack 21 Cider Aged in Chardonnay Barrels
Nectar Creek Mead – Triple Brett Cider Aged in 3 Types of Barrels and Blended
Rev Nat's – White Wine Barrel Aged Hopricot Cider
Swift – White Oak Aged Dry Cider
Wandering Aengus – Dry Oaked Cider
Wildcraft – Pinot Noir Barel Aged Cherry Cider
Hammerhead Turns 30
Saturday & Sunday, all McMenamins properties.
McMenamins celebrates 30 years of one of Oregon's first and favorite craft beers, Hammerhead, which was first brewed in January 1986 and is now McMenamins best-selling ale. They're celebrating with specially-priced pints – and bottles and growlers – of Hammerhead, plus ale-inspired food specials at all locations.
Also, on Saturdsay Jan. 30 there's a one day Hammerhead Discovery Hunt: , sleuth around eight Portland-area locations, solve the clues on their Discovery page for the list of locations and clues and don't forget to bring your McM's Passport, camera and detective skills to earn a custom Hammerhead 30th Birthday growler and an entry into a drawing for an overnight stay at Edgefield.
Plus, they're donating a buck for every Hammerhead sold in Oregon to the nonprofit Oregon Environmental Council and Oregon Brewshed® Alliance/Oregon Wild's Weekend for Water to protect Oregon's waterways – and out Oregon beer.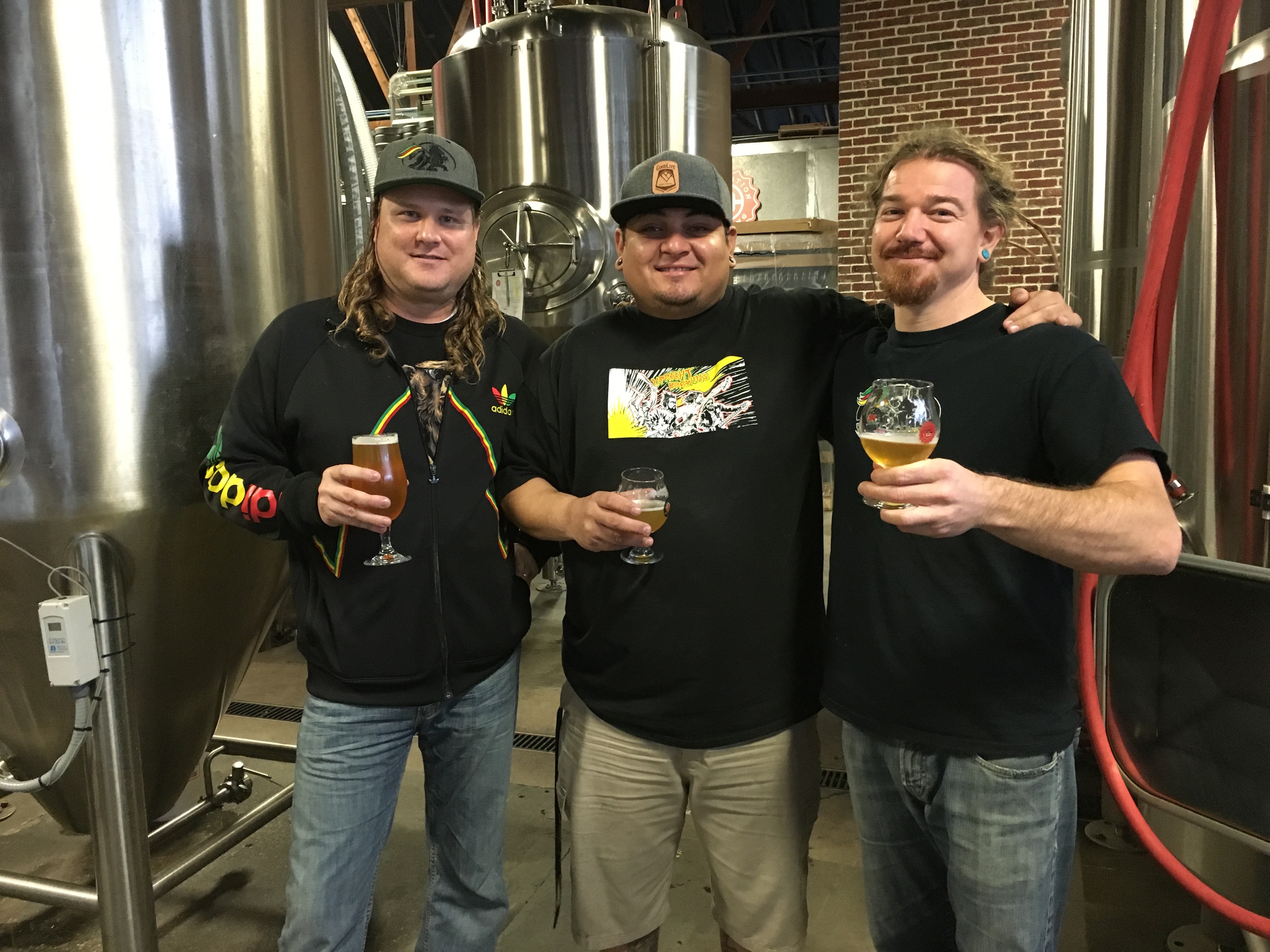 Artisinful Portland Beer & Chocolate Festival
Noon- 6 p.m. Saturday Jan. 30, Culmination Brewing, 2217 NE Oregon St.; $12 includes tasting glass and four tix.
Artisinful celebrates Portland's great chocolate and beer and the artisans who make them. Local chocolatiers will be on hand providing samples and chocolate that you can purchase and take home, and there'll be a dozen beers, ciders and meads on tap to pair with the chocolates. The list includes Ex Novo / Moonstruck Collab Nevermore Black Barleywine, Pono Brewing / Culmination Collab Coco Pono Toasted Coconut Cream Ale, Dragon's Gate Brewery Le Morte d'Arthur – Belgian Chocolate Stout, Caldera Toasted Coconut Chocolate Porter, Old Town Brewing Chocolate Chile Chupacabra, Cascade 2014 Kriek, Heretic Chocolate Hazelnut Porter, Breakside Bourbon Barrel–Aged Aztec, Yachats Brewing Ten Mile Saison, Culmination Blackberry Habanero Sour, Culmination Choco Mountain – Culmination's Milk Chocolate Stout aged on Cacao Nibs, Stung Fermented Miel de Framboise and Reverend Nat's 2015 Sacrilege Sour Cherry Cider.
StormBreaker's Second Anniversary
Noon Sunday Jan. 31, Stormbreaker Brewing, 832 N. Beech St.;
The StormBreaker folks celebrate their second year with two special beers: Handfuls of Hops IPA, which involved the help of more than 50 employees and customers who threw in a handful of hops each and Year One Barleywine that has been aging for the whole year in Bull Run Bourbon barrels. They'll have limited bottles available at the event for purchase, beer and food specials all day, prize raffles and more.
CiderCON Unofficial Kickoff Party
6-9 p.m. Monday Feb. 1, Saraveza, 1004 N. Killingsworth St.;
CiderCON is coming to Portland and you can welcome it with the help of Saraveza and Rev. Nat's Hard Cider, who've put together an unofficial kick-off party with more than half of the rotating tap list dedicated to fermented apples, including Hallelujah Hopricot, Revival Hard Cider, Bourbon Barrel Aged Hopricot and more.
National 2 x 4 Imperial IPA Day
Thursday Feb. 4, The BeerMongers, 1125 S.E. Division St.; NW IPA, 6350 S.E. Foster Rd.; Roscoe's, 8105 S.E. Stark St.;
Wyoming's Melvin Brewing is celebrating their award-winning 2×4 Imperial IPA across the U.S. on February 4th with special events at two dozen bars around the country, including three of Portland's finest. The reason for the party is 2×4, an Imperial IPA with a stupid amount of hops. Checking in at 10percent, 2×4 has a light malt base that reveals notes of pine, citrus and tropical fruit. 2×4 has won a gold medal at the Great American Beer Festival, back-to-back Alpha King awards (2nd n 2015) and holds the current World Beer Cup Gold Medal Until now, the beer has been on tap only in Jackson, Wyoming. There'll be other Melvin Brewing beers pouring, too, Clinic ISA, Hubert MPA, Dready Copper, IPA and Shaolin Double IPA, plus ninjas and swag.
Brewshed Session Ale Portland Release Party
5 p.m. Wednesday Feb. 3, Roscoe's, 8105 S.E. Stark St.;
The first beer in GoodLife Brewing's Sustainable Session Series is BrewshedSession Ale, which benefits the Brewshed Alliance. Washington Wild and Oregon Wild joined forces in 2014 and launched the alliance with the goal being simple: protected water makes superior beer. GoodLife Brewing will donate one percent of all sales to the Brewshed Alliance, split between to the two nonprofits. The beer will be available February through June, so buy a beer and support conservation. As a bonus, at the Portland release party, brewery folks will be giving out Brewshed Session Ale shirts throughout the night and raffling off other GoodLife swag.
Hypernova Triple IPA Release
Wednesday Feb. 3, Ecliptic Brewing, 825 N. Cook St.;
Hypernova Triple IPA will be released in both draft and 22oz bottles for the first time on Wednesday. The 12 percent IPA from one of Opregon's IPA masters should satisfy any craving for a hop forward beer with layers of character. Hypernova Triple IPA is a once-a-year offering as part of Ecliptic Brewing's Special Release line-up.
From the press release: "Like its cataclysmic namesake, Hypernova Triple India Pale Ale explodes with flavor. Boasting a full malt backbone, Hypernova is layered with tons of hop bitterness and character. Two separate dry hop additions with loads of Simcoe, Amarillo, Motueka, Azacca, Calypso, Cascade, Chinook, and Columbus hops amplify Hypernova's aroma to stellar proportions."
Finnriver Cider Social
6-9 p.m. Wednesday Feb 3, Bushwhacker Brooklyn 1212-D S.E. Powell Blvd.;
Portland's welcome to CiderCon continues with the Finnriver Cider Social which features limited release draft offerings such as Frog Eye Roll Cider made with organic ginger and Oregon water-grown wasabi from Frog Eyes Wasabi, a flight of Finnriver's farmcrafted, small batch Crew Selection ciders and a Finnriver Pommeau Hot Toddy. Sample and select your favorite bottles to enjoy at the event or take them to go. Wood-fired pizza will be available on site from Little Oven Pizza, or order in for delivery.