Deschutes Brewery To Host The Abyss 2018 Limited Release and Brunch
|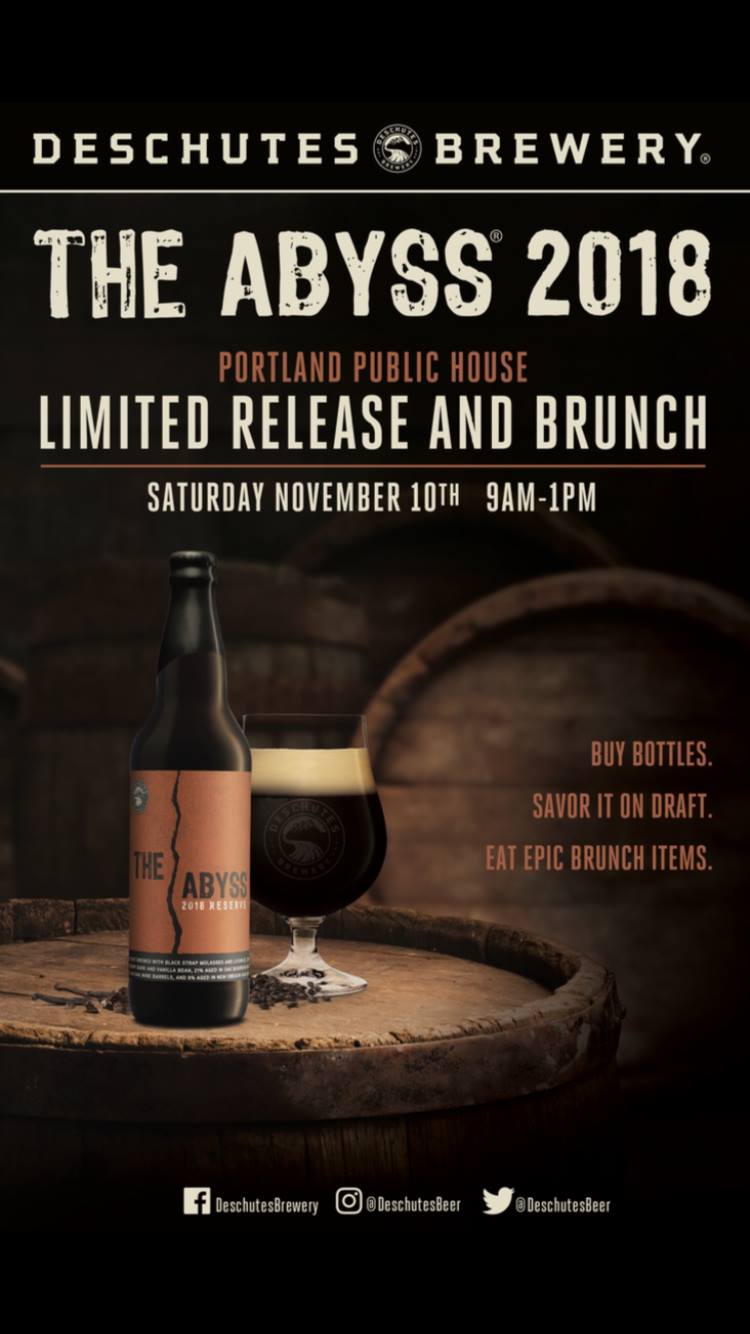 One of the region's most popular barrel-aged beers rears its head this weekend when Deschutes Brewery releases The Abyss 2018 Reserve. This year's vintage release will take place on Saturday, November 10th and the Deschutes Brewery Portland Public House will host The Abyss 2018 Limited Release and Brunch.
The brunch will kick off on Saturday at 9:00am with a tasty food menu and will continue until 1:00pm. In addition to the great food, Deschutes will also offer six-year vertical of The Abyss from 2013-2018 in sample trays.
There will be 22 ounce bottles to go of The Abyss 2018 Reserve on Saturday. This year's The Abyss is a deep, dark Imperial Stout that uses Pale, Black, Chocolate, Black Barley, Roasted Barley, and Wheat malts alongside Millennium, Nugget, Styrian, and German Northern Brewer hops. The beer also incorporates Blackstrap Molasses, Brewer's Licorice, Vanilla Beans, and Cherry Bark.
The Abyss was then aged for 12 Months in Bourbon, New Oregon Oak Barrels. The bold beer checks in at 11.2% ABV, 74 IBUs and 639 calories per 22 ounce bottle. For 2018 there will no variants of The Abyss.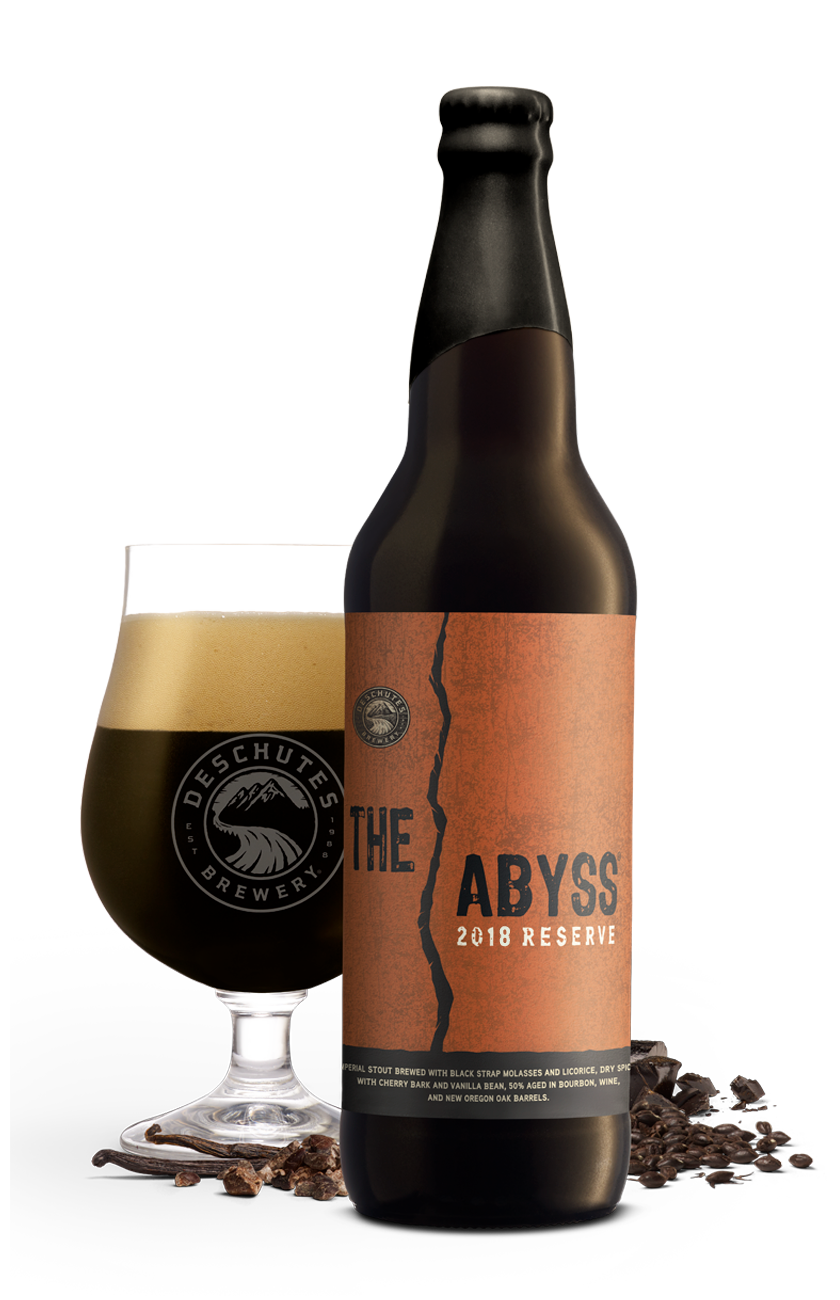 Here's a preview of The Abyss Brunch Menu from Executive Chef Jill Ramseier.
The Abyss Brunch Menu:
ROANOKE BENEDICT
Griddled buttermilk roll, Virginia ham, the Abyss chorizo, hollandaise & eggs
Served with fresh fruit or fries 16
CRAB BENEDICT
Dungeness crab cakes, heirloom tomato, hollandaise & eggs
Served with fresh fruit or fries 19
BISCUITS AND GRAVY
Huge homemade buttermilk biscuit, sausage gravy 12
add an egg*2
LOCO MOCO
Two quarter pound grass fed patties, cheddar, rice, pork belly, egg
And the abyss beef gravy 15
CHILAQUILES
Corn tortillas cooked with salsa verde, topped with eggs,
queso fresco and cilantro crema 12
add Avocado 2
PUMPKIN FRENCH TOAST
Vanilla Battered Pumpkin cream cheese bread, the abyss Butter, maple syrup 14
add bacon 2
ESB BURGER
extra special breakfast burger: Two-quarter pound grass fed patties,
house smoked sharp cheddar, bacon and a fried egg
served with fresh fruit or fries 16
CROQUE MONSIEUR
Virginia ham, gruyere cheese, Dijon, béchamel
served with fresh fruit or fries 16
make it a madam (egg) 2
SPICY FRIED CHICKEN & WAFFLE
Sourdough waffle, smoked provolone, kale pecan salad and maple gastrique 16
add bacon 2
add an egg 2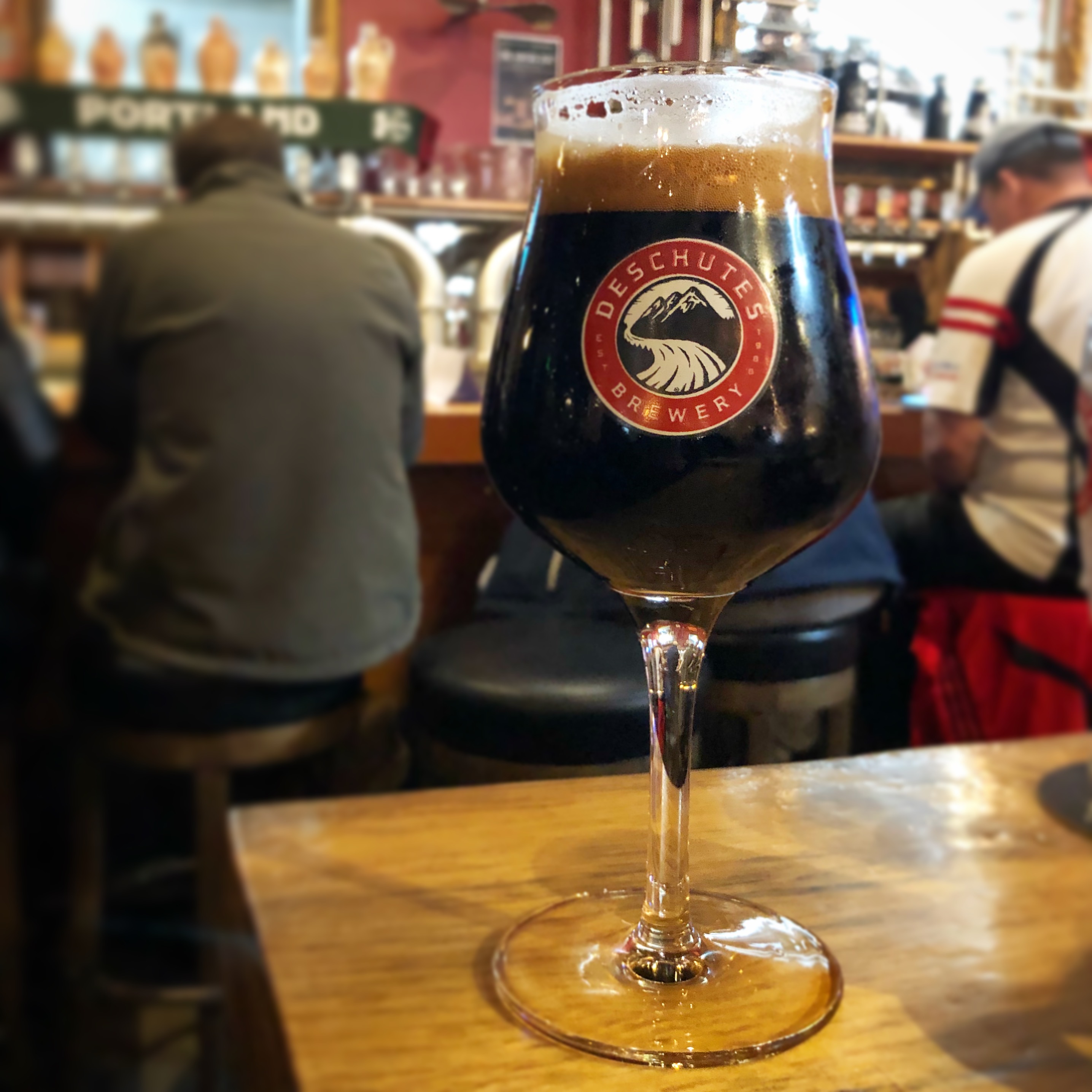 Deschutes Brewery Public House
210 NW 11th Ave.
Portland, OR 97209