Double Mountain Taproom Opens Today In Portland
|
At 11:00am today, Saturday, August 6, Double Mountain Brewery & Taproom will open its doors to its latest edition, Double Mountain Taproom in Portland's Woodstock Neighborhood. This new location for Double Mountain features its Hood River produced beers alongside a similar food menu with its fan favorite pizzas as its original location in downtown Hood River.
Located in a building that has seen a few businesses come and go over the years. Most recently KILT Irish Pub held this location after it took over from the short-lived Fenders Moto-Café & Brew Pub that succeeded the longer-term Mickey Finn's Brew Pub. Being a more established business with a strong, positive track record, Double Mountain has brought some excitement to the neighborhood.
"We are thrilled that Double Mountain chose Woodstock for its Portland location. We've been hoping for a great brewpub for years, but getting Double Mountain is like winning the lottery. The brewery's Hood River home has been a destination for travelers for some time, and we have no doubt that people will come from all over Portland and beyond to sample their great beers and get a taste of our little neighborhood, too", states President of the Woodstock Community Business Association, Ann Sanderson in a recent news release.
Double Mountain is known for two things, its New Haven style pizza and its extensive beer offerings. At its new Portland location the staff has done an excellent job at recreating the same pies as its Hood River counterpart. With a brand new, larger artisan pizza oven in place, this oven cooks up pizzas at 700 degrees and now offers its pies in two sizes, 10" and 16" that are priced at $13 and $23 each for its standard offerings. The menu also includes salads, sandwiches and food options for the kids including PB&J, Cheese Quesadilla, and Ham & Cheese Sandwich. Double Mountain also brews up its own Oh Man! non-alcoholic draft root beer. One thing to take note, Double Mountain does not offer delivery or take phone orders.
Something new to Double Mountain is that its Double Mountain Taproom has a full liquor license and is offering its new draft cocktails. For the opening expect about three options that include Fast Plane (Gin and Tonic), The Squall Line (Dark n' Stormy), and Lyle Rider (Red Beer). Competitively priced at $7.50 a cocktail these will be a sure hit when one needs an alternative to beer.
When it comes to its beer offerings the bar features 30 taps. Many of these are doubled up and three are for the above mentioned draft cocktails. For its opening this weekend, Double Mountain looks to have about sixteen beers on draft. Imperial pints are $5.50 and 12 oz. pours are $4.00 for its core lineup of beers. Its popular Krieks and specialty beers look to be around $7.50 for a 10 oz. pour.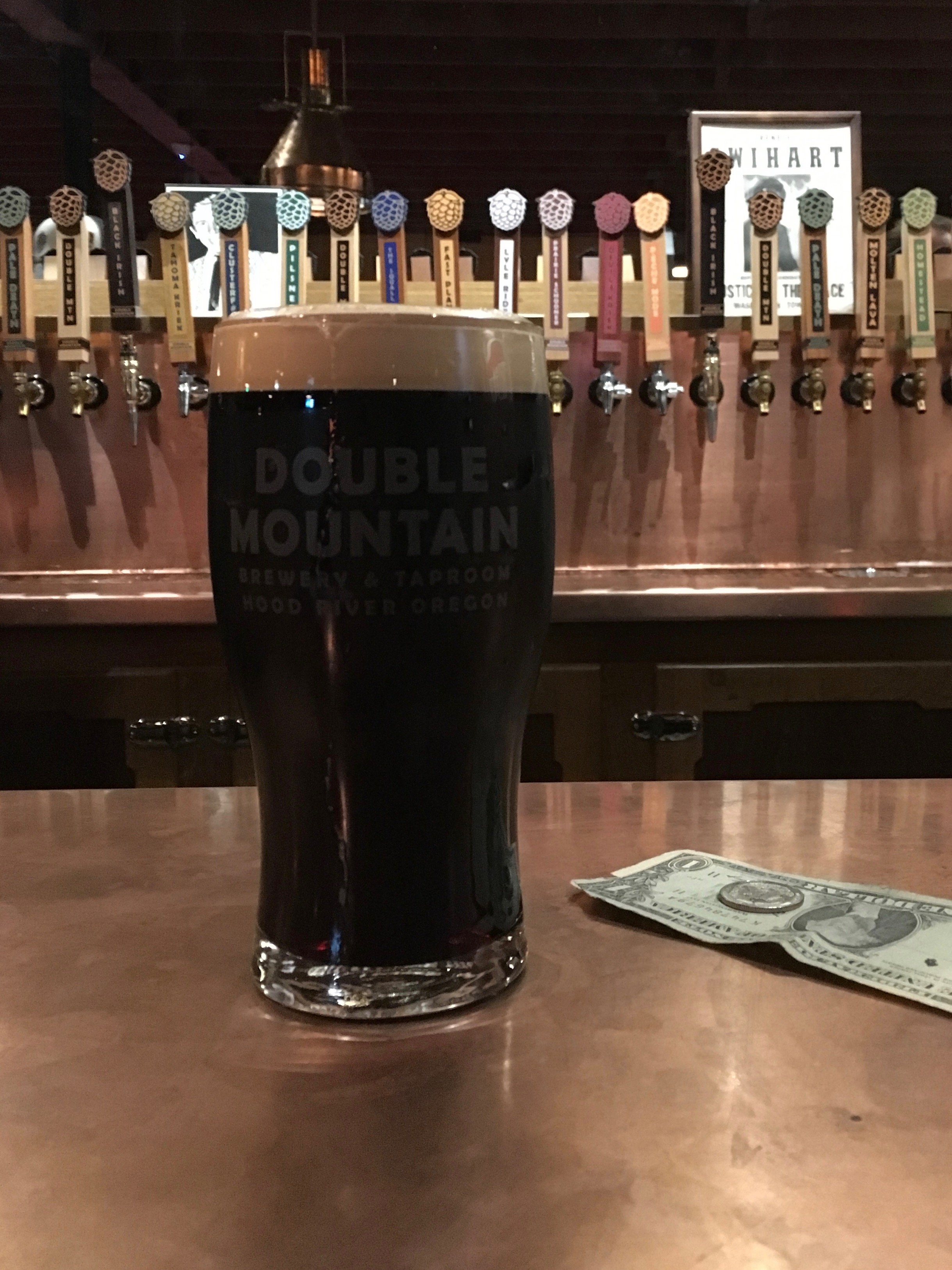 The Taproom also offers up many of its high-end beers in bottles. Just as with its Hood River location, Double Mountain sells a few bottles that are only sold on premise. A couple of these rarities include The Irreverent and Higgins. The Irreverent is a Belgian Quad that was the brewery's entry to this year's Cheers To Belgian Beers. Named after one of television's most recognizable estate caretakers, Higgins is a Bourbon Barrel Aged Scotch Ale that finishes with notes of vanilla, coconut, and caramel.  6.8% ABV, 36 BU
The decor at Double Mountain Taproom offers up a few similarities as its Hood River location. With a custom bar built by local craftsman David Swann, it offers a similar feel to the one an hour to the east. There will also be two lounge areas, turntables for the bartenders to play their favorite music and the memorable chalkboard art taplist. There is also a makeshift stage in the front corner that will be home to live music on the weekends. You may even catch Matt Swihart, owner/brewmaster of Double Mountain, on stage with his band, Greenneck Daredevils.
As with the Hood River location, Double Mountain Taproom will accept bottle returns for its Bottle Re-Use Program along with offering beer to go in bottles, growlers, and kegs. In the coming days Double Mountain will add outdoor seating with longer term sights set on offering a weekend brunch. We sure hope to try a breakfast pizza with a Lyle Rider. Double Mountain Taproom opens daily at 11:00am.
Double Mountain Taproom
4336 SE Woodstock
Portland, OR 97206