Ecliptic Brewing and Russian River Brewing Collaborate on Belgian-Style Hoppy Golden Ale + Cosmic Beer Dinner
|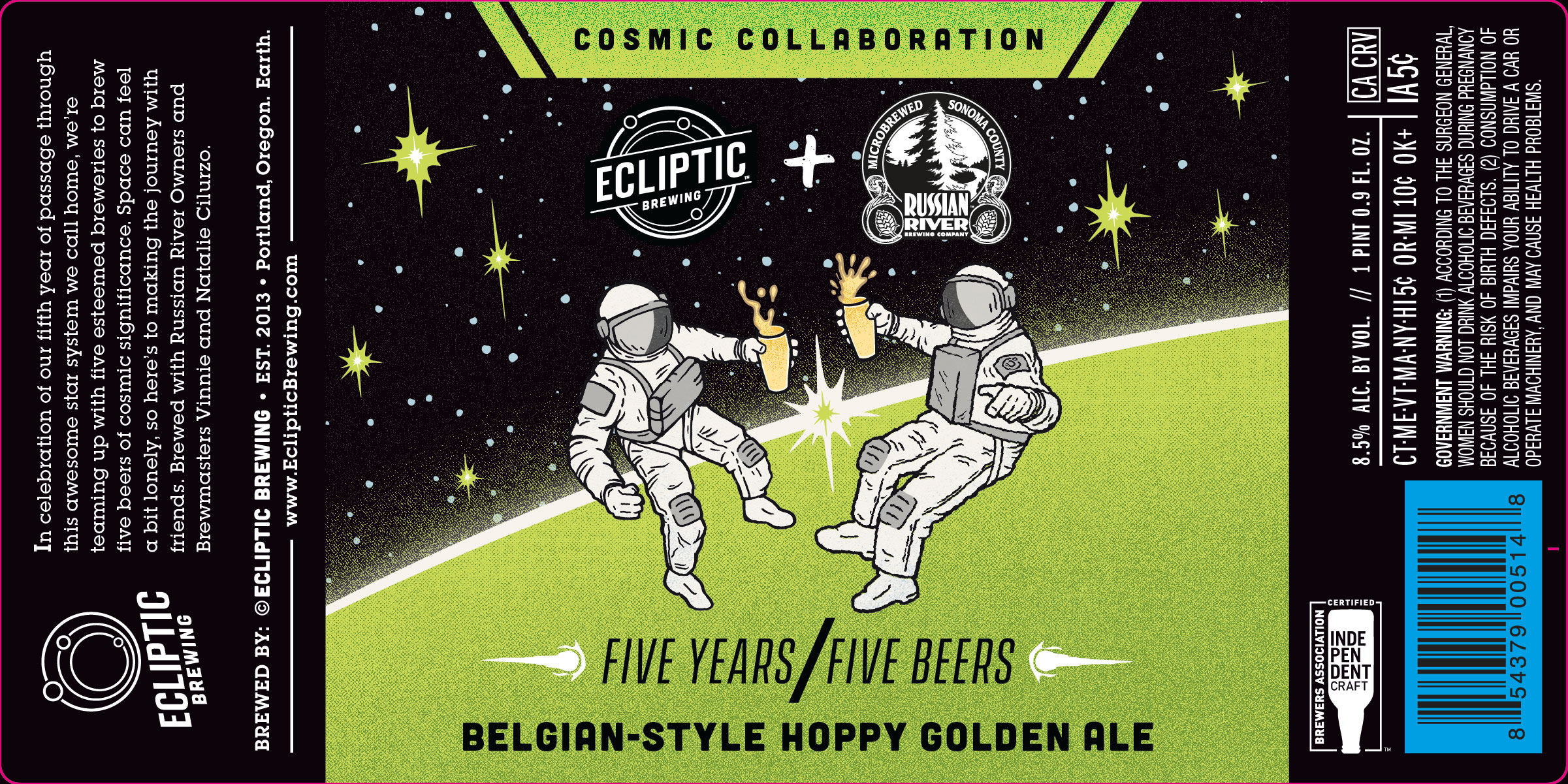 With four 5 Years/5 Beers already completed, Ecliptic Brewing is set to release the final beer in this yearlong collaboration series. For the fifth beer, Ecliptic partners with Russian River Brewing on Cosmic Collaboration Belgian-Style Hoppy Golden Ale.
Nearly one year ago, Ecliptic Brewing celebrated its fifth anniversary and during the following months the brewer collaborated with five highly regarded breweries. This impressive list of breweries consisted of Brooklyn Brewery, Firestone Walker Brewing, Breakside Brewery, Bells Brewery, and now Russian River Brewing. And this final brewery is one that Ecliptic's Owner and Brewmaster, John Harris is very excited about.
"Russian River makes outstanding beers and is known for both hoppy and Belgian-influenced beers", said Harris, in a statement. "It was a real treat to be able to work with Brewmaster Vinnie on this style of beer in particular. We're honored to be able to include them in our five-year celebration."
Belgian-Style Hoppy Golden Ale is brewed with pale and pilsner malts and features both American and European hops in new and old varieties. Imperial Workhorse Yeast will bring a spicy character to this full-bodied ale, and dry hopping at cooler temperatures will help create bright aromatics. The beer sits at 8.5% ABV and 32 IBUs.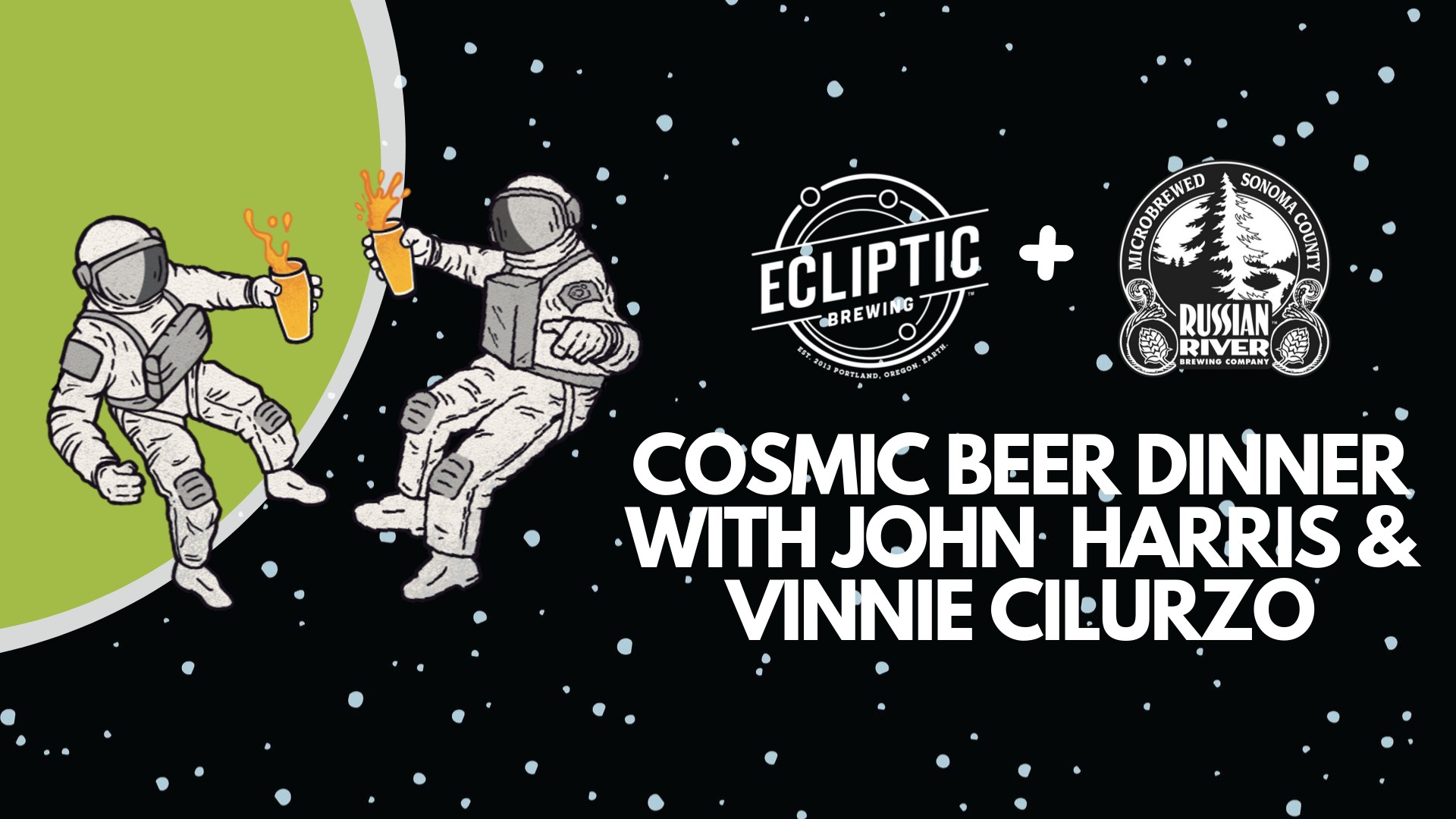 A Cosmic Beer Dinner with Harris and Vinnie Cilurzo will also be the highlight for the release of the Belgian-Style Hoppy Golden Ale. This dinner will take place at Ecliptic's Restaurant on Wednesday, October 9th beginning at 6:00pm. Attendees will enjoy three courses, plus shared appetizers, from Ecliptic Brewing Chef Michael Molitor, along with six beer pairings from each of the breweries and signed bottles of the collaboration to take home. Tickets are available to purchase here for $60.
Here's a preview of the Cosmic Beer Dinner…
Late Season Tomato Dinner:
First Course: cheese board with tomato bread, fresh tomato salad, pickled green tomatoes and roasted tomato mostarda
Beer Pairings: Ecliptic Brewing Carina Peach Sour Ale & Russian River Pliny the Elder Double IPA
Second Course: grilled octopus, peasant bread, bonito butter, half ripe tomatoes, sungold tomato jam
Beer Pairings: Ecliptic Brewing Capella Porter + Russian River STS Pils 
Third Course: tomato-braised chicken leg, herbed tagliatelle
Beer Pairing: Ecliptic + Russian River Belgian-Style Hoppy Golden Ale
Fourth Course: tomato upside down cake, anise hyssop crème fraîche
Beer Pairings: Ecliptic Brewing Orange Giant Barleywine + Russian River Intinction Pilsner (Aged in Savignon Blanc Barrels with Savignon Blanc Grape Juice)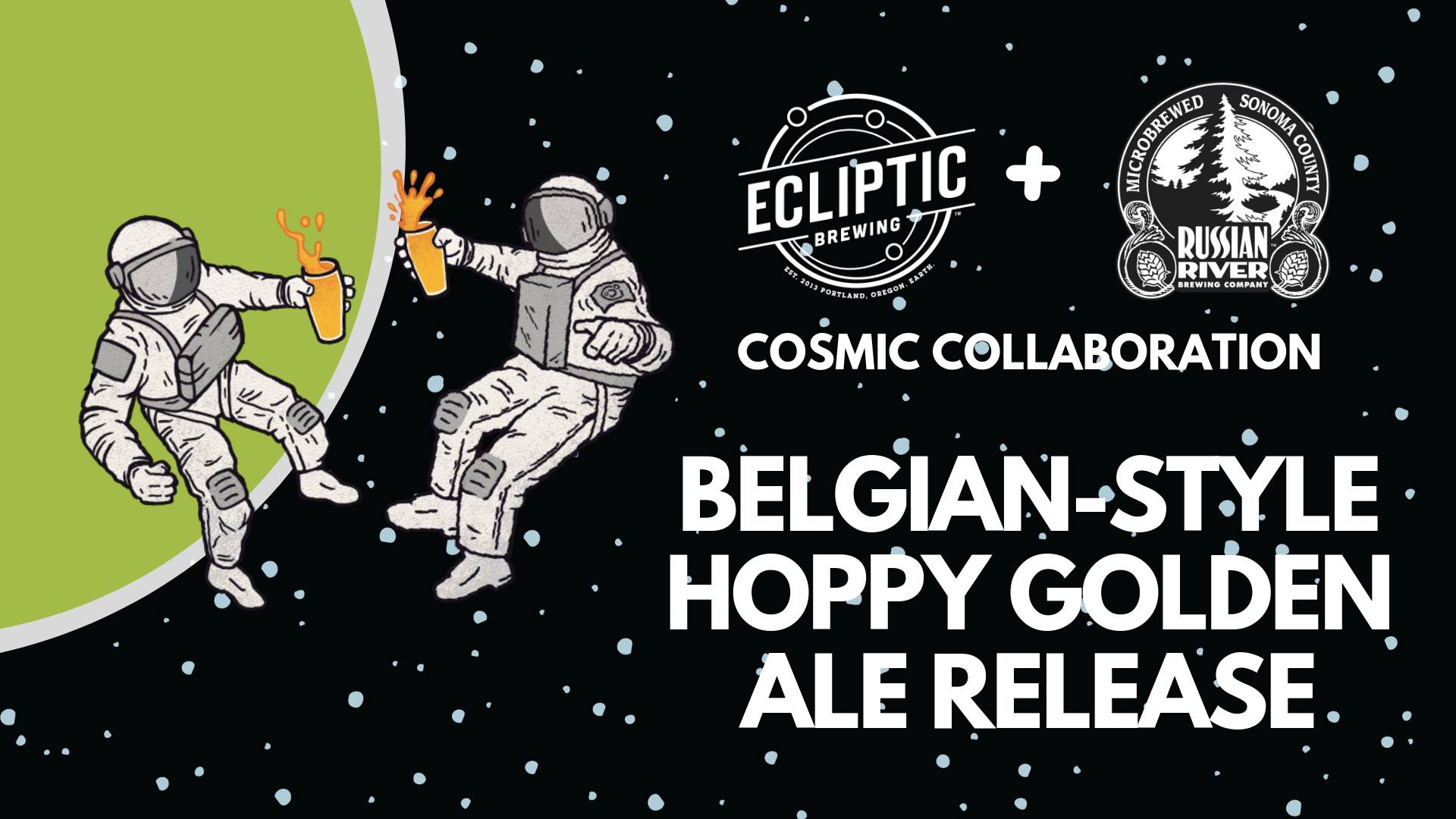 Prior to the Cosmic Beer Dinner, both Harris and Vinnie Cilurzo will be at The Upper Lip to officially release Belgian-Style Hoppy Golden Ale. This event will take place prior to the dinner on Wednesday, October 6th from 4:30-5:30pm. In addition to the Cosmic Collaboration, The Upper Lip will be showcasing some additional beers from Ecliptic Brewing and Russian River Brewing Company on draft.
Upper Lip Tap List:
Ecliptic Starburst
Ecliptic Ultraviolet
Ecliptic/Russian River Collab
Russian River STS Pils
Russian River Pliny The Elder
Russian River Intinction
Belgian-Style Hoppy Golden Ale will also be released in both draft and 500mL bottles throughout Ecliptic Brewing's distribution network.