Falling Sky Brewing Spring Brewer's Dinner with Hank Shaw aka Hunter Angler Gardner Cook
|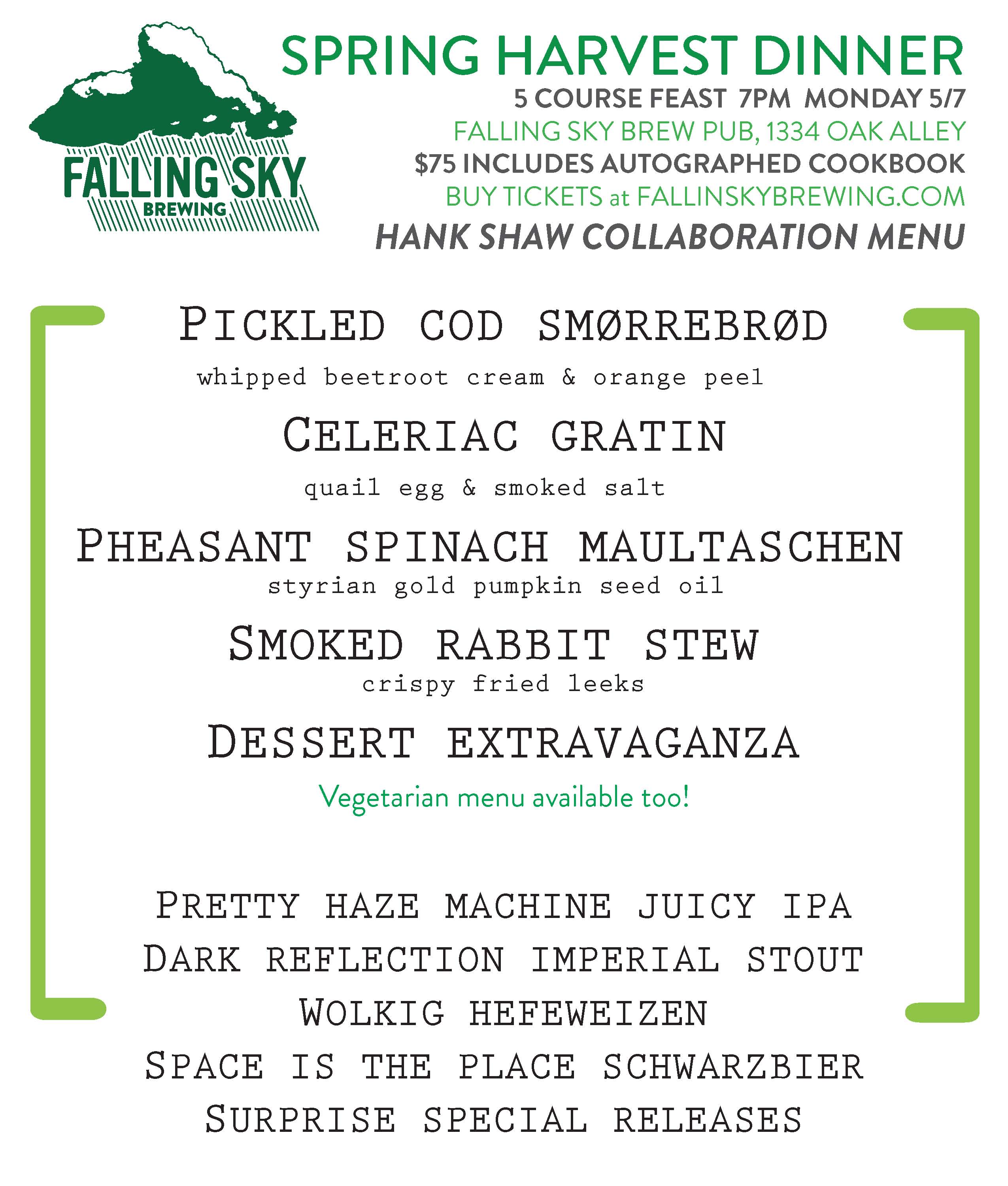 For its upcoming 2018 Spring Brewer's Dinner, Falling Sky Brewing will collaborate for the first time with Eugene Meat Collective and Hank Shaw, one of the leading wild game chefs in the nation.
The Spring Brewers dinner is a five-course food and beer pairing that will take place on Monday, May 7th at 7:00pm. Each course is paired with a special Falling Sky beer. Pairings will include Pickled Black Cod Smorrebrod, Smoked Rabbit Stew, Celeriac Gratin, Dark Reflection Imperial Stout, Wolkig Hefeweizen, Pretty Haze Machine IPA, along with a few special release beer surprises.
Hank Shaw is a James Beard Award-winning wild game chef. Shaw stands at the forefront of the wild food's movement, and his website Hunter Angler Gardener Cook is the internet's largest source of tips, techniques, and recipes for wild foods. Shaw has also appeared on television shows ranging from Mike Rowe's "Somebody's Gotta Do It" on CNN, to Andrew Zimmerman's "Bizarre Foods" on Travel Channel, to Steven Rinella's "Meateater" on Sportsman Channel. He has been featured in the New York Times, Chicago Tribune, the Washington Post, Field & Stream, CNN, NPR and similar outlets. Hank will be participating in a live feed during the event with interactive questions and answers. 
The Eugene Meat Collective is lead by Jonathan Tepperman and is a mobile butchery school that's goal is to change the way consumer's purchases meat by connecting them directly with local farmers, who are raising animals in a sustainable way and giving them the knowledge to process and cook every part of the animal itself.
Tickets to the Falling Sky Spring Brewer's Dinner are $75.00 and include an autographed copy of Hank's newest cookbook, Pheasant, Quail, & Cottontail.
Falling Sky Brewing House
1334 Oak Alley
Eugene, OR