Gigantic Brewing and Ransom Spirits and The Woodsman Collaboration Dinners
|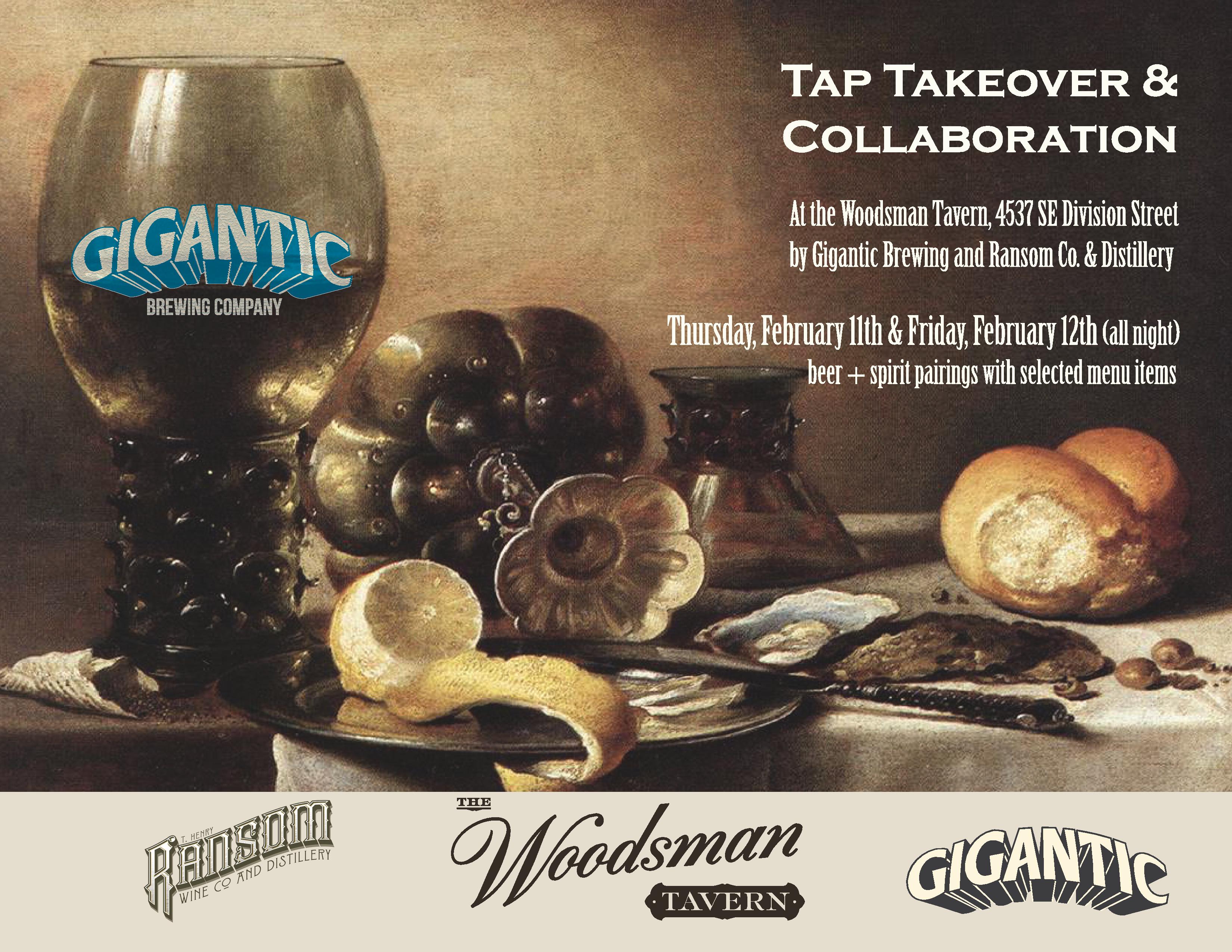 A new refreshing idea on beer and food pairings will take place on February 11th and 12th at The Woodsman Tavern. During these two special nights The Woodsman brings together both a brewery and distillery to offer a collaboration dinner like no other.
Beer + Cocktails + Food Pairings, a collaborative event will feature Gigantic Brewing Company, Ransom Spirits and The Woodsman Tavern to create one memorable evening. The actual pairing are still being developed and decided upon but expect oyster shooters, mussel chowder and other Woodsman classics alongside Gigantic Brewing's ever-changing crafty beer lineup and specialty crafted Ransom Spirit cocktails.
Tasting Menu with Beer Pairings:
Oyster Shooter with Beer Granita
Pipewrench, Ransom Gin Barrel Aged IPA
Buffalo Shrimp
The Business, Brit-American Pale Ale
Mussel Chowder
Ginormous, Imperial IPA
Fried Chicken Wings
That's Bonkers!, Hoppy Winter Session IPA
Brisket French Dip
Kiss the Goat, Black Doppelbock
Woodsman Burger
Gigantic IPA
The full tasting menu for Beer + Cocktails + Food Pairings with both spirit and beer pairings is $60. Guests may also pick out individual pairings and create their own menu, but you won't want to miss what started this whole alluring relationship: Pipewrench Gin Barrel Aged IPA— Gigantic's flagship IPA aged in Ransom's Old Tom Gin barrels, a favorite among locals and beyond! This past November Pipewrench took home a Gold Medal and Runner Up Best In Show at the Festival of Wood and Barrel Aged Beers held in Chicago, IL.
Join Ben Love and Van Havig of Gigantic, Art Tierce of Ransom Spirits, and the Woodsman Tavern for this celebration of collaborations! Reservations can be made at http://woodsmantavern.com/#reservations or by calling 971-373-8264.
The Woodsman Tavern
4537 SE Division St.
Portland, OR 97206