Gigantic Brewing Presents SNACKDOWN! To Close Out PDX Beer Week
|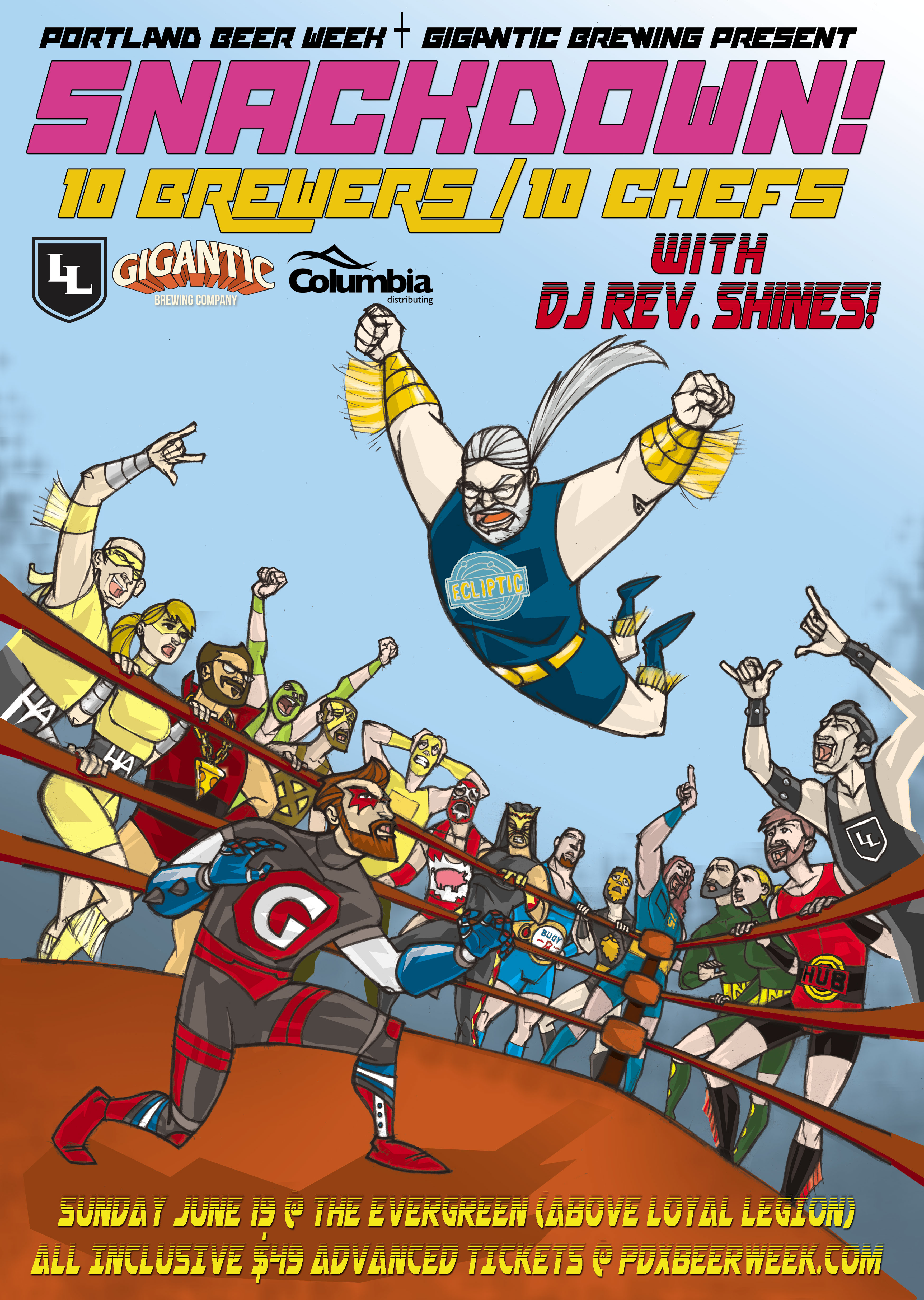 Press Release:
Join us for SNACKDOWN! on Sunday June 19th at The Evergreen event space above Loyal Legion. SNACKDOWN! is a fun and entertaining food and beer pairing event where 10 of Portland's best Chefs and 10 Oregon Brewers are paired into 10 Brewer/Chef teams to make their greatest snack and beer pairing. Guests will choose their favorite pairing and the winners will be awarded the SNACKDOWN Belt!
This event is designed to be more fun and loose than you're standard beer dinner. Imagine a WWF style Smackdown with brewers and chefs hyping their pairing on the mic – possibly while sporting wrestling themed costume. DJ Rev Shines will be on the decks keeping the party live. $49 includes all 10 small plates and TEN 5oz beer pours + a collectible glass.
Join us for great beer, great food and a real party!
SNACKDOWN! Is the official closing event of Portland Beer Week.
Teams (Restaurant/Brewery):
Nomad / Gigantic Brewing
Bollywood Theater / The Commons Brewery
Lardo / Heater Allen Brewing
The Bent Brick / Block 15 Brewing
Old Salt Marketplace / Ex Novo Brewing
Toro Bravo / Hopworks Urban Brewery
Kim Jong Grillin / Breakside Brewery
P.R.E.A.M. / Ecliptic Brewing
Biwa / Buoy Beer
Loyal Legion / Portland Brewing/Double Mountain
TICKETS are All Inclusive for $49 Advanced: includes all 10 small plates and TEN 5oz beer pours + a collectible glass.
WHAT: SNACKDOWN!
WHEN: Sunday, June 19th, Noon – 4pm
WHERE: The Evergreen Ballroom (above Loyal Legion), 618 SE Alder St, Portland, OR 97214
PRICE: $49 advanced tickets at http://www.merctickets.com/events/32889127/snackdown
WEBSITE: More info at http://pdxbeerweek.com/
What is Portland Beer Week?
Portland Beer Week is eleven days of fun, educational, eye and palate opening eating and drinking events in the greatest beer city on earth. More than just a beer festival, Portland Beer Week is a celebration of craft beer culture and all of its tangents from food pairings to beer ice cream, artwork and design, film and science. Though our namesake is for the city of Portland, Oregon, we are not exclusive to only local brands and companies, we wish to bring the best of the beer world to Portland. Our goals are to showcase the world of beer in the greatest beer city on earth from brewer's dinners, to tastings, seminars, festivals and games. Our grass roots organization was founded by beer journalists, taproom and bottle shop owners, craft beer entrepreneurs and brewery marketing experts in an effort to expand beer education and promote our city. http://pdxbeerweek.com/
Gigantic Brewing Company is an independent, crafty brewery located in the Southeast quadrant of the Peoples Republic of Portland. Brewer/Owners Ben Love and Van Havig are veterans of the Oregon brewing community. They hold themselves to a simple principle – Never Give an Inch. They vow to start small and (stubbornly) stay small, focusing their efforts on making exceptional beer, rather than a lot of beer. When you drink Gigantic, know that they didn't just put their names on the label – their effort, imagination, and dry wit are in every bottle. Look for Gigantic in 22oz bottles at your favorite place to buy good beer, and on tap at your local. Better yet, come visit us at our Tap Room and Champagne Lounge in and Taste the Awesome!