Lardo Announces Hazy Daze 2018 Brewery + Beer List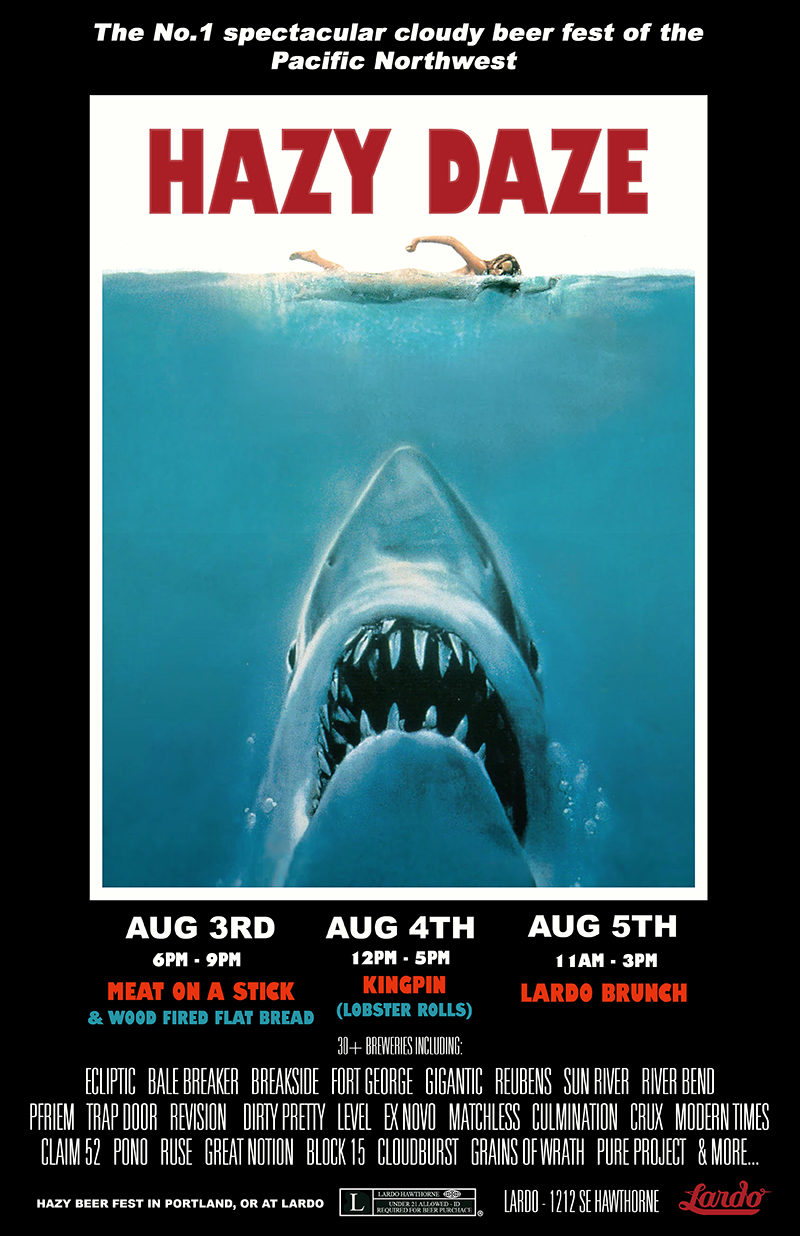 The skies may be clear here in the summer but the beers will all be hazy at Lardo as it hosts the 2nd annual Hazy Daze. This three-day event showcases the trendy Hazy IPA or better known as a New England Style IPA.
2018 Hazy Daze will take place at Lardo in Southeast Portland from August 3-5, 2018. Entry is free; all you have to do is purchase beer tokens. Lardo will even lend you the tasting glass for the event!
Over the course of the three-day event, Lardo will pour over 30 New England inspired Hazy IPAs. Plus each day on the outdoor patio, Rick Gencarelli, founder of Lardo will be prepare a special food menu.
This mini-fest will feature many well-known local breweries and a handful that are sending beer into the Portland market just for Hazy Daze. There will even be a brand new brewery from Bend when Boss Rambler Beer Club will make its Portland debut.
Hazy Daze 2018 Beer List:
Alvarado Street
Barrel House – Pineapple Juicy
Barley Browns – Occams Hazer #4 Galaxy Hop
Beachwood – 28 Haze Later
Boss Rambler Beer Club
Breakside – Thirst Trap
Cellar Maker – Slangin' Juice IPA
Cloudburst – All Sales Final
Culmination – Surgical Summer Pale
Drakes – Hays Elastic Limit
Evasion – Gluten Free Hazy
Ex Novo – Can Down by the River
Finback – Fat Mango
Foreign Objects – The Hanging Gardens
Gigantic – Piña COOLada
Gigantic/Clouburst – Cloudbursting Hazy IPA
Great Notion – Super Ripe
Hen House – Blanc Helicopters, Single Hop (Hallertau Blanc)
Matchless
Modern Times – Wolfgang
pFriem – Mango Milkshake
Pono – Rick and Worty
Pure – Keep Amurka Dank
Revision
River Bend – Crosby Hop Farm Galaxy
Ruse – Interpeter
Skookum – Double Citra
Sunriver – Hawaiian Haze
3 Magnets – Big Juice Smoothie
Trap Door – ISSA Trap
Wolves & People – Coneflower
Wren House – Dankworth Citra Hazy DIPA
And if this is not enough, each day Lardo will feature taste tempting food specials. Here's a rundown on what to expect each of the three days of Hazy Daze.
Hazy Daze 2018 Schedule:
Friday, August 3rd
Food Specials – XLB & Lardo Present Fenghuang (6:00-9:00pm)
– Plate of Smoked Brisket, Pork Ribs, and Fried Chicken $20
Beers pouring 5:00-11:00pm
Saturday, August 4th
Food Specials – King Pin Lobster Co. (Noon-5:00pm)
Beers pouring 11:00am-11:00pm
Sunday, August 5th
Food Specials – Lardo Brunch (11am – 3pm)
– Stuff French Toast $12
– Fried Mortadella and Egg Sandwich $10
– Breakfast Sausage Scotch Egg $6
– Dirty Fries Benedict $12
– Crunchy Breakfast Gorditas $11 (two)
Beers pouring 11:00am-11:00pm
Hazy Daze is a non-ticketed event. Beer tasting tokens will cost $1.00 each and tasting glasses will be provided. Beers will be available in 4 oz, 8 oz and 16 oz pours and will cost between 2 -12 tokens.
Lardo – Southeast Portland
1212 SE Hawthorne Blvd.
Portland, OR 97214
About The Author
DJ
D.J. is a Portland, Oregon based writer that spent his formative years in the Midwest. With over 25 years under his belt of drinking beer at festivals across America and the world, he has developed a strong appreciation and understanding of craft beer and the industry that surrounds it. He can be found in any of the great breweries or beer bars that make Portland the best beer city in the world. His writing can also be found in the archives of Northwest Brewing News and can be followed on Twitter and Instagram at @hopapalooza.