Lardo Presents Hazy Daze 2018 – August 3-5, 2018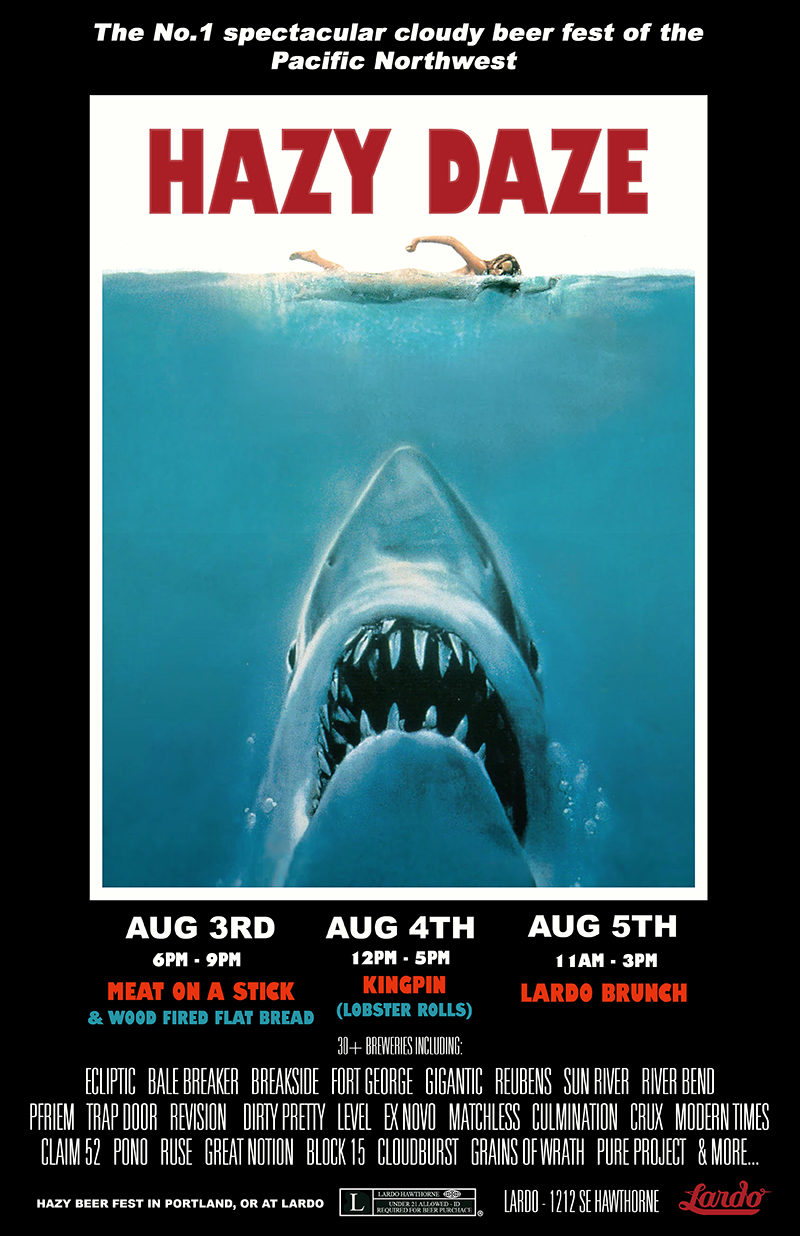 Lardo will return this year of its 2nd annual Hazy Daze, a three-day event showcasing the trendy Hazy IPA. The 2018 Hazy Daze will take place at Lardo in Southeast Portland from August 3-5, 2018.
During this three-day showcase of beers inspired from New England, Lardo will tap 30 Hazy IPAs. Then on the outdoor patio, Rick Gencarelli, founder of Lardo will be preparing a special food menu for each of the three days.
Participating breweries include Ecliptic, Breakside, Bale Breaker, Fort George, Gigantic, Reuben's, Sunriver, River Bend, pFriem, Trap Door, Revision, Dirty Pretty, Level, Ex Novo, Matchless, Culmination, Modern Times, Crux, Claim 52, Pono, Ruse, Great Notion, Block 15, Cloudburst. Grains of Wrath, Pure Project and more!
Hazy Daze 2018 Schedule:
Friday, August 3rd
Food Specials – Meat on a Stick and Wood Fired Flatbread (6pm – 9pm)
Beers pouring 5pm – 11pm
Saturday, August 4th
Food Specials – King Pin Lobster Co. (12pm – 5pm)
Beers pouring 11am – 11pm
Sunday, August 5th
Food Specials – Lardo Brunch (11am – 3pm)
Beers pouring 11am – 11pm
Hazy Daze is a non-ticketed event. Beer tasting tokens will cost $1.00 each and have tasting glasses available. Beers will be available in 4 oz, 8 oz and 16 oz pours and will cost between 2 -12 tokens.
Lardo – Southeast Portland
1212 SE Hawthorne Blvd.
Portland, OR 97214
About The Author
DJ
D.J. is a Portland, Oregon based writer that spent his formative years in the Midwest. With over 25 years under his belt of drinking beer at festivals across America and the world, he has developed a strong appreciation and understanding of craft beer and the industry that surrounds it. He can be found in any of the great breweries or beer bars that make Portland the best beer city in the world. His writing can also be found in the archives of Northwest Brewing News and can be followed on Twitter and Instagram at @hopapalooza.