Lompoc Brewing and The Meadow Present a Beer and Chocolate Pairing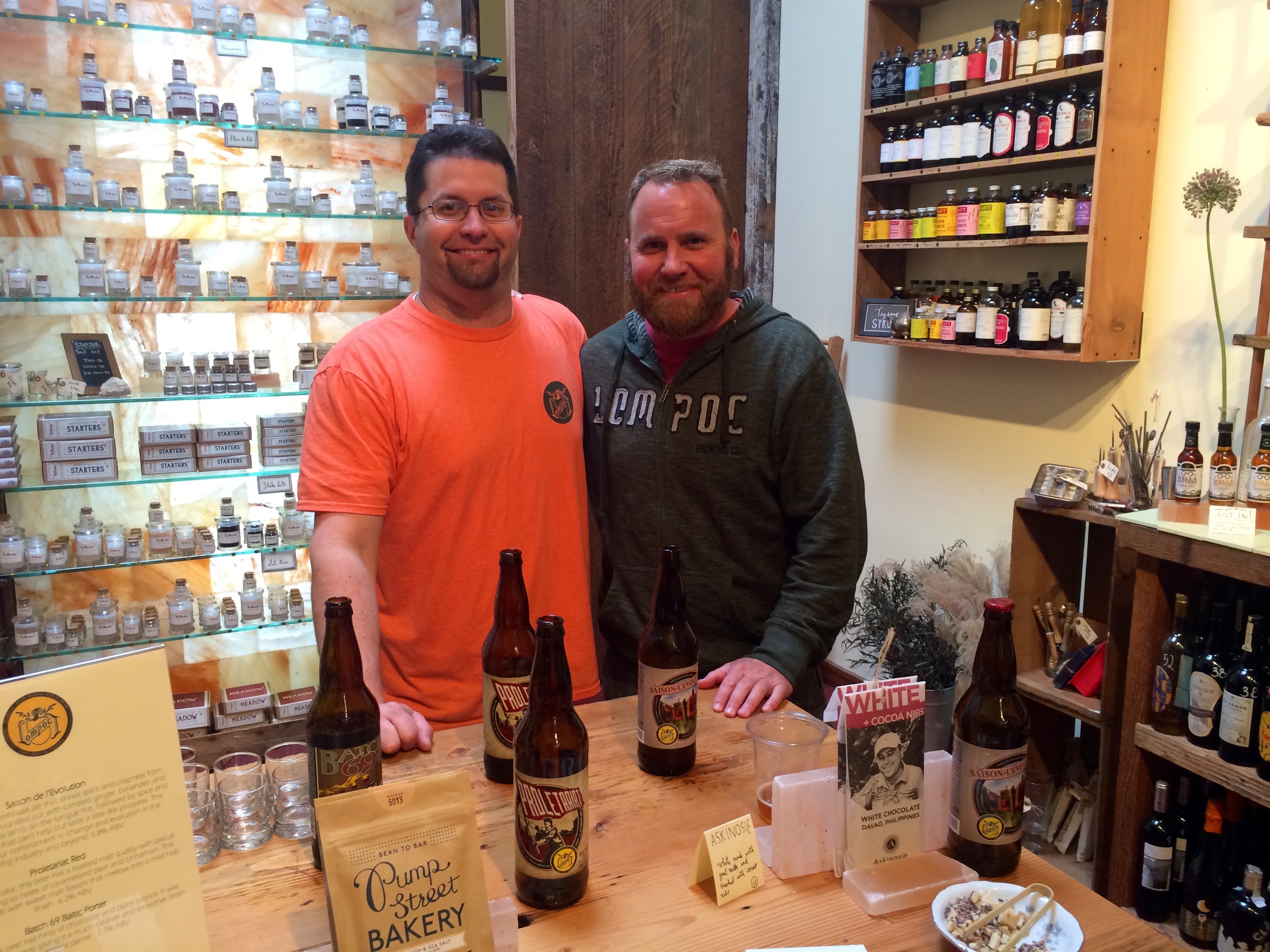 Pairing beer and chocolate together has taken place over the years, even here in Portland. For 25 years, local beer legend Fred Eckhardt hosted annual beer and chocolate pairings for Valentine's Day. In November 2009, we here at Brewpublic hosted the Cocoa Hop that offered six beer and chocolate pairings to a capacity crowd. The Cocoa Hop was a fundraiser for KZME radio that raised nearly $800 for the radio station that is now part of XRAY.FM.
This tradition returns this weekend on Saturday, May 23rd from 4:00 to 6:00pm at Lompoc Brewing Sidebar as they will host a Beer and Chocolate Pairing. To make sure this event of three beer and chocolate parings is a success, Lompoc's Bryan Keilty teamed up with The Meadow over the past few weeks for some in shop pairings.
The Meadow is a shop that specializes in world renowned chocolate bars, artisan salt, bitters and other various gourmet items for the bar and kitchen. The Meadow has shops in New York City and here in Portland on North Mississippi Ave and NW 23rd Ave.
Admission is only $10 at the door, which includes the following three pairings on Saturday.
Pairing #1: Proletariat Red & Pump Street Bakery Sourdough & Sea Salt Chocolate
The Beer: Deep chestnut in color, this beer has a toasted malt quality with biscuit undertones leading to notes of caramelized pear and cinnamon. This complex brew ends with sweet malt flavors that mellow into a mild hop finish. 6.2% ABV
The Chocolate: From Pump Street Bakery in Suffolk, England, this chocolate features a unique combination of two signature products: dark chocolate and sourdough. Sourdough crumbs and a touch of sea salt add crunch and a smooth, malty flavour to Venezuelan chocolate.
Pairing #2: Cherry Bomb Smoked Red Ale & Askinosie White Chocolate with Nibs
The Beer: A collaboration for International Women's Collaboration Brew Day with Burnside Brewing, 10 Barrel and Heater Allen, this red ale is crimson in color with a strong smoked flavor and aroma. Cherry smoked malt was used in the mash and in-house smoked dried cherries were added to the bright tank. There is a mild hop profile. 3.7% ABV
The Chocolate: Askinosie Chocolate in Springfiled, MO, handcrafts this single origin white chocolate with 34% cocoa butter, which Askinosie presses themselves from cocoa beans sourced directly from farmers in Davao, Philippines. This single origin cocoa butter is integrated with certified organic cane sugar and goat's milk powder to create real, bean-to-bar white chocolate. Roasted cocoa nibs are then added to the back of the bar. The cocoa nibs are from the same batch of beans used to make the bar itself, so in just one bite you can taste the entire story—from sourcing to production.
Pairing #3: 2011 Bourbon Barrel Aged Old Tavern Rat & Francois Pralus Cuba
The Beer: A dark amber colored barleywine that was brewed in 2011 and aged for two years in Heaven Hill Bourbon Barrels. 9.4%
The Chocolate: This chocolate comes from François Pralus, a master chocolatier and one of the few in France to manufacture his own chocolate. His Cuban chocolate is spicy, with a hint of licorice, slightly peppery, and long on the finish. Cuba is known for being a colorful island. Think about its coffee, cigars, rum and music, then try this Cuban chocolate; you will understand its beauty and the complexity of its aromas.
Sidebar
3901 N Williams Ave.
Portland, OR 97227
About The Author
DJ
D.J. is a Portland, Oregon based writer that spent his formative years in the Midwest. With over 25 years under his belt of drinking beer at festivals across America and the world, he has developed a strong appreciation and understanding of craft beer and the industry that surrounds it. He can be found in any of the great breweries or beer bars that make Portland the best beer city in the world. His writing can also be found in the archives of Northwest Brewing News and can be followed on Twitter and Instagram at @hopapalooza.