Meet John Holl, Author of The Craft Brewery Cookbook in Portland and Seattle
|
On his latest cookbook, author John Holl recruited brewers to provide the 70+ recipes in the recently published The Craft Brewery Cookbook: Recipes To Pair With Your Favorite Beers. This is his follow up to his previous cookbook, The American Craft Brewery Cookbook that was published nine years ago.
John has been covering the beer industry as a reporter, writer and editor for nearly 20 years. He's best known for adding a bit of elegance at beer events with his yet to be trademarked look of a dress shirt and bow tie. Currently John is the editor of the recently revived All About Beer and co-host of Steal This Beer podcasts.
The Craft Brewery Cookbook explores the kitchens of American brewers and brings their cooking recipes to light in a book with over 70 recipes that are each paired with a beer. Well of course they are! The book begins with an introduction that provides a basic amount of education for the reader to get their beer history, knowledge and home bar and kitchen up to speed. This is followed by ten chapters, each based on similar beer styles for the recipes and pairings.
There's lager and pilsner, hoppy ales, sour ales, wild and woold-aged ales and everything in between. The result is a book that will assist readers in learning about the various styles of beer and their respective flavor profiles and how to pair them with various dishes.
The Craft Brewery Cookbook includes recipes for any taste preference from meat to seafood to vegetarian and vegan to sweet and savory desserts. Best of all, these recipes are from some of the most notable and award-winning brewers across the United States. All that have a knack for cooking while pairing the best beer with each dish.
For those of us here in the Pacific Northwest, this brings us eight recipes, one each from Alesong Brewing & Blending, Aslan Brewing, Bend Brewing, Chuckanut Brewery, Heater Allen Brewing, and Reuben's Brews, while two recipes come from Von Ebert Brewing.
The Craft Brewery Cookbook Pacific Northwest Brewery Recipes:
Chuckanut Brewery – A.B.L.T. Salad paired with Light Lager (Recipe by Ben Fulks)
Heater Allen Brewing – Mushroom and Root Vegetable Biscuit Pot Pie paired with Schwarzbier (Recipe by Lisa Allen)
Reuben's Brews – Merguez Spiced Lamb Burger paired with Imperial or Triple IPA (Recipe by Robert Tague)
Aslan Brewing Co. – Grilled Tofu with Fruity Korean Barbeque Sauce paired with Saison (Recipe by Adam Grossman)
Alesong Brewing & Blending – Spiced-Rubbed Pork Blade Steaks with Barbeque Sauce paired with Dry-Hopped Brettanomyces Saison (Recipe by Matt Van Wyk)
Von Ebert Brewing – Smoked Adobo Chicken + Ensalada de Casa with Cilantro Lime Vinaigrette and Peach Pico de Galo paired with Fruited Farmhouse Ale (Recipes by Dominick Iaderaia)
Bend Brewing Co. – Grilled Shishito Peppers with Lime and Salt paired with Fresh Hop IPA (Recipe by Zach Beckwith)
In addition to these brewer led recipes, there are dozen of beer and doughnut pairings from Brian Yeager, founder of Baker's Dozen: Beer and Doughnuts Fest. Brian offers readers enough thought out suggestions that goes deeper than just porters and stouts that'll keep your sweet side satisfied! Beyond the doughnuts, there are additional beer pairings. These include coffee, wine, chocolate and our favorite, cheese.
To help promote this artfully put together book, John is currently on a book tour that has brought him here to the Pacific Northwest. Over the past few days he hosted book signings at Aslan Brewing in Bellingham, WA and Chuckanut Brewery in Burlington, WA. This week he'll be in Portland for two book signing events and then onto Seattle to close out the week.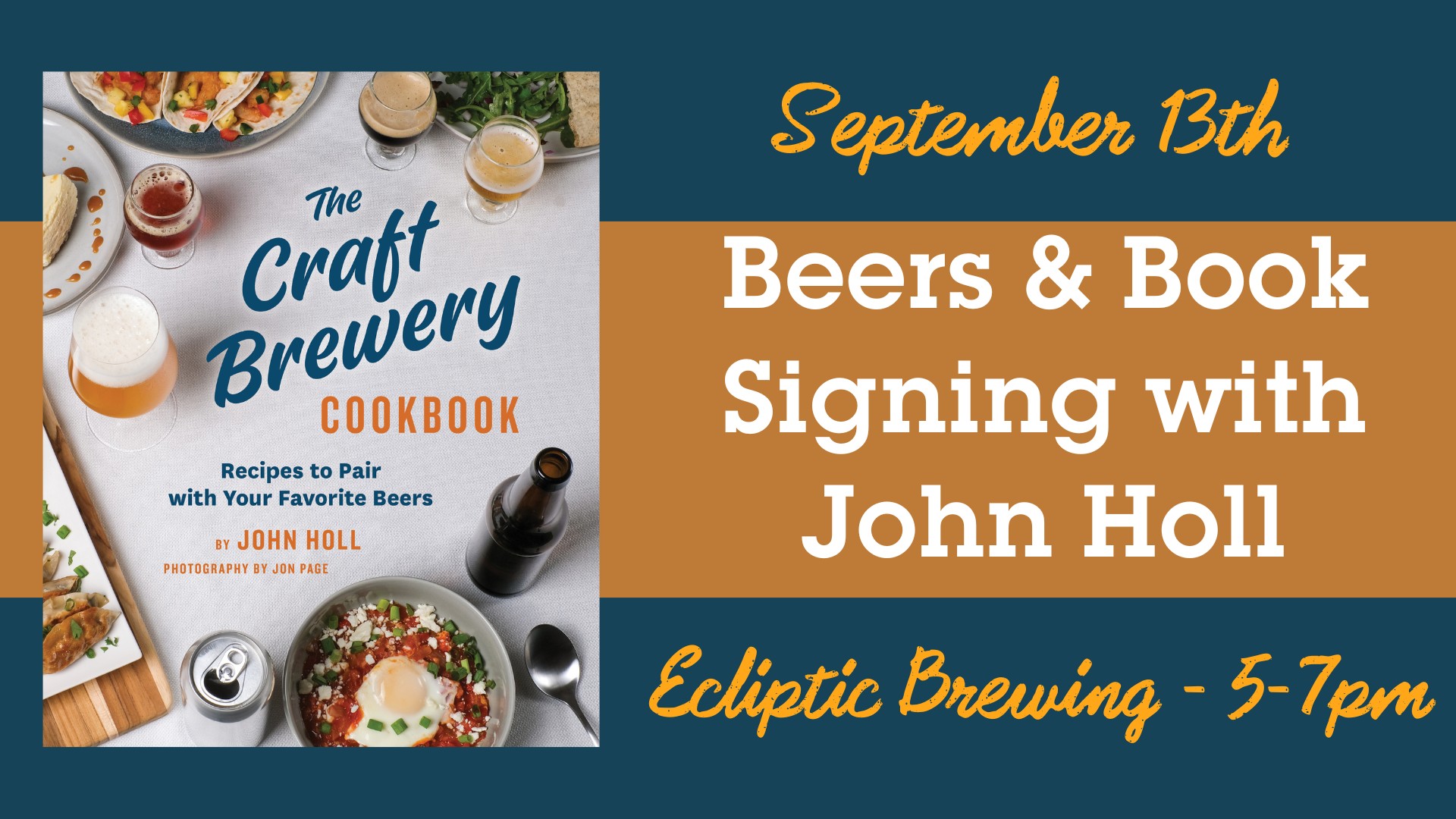 This week John will be at Ecliptic Brewing on Tuesday, September 13 from 5:00-7:00pm. He will be at the brewery to discuss his latest book and to sign it for you. If you need to purchase a book, you're in luck as Broadway Books will be on hand to sell books during this event.
Then on Thursday, September 15, John will be at Von Ebert Brewing – Glendoveer beginning at 5:30pm. John will be signing books and will be part of a live podcast that begins at 6:00pm. Von Ebert will also be serving up its Smoked Adobo Chicken that's featured in the book. This one is a ticketed event at $25 that includes a copy of The Craft Brewery Cookbook, one Von Ebert draft beer at the event, admittance into John Holl's podcast taping and meet and greet with John and the brewers after. To purchase a ticket visit: https://vebonline.square.site/s/order.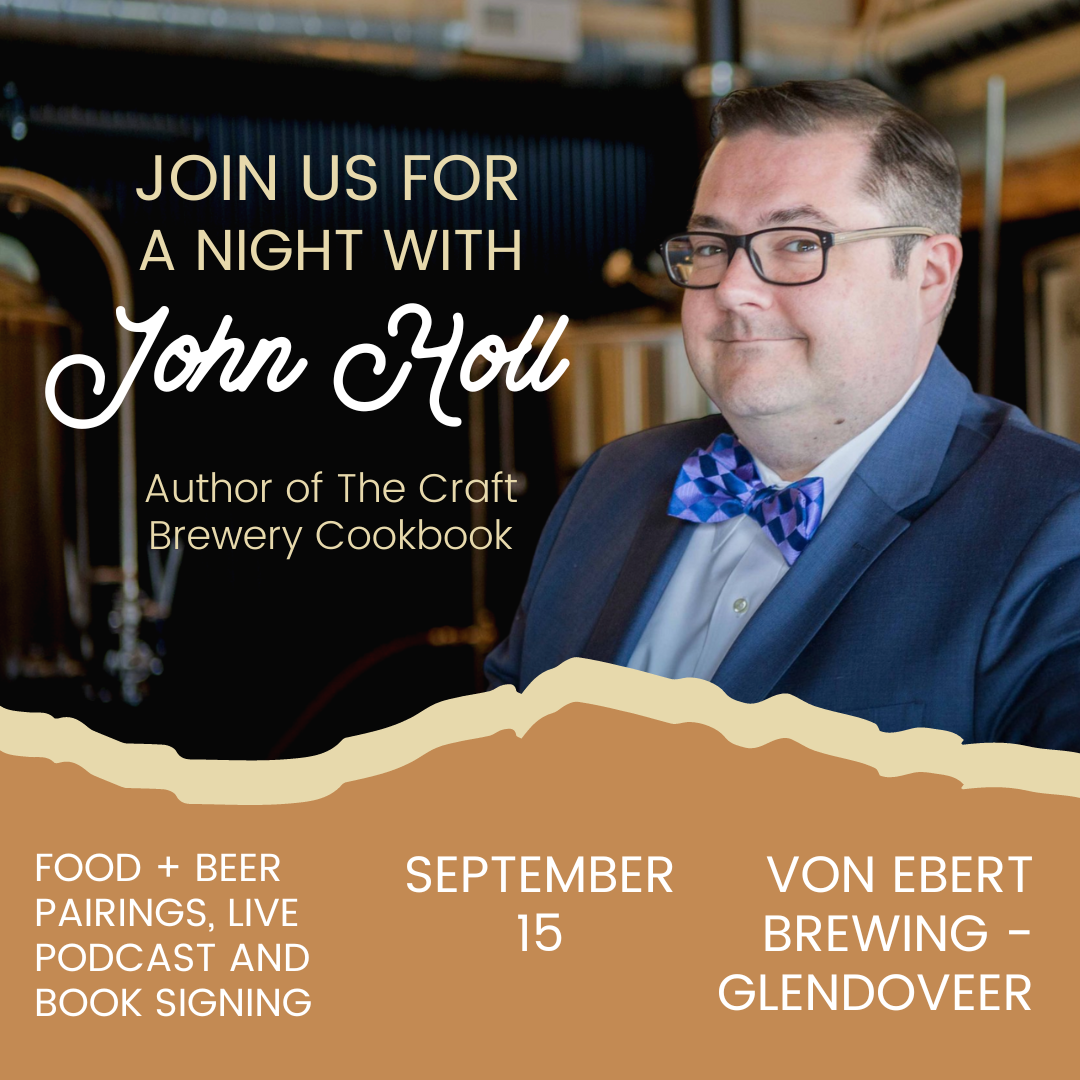 John will wrap up his week-long PNW visit in Seattle at Reuben's Brews – The Canning Line on Friday, September 16 from 6:00-8:00pm. This too is a ticketed event with details at: https://reubens-brews.square.site/.
The Craft Brewery Cookbook is published by Princeton Architectural Press and is available in a 228-page hardback book at a suggested retail price of $29.95. It can be purchased online on the publisher's website or at local bookstores and other online retailers.