Mt. Hood Meadows Presents Suds and Shrooms Dinner with pFriem Family Brewers
|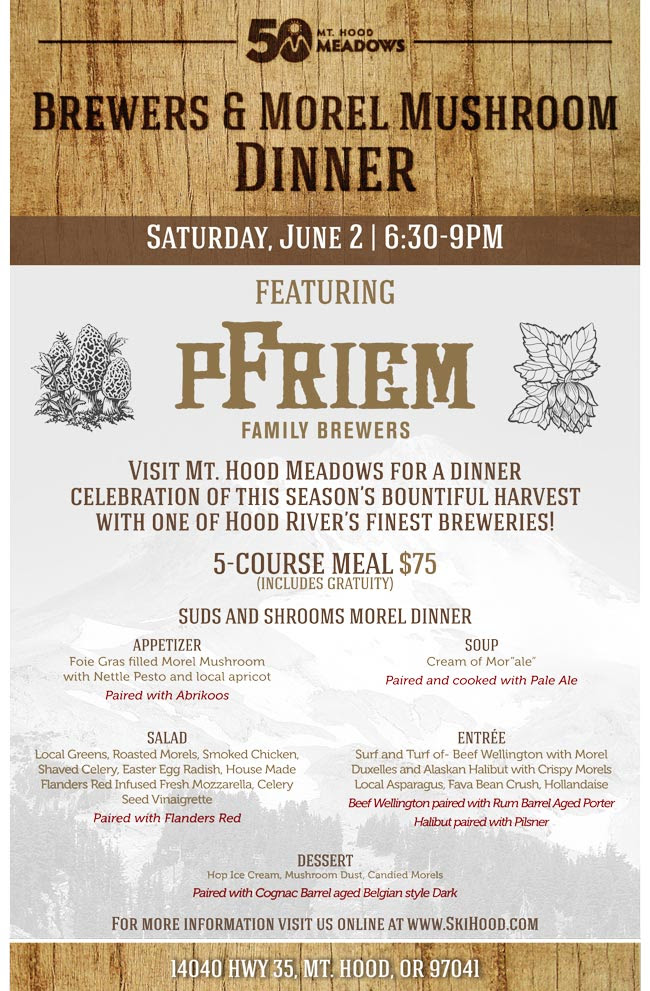 Though ski season is over at Mt. Hood Meadows, that doesn't mean that the eastside of the mountain goes into hibernation during the warmer months. Mt. Hood Meadows will spend the months ahead as it presents its Summer Sunset Dinner Series.
The dinner series kicks off when it teams up with pFriem Family Brewers for its Suds and Shrooms Brewers and Morel Mushroom Dinner at Mt. Hood Meadows on Saturday, June 2, 2018. This is the consecutive year that the two have partnered on this menu of mushrooms and paired beers from pFriem. We are told that last year the dinner sold out in advance so don't delay getting your tickets.
The Suds and Shrooms Brewers and Morel Mushroom Dinner will celebrate this season's bountiful harvest of morel's with pFriem from nearby Hood River. Meadows Executive Chef Daniel Dehay has created an mushroom focused food menu to pair with beers from pFriem.
The five-course dinner will be served from 6:30-9:00pm on Saturday, June 2nd. Seating is limited for this dinning event and the cost is $75 (gratuity included). Reservations must be made online in advance at YourMountainHome.com.
Suds and Shrooms Morel Mushroom Dinner Menu:
Appetizer – Foie Gras filled Morel Mushroom with Nettle Pesto and local apricot. Paired with Abrikoos.
Salad – Local Greens, Roasted Morels, Smoked Chicken, Shaved Celery, Easter Egg Radish, House Made Flanders Red Infused Fresh Mozzerella, Celery Seed Vinaigrette. Paired with Flanders Red
Soup – Cream of Mor"ale" soup cooked with and paired with Pale Ale.
Entree – Surf and Turf – Beef Wellington with Morel Duxelles and Alaskan Halibut with Crispy Morels, Local Asparagus, Fava Bean Crush and Hollandaise. Beef Wellington paired with Rum Barrel Aged Porter, Halibut paired with Pilsner.
Dessert – Hop Ice Cream, Mushroom Dust and Candied Morels. Paired with Cognac Barrel aged Belgian style Dark.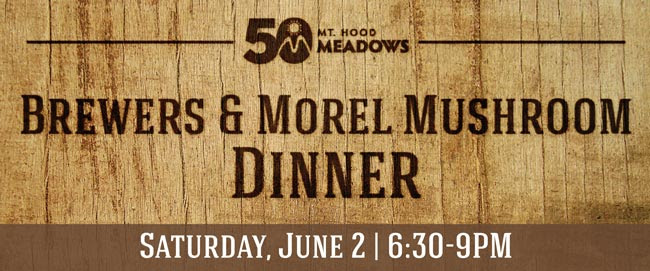 Here's a rundown on the entire 2018 season of its Summer Sunset Dinner Series hosted by Mt. Hood Meadows.
Mt. Hood Meadow 2018 Summer Sunset Dinner Series.
For more information visit YourMountainHome.com.
Mt. Hood Meadows
14040 Hwy 35
Mt. Hood, OR 97041