North 45 Pub Announces Its 11th Annual Brew Hog Schedule
|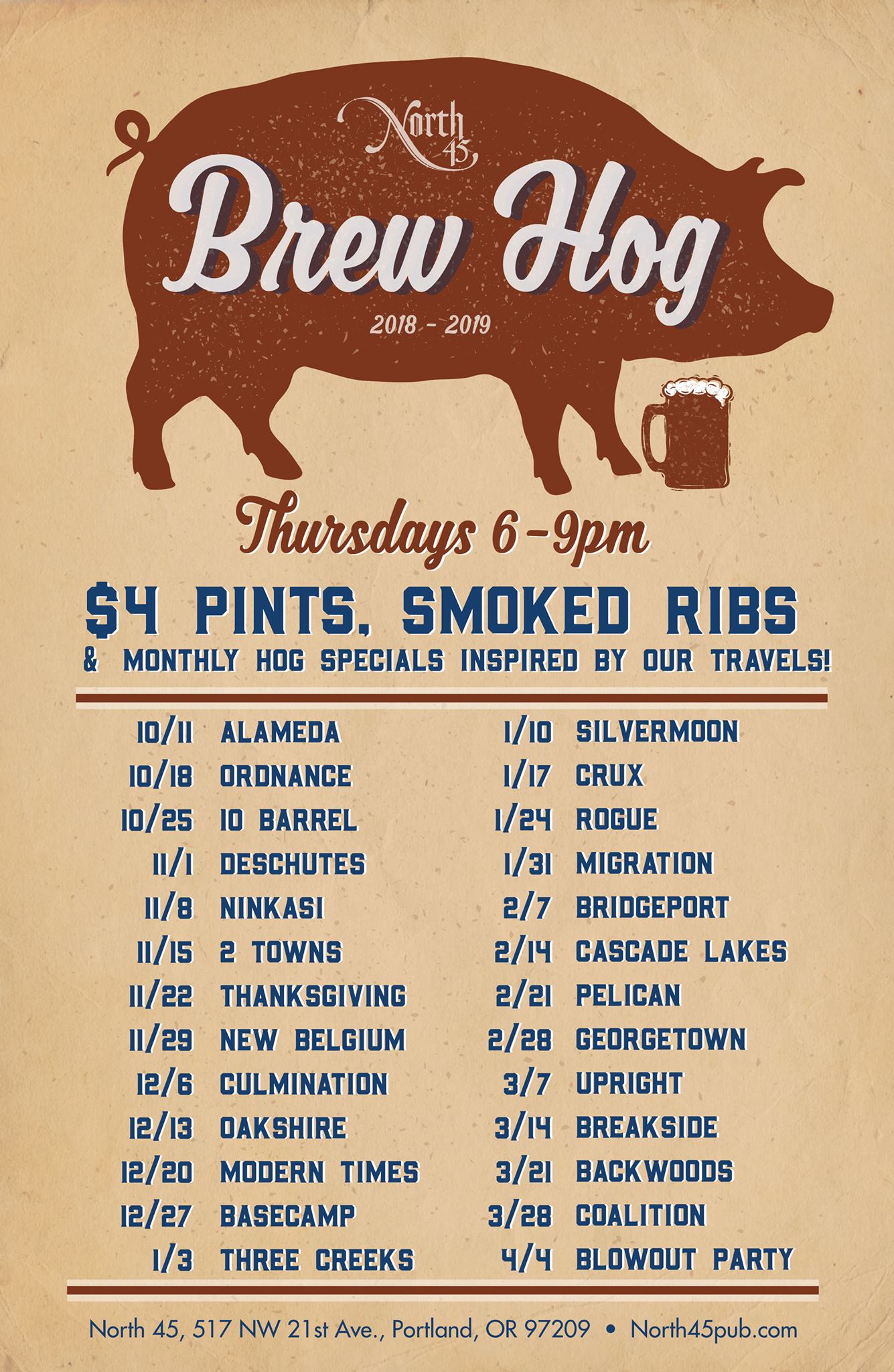 North 45 Pub in Northwest Portland returns with its 11th annual Brew Hog series of beer events held each Thursday during Portland's cooler, rainy months.
Every Thursday, from October 11, 2018 through April 4, 2019, North 45 will host a local guest brewery to showcase its beers with free tastings paired with chefs' monthly specials highlighting a travel-themed tour of global cuisine.
For the 11th season of Brew Hog, North 45 Pub will bring in favorites and longtime friend large brewery names, as well as some new up and coming breweries. Brew Hog closes on April 4, 2019 with a blowout party when all brewery partners return for a mass tasting on our year-round patio that benefits the Ronald McDonald House.
"With so many breweries in the NW and the brewery landscape being more saturated, we really wanted to focus this year on the longtime brewery partnerships that we have had over our 12 years in Portland," said Josh Johnston, co-owner of North 45 Pub, in a statement. "They continue to offer the latest and greatest beers, but always are striving to innovate and try out the latest brewing techniques."
Here's a peek at the 2018-2019 Brew Hog schedule of breweries.
North 45 Brew Hog Brewery Schedule:
October 11, 2018  Alameda
October 18, 2018  Ordnance
October 25, 2018  10 Barrel Brewing
November 1, 2018 Deschutes Brewery
November 8, 2018 Ninkasi
November 15, 2018 2 Towns
November 29, 2018 New Belgium
December 6, 2018 Culmination
December 13, 2018 Oakshire
December 20, 2018 Modern Times
December 27, 2018 Base Camp
January 3, 2019 Three Creeks
January 10, 2019 Silver Moon
January 17, 2019 Crux
January 24, 2019 Rogue
January 31, 2019 Migration
February 7, 2019 Bridgeport
February 14, 2019 Cascade Lakes
February 21, 2019 Pelican
February 28, 2019 Georgetown
March 7, 2019 Upright Brewing
March 14, 2019 Breakside
March 21, 2019 Backwoods
March 28, 2019 Coalition
April 4, 2019 BREW HOG BLOWOUT (All brewers return for end-of-season celebration)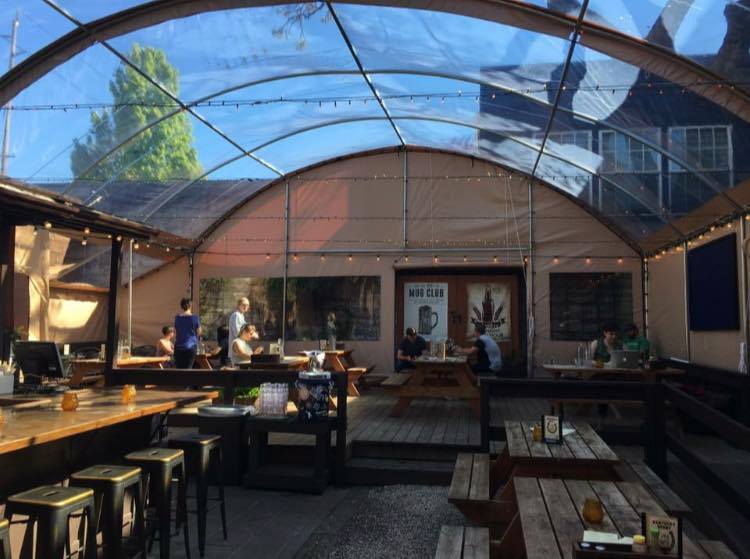 When it comes to the monthly food specials, here's a peek at the menu for each month during Brew Hog.
October (Inspired by our travels to Germany)
Pork Schnitzel with braised cabbage & German Pork Roast with sauerkraut
November (Inspired by our travels to the Southland)
Georgia Fried Pork Chops with mac n cheese & South Carolina Pulled Pork Sliders
December (Inspired by our travels to Hawaii)
Kalua Pork Sliders & Hawaiian Pineapple Pork Kebabs
January (Inspired by our travels to China)
Chinese Pork Roast with green beans & Fried Pork Dumplings
February (Inspired by our travels to Vietnam)
Vietnamese Lettuce Wraps & Pork Meatballs
March (Inspired by our travels to Cuba)
Cubanos & Cuban Pork Tacos
Entry into Brew Hog is always free and each week will feature a different $4.00 pint special.
North 45 Pub
17 NW 21st Ave
Portland, OR 97209