North 45 Pub Kicks Off Its 2017-2018 Brew Hog Season
|
It's a sure sign of fall when North 45 Pub launches its annual Brew Hog season of beer and ribs. Now in its 10th year Brew Hog's 2017-2018 season kicks off Thursday, October 12th and takes place every Thursday through April 5, 2018.
Each and every Thursday from 6:00-9:00pm through the first of April, the outdoor heated and newly re-covered patio located on the backside of North 45 will turn into a beer and pork lover's paradise. A different brewery will provide a beer tasting along with a featured beer for $4.00 a pint that is paired with Chef Ashley's smoked ribs and pork specials.
For the 2017-2018 Brew Hog season, North 45 has curated 24 Oregon breweries to be part of this weekly tradition. Then on Thursday, April 5, 2017 it all culminates with the Brew Hog Blowout when all 24 brewers are invited back for a fun evening of beer and fundraising. This year a percentage of sales during our finale event will go to Ronald McDonald House Charities of Oregon & Southwest Washington.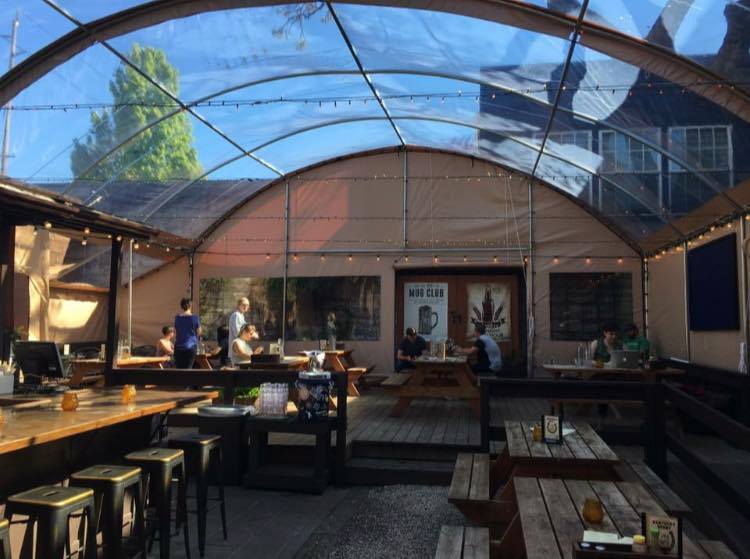 "With so many breweries in the NW and the brewery landscape being more saturated, we really wanted to focus this year on the small brewer, the emerging brand," says Josh Johnston, co-owner of North 45 in a statement. " They often have great innovation, but could use a boost in marketing and exposure. Ronald McDonald House has been a great community partner for us and we're excited to work with them on this signature event."
2017-2018 Brew Hog Schedule:
Thursday Oct 12th – Baerlic (PDX)
Thursday Oct 19th – Heater Allen (PDX)
Thursday Oct 26th – 10 Barrel (PDX)
Thursday Nov 2nd – Craft Kitchen (Bend)
Thursday Nov 9th – Coalition (PDX)
Thursday Nov 18th – Ex Novo (PDX)
Thursday Nov 30th – Back Pedal (PDX)
Thursday Dec 7th – Culmination (PDX)
Thursday Dec 14th – Pono (PDX)
Thursday Dec 21st – Coin Toss (PDX)
Thursday Dec 28th – Natian (PDX)
Thursday Jan 4th – Worthy (Bend)
Thursday Jan 11th – Three Creeks (Sisters)
Thursday Jan 18th – Great Notion (PDX)
Thursday Jan 25th – Ninkasi (Eugene)
Thursday Feb 1st – Oakshire (Eugene)
Thursday Feb 8th – Upright (PDX)
Thursday Feb 15th – Ridgewalker (PDX)
Thursday Feb 22nd – Vertigo (Hillboro)
Thursday March 1st – Ecliptic (PDX)
Thursday March 8th – Fearless (Estacada)
Thursday March 15th – Ordnance (PDX)
Thursday March 22nd – Leikam (PDX) "MOO HOG"
Thursday March 29th – Grixsen (PDX)
Thursday April 5th – BREW HOG BLOWOUT (All brewers return for end-of-season celebration)
North 45 Pub
517 NW 21st Ave.
Portland, OR 97209