Saraveza and The Hop & Vine Host the 4th Annual Fire & Brimstone
|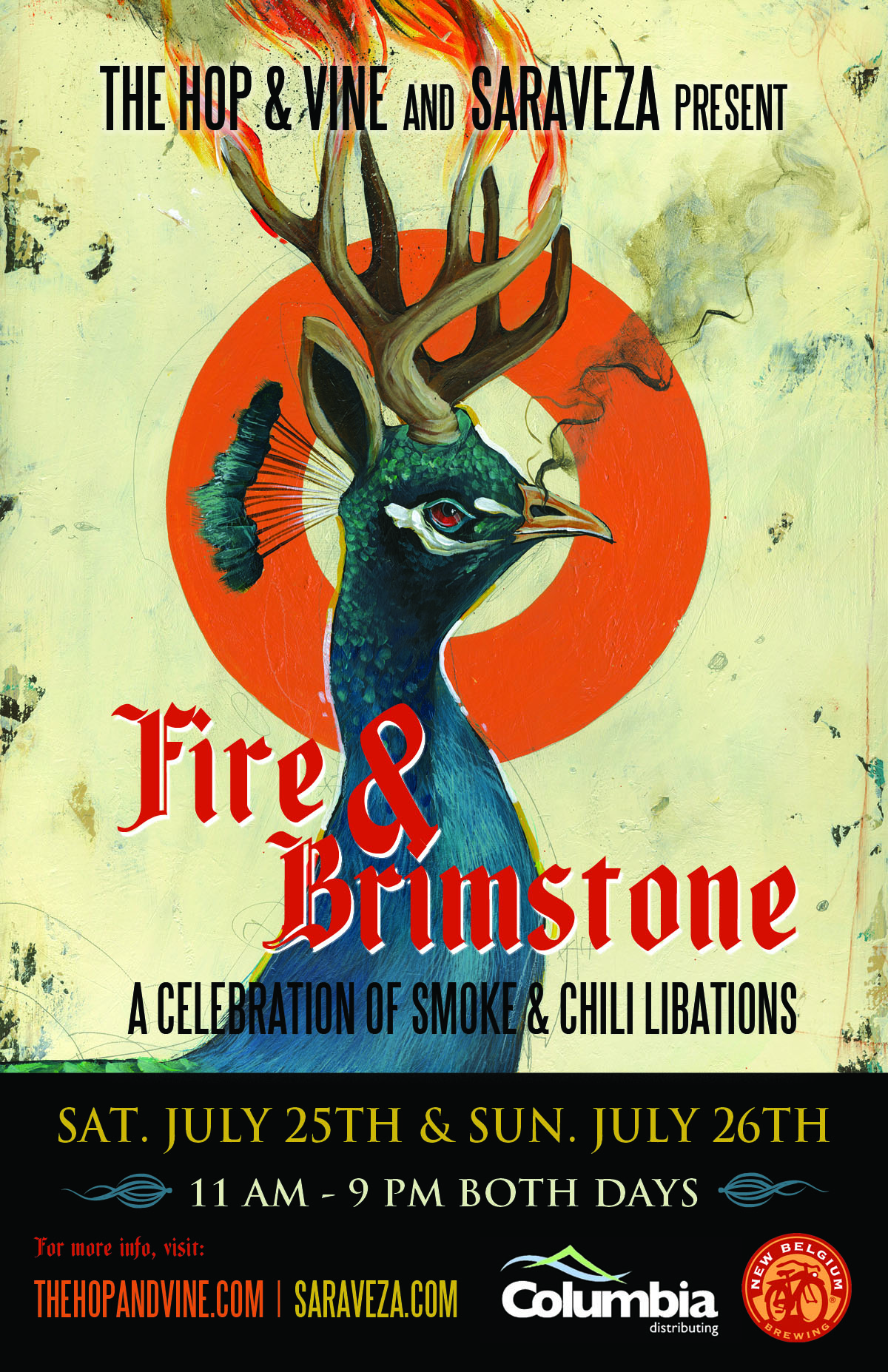 Saraveza and The Hop & Vine will be host to the 4th Annual Fire & Brimstone on Saturday, July 25 and Sunday, July 26. Taking place both days from 11:00am to 9:00pm, Fire & Brimstone will be a celebration of smoke and chili beers, ciders and cocktails. Both venues, which are walking distance from one another, will feature smoke and chili beers, a smoke or chili cider on draft, and a specialty cocktail. Smoky and/or spicy food pairings will compliment the beverage selection. To compliment the smoky/spicy beverage selection, Saraveza will feature its infamous Bamburg Onion and The Hop & Vine will be serving up a variety of tantalizing smoky and spicy tacos!
This year in lieu of tokens, each venue will offer individual 5oz pours of all draft offerings for $2.50 each during festival hours.
Saraveza will be pouring the following:
Chili Beers:
Agrarian Hot Banana Hefe, 5% ABV
Ballast Point Habanero Sculpin IPA, 7% ABV
Flat Tail El Guapo Cucumber Lime & Habanero Blonde Ale, 5% ABV
New Belgium Cocoa Mole, 9% ABV
Smoke Beers:
Bear Republic Smokey Bear, 7% ABV
Heater Allen Rauch Dunkel, 5.25% ABV
Schlenkerla Oak Smoked Doppelbock, 8% ABV
Stillwater Readymade: Vacuum Smoked India Black Ale, 8% ABV
Chili & Smoke Beer:
Fat Heads/Founders/Devil's Backbone Smoke & Burn, 8.2% ABV
Cider:
Finnriver Habanero Cider, 6.9% ABV
Cocktail:
Maple Bacon Chipotle Old Fashioned
The Hop & Vine will be pouring the following:
Chili Beers:
Evil Twin Imperial Biscotti Break (through randall w/ chipotle & cinnamon)
Heretic Evil Cousin IRA w/ Habanero
Del Ducato My Blueberry Nightmare (bottle pour)
Trois Dames 2x Jalapeno Raspberry
Smoke Beers:
New Belgium Eric's Ale (through randall w/ smoked peaches & habanero)
Bahnhof Oak Smoke Berlinerweisse
Del Ducato Brett Peat (bottle pour)
Schlenkerla Rauch Marzen
To stay up to date with all the festivities please follow the Facebook Event Page.
Saraveza
1004 N. Killingsworth St.
Portland, OR
www.saraveza.com
The Hop & Vine
1914 N. Killingsworth St.
Portland, OR
www.TheHopandVine.com