The Horse Brass Turns 40 Plus The Rest Of The Week's Craft Beer Events Beginning October 27
|
The Horse Brass Pub turns 40, plus Killer Pumpkin Fest, poutine, and lots of Halloween along with the rest of the craft beer events for the week of October 27th.
The Horse Brass Turns 40
Tuesday Nov.1 – Sunday Nov. 6, Horse Brass Pub, 4534 SE Belmont St.;
When the late Don Younger bought the pub that became the Horse Brass in the 1970s, 45th & Belmont was the back of beyond, and nobody knew that what this town REALLY needed was a Northwest take on a classic Brit pub. Of course, as in so many things, Don was right, and the Brass has become world famous for its comfy mix of bonhomie and brilliant beer. This week, it celebrates 40 years with lots of good beer, including Rogue Horse Brass Anniversary Ale, Russian River Don The Younger and a series of collaborations brewed by staff members with breweries that include Baerlic, Culmination, Migration, Rosenstadt, Solera and Sierra Nevada, plus special beers from Crux, Ecliptic, Flat Tail, Melvin, Six Point and more.
Those are the current beers, but four decades warrants some treats from the cellar throughout the week including — on Sunday Nov. 6 — a vertical of Deschutes Abyss 2009-2015. Also: Alaskan Smoked Porter 2013 & 2014, Bear Republic Cuvee De Bubba, Bell's Third Coast Ale, Boneyard SugeKnight, Brouwers 2013 Old Bruin. Double Mountain 2013 Black PerleImperial Stout, Fat Heads JuJu Imperial IPA, Gigantic Gin Barrel Aged IPA, Holy Mountain 2015 Bourbon Barrel King's Head. Lagunitas Doppel Sticky Double Alt, Midnight Sun Berserker Imperial Stout, Ninkasi Brewing Ground Control Imperial Stout and N10 Imperial Blended Ale, Pelican Mother of All Storms, Sierra Nevada Bigfoot Barley Wine, Stone Brewing WOOtStout, Widmer 2015 Brrrrbon Stout and Widmer/Cigar City 2012 Old Fashioned Ale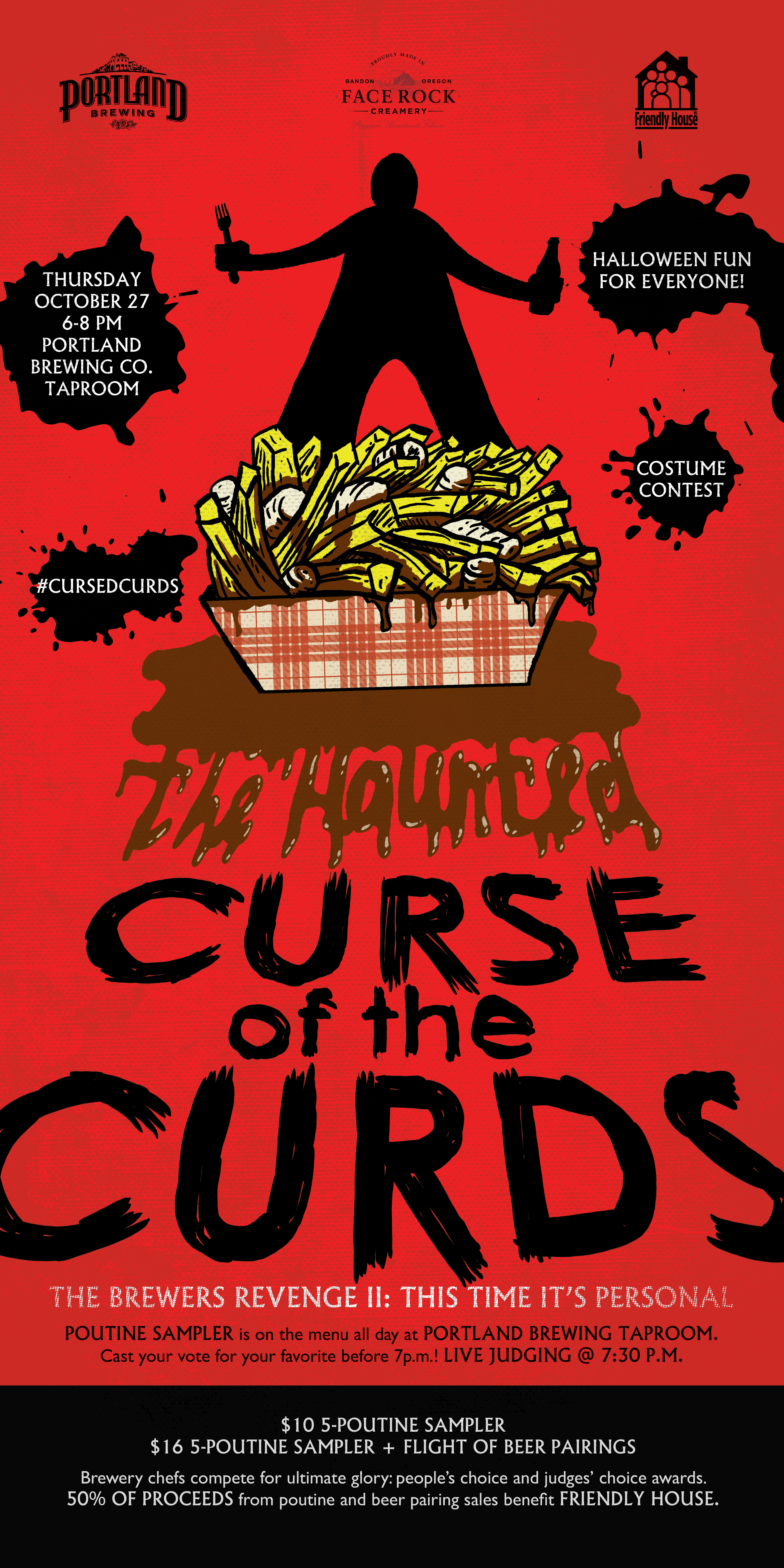 The Curse of the Haunted Curds
6-8 p.m. Thursday Oct. 27, Portland Brewing Co., 2730 NW 31st Ave.;
AKA the third Annual Poutine Competition for Charity, the event invites five brewery chefs to whomp up their twisted takes on poutine, the classic comfort food. French fries, beer-infused gravy and Face Rock's Vampire Slayer cheese curds will form the base of each new poutine recipe and Taproom diners can order a five-poutine sampler for $10 and add beer pairings for a total of $16. This year's competing chefs are from Portland Brewing, Deschutes Brewery, Breakside, Sasquatch and Rogue Ales & Spirits.
Halloween Beer Summit
Starts 2 p.m. Friday Oct. 30, Roscoe's, 8105 SE Stark St.;
Halloween and Pumpkin flavored beers fill the Roscoe's taplist for the weekend-long extravaganza. Wear your costume and check out beers such as Midnight Sun Treat, Alesong Harvest Ale, Monkish Cucurbatophobia, Dogfish Head Flesh and Blood, Noble Aleworks Naughty Sauce, 10 Barrel vintage 2014 El Capitan, Southern Tier 2014 Pumking, Avery The Beast, and more. Taster trays will be available.
Boneyard Beer Halloween Tap Takeover
4 p.m. Friday Oct. 28- Monday Oct. 31, Chill N Fill, 5215 N. Lombard St.;
Win Boneyard gear and Drink Boneyard beer including Mystery Science Brew 1000 IPA, Black 13 Dark Ale, Wit Notorious Triple IPA, Hop Venom Double IPA, Incredible Pulp Pale, Pabo Pils, Skin & Bones Session IPA, Bone-A-Fide Pale and, of course, RPM IPA
Montavilla Brew Works Halloween Party
5-10 p.m. Saturday Oct. 29, Montavilla Brew Works, 7805 SE Stark St.;
Wear your costume and celebrate Halloween at this fine neighborhood brewpub. They'll have light snacks available and some new beers on tap, including, I hope, that lovely, malty Belgian-style Dubbel I got to sample last week…
Killer Pumpkin Fest
11 a.m. – Midnight Saturday Oct. 29, Green Dragon, 928 SE Ninth Ave.;
It's October and pumpkin beer is as unavoidable as cold rain – which caused the cancellation of this event on nits original date two weeks a go – so you may as well dive in and sample from dozens of pumpkin beers at this family-friendly all-day event. It features all things pumpkin: Dog, kid and adult costume contests, live music, local vendors, pumpkin foodie treats, pumpkin smashing festivities and pumpkin beers 'til hell won't hold 'em… Elysian Brewing will tap its gourd filled with beer at 5 p.m. Killer Pumpkin Fest will once again be Portland's largest pumpkin party and the Dragon has a permit to close Ninth Ave to traffic to accommodate the expected crush of the gourdphilic…
Breakside La Tormenta Release Party:
7-10 p.m. Saturday Oct. 29, TILT, 1355 NW Everett St.;
Breakside will be taking over all 8 taps in the beer garage to celebrate the return of La Tormenta dry-hopped sour ale. La Tormenta is being released as an "interim" seasonal between Passionfruit Sour and the upcoming winter release of Salted Caramel Stout. Similar to past versions of La Tormenta, this year's edition is slightly more sour and is predominantly Citra and El Dorado hops with a touch of Mosaic.
Fifth Annual Pig-In-A-Blanket Challenge
Noon-9 p.m. Sunday Oct. 30, The BeerMongers, 1125 S.E. Division St.;
You too can be a part of the 5th Annual Pigs in Blanket Cookoff. The rules are simple: all items must include pork and the pork must be "inside" an edible "blanket." Use your skills to create the judges favorite and you could win amazing prizes, including Blazers tickets, Timbers tickets (next season) and beer related items. The Mongers will have some great beers on draft too.
Second Annual Apple Market
10 a.m.- 4 p.m. Sunday Oct. 30, Reverend Nat's Hard Cider, 1813 NE Second Ave.; Kids welcome until 4 p.m.
Meet Rev Nat and his team of cidermakers at this family-friendly daytime event where you can learn how to graft fruit trees from OMSI educators. Nat has six bins of not-so-beautiful culled apples available $10 for 25-pound lots. Also: gallons or carboys of pasteurized juice for drinking straight up or for making into hard cider at home. BYO container, minimum one gallon. $2.50/gallon blend hand-picked by Nat, $4.50/gallon Newtown Pippin, plus free hot mulled cider, apples to eat onsite and doughnuts for sale by Little T Bakery.
Kwaktoberfest
2-7p.m. Sunday Oct. 30. Bazi, 1522 SE 32nd Ave.; $15
Kwaktoberfest features a tasting tray with Bosteels Brewery three world-wide known beers: Kwak, Tripel Karmeliet and DeuS. The tasting event will consist of 5 oz pour of each beer for $15 including a souvenir Kwak glass. This is your opportunity to try the infamous DeuS (Is it champagne or is it beer?), normally available only in 750 ml Dom Perignon bottles plus one lucky winner will get to take home a Quattro – not an Audi, but a four-Kwak tasting tray.
Remembering Dean Pottle
3 p.m. Sunday Oct. 30, Alameda Brewhouse, 4765 N.E. Fremont St.;
Dean Pottle, who founded the idiosyncratic Dean's Scene in his basement, died earlier this month and Portland beer lovers are getting together to celebrate his life and raise a toast to the man this Sunday. I knew Dean only slightly, but Martin Cizmar posted a nice remembrance and appreciation of Pottle in Willamette Week…
Brew Happy Live Halloween Spooktacular
5 p.m. Monday Oct. 31, PDX Green Dragon, 928 SE Ninth Ave.
Damien DeBuiser brings his Brew Happy radio show to the Dragon with lots of prizes, the Wheel of Craft Beer, a costume contest and many good beers on tap.
All Souls Day Beer Festival
3-9 p.m. Tuesday Nov. 1 & Wednesday Nov. 2, Bazi Bierbrasserie, 1522 SE 32nd Ave., Imperial Bottle Shop, 3090 SE Division St.; $5 for tasting glass, $10 for 12 tix.
For the third year, Bazi and Imperial co-host a Day of the Dead beer and cider celebration. The Día De Los Muertos Festival De Cervezas will take place concurrently at both locations offering festival goers the opportunity to walk less than half mile between the two and enjoy an eclectic mix of more than 20 beers and ciders, including Baerlic Blood & Guts Barleywine, Block 15 Stoty of the Ghost IPA, Breakside Bourbon Aztec, Double Mountain Devil's Kriek, Mt Tabor Cowboy's Lament Dark Mexican Lager, Rev Nat's Hurt Cider w/chipotle, cinnamon and ghost pepper, Alesmith Evil Dead Red, Crux Better Off Red, Lompoc Monster Mash, Ordnance Full Metal Jack IPA, Van Steenberge Piraat Tripel aged in rum and oak barrels and several more.