Uptown Beer Co. Chili Con V: A Song of Spice and Fire
|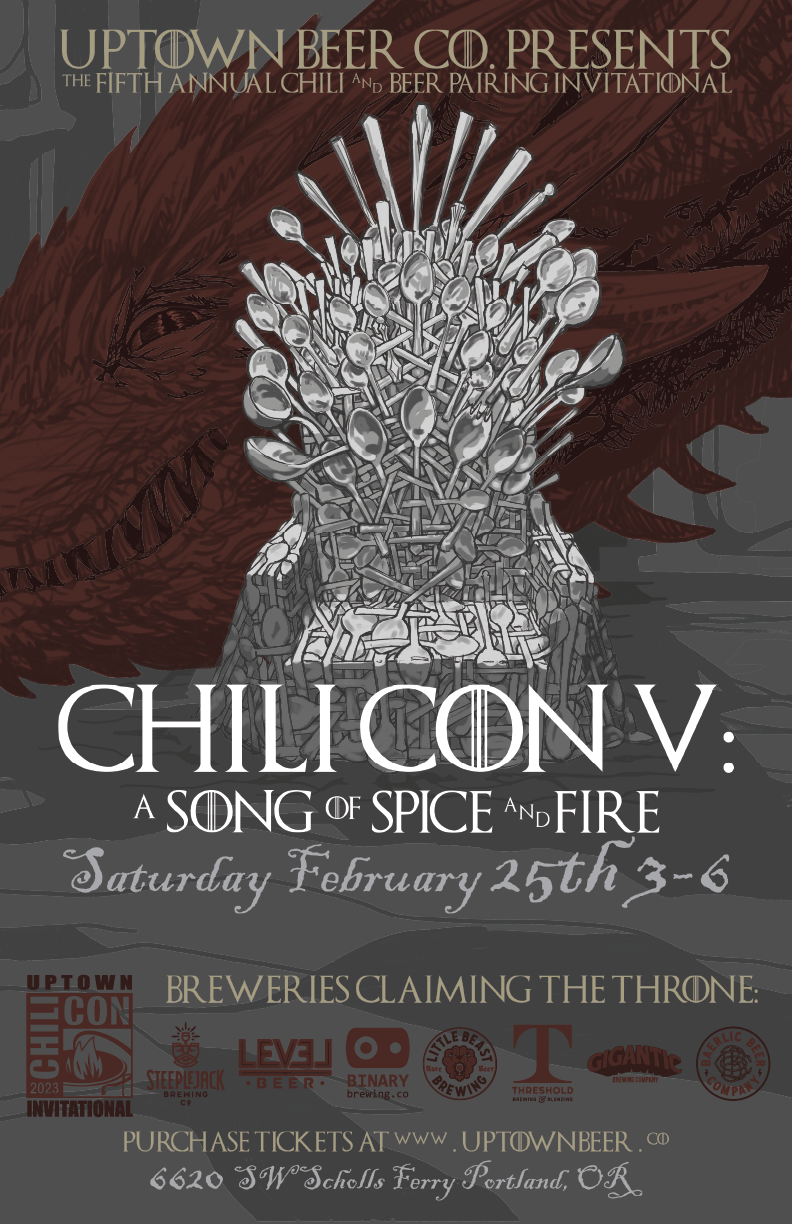 PORTLAND, Oregon –  Uptown Beer Co. will host its annual beer and chili pairing festival, Chili Con, for the fifth consecutive year on Saturday, February 25th from 3 to 6pm. Attendees will taste beer and chili from seven local breweries and vote for their favorites. Tickets can be purchased for $45 on www.uptownbeer.co. A portion of proceeds will be donated to the Oregon Food Bank.
Uptown Beer Co.'s Chili Con has invited seven Portland based breweries to bring a chili and beer pairing to be judged and voted on by ticket holders. Three titles will be awarded at the end of the event: Best Chili, Best Beer, and Best Pairing. This year's competing lineup includes BinaryBrewing.co, Baerlic Brewing, Level Beer, Little Beast Brewing, Gigantic Brewing, and Threshold Brewing, and Steeplejack Brewing.
Aside from bringing beer and chili, each brewery will also be bringing swag and prizes to be raffled off. The event will take place under Uptown Beer Co.'s covered patio and is ages 21+ only. The $45 ticket includes a commemorative pint glass, generous samples of all beer and chili entries, a pint of your favorite beer, and a donation to the Oregon Food Bank. Mid City Smash Burgers, a cheeseburger food truck on site, will also be open and serving food during the event.
"It feels like each year competitors get more and more excited to be a part of Chili Con," says Joshua Johnson, Uptown Beer Co. Managing Partner, "We'll be welcoming a few new breweries this year so we're expecting some great energy for the event". "I love seeing the excitement and competitive sides of the breweries that participate," explains Chatelle Hettig, Uptown Beer Co. Event and Social Media Coordinator, "It's fun to see them get really into Chili Con and strive to win while also having a great time with other friends in the industry."
Uptown Beer Co. is a pub and bottle shop built out of an old convenience store in SW Portland.  For over 11 years, it has offered a curated selection of thousands of craft beers, ciders, wines, and more. Their website, www.uptownbeer.co, keeps a live inventory of items for online purchase and pickup. With over 30 taps, 700 cans and bottles, ample dog friendly seating inside, and an all ages heated patio, Uptown Beer Co. is a neighborhood staple.