Zupan's Markets Farm to Market Dinner with Breakside Brewery and Reverend Nat's Hard Cider
|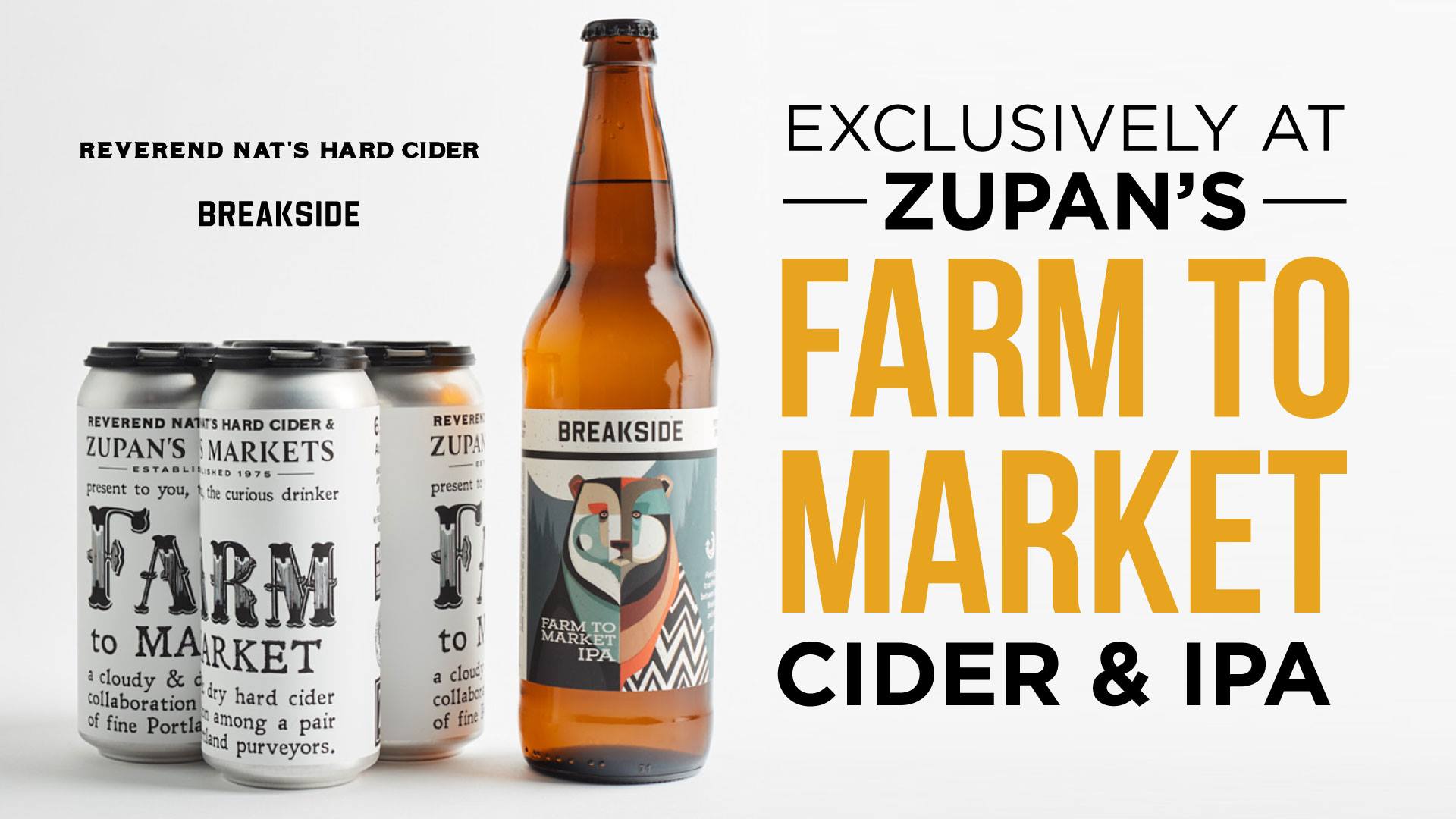 For the past few years local grocer Zupan's Markets has been collaborating with local breweries on its Farm to Market beer. Its latest creation is actually two beverages, Farm to Market IPA with Breakside Brewery and Farm to Market Hard Cider with Reverend Nat's Hard Cider.
Breakside Brewery worked with Zupan's to brew its new Farm to Market IPA that will be available exclusively at all of the area's Zupan's Markets. Farm to Market IPA is a lightly hazy IPA that uses Chinook, Mosaic, Citra, and Wakatu hops. A persistently citrusy IPA with tangible tropical fruit, brimming with aromas of lime zest and pine. The beer is packaged in 22oz bottles and sits at 6% ABV and 52 IBUs.
Farm to Market IPA is a limited brewed beer with only 120 cases available. Each 22oz bottle is priced at $6.99 and features exclusive label artwork by local artist Erik Abel.
The other new release is Farm to Market Hard Cider, a cider from Reverend Nat's Hard Cider and the first cider collaboration made exclusively for Zupan's Markets. This new cider features a blend of Northwest-grown apples including Golden Delicious, Granny Smith, Pink Lady, Fuji, and rare bittersweet and bitter sharp heirloom apples. Fermented to crisp, dry perfection, with a light cloudiness to impart a softness of texture and body.
Farm to Market Hard Cider is a limited release with only 150 cases produced. Each 16oz, 4-pack is $16.25 or a single 16oz can is $4.99.
To kick off the dual cider and beer release, Zupan's Markets will host a Farm to Market Dinner on Saturday, November 23rd at its West Burnside location. The dinner will take place at 6:00pm in the quaint Cellar Z that is located in the basement at Zupan's. Enjoy a 4-course meal prepared by Zupan's Chef John Eisenhart. Each course will feature a uniquely paired cider and beer to delight and inspire your palette.
Farm to Market Dinner Menu:
Farm to Market Cider or IPA
Mediterranean turkey meatballs with tzatziki
Flatbread with gouda & scallions
Strawberry Ballyhoo Sour & Valley of the Pear Cider
Baby kale salad with hibiscus, pepitas, pomegranate & Cypress Grove cheese
Farm to Market Breakside IPA & Farm to Market Cider
Gnocchetti with chicken sugo & thyme
True Gold Ale & Sacrilege Sour Cherry Cider
Dayton duck breast with roasted brussels & pear, foie gras
French Quarter Ryewine Ale & Abbey Spice Cider
Selection of chocolates
Tickets to the Farm to Market Dinner are priced at $75 each. Click HERE to purchase tickets.
Zupan's Markets – Burnside
2340 W Burnside St,
Portland, OR 97210