2020 Zymurgy's Best Beers and Breweries in America Results
|
Zymurgy magazine is back with its 18th annual Best Beers and Breweries in America poll from its readers. Each year readers for Zymurgy are asked about the favorite beers and breweries that are commercially available in the United States.
Zymurgy magazine is the publication of the American Homebrewers Association (AHA), and each year for the past 17 years have polled their readers in a survey to come up with the top beers and breweries. With over 8,000 breweries in America, Two Hearted Ale from Bell's Brewery earned the top spot for the fourth consecutive year. The Michigan brewer also has a second beer rated in the Top 10 with its Hopslam.
One Oregon brewery made it in to the Top 10 as Dechutes Brewery ranked No. 9 for its Fresh Squeezed IPA and as a brewery ranked No. 7! There were no Washington beers or breweries that ranked in the Top 10, but readers of Zymurgy ranked Lush IPA from Fremont Brewing as its favorite beer from Washington State.
Here are the results for the 2020 Best Beers in America survey. And for the homebrewers out there, click on the hyperlinked beers for a clone recipe that you can brew at home. Check out the November/December 2020 issue of Zymurgy for the full results!
Top 10 Ranked Beers
1. Bell's Two Hearted Ale*
2. Russian River Pliny the Elder*
3. Sierra Nevada Pale Ale*
4. The Alchemist Heady Topper*
5. Bell's Hopslam*
6. Three Floyds Zombie Dust*
T7. Boulevard Tank 7 Farmhouse Ale *
T7. Founders Kentucky Breakfast Stout
9. Deschutes Fresh Squeezed IPA*
10. North Coast Old Rasputin*
Top 10 Ranked Breweries
1. Bell's Brewery*
2. Sierra Nevada Brewing Co.*
3. Russian River Brewing Co.*
4. Founders Brewing Co.
5. Dogfish Head Craft Brewery*
6. Tree House Brewing Co.*
7. Deschutes Brewery*
8. The Alchemist Brewery*
9. New Belgium Brewing Co.
T10. Firestone Walker Brewing Co.*
T10. Stone Brewing*
All breweries marked with an asterisk (*) are small and independent craft brewers. The independent craft brewer seal is a helpful tool for you to easily identify and support #IndependentBeer. Learn more about small and independent craft breweries on CraftBeer.com.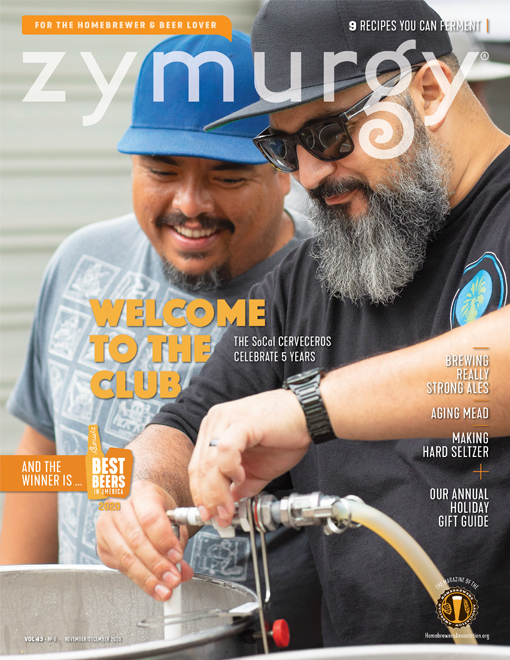 In addition to announcing Zymurgy's Best Beers in America 2020, here are the results of the top rated brewery by state and the District of Columbia.
Alabama
Snake Handler | Double IPA
Good People Brewing Co.*
Alaska
Alaskan Smoked Porter | Smoked Porter
Alaskan Brewing Co.*
Arizona
Tower Station | India Pale Ale
Mother Road Brewing Co.*
Arkansas
Fallen Queen | Belgian Witbier
New Province Brewing Co.*
California
Pliny the Elder | Double India Pale Ale
Russian River Brewing Co.*
Colorado
Odell IPA | American IPA
Odell Brewing Co.*
Connecticut
Coolship Lager | Czech-style Blonde Lager
OEC Brewing*
Delaware
120 Minute IPA | Imperial IPA
Dogfish Head Craft Brewery*
Florida
Jai Alai | IPA
Cigar City Brewing*
Georgia
Tropicália | American IPA
Creature Comforts Brewing Co.*
Hawaii
Big Wave | Golden Ale
Kona Brewing Co.
Idaho
Helm of Awe | Robust Oatmeal Porter
Mad Swede Brewing Co.*
Illinois
Bourbon County Brand Stout | Imperial Stout
Goose Island Beer Co.
Indiana
Zombie Dust | American Pale Ale
3 Floyds Brewing *
Iowa
PseudoSue | Pale Ale
Toppling Goliath Brewing Co.*
Kansas
Oatmeal Stout | Oatmeal Stout
Free State Brewing Co.*
Kentucky
Tropic Flare | New England IPA
Braxton Brewing Co.*
Louisiana
Ghost in the Machine | Double IPA
Parish Brewing Co.*
Maine
White | Belgian Wit
Allagash Brewing Co.*
Maryland
Sweet Baby Jesus! | Chocolate Peanut Butter Porter
DuClaw Brewing Co.*
Massachusetts
Julius | American IPA
Tree House Brewing Co.*
Michigan
Two Hearted Ale | American IPA
Bell's Brewery, Inc.*
Minnesota
Extra Pale Ale | EPA
Summit Brewing Co.*
Mississippi
Paradise Lost | Double IPA
Southern Prohibition Brewing Co.*
Missouri
Tank 7 Farmhouse Ale | Saison
Boulevard Brewing Co.*
Montana
Moose Drool | American Brown Ale
Big Sky Brewing*
Nebraska
Fairy Nectar | New England IPA
Kros Strain Brewing Co.*
Nevada
Revision IPA | American IPA
Revision Brewing Co.*
New Hampshire
Erastus | Abbey-style Tripel
Schilling Beer Co.*
New Jersey
Head High | American IPA
Kane Brewing Co.*
New Mexico
Elevated IPA | American IPA
La Cumbre Brewing Co.*
New York
Three Philosophers | Belgian Ale
Brewery Ommegang*
North Carolina
Surf Wax IPA | West Coast-style IPA
Burial Beer Co.*
North Dakota
Radegast Amber | Hazy Amber Ale
Prairie Brothers Brewing Co.*
Ohio
Headhunter IPA | India Pale Ale
Fat Head's Brewery*
Oklahoma
Bomb! | Imperial Stout
Prairie Artisan Ales*
Oregon
Fresh Squeezed IPA | American IPA
Deschutes Brewery*
Pennsylvania
Prima Pils | German-style Pilsner
Victory Brewing Co.*
Rhode Island
Captain's Daugther | Double IPA
Grey Sail Brewing Co.*
South Carolina
World Court | White Stout
Legal Remedy Brewing Co.*
South Dakota
German Pilsner | German Pilsner
Zymurcracy Brewing Co.*
Tennessee
Homestyle | Oat IPA
Bearded Iris Brewing*
Texas
Electric Jellyfish | India Pale Ale
Pinthouse Pizza*
Utah
Big Bad Baptist | Imperial Stout
Epic Brewing Co.*
Vermont
Heady Topper | Double IPA
The Alchemist*
Virginia
Falcon Smash | American IPA
Triple Crossing Brewing Co.*
Washington
Lush IPA | American IPA
Fremont Brewing*
Washington, D.C.
Can't You See the Sunshine | Fruited Sour
3 Stars Brewing Co.*
West Virginia
Devil Anse | India Pale Ale
Greenbrier Valley Brewing Co.*
Wisconsin
Spotted Cow | Farmhouse Ale
New Glarus Brewing Co.*
Wyoming
2×4 DIPA | Double IPA
Melvin Brewing*