2021 Craft Brewers Conference and BrewExpo America Rescheduled for September In Denver
|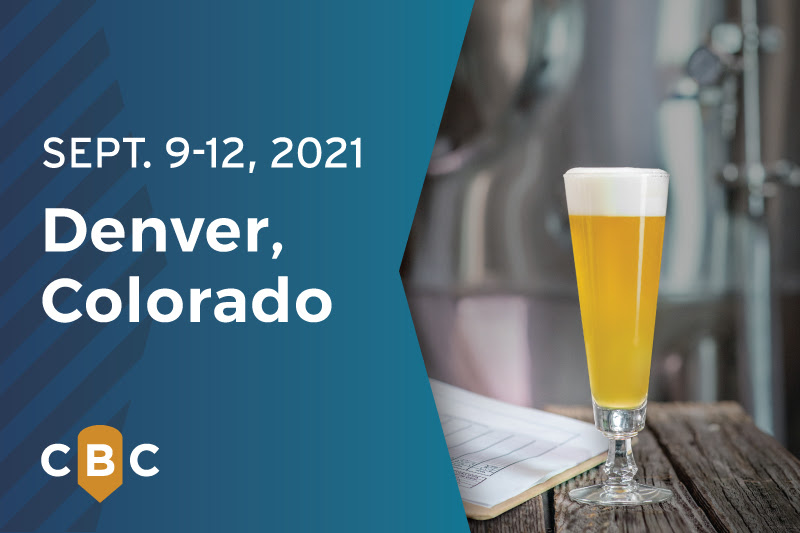 With the threat of the COVID-19 pandemic in full force, the Brewers Association (BA) announced today that the 38th edition of the Craft Brewers Conference & BrewExpo America (CBC) has been rescheduled for September 9-12, 2021 and moved to Denver, Colorado. The BA will also host the Great American Beer Festival competition and awards ceremony during CBC on September 10th.
After canceling the in-person portion of the 2020 CBC that was to be held in San Antonio, Texas last April, the BA had planned on hosting the 2021 CBC this spring in San Diego, California. With dates of March 29-April 1, 2021, the BA knew that this would prove too difficult to continue to go forward with an in-person event while the pandemic continues to ravage the globe.
"Shifting to September in Denver provides us with an opportunity to potentially convene in person, making it possible to do what brewers do best—build community through sharing our expertise and passion, and learn from each other," said Bob Pease, president and CEO, Brewers Association, in a statement.
Final confirmation of the in-person event remains dependent on health and safety protocols at the time of the conference. If an in-person event is not possible due to COVID-19 related concerns, the conference will move online. Registration for attendees and media is anticipated to open in April 2021.
"The past year has been tumultuous for the craft brewing community, as we've faced a number of challenges. But we are resilient," said Pease, in a statement. "We know that maintaining craft beer's health and vitality for the future starts with CBC and the cultivation and education of our professionals. We hope to see everyone in Denver this fall."
CBC provides the latest in technical brewing resources, education, and business development opportunities for professionals who work across the spectrum of craft beer. Seminars across eight educational tracks have been developed to help brewers remain relevant and stay competitive in the ever-changing business climate. BrewExpo America, the largest trade show of its kind in North America, is the ultimate "one-stop shop" for brewers looking to invest in their businesses and make important connections with vendors.
The 2019 Craft Brewers Conference & BrewExpo America generated $37.9 million in direct spending in Denver and attracted nearly 15,000 brewing industry professionals. As a huge revenue source for the BA, the trade group hopes that brewers will attend in full force this year in September in Denver.

With the Great American Beer Festival (GABF) competition and awards ceremony shifting to be held during CBC in September, this places the festival portion of the GABF in question. After this past year's virtual GABF, the BA had planned to host the 2021 GABF from October 7 – 9, 2021 in Denver, but this date and event for this year remains under review. A complete GABF competition timeline is available here.