No-Li Brewhouse Wins Double-Gold & Three Gold Medals at 2021 Berlin International Beer Competition
|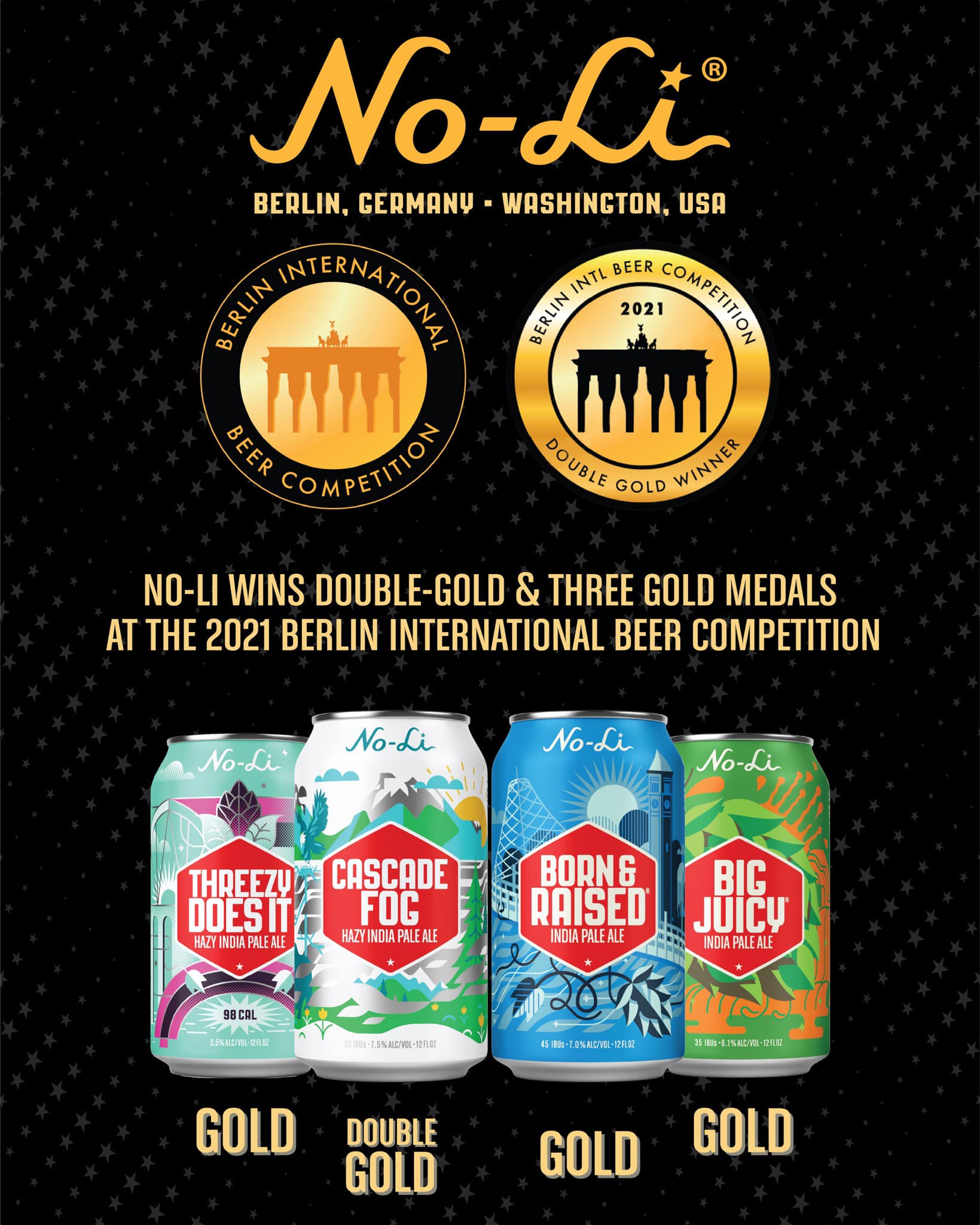 No-Li Brewhouse has been racking up some great brewing awards over the past year. Most recently the Spokane, Washington brewer has claimed the top spot as the most international award-winning American craft brewery in 2021, garnering 42 medals from beer competitions around the globe.
The panel of experts from the 2021 Berlin International Beer Competition awarded No-Li a Double Gold for Cascade Fog Hazy IPA, as well as Gold Medals for Big Juicy IPA, Born & Raised IPA, and Threezy Does It Hazy IPA. Other beers that received honors from the judges included Wrecking Ball Imperial Stout, Corner Coast Golden, Jet Juiced IPA, Porch Glow Amber, and Red White & Hazy IPA.
Over the past 12 months, panelists and judges from around the world sent some 42 medals and awards home to No-Li Brewhouse in Spokane. Cascade Fog Hazy IPA continues to establish the Hazy style around the globe, raking in five prestigious medals from five different countries.
2021 Berlin International Beer Competition: Berlin, Germany
Cascade Fog Hazy IPA: Double Gold
Big Juicy IPA: Gold
Born & Raised IPA: Gold
Threezy Does It Hazy IPA: Gold
Wrecking Ball Imperial Stout: Silver
Corner Coast Golden Ale: Silver
Jet Juiced IPA: Silver
Porch Glow Amber Ale: Bronze
Red, White & Hazy IPA: Bronze
"We are so proud to represent Washington and USA craft brewing around the globe," said John Bryant, No-Li Owner, in a statement. "Our brewery team brews world-class beer, and we want to share that goodness with the world!"