2018 Willamette Week Beer + Cider Pro/Am Beer & Cider List
|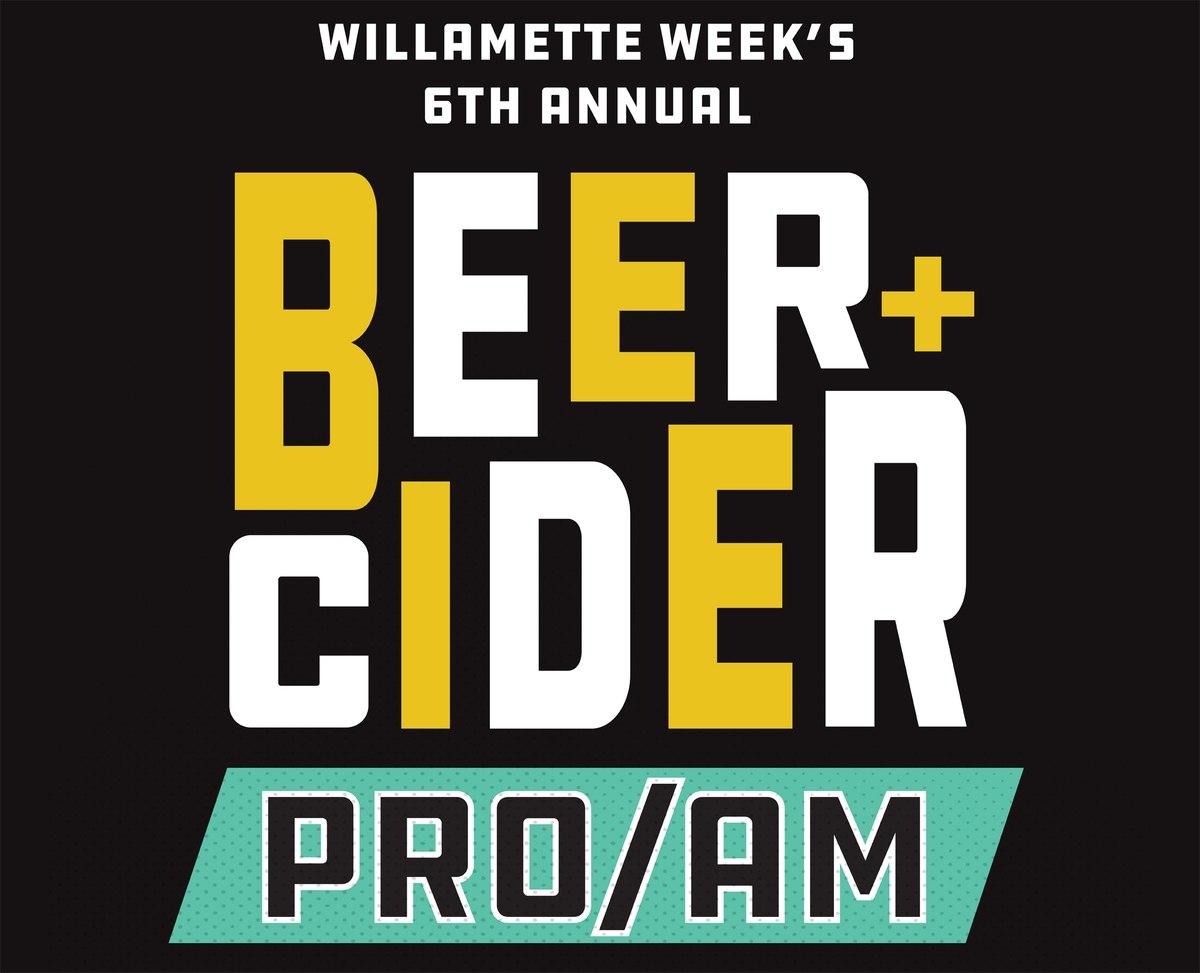 On Sunday, teams of 30 local homebrewers and local breweries come together for Willamette Week's 6th annual Beer + Cider Pro/Am. Each team will debut a brand new beer or cider at the Pro/Am that takes place at the Leftbank Annex in North Portland.
The 6th Annual Beer + Cider Pro/Am will take place on October 14, 2018 from 1:00-6:00pm (VIP at Noon). This all-inclusive event is a benefit for Oregon Wild that helps protect and restore our wildlands, wildlife, and waters as an enduring legacy for future generations.
Here's a preview of all of the beers and ciders that will be pouring on Sunday at the Beer + Cider Pro/AM.
2018 Pro/Am Brewing Teams + Beer & Cider List:
Erik Nelson with 54-40 Brewing Co
Sterling Landbier
STYLE: Washougal-provincial Lagerbier
ABV: 5.00% | IBU: 30
A golden lager brewed with noble hops from the Willamette Valley and all German Pilsner malt. Dry hopped with Sterling hops.
Kristen Walters with Alameda Brewing Co.
Lisa Left IPA Lopes
STYLE: Taco-Inspired IPA
ABV: 6.70% | IBU: 40
What does a late, great 90's R&B legend have to do with tacos? Nothing, except that we grew up on both and a lot of TLC was put into the creation of IPA. We brewed our taco inspired IPA with lime peel, juice, salt, coriander, and a ton of Citra, Mosaic, and Idaho 7 hops. We wanted to toss in something crazy, sexy, and cool so we decided to throw corn tortillas right into the mash! So we creep, yeah, but we hope you enjoy and we urge you to not go chasing waterfalls. (No scrubs were involved in the production of this beer.)
Jason Jaime with Ascendant Beer Company
The Wrath of Pecan
STYLE: Pecan Bock
ABV: 6.20% | IBU: 31
We took a German Bock recipe and threw 10# of toasted pecans in the mash. ItÕs got enough Munich malt and Herkules hops to (insert deep cut Star Trek reference here). Contains: tree nuts, good times
Corrie Heath with AVID Cider Company
Spicy Grandma
STYLE: Cardamom and Habanero Infused Cider
ABV: 6.20% | IBU: –
Fermented Hood River Granny Smith apples and pressed Yakima Washington grown apricots pirouette on your palette in a nuanced, delicate balance. Cardamom and infused habanero peppers elevate their dance to new planes of liveliness and innovation
Heather Egizio and Ezra Johnson-Greenough with Baerlic Brewing Co.
Rosé Colored Glasses
STYLE: Brut Style IPA with Pinotage Grape Must
ABV: 7.00% | IBU: –
Brut Style IPA fermented with Pinotage Grape Must to leave us with a super dry IPA and dry hopped with a slight orange Mandarina Bavaria and grapey Hallertau Blanc.
Nate Mock with Bauman's Cider
Kreik Lambic Cider
STYLE: Cider
ABV: 7.50% | IBU: –
We started with a lacto inoculation of fresh-pressed dessert apples in an open vessel for 5 days. Then added morello cherries and fermented to dry. Added a splash of concentrated cherry juice to finish.
Andrew Bisbee with Binary Brewing
#squadgourds
STYLE: Gourd Spice British Strong Ale
ABV: 7.40% | IBU: 18
#squadgourds is NOT the hashtag in a hot take written in ALL CAPS. It's about staying sexy and something to do with not getting murdered? The quintessentially British Maris Otter (70%) commingled with equal parts Biscuit, C45, Malted Oats, and Melanoiden to add aroma, sweetness, warmth, and color respectively. Three gourds, including pumpkin, acorn and butternut squash were roasted, caramelized, and positioned atop the mash bed. Columbus hops were introduced as a first wort addition, and honey, brown sugar, and cobwebs were added before flame out. To complete this gourdgeous ale, subtle spice adjuncts, including allspice berries, nutmeg seed, cinnamon sticks, and vanilla beans were added to the brite tank.
Ritch Marvin with Breakside Brewery
Rowdy Roddy Pilsner
STYLE: Super Cold Pilsner
ABV: 5.20% | IBU: 20
Super cold, brut Pilsner with Grungeist and Mt Hood hops, fermented at 46 deg F and never warmed. 100% naturally carbonated. This is old school lager done with a Brut mindset. "Just when you think you know the answers, I change the questions." -Rowdy Roddy Piper
Jarett Creason/John Moore with Coalition Brewing
Summer's Eulogy
STYLE: Agave Lime Session Ale
ABV: 4.80% | IBU: 38
Summer's Eulogy
Let us all take a moment of silence, or a beer rather, for SummerÕs Funeral. High mash temp, white wheat, and golden naked oats layer together to create a full bodied session ale. Agave, fresh pressed lime juice and hand zested lime peel take you back to your favorite beach trip or park picnic. As the crisp carbonation releases the subtle notes of agave and lime, raise a glass to the Summer we always welcome in the Pacific Northwest. We hope you enjoyed the warm days just as much as we did.
Felicia Reninger with Dirty Pretty
Rastas Don't Drink
STYLE: Tropical Stout
ABV: 6.50% | IBU: 38
"Rastas Don't Drink"recipe is based off of a Tropical Stout, sweet but not cloying, roasty but not dry, fermented with a lager strain at warmer temperatures. The foundation of this beer is beautiful English Marris Otter malt. Specialty malts include Chilean Perle Negra (Black malt), Chocolate, Rye, Crystal, and Simpson's Malting "Golden Naked Oats". Amarillo hops lend a fruity, tropical flavor and aroma balancing the roasty stout character. We then aged the beer on dark rum soaked white oak chips to lend even more island character awesome beer. Enjoy!"
Dean Ehnes with Ecliptic Brewing
Cassiopeia
STYLE: Catharina Sour Ale with Passionfruit, Guava and Tangerine
ABV: 4.60% | IBU: 5
Cassiopeia Catharina Sour Ale is based on a new and unique style of beer popular in Santa Catarina, Brazil.ÊIt is a tart wheat beer with loads of fresh tropical fruit flavors. Our Catharina Sour Ale includes generous amounts of delicious passion fruit, tangerine, and guava for a genuine taste of the tropics. This beerO's beauty and allure is a match for the namesake Queen herself.
Coyan Corder with Evasion Brewing
Summer Loving
STYLE: Brut IPA
ABV: 7.50% | IBU: 15
The Only beer here inspired by Olivia Newton John and Grease. This Brut IPA uses a ton Australian Summer Hops which impart a nice fruit quality of fresh apricots and ripe melon. As well as a little Cascade Hop Hash . It has a smooth body and mild bitterness. With a crisp carbonation. Almost bone dry but you would never know. Summer Loving is a tribute to the Australian wonder of Olivia Newton John. Enjoy
Chad Graham with Ex Novo Brewing
Peach Diddy
STYLE: Spontaneously fermented Peach Berliner Weiss Style Ale
ABV: 2.80% | IBU: 8
Berliner Weiss style base beer fermented on 400# of fresh Oregon Grown peaches. Brewed for Willamette WeekÕs Pro-Am with Chad Graham, we didnÕt add any yeast other than what was on the skins of the stonefruit. It feremtned out and ended up tart, peachy, and delicious; and at 2.8% you can drink it all day.
Will Minderhout with Funhouse Brews
Supply Llama
STYLE: Hazy IPA
ABV: 7.00% | IBU: 42
We've packed this llama with it all! Oats, raw barley, wheat, and a medley of light malts. Full body but smooth flavor, an aroma explosion of dry hopped Citra and Eukanot accompanies a legendary finish.
George Dimeo with Gigantic Ben Love
Kick Out The Jams
Pale Ale
ABV: 5.5% | IBU: 42
Starting with Marris Otter and Honey Malt we layered in Crystal hops then dry hopped with Experimental Hop 527 and Belma. The resulting beer has a jammy strawberry and citrus marmalade aroma and flavor.
Stephen Smith with Great Notion Brewing
Mirage
STYLE: Hazy Double IPA / Fruited Brut DIPA
ABV: 8.20% | IBU: –
Double IPA (Brut Style) fermented with Passion Fruit and Pineapple and dry hopped with Citra and Galaxy. We added amylase enzyme during fermentation to dry the beer out.
Dan Schlegel with Green Dragon Brewing Co.
Escape
STYLE: Pina Colada Milkeshake IPA
ABV: 7.60% | IBU: 39
Escape is a Pina Colada Milkshake IPA. Lactose and palm sugar was added to the boil to provide a creamy mouthfeel. Whirlpool additions of Sabro and Mosaic hops bring notes of pineapple, coconut and tropical fruit. To further accentuate these notes, it was fermented on pineapple puree and heavily dry-hopped with Galaxy and Vic Secret. Finally, we conditioned it on grilled pineapple, coconut, and vanilla to round out this tropical delight. If you're not into health foods, and you have half a brain, this is the beer that you've looked for. Come with us and escape.
Jeff Roth with Josh Jennings (Portland U-Brew & Pub & Unicorn brewing company)
Brut We Got So Close!
STYLE: Imperial Red Brut IPA
ABV: 8.00% | IBU: 30
Everyone said a Red Brut IPA couldn't be done! Well, that was partially true, brut we got so close! Finishing off just shy of the dry Bruts we love and enjoy. This brew is crisp, clean, slightly malty and packed full of hops! We loaded this beer with as much Citra, Mosaic, and Nelson Sauvin that we could throw at it. So try one or 10!
Barry Webb with Leikam Brewing Company
Red Zeppelin
STYLE: India Red Ale ABV: 6.00% | IBU: –
This India Red Ale won't be a heartbreaker. With a whole lotta Centennial, Citra and Cascade this beautifully bodied beer is perfect for a celebration day. We bring it on home with a malt profile that is layered like a stairway to heaven.
Gordon Penner & Jack Hall with Level Beer
Drinkin' the Kool-aid
STYLE: New Kewl Thing
ABV: 5.90% | IBU: –
Fruited Hazy/Brut IPA with added Flavors.
Dan Trimarco with Lompoc Brewing
Marvelous Mr. Mustachio
STYLE: Sour Cherry Saison
ABV: 5.30% | IBU: –
A mix of German malts with a touch of black grain gives this Saison a hint of the dark side.Fermented with sour cherries, then aged in zinfandel barrels with even more sour cherries, itÕs a last taste of summer thatÕs sure to have just enough tart to curl your mustache.
Dwayne Smallwood with Fort George Brewery
Theosophy
STYLE: Rye Saison
ABV: 7.80% | IBU: –
A rye saison spiced with elderflower and pink peppercorns. Brewed and named in honor of St-Germain, the elderflower liqueur and the legendary spiritual master responsible for the
New Age culture of the Age of Aquarius. A few sips will help focus your understanding of the floral nature of divinity and the spicy origin and purpose of the universe. **NUT ALLERGY WARNING: Pink Peppercorns are aromatic berries from the cashew family**
Mike Marsh with McMenamins Edgefield
Eis-toberfest
STYLE: Oktoberfest Lager
ABV: 11.50% | IBU: 11
Eis-toberfest is a traditional seasonal lager, but with one major difference. This beer was frozen multiple times to concentrate the aromas and flavors of toffee with a dry, subtlety spicy, citrus aftertaste.
John Drake with New West Cider
Pie Graff
STYLE: Graff – Cider
ABV: 4.60% | IBU: 20
Pie Graff is a beautiful cross between cider and beer, fermented with our hazy yeast strain and aged on a collection of spices. The result is a delicious spiced cider with a malty backbone.
Roxanne Kilpatrick with Portland Cider Co.
Confuggled
STYLE: Hopped Cider
ABV: 7.50% | IBU: –
A classic french saison… cider. We brought all the familiar and love-able aromas of this traditional beer style to a fruit and juicy dry cider. This balanced and straight forward blend will trick your senses and keep you reaching for more.
Brandon Kilpatrick with Sasquatch Brewing Company
Are You Yeti For a Great Beer?
STYLE: Belgian Dubbel
ABV: 7.00% | IBU: 20
Six different malts combine for a deep copper color and rich malt flavor. Tettnanger hops for bittering and a combo of Tettnanger & Goldings hops added late in the boil provide an herbal & spicy character. Belgian candy syrup and a Belgian abbey yeast create pleasant raisin and dried fruit flavors. Light-bodied and highly carbonated for an effervescent finish.
Jenn McPoland & Jeremie Landers with Schilling Cider
Woodrose Angleshare
STYLE: Barrel Aged Cider
ABV: 13.00% | IBU: –
The cider started out life as a traditional imperial apple cider made with French and English bitter sharp apples alongside a blend of NW grown apples. We then fermented the cider with a very expressive fruit and citrus forward yeast strain. We then fortified this cider with a 4 year barrel aged Pommeau. This Pommeau was made from Schilling Cider distilled into apple brandy by Mischief Distilling. It was then proofed with fresh pressed apple juice and barrel aged in an American oak barrel formerly filled with cabernet sauvignon. In the fortification process, we took the ABV from 8.5% to 13%. This cider is tannic from both the apples and the oak, with a smooth heat, notes of aged fruit, and a lingering finish.
Margaret Havlik with Second Profession Brewing Company
Bohemian Like You Czech Pilsner
STYLE: Czech Pilsner ABV: 5.50% | IBU: 35
How do you take a classic beer style and make it better? You don't. We crafted this beer using only ingredients that recreate this timeless style from Bohemia: Floor malted Bohemian pilsner malt and Czech Saaz hops. Crisp and balanced with subtle hop spice and floral aromas will have you feeling so bohemian (like you).
Miranda Karson with Swift Cider
Mugolio Pine Bud Cider
STYLE: Conifer-Infused Cider
ABV: 6.50% | IBU: –
Mugolio is a one-of-a-kind, wild-grown product made by forager Eleonora Cunaccia in Trento, Italy. She is one of a few local residents given permission to gather by hand the tender young buds of the Mugo pin in early May. The fragrant buds macerate in water and sugar during the sunny summer months until September, when the must is altered and cooked over a wood fire into a pungent golden brown syrup. Because the buds are harvested young and allowed to age, they avoid the bitter astringency of mature pine boughs. The result is slightly sweet syrup with a deep woodsy flavor profile. This is the only Mugo pine bud cider in the world, so enjoy it while it lasts.
Jon and Parker Hall with Upright Brewing
Self-Portrait in Three Colors
STYLE: Peppercorn and Sage Witbier/Barrel-aged sour blend
ABV: 5.00% | IBU: 12
Self-Portrait In Three Colors is a blend of Nepalese peppercorn and sage-infused witbier and a unique cask of barrel-aged sour ale from Upright's Lambic-inspired Ives program. Unlike Western peppercorns, the varietal used in this beer impart hyper-citrusy notes of lime pith and grapefruit zest, and were purchased by Parker Hall during a trek through the country's Annapurna region. The sage, which was grown in Upright owner Alex GanumO's backyard, is also an unusual varietal, offering a subtle floral quality in the finished beer. Light and refreshing, this three-way collaboration is designed to showcase the brewers' combined love of unique ingredients, processes, and terroir.
Ashley Rose Salvitti with Widmer Brothers Brewing
Dank Crystal Fresh Hopped Lager
STYLE: Fresh Hop Lager
ABV: 5.00% | IBU: 30
Widmer Brothers Brewing partnered up with Ashley Rose Salvitti of BREWVANA fame to make a fresh hopped lager utilizing fresh Crystal hops from Goschie Farms. The result is a dank, crisp and clean lager that highlights not only the fresh Crystal hops used, but the many talents of the one and only Ashley Rose!
Craig Vanaken with Zoiglhaus Brewing Company
Hazy is Lazy
STYLE: Hazy IPA
ABV: 7.20% | IBU: 38
Fruit Juice forward Hazy IPA. Low on the bitterness, high on flavor. Notes of Melon, citrus, tropical and stone fruit come from generous dosages of Citra, Mosiac and Azacca hops. Grain bill consists of 2 row, White wheat, oats and a pinch of honey malt to give this IPA a round full mouthfeel. Fermented with Imperial Juice to maximize the tropical, juicy notes these hops are known for.
Admission into Beer + Cider Pro/Am is limited to 600 and is all-inclusive! There are no beer tickets, just responsible sampling of the 24 beers and 6 ciders. Attendees will then vote for their favorite beverage in the People's Choice competition in addition to the judge's decision.
There are two entry options for the Beer + Cider Pro/Am, VIP that allows entry an hour early at Noon and General Admission with entry at 1:00pm. Tickets are now on sale by clicking HERE.
VIP entry is $40 and includes 30 two-ounce tastes, commemorative pint glass, VIP tasting with brewers for the first hour (only 150 people), and entry into a special giveaway. General Admission entry is $30.00 and includes 30 two-ounce tastes and commemorative pint glass. There is also a Designated Driver/Non-Drinker entry for $10.
In addition to the 30 beverages the Beer + Cider Pro/Am will also feature food from Tamale Boy and PDX Sliders and music from DJ Lemix.
Leftbank Annex
101 N Weidler St.
Portland, OR 97227