National Homebrew Day, Gigantic's Fourth and more: your week in beer May 6 – 13
|
Major Rebrand for Full Sail Look for colorful new packages and two new beers – Full Sail Blood Orange Wheat and Full Sail Hop Pursuit IPA – to go along with the Full sail line up on the shelves of your favorite beer store soon…here's the press release:
"In an increasingly competitive craft-beer marketplace, we knew Full Sail's packaging needed to be as notable and attention getting as the award-winning brews inside the bottle," says Full Sail Executive Brewmaster Jamie Emmerson. The color palette, hand-drawn artwork and contrasting design elements that vary from package to package together tell a story about Full Sail's environment, ingredients, geography, heritage, and taste.
A good brew starts with great water, and the new packaging's water imagery honors this magnificent resource. "A layer of spot varnish that evokes flicker and catches the attention of your peripheral vision and hand-drawn, wavy lines in a moiré illustration style are the guiding visual elements," says MiQ Willmott of TWEEQiM creativeLab, who penned the artwork.
The revitalized Full Sail logo and coat of arms also breathe new life into the story behind the brand, highlighting Full Sail's Oregon heritage and connection to the winds that blow through the Gorge, Mt. Hood's majestic beauty, the mighty waters of the Columbia and the abundant agriculture that supplies the brewery. Subtle design elements on each package serve as a nod to Full Sail's principles and priorities. A topographical map and GPS coordinates pinpoint the brewery's location in Hood River and the Columbia Gorge, whose natural beauty and resources have always provided Full Sail's inspiration. Artistic renderings pay homage to Hood River's water sources, bounty of fresh ingredients, the brewery's commitment to environmentally sustainable practices, and of course, the award-winning taste in each and every bottle.
Four-Year Kriek Vertical Box Set Release Noon, Friday May 6, Cascade Brewing Barrel House, 939 SE Belmont St.;
Cascade Brewing is releasing a limited series of Vertical Reserve Box Sets. Each will comprise 100 four-packs of bottles of a single brand from each of the past four years: 2012, 2013, 2014 and 2015. Each box set will retail for $100. The first release will be the brewery's popular Kriek, a blend of sour red ales aged in oak wine barrels for up to 17 months with Bing and sour pie cherries. One of the brewery's flagship products, Kriek features complex flavors of cherries, roast malts, oak and spice. Future Vertical Reserve Box Set releases will happen on the first Friday of each month.
National Homebrew Day Nationwide Toast 10 a.m. PDT Saturday May 7
Throughout the day, hundreds of bars, breweries, shops and homebrew clubs nationwide will host their local communities to brew on-site for a national, same-day homebrewing session. At noon CDT, all homebrewers and beer lovers are encouraged to raise a glass of homebrew in a simultaneous toast to homebrewing, a hobby enjoyed by of thousands of people all over the world. A number of suggested recipes are selected for participants to follow. This year's recipes celebrate the 500th anniversary of the Reinheitsgebot—commonly referred to as the "German Beer Purity Law"—which went into effect in Bavaria in 1516.
Big Brew Day PDX 9 a.m. – 4 p.m. Saturday May 7, F.H. Steinbart, 234 S.E. 12th Ave.;
Several shops in the area will be doing events for National Homebrew Day, such as Big Brew Day at Plew's Brews (8409 N. Lombard St.) from 9 a.m. – 1 p.m. Saturday. But only one is the oldest such shop in the country – here's the press release from F.H. Steinbart: Celebrate the nation's biggest home brew event of the year at the nation's oldest home brew store. There will be beer sampling, an advanced bottling workshop, hop and malt sensory stations, a free class for beginners, and a wide range of brewers from professional to hobbyists showing off their skills and techniques. F.H. Steinbart Co. will be featuring top of the line equipment and ingredients while letting you get hands-on experience. Try out select bottle fillers, cappers, and corkers to get your brew looking as if it was packaged by a professional. Try out your hop sensory skills by smelling a wide variety of locally grown hops. Sample beer that will be hop infused with Blichmann's Hop Rocket. Steinbart will be offering a discount on beginner brewing kits so you can get started immediately.
Homebrew Challenge 10 a.m. – 11 p.m. Saturday May 7, Trap Door Brewing, 2315 Main St., Vancouver;
Trap Door Brewing celebrates National Homebrew day by joining with Great Western Malting, the Port of Vancouver, Brewcraft USA and Bader Beer & Wine Supply for the first #UptownHomeBrewChallenge, which features 15 teams brewing onsite and competing for the best brew. The winning homebrewers will get a chance to brew on the Trap Door's 15-bbl brewhouse. Also: Home brewing education (brewing Q and A), live music, t-shirt art, food carts, beer specials and raffles/prize giveaways. Family friendly
Hammer 'n Ales Brewfest 3-10 p.m. Saturday May 7, Seven Feather Casino, Canyonville; $25 includes admission, glass and four tix.
Umpqua Valley Habitat's third annual craft brew festival is their biggest fund-raiser of the year and will feature more than 75 craft beers including special releases and several ciders and a "Wine Wall." Food vendors include Tomaselli's Pizza and Smokin' Friday BBQ and musical headliners Smash Mouth with Hank Shreve and That Other Band will be playing sets throughout the fest. Oregon Beer Growler Magazine will also be doing one of its free tastings of Oregon pale ales at the event, which is also the kickoff for Roseburg Beer Week.
Second Annual Birthday Bash 5 -8 p.m. Saturday May 7, Chill n Fill, 5215 N. Lombard St.;
Paul and Steve's second Annual Birthday Bash features Koi Fusion onsite from 5-8 p.m., plus special beers from Breakside, Biere De Garde, Boneyard Ale Master IPA and Barley Brown's Chaos Black Ale (in bottles).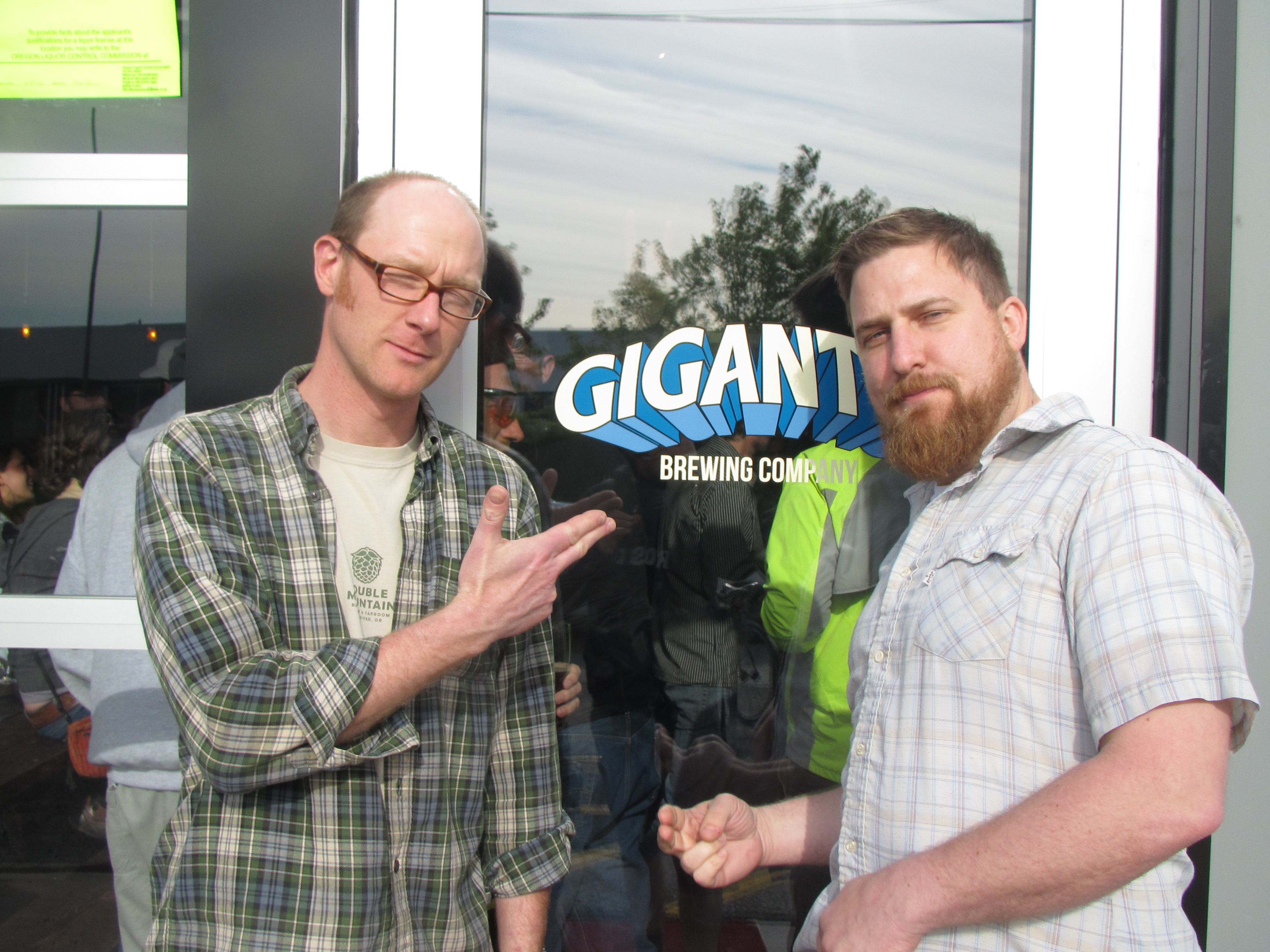 Gigantic Anniversary 3 p.m. Monday May 9, Gigantic Brewing Co., 5224 S.E. 26th Ave.;
Ben Love and Van Havig opened the doors of Gigantic Brewing Co. On May 9 2011 with the aim of starting and staying small while brewing Portland's best IPA and releasing some deliciously creative one-off beers and collabos. They've succeeded admirably and are celebrating four years with the release of Holy Oak, "a spiritual concoction of barrel aged and kettle soured beer designed to mimic a gloriously refreshing Whiskey Sour." The beer is a collabo brew with Magic Rock Brewing out of the U.K. and will be available on draft and in 22oz bottles and all other draft beers will be just $2 at the anniversary party Monday.
Sour Power 4 p.m. Wednesday May 11, Lompoc Tavern, 1620 N.W. 23rd Ave.;
The Lompoc crew celebrates the release of 2012 Black Mamba as part of Sour Power Night and they'll have taster trays available that will include 2013 Cherry Gold, 2013 Fleming Red, 2013 Cherry Christmas, 2013 Dark Ages Sour Porter and 2012 Black Mamba or you can buy the beers by the glass as you enjoy that well known Lompoc hospitality.
Meet the Ordnance Brewer 5-7 p.m. Wednesday May 11, Belmont Station, 4500 S.E. Stark St.;
Ordnance Brewing is named for a ghost town that's close to the brewery in eastern Oregon and they're making some fine beers. Meet the man behind those beers, Head Brewer Logan Mayfield, and enjoy a pint or two with him Wednesday.