One new place opens today; plus wurst, stouts and great IPAs: craft beer events for the week of February 5
|
Plan your weekend accordingly as there are many beer events in and around the Portland metro area this weekend.
Cider Riot Grand Opening Concert
7.30 p.m. Friday Feb. 5, Cider Riot Production Facility, 807 NE Couch St.; $5 at the door.
After nearly a year of searching, the Cider Riot folks have signed a lease on a building in Northeast. There are still months of work to be done before the tasting room and production facility are ready, but with CiderCON in town, they're throwing a party and bringing in the Skimmity Hitchers, a Scrumpy & Western band from the cidersheds of the West Country in England for their first ever North American appearance. The Portland Punk Rock Collective and Gypsy Trident (featuring Cider Riot!'s own Izaak Butler) open up and the Rioters will be pouring some of their own ciders as well as special reserve kegs from Reverend Nat's, Wandering Aengus, EZ Orchards, Portland Cider and Apple Outlaw, and bottles from Oliver's Cider and Perry in Hereford.
Mt. Angel Wurstfest
10 a.m.-10:00 p.m. Friday Feb. 5 & Saturday Feb. 6, Festhalle, 500 S Wilco Hwy.; $5, under 21 free with adult.
Mt Angel's Wurstfest celebrates those Germanic stalwarts, sausage and beer. Mt. Angel Sausage, Glockenspiel and Urban German, present 20 varieties of their best: bratwurst, currywurst, frickadelwurst and many others garnished with sauerkraut, grilled onions and mustards plus other great German dishes. The taps will be pouring Warsteiner beers from Germany and a special Wurstfest brew from Seven Brides called Stammtisch and there'll be German and regional wines plus non-alcoholic beverages as well. Plus, non-stop music from Oktoberfest favorites, the ZMusikmakers, Oregon Polka Beats, Bavarian Echoes and dancing by local dancing troupes.
Blasphemous Brewfest
5-8 p.m. Saturday Feb. 6 & Sunday Feb. 7, Lola's Room, McMenamins Crystal Ballroom, 1332 W. Burnside St.; 21 & older. Tokens are $2.50 each for 4-oz. Tasters, seven for $15 or five tokens with Commemorative Tin Sabertooth Pint for $20.
Blasphemous Brew Fest happens during the during the Sabertooth Psychedelic Stoner Rock Micro Fest but you don't need a Sabertooth ticket to sample some wild and weird small batch beer styles custom made for the festival by McMenamins and other local breweries, including Cascade, Upright, Breakside and Ale Apothecary.
Blasphemous offers patrons a unique, immersive, five-sense experience that complements the similarly unique, and blasphemous offerings. As these products are extremely small batch and rare, offerings will rotate based on availability. This unpredictability is their way of introducing a bit of chaos to the typical "brew fest" formula, eliminating line waiting and McMenamizing the atmosphere for good measure. Beers are available for purchase in Lola's Room starting at 5 p.m. and Sabertooth ticket holders can bring beers directly from the brew fest up to the Crystal Ballroom to watch music.
Great Portland IPA Challenge
11 a.m. – 6 p.m. Saturday Feb. 6, NW IPA, 6350 S.E. Foster Rd.;
NW IPA teamed up with Willamette Week to help choose the finest IPA brewed within Portland city limits – a blind tasting of 10 IPAs chosen by a panel of brewing industry experts from which you choose your top three in order. The winners will be announced in WW's Beer Guide on February 24. Tokens will be $2 a piece or $16 for 10. All pours will be 5 ounces.
Fort George Stout Tap Attack
6-9 p.m. Saturday Feb. 6, Chill n Fill, 5215 N. Lombard St.;
Fort George kicks off it darkest month celebration of black beers with a trip to Portland and a list of six fine stouts including:
The White Witch Stout
In this Blonde Stout, cocoa nibs, dark roast coffee, roasted hazelnuts, and a few vanilla beans give the beer a stout flavor without the dark color.
Granola Bar Stout
Heavy base malts of dark chocolate and oats create a hearty granola taste. Honey in the boil builds complexity.
Working Girl Porter
A Porter Brewed with Working Girl Coarse Ground coffee in both the mash tune and kettle, creating a light coffee aroma and finish in this distinctive porter.
Sunken Buoy Pilsner
Inspired by Buoy Beer, this German Pilsner consists of crisp malts and floral, earthy hops.
Magnanimous IPA
A collaboration with Earth and Sky Farms of Oregon City. A bounty of hand harvested fir tips is infused into each pint.
Sunrise Oatmeal Pale
Slightly bitter with a lovely hop aroma, OPA is based on the first ever beer produced at Fort George, Beer #1
Oregon Double IPA Tasting
2 p.m. Saturday Feb. 6, FH Steinbart, 234 S.E. 12th Ave.; free.
Taste at least a dozen Oregon Double IPAs and help choose the best six or seven beers, which will be featured in the March 2016 Oregon Beer Growler.
Laurelwood Beer Dinner
6 p.m. Tuesday Feb. 9, Laurelwood, 5115 H.E. Sandy Blvd.; $45.
The Laurelwood folks will be serving six courses of local and seasonal fare alongside five beer pairings — Piston Pale Ale, Megafauna Imperial IPA, St. Wenceslas Bourbon Barrel Aged Baltic Porter, Eazy Duz It Imperial IPA, and their collabo with Baerlic Brewing, a German Kottbusser.
Third Annual Beer Cider Love
5-8 p.m. Thursday, Feb. 11, Arch Bridge Taphouse, 205 7th St., Oregon City;
This is a collaborative event with Fort George Brewery and Finnriver Cidery that showcases a flight of hand selected Pacific Northwest beers (including Fort George's Cherries & Berries, which was a huge hit last month in the taproom) and ciders paired with offerings from Cheese Bar and Sweet Masterpiece Chocolate. You can enjoy the featured flight, any of the draft offerings and make selections to take home. Join the coolest couple in the industry, Fort George's El Jefe of Sales & Distribution, Tim Ensign and Finnriver's National Cider Ambassador, Jana Daisy-Ensign and celebrate beer, cider and love.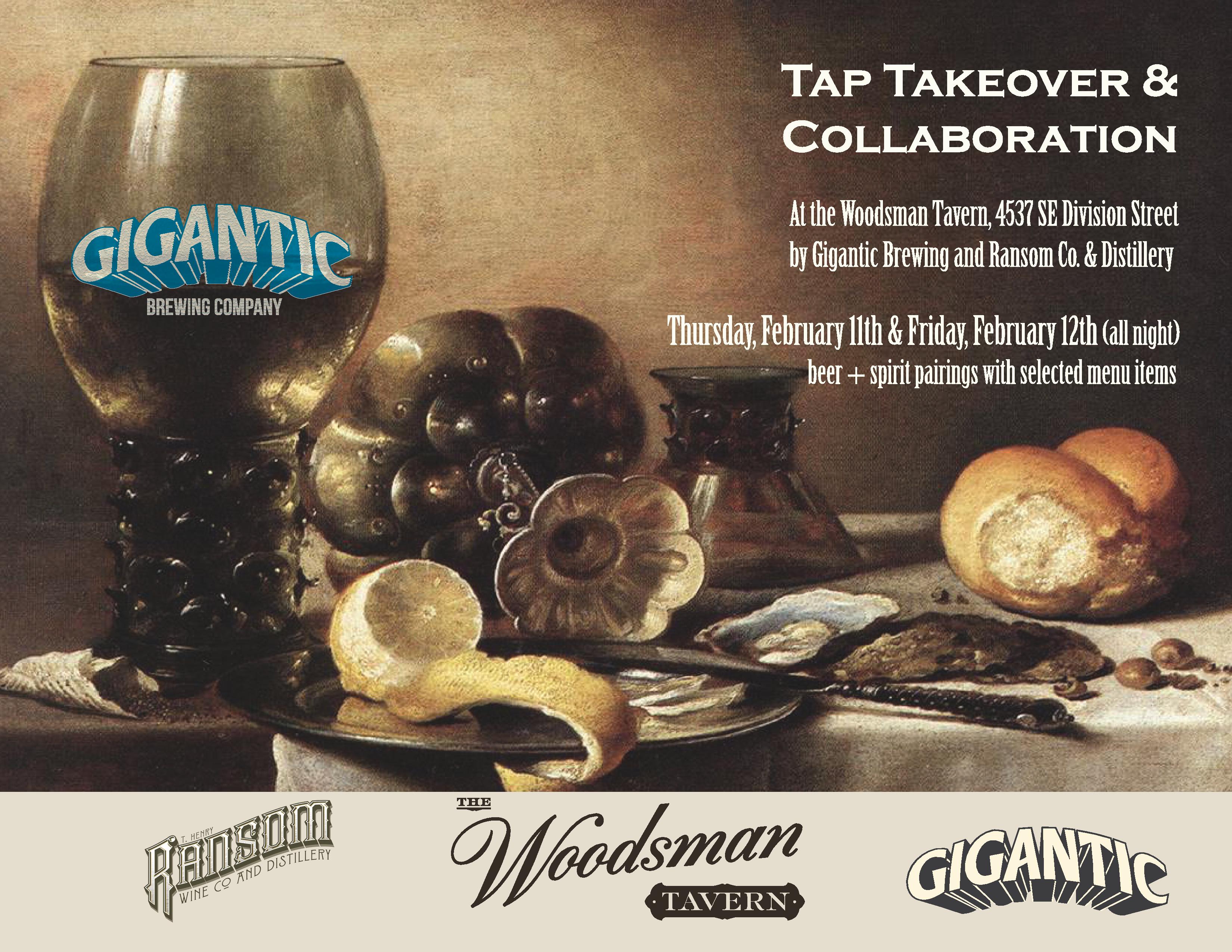 Gigantic/Ransom/Woodsman Collaboration Dinners
5-11 p.m. Thursday Feb. 11 & Friday Feb. 12, Woodsman Tavern, 4537 S.E. Division St.; $60 full tasting menu with both spirit and beer pairings. Reservations at 971-373-8264.
This collaborative event with Gigantic Brewing Company, Ransom Spirits and the Woodsman Tavern is a beer/cocktail/food paring where guests can enjoy oyster shooters, mussel chowder and other Woodsman classics alongside Gigantic Brewing's ever-changing crafty beer lineup and specialty crafted Ransom Spirit cocktails. Choose the full menu option or sample individual pairings and create your own menu, but don't want to miss the beer that started it all, Pipewrench Gin Barrel Aged IPA– Gigantic's flagship IPA aged in Ransom's Old Tom Gin barrels, a favorite among locals and beyond.
Meet the Brewer
5 p.m. Thursday Feb. 11, Green Dragon, 928 S.E. Ninth Ave.;
Meet Terminal Gravity brewer Josh Evans and sample Eagle Cap, Big Burn, a new Wild Blonde Ale, and a 2011 Barleywine.