Pros & Ams, Beers & Bikes; Beer Events for October 2-8
|
Sidra Cider Cocktail Party
5-7 p.m. Friday Oct. 2, Barrique Barrel, 7401 N Burlington Ave.;
Finnriver Cidery will showcase their limited release Sidra, Spanish Style Cider on draft and in bottles to go and they'll be making custom cocktails with their farmcrafted ciders and fruit brandywines. Featured combinations include Artisan Sparkling Cider & Black Currant Brandywine ('Finnriver Royale'), Habanero Cider & Raspberry Brandywine and Forest Ginger Cider & Cacao Brandywine.
Handmade Beer & Bike Fest
Noon-9 p.m. Saturday Oct. 3, noon-5 p.m. Sunday Oct. 4, Hopworks Urban Brewery,
2944 S.E. Powell Blvd.; $25 includes entry, glass and 15 tix, 15 & under free; no dogs.
How much more Portland could it get than handmade beer and bikes? Well, you could probably work beards into the celebration, but this will do nicely to bring together a couple of Portland's favorite avocations for one weekend party, and a family-friendly at that. The festival features more than thirty custom bike-frame builders showcasing their handmade bicycles, local brewers pouring refreshing hand-crafted beer, bike performances, live music, local food vendors and fun and games for all.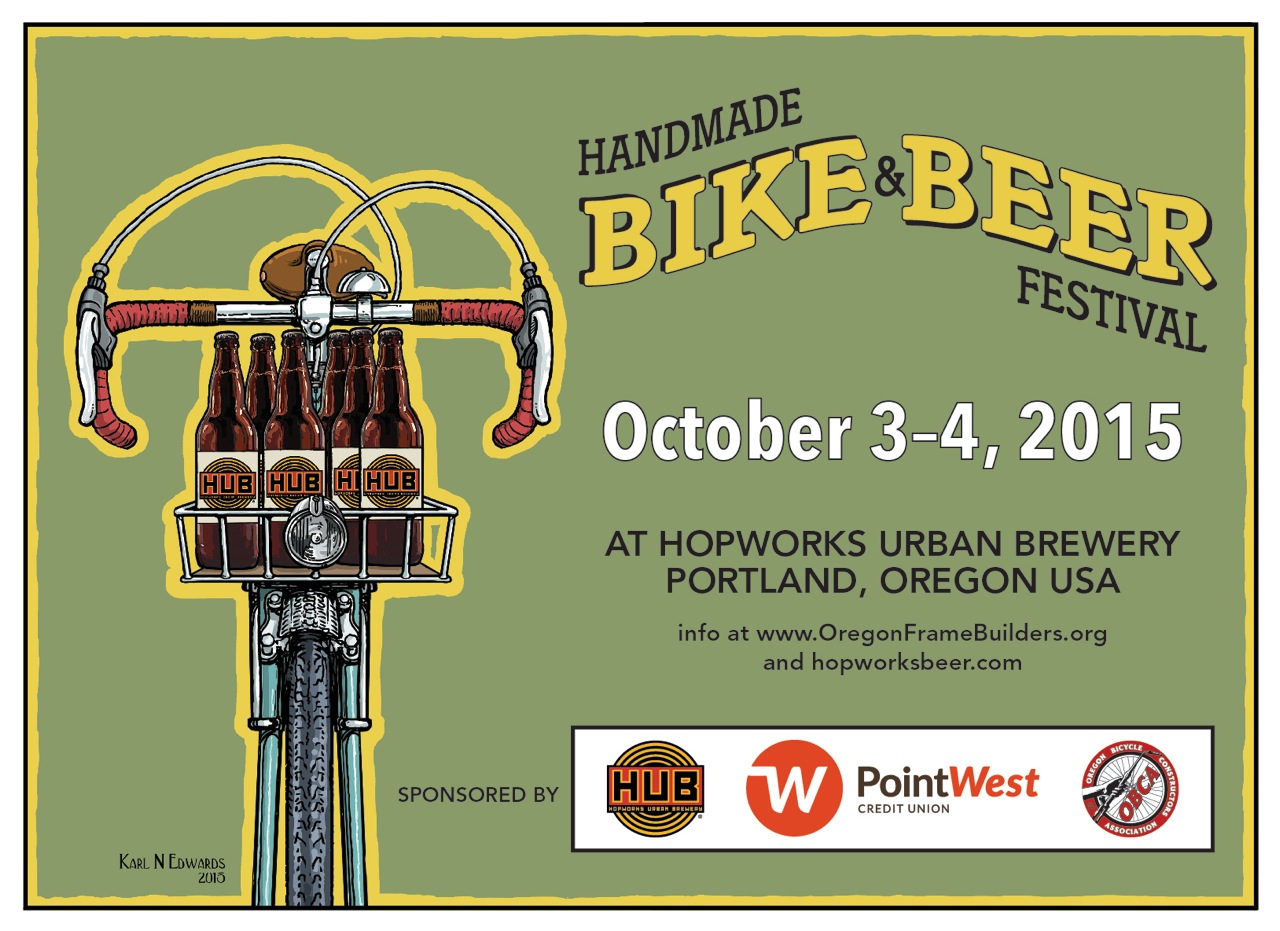 Willamette Week Pro-Am Beer Fest
1-6 p.m. Saturday Oct. 3, North Warehouse, 723 N Tillamook St.; $27 includes admission, samples of all beers, a burrito and pint glass,. 21 & older only.
What a great idea for a beer festival: Pro brewers and home brewers team up to create never-been-brewed beers, such as this year's English Imperial Brown Stout brewed by David Vohden of 13 Virtues and beer judge/homebrewer Bill Schneller. That's just one of the 21 beers you'll taste Saturday –and vote on for to determine the best. Also: music by DJ Short Change, vendor booths and the Retro Gaming Lounge, courtesy of Ground Kontrol Classic Arcade and Portland Retro Gaming Expo.
The Wedge
Noon – 5 p.m. Saturday Oct. 3, Green Dragon, 928 S.E. Ninth Ave.; $20, includes $5 cheese voucher.
The Oregon Cheese Guild and Rogue Ales & Spirits host a farmer's-market-style event that gives you the opportunity to meet the northwest's finest artisan cheesemakers and sample and purchase their cheeses. The Wedge also feature s more than 60 beers and ciders on tap, and local wine. This kid- and dog-friendly event has cheese wheel bowling, cheesemaking and pairing classes, music and more.
ORtoberfest
1-10 p.m. Saturday Oct. 3, Bitter Monk Taproom, Cowls St., McMinnville ; $10 includes a 16-oz. ORtoberfest glass and four tix.
What could be better, a scenic drive to McMinnville and some fine Heater Allen lagers at the end of it. Heater Allen is just one of the participating breweries and proceeds will benefit the McMinnville Education Foundation.
Seventh Annual Celebration of Beer Festival
Noon-5 p.m. Saturday Oct. 3, Skamania Lodge, Stevenson, Wash.; $25 includes mug and five tix.
Skamania Lodge's popular fall beer fest happens on the resort's front lawn with its fine views of the Columbia River Gorge, and features flagship and seasonal beers from some of the best locals: Mt. Tabor Brewing, Double Mountain, Full Sail Brewing and Backwoods Brewing Company. Also, Garnier Vineyards, Jester & Judge Cider Company and Skunk Brothers Spirits will be present, plus live music and seasonal food for sale – brats, burgers and pretzels.
Kosmic Mother Funk Release Party
5 p.m. Monday Oct. 5, the BeerMongers, 1125 S.E. Division St.;
Taste Sam Adams latest barrel-aged beer, about which they have this to say: "Originally a French term used to describe wine vintages, when used in the context of beer, 'Grand Cru' has come to denote a brew that is the 'best of the best.' When crafting Kosmic Mother Funk Grand Cru, the brewers at Samuel Adams aimed to create a unique beer unlike anything they had barrel-aged before. At 6.5 percent, KMF Grand Cru is a wild, funky and complex ale aged for just over a year, with a depth of flavors ranging from earthy and spicy to floral and sweet."
The House of Sour Turns Five
Wednesday Oct. 6 – Saturday Oct. 10, Cascade Barrel House, 939 S.E. Belmont St.;
Cascade is known nationwide for its innovative, blended sour beers, but five years ago it was an unproven concept. Take the fact that they moved most barrel storage, fermenting, aging and blending to a big new production facility and are opening up the former production side to give the pub and kitchen more room a sign that their confidence in the beers has been repaid. They'll offer 10 vintage beers from the early years – two vintage beers from the cellar a day, which will remain on tap until they run out. The roster includes '08 Sang Noir, '08 Apricot, '09 Vlad, '09 Vine, '09 Sang Royal, '09 Kriek, '09 Bourbonic Plague, '09 Blackberry, '09 Sang Rouge & '09 Noyaux, plus $5 food specials and vintage bottles for sale.
There will also be a special anniversary toast and tapping of Cherry Bourbon Double Red – a replica of the very first LIVE barrel – with Cascade Brewing founder Art Larrance and Brewmaster Ron Gansberg on Friday Oct.9 at 6 p.m.
Meet the Planktown Brewer
5 p.m. Thursday Oct. 8, Green Dragon, 928 S.E. Ninth Ave.;
Planktown brewer Steve Van Rossem will be showcasing his beers, including Lost City IPA, Ace of Hops Fresh Hop, Oktoberfest and a Firkin of Hobbit's Habbit Old will be on the bar