Bad Habit Room To Host Petrus Custom Blending Event
|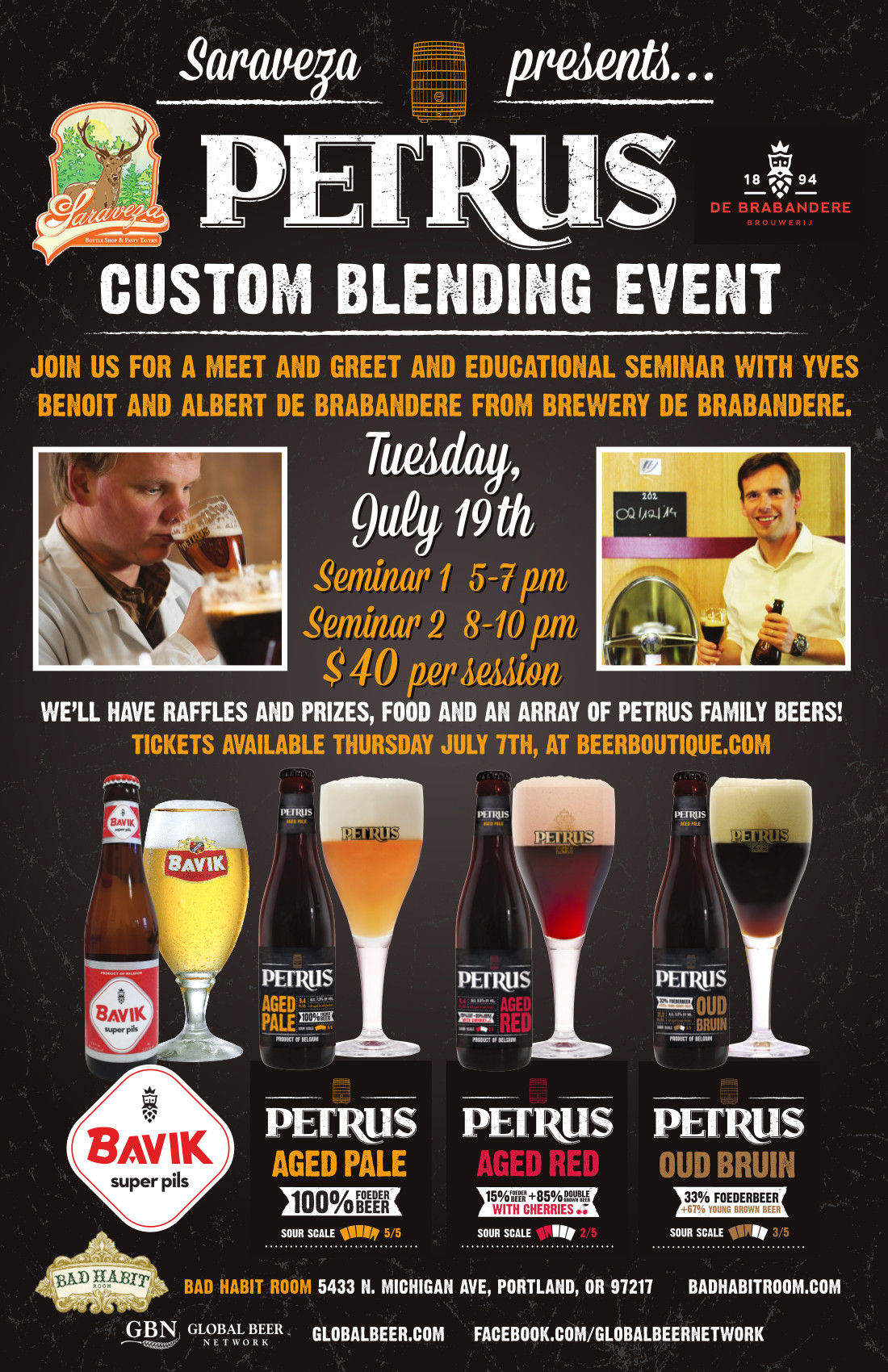 Tickets are now on-sale to a special Petrus Custom Blending Event hosted by Global Beer Network that will take place at the Bad Habit Room on Tuesday, July 19 with two sessions. In attendance will be seventh generation owner Albert De Brabandere and master brewer Yves Benoit from Brewery De Brabandere.
Each of the two sessions will feature an experience that will allow attendees to learn the nuances on blending sour and wild beers. The first seating is from 5:00 to 7:00pm and the second from 8:00 to 10:00pm. Attendees will receive 8 oz. pours of Petrus Aged Pale, Petrus Aged Red, Petrus Oud Bruin, and Bavik Super Pils. Brewer De Brabandere will also sample its new Wittekerke Wild, the classic Wit beer fermented with wild yeast cultured from the Petrus foeders.
Included with these beers tastings will be a selection of amuse-bouches (bite sized hors d'œuvres) prepared by Saraveza's head Chef, Dustin Gettmann. Each of these offerings have been carefully selected to pair well with each of the beers. Below is the food menu.
Profiteroles with chicken liver mousse and cherry compote
Grilled endive with fried prosciutto and caper aioli
House bacon with smoked tomato jam, arugula, biscuit
Artisan cheeses, seasonal fruit, macrona almonds, crackers
Charcuterie board – pate, mousse, country ham, pickles, dijon, bread
At Bad Habit's sister pub located next door, Saraveza will be pouring a special blend called "80/20" that will be on draft for your pre or post presentation puckering pleasure.
Advance tickets are now on sale at www.beerboutique.com for $40.00 each. Each ticket includes food, beverages and a souvenir Petrus blending glass. Plus a few lucky attendees will go home with some additional swag from raffle drawings during each session.
Bad Habit Room
5433 N Michigan Ave.
Portland, OR 97217