Brewers Association Launches BA Collab Hour – Weekly Webcast
|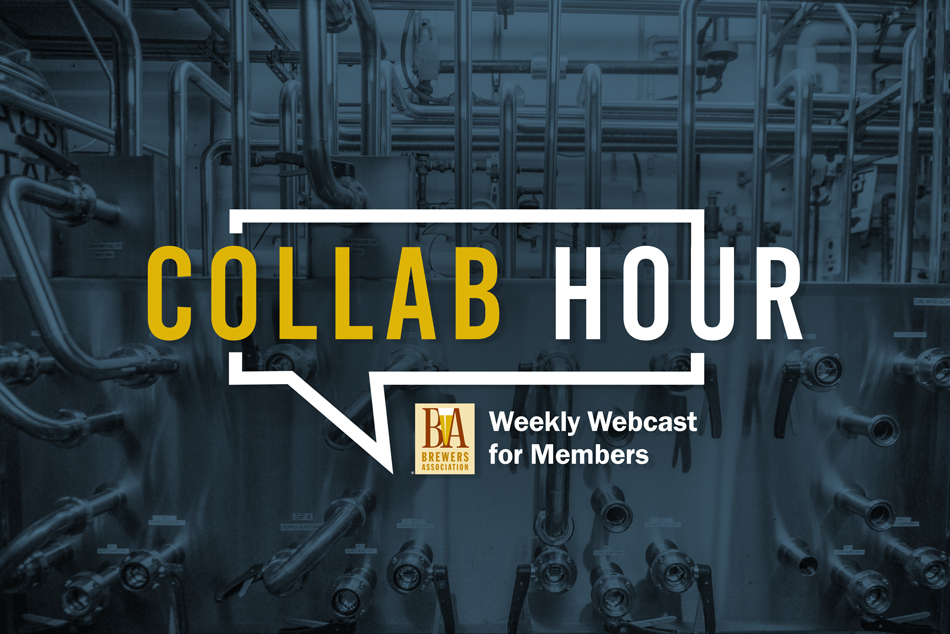 Today, the Brewers Association (BA) will launch BA Collab Hour, a new weekly webinar series on brewing education as we continue to battle the COVID-19 pandemic. This webinar series is available exclusively to Brewers Association members and will kick off today, July 9th via Crowdcast on BrewersAssocation.org.
BA Collab Hour is a reimagined and rebranded BA Power Hour, the BA's popular monthly teleconference series, that builds on the recent success of CBC Online and HBC Online – virtual versions of the BA's Craft Brewers Conference and Homebrew Con, respectfully. The BA Collab Hour sessions will feature guest speakers and cover topics such as technical aspects of brewing, statistics and data, and more. New webinars will be presented live every Thursday at 10:00am PST. Replays will be available on the Brewers Association website.
"The Brewers Association is producing more content than ever, and we're excited to provide some of that content to members in this new format each week," said Paul Gatza, senior vice president of professional brewing division, Brewers Association, in a press release.
BA Collab Hour July Schedule: 
July 9: Yeast Handling: Equipment Design and Quality Considerations
Speakers: Chris McCombs, BA Engineering Subcommittee Chair; and Rob Christiansen, BA Quality Subcommittee
July 16: Getting Inside the Mind of the Craft Beer Consumer – 2020
Speakers: Danny Brager, Senior Vice President, Nielsen's Beverage Alcohol Practice; and Danelle Kosmal, Vice President, Nielsen's Beverage Alcohol Practice
July 23: Flavor and The Bottle: What is a Flavor and How Does it Impact Your Craft Beer
Speaker: Jennifer Howell
Sponsored Webinar, presented by FONA International 
July 30: Restarting Your Brewery Sustainably: Why Now is a Unique Opportunity
Speakers: John Stier, Brewers Association Sustainability Mentor; Adam Beauchamp, Brewmaster, Creature Comforts Brewing Company; and Christian Ettinger, Brewmaster, Hopworks Urban Brewery
For more information on the upcoming BA Collab Hour schedule and to register to attend, please visit here. If you represent a brand interested in sponsoring an episode, please contact Kevin Doidge at kevin@brewersassociation.org.