Brewers Association Taps J. Nikol Jackson-Beckham As Its First Diversity Ambassador
|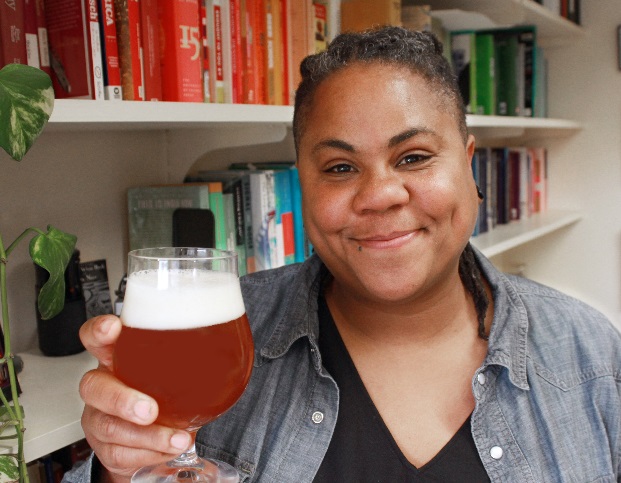 With craft beer sales growth becoming more stagnant, the Brewers Association (BA) has recently hired its first Diversity Ambassador to assist in growing this beverage category with the appointment of J. Nikol Jackson-Beckham, Ph.D. Through the years beer has been described as a drink for the people, unfortunately the beverage has not seen much diversity among its ranks and with its consumers. The new position of Diversity Ambassador is set to assist in filling this void.
Jackson-Beckham will travel around the country to visit state brewing guilds and other craft brewing community events to speak on best practices for diversifying both customer bases and staff and to listen to current challenges facing this industry.
As an Assistant Professor of Communication Studies at Randolph College located in Lynchburg, Virginia, Jackson-Beckham has a long history in the brewing community. Through the years Jackson-Beckham has been an avid homebrewer for over a decade and has researched and written about beer and its place in American culture. She has delivered keynote addresses, presentations and guest lectures on the culture and inclusiveness of craft beer.
At her new position of Diversity Ambassador, Jackson-Beckham will work closely with the recently established Diversity Committee, helmed by Julie Verratti of Denizens Brewing Co. and comprised of a cross section of industry members of varied backgrounds and geographical regions.
"Craft beer is made by and for everyone," said Bob Pease, president & CEO, Brewers Association, in a statement. "Diversity and inclusion are opportunities for businesses to lead and succeed. Jackson-Beckham will help to reinforce this idea, identify occasions where efforts can be strengthened and educate our members on being an even more inclusive community. We welcome her to the Brewers Association team."
"Serving the Brewers Association in this capacity 'closes the loop' on things I have been doing for nearly a decade now.  I have been fortunate enough to have successfully combined a genuine passion for craft beer and a career in academia," said Jackson-Beckham in a statement. "I am really grateful for the opportunity to be part of authentic efforts to overcome some of the challenges I've spent a good amount of time researching and writing about. I'm really excited to have the opportunity to change how a lot folks in the industry think about diversity and inclusion."
Jackson-Beckham will make her first appearance as Diversity Ambassador at the Craft Brewers Conference & BrewExpo America®, in Nashville, Tennessee that will be held next week from April 30 – May 3. Her presentation is "A Brewery for All—Tactics for Being Inclusive and Building Diversity."