BridgePort Brewing Turns 30 Next Year with a Trilogy of New Releases
|
You know the years are beginning to pass when you hear the news that BridgePort Brewing will turn 30 next year. Three decades in business is quite the milestone and "Oregon's Oldest Craft Brewery" BridgePort Brewing will be celebrating with a Trilogy of beer releases.
BridgePort Brewing was founded in 1984 by Oregon winemakers Richard and Nancy Ponzi of Ponzi Vineyards. Originally known as Columbia River Brewery, with Brewmaster Karl Ockert at the helm, they found a location at a former rope factory in the decrepit warehouse district of Northwest Portland. Of course we now know this area as the Pearl District but back when BridgePort opened it was not the desirable area it is today. Shortly thereafter the name of the brewery was changed to what its now known as, BridgePort Brewing.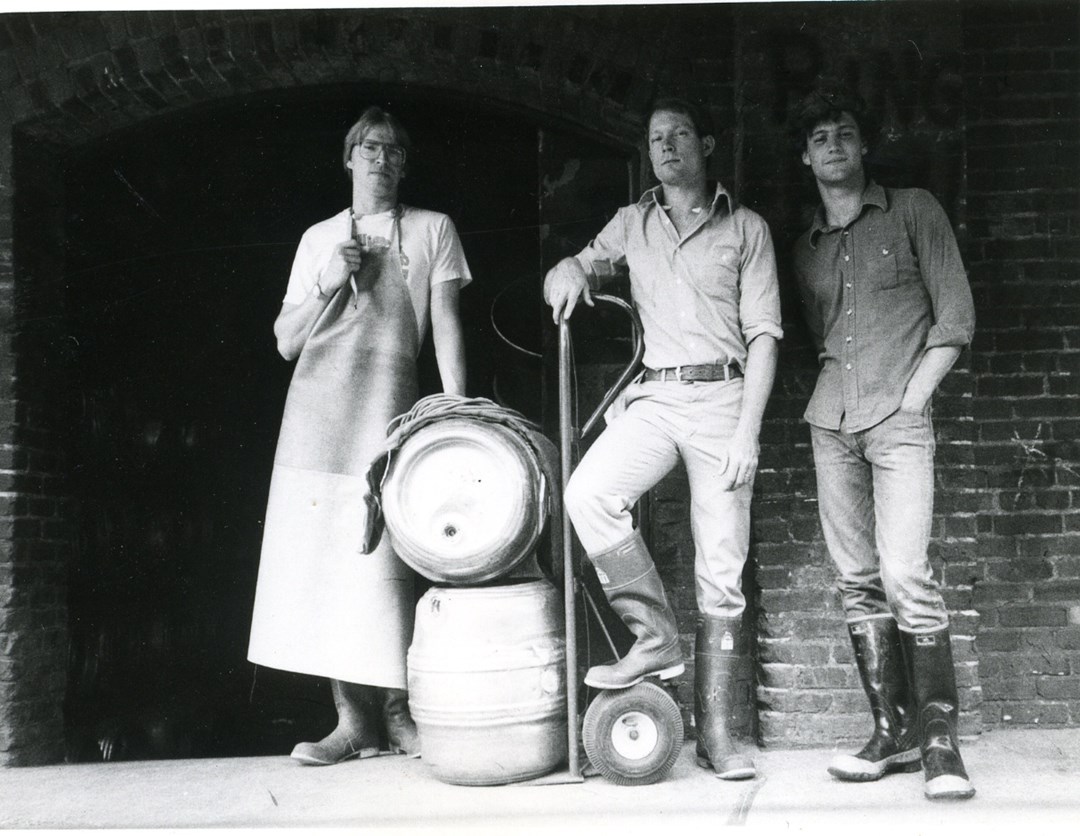 Through the years there have been many milestones and a few changes at BridgePort. BridgePort's capacity has grown from 600 barrels in 1984 to well over 40,000 barrels today and is available throughout the Western United States. Then in 1995 BridgePort was acquired by The Gambrinus Company, a San Antonio, Texas company that is best known for being the owners of Spoetzl Brewery, the makers of legendary Texan beer Shiner Bock. They also have come into ownership of one of our favorite Pilsners, Trumer Pils from Trumer Brauerei in Berkeley, California.
No matter what beer styles change over the years, its always refreshing to have the occasional BridgPort IPA. This is the beer that brought many of us into craft beer, including myself with my first visit to BridgePort Brewing back in 1994. I would haul this beer back home with me to the Midwest whenever my travels allowed me to acquire this gem. Such a great introduction into craft beer.
This now brings us to current times and the upcoming BridgePort Trilogy Series. This 3 part series of beers will be available throughout the BridgePort distribution network. The release schedule of these three beers will be in January, May and September of 2014. The release of Trilogy 3 will coincide with the re-release of the first two beers in the series and BridgePort will encourage beer drinkers to vote for their favorite of the three. The winning beer will return as a year-long offering the following year in 2015. So help celebrate "Oregon's Oldest Craft Brewery" in 2014 and due your civic duty of voting for your favorite beer in the "Trilogy".

BridgePort's Press Release on Trilogy:
The "BridgePort Trilogy Series" to Premiere in January
BRIDGEPORT BREWING COMPANY
PORTLAND, Ore.—November 6, 2013— BridgePort Brewing Company, Oregon's oldest craft brewery, will celebrate 30 years by releasing the "BridgePort Trilogy Series," three limited edition beers. The first two beers in the series will honor pivotal moments in BridgePort's history by highlighting the adoption of aroma hops and the IPA movement.  In contrast, the third and final beer in the series will explore what's still to come for craft beer in Oregon.
"It's great to be turning 30, but it's even more exciting to see how far the craft brewing industry has come in the last three decades," commented brewmaster Jeff Edgerton. "Hop breeders in Oregon began developing varieties of aroma hops in the '60s and '70s that had intense and interesting qualities. The large domestic brewers weren't interested at the time because the hops were 'too intense' for the products they were making. BridgePort and a handful of other craft brewers picked up on these varieties and started making flavorful, all-malt beers that had incredible taste and aroma. The rest is history."
Given that aroma hops ignited the Oregon craft beer movement, it only made sense for the first beer in the "BridgePort Trilogy Series" to honor one of Edgerton's favorite, the Crystal Hop, a varietal known for it's slightly spicy and citrus notes.
"We chose to do a dry-hopped pale for the first beer in this series because of how well a pale can really spotlight a hop varietal," said Edgerton. "We've experimented with dry hopping in the past but never built a whole beer around it. Our brewers are really excited and we think that BridgePort fans are going to love this first beer in the BridgePort Trilogy series."
Trilogy 1 uses a big charge of Crystal Hops at the end of fermentation for a pleasant dry-hop aroma and flavor. The presence of Rye malt gives this beer a slightly spicy malt character and the Munich malts add a soft yet definite mouthfeel. ABV 5.2% | OG: 13.1 | IBUs 40
The BridgePort Trilogy Series will be available where all BridgePort beers are sold and will release in January, May and September of next year. The release of Trilogy 3 will coincide with the re-release of the first two beers in the series and BridgePort will encourage fans to vote for their favorite. The winning brew will return as a year-long offering in 2015.
About BridgePort Brewing Company
Celebrating 30 years in 2014, Oregon's oldest craft brewery continues to evolve from a microbrewery to a regional leader committed to producing high quality craft ales. Lead by brewmaster Jeff Edgerton, the team of BridgePort brewers prides itself on using hops from an hour away and clear glacial water from Mount Hood. The BridgePort family of ales includes IPA, Hop Czar, Kingpin.  BridgePort Brewery is located at 1313 N.W. Marshall St.