City of Portland Proclaims August 25th As Salmon Safe IPA Day
|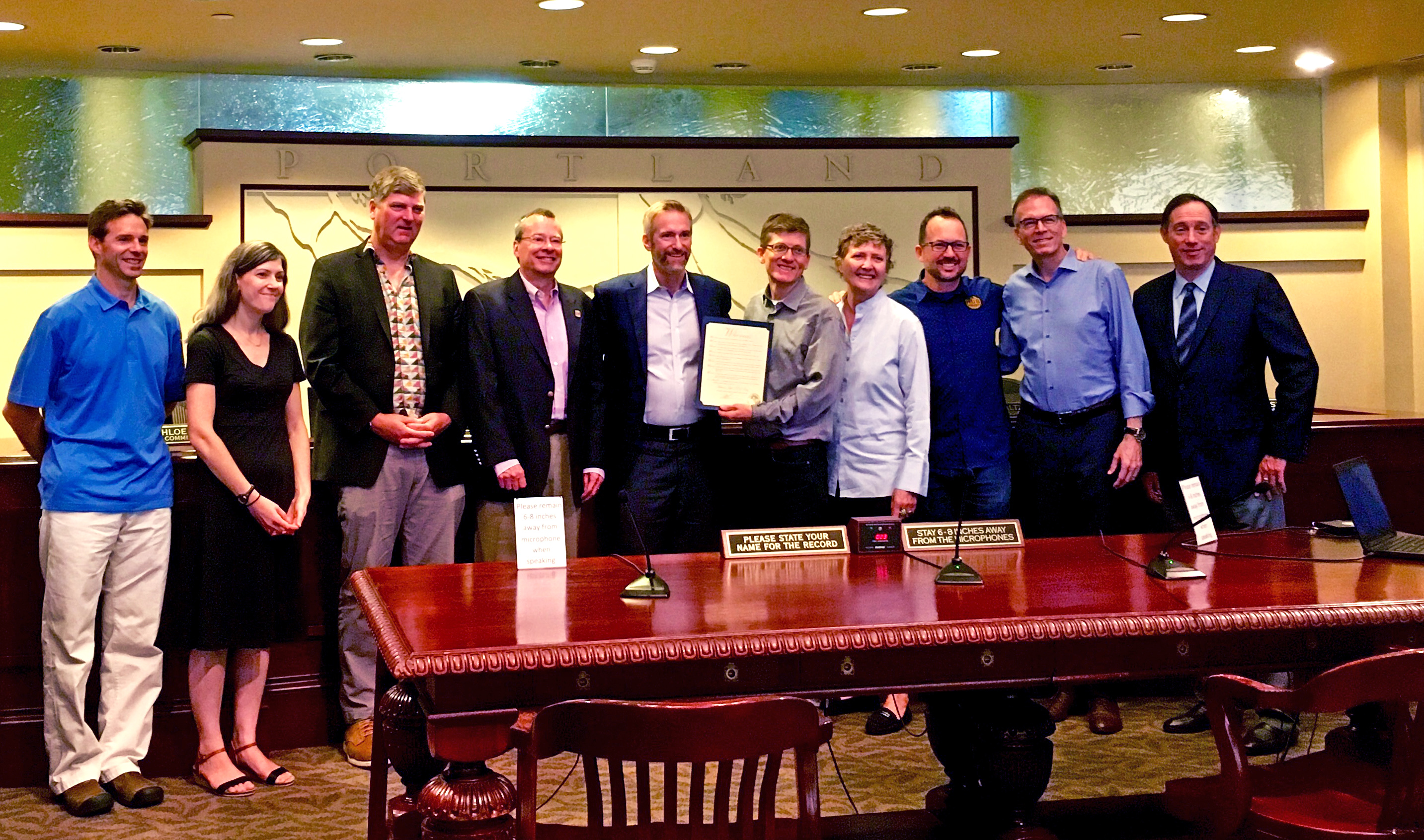 Portland, Oregon, August 15, 2018 – Today Hopworks Urban Brewery (HUB) founder and brewmaster, Christian Ettinger, stood with the City of Portland Mayor, Ted Wheeler, Commissioner Nick Fish, along with Dan Kent, co-founder and executive director, Salmon-Safe, Gayle Goschie, owner of Goschie Farms and Kurt Widmer, Widmer Bros. Brewing co-founder in support of the City's proclamation recognizing August 25 as Salmon-Safe IPA Day.
The City of Portland Salmon-Safe IPA Day proclamation is available online: https://www.portlandoregon.gov/auditor/article/694034
"The Salmon-Safe IPA Day proclamation marks an important milestone in the growing support for the environmentally conscious farming of beer ingredients," said Christian Ettinger, HUB's Brewmaster and Founder. "We invite beer lovers and families to join us at our Salmon-Safe certified site on August 25 for the Salmon-Safe IPA Festival to meet breweries and farmers that are working together to keep our waterways and planet healthy."
"The Salmon-Safe IPA Day is a celebration of the simple choices that we can make for clean rivers and healthy watersheds," said Dan Kent, the executive director of Salmon-Safe. "Ninety percent of U.S. hops are grown in the Willamette Valley and Yakima valleys – two key Northwest salmon watersheds locations. Every time a beer that has been brewed with Salmon-Safe certified hops and malt is purchased, we inspire more farmers to embrace fish-friendly growing practices."
Nick Fish, Portland City Commissioner added, "Portland is home to more craft breweries per capita than any other city in the U.S. It's clear why – great Bull Run water, world-renowned beer festivals, a bustling tourism scene, and Salmon-Safe beers. I'm proud that local brewers are going the extra mile to conserve our local waterways and native species."
Salmon-Safe IPA Day – August 25 – coincides with the inaugural Salmon-Safe IPA Festival at HUB's SE Powell location. The festival will bring together 22 craft breweries from around the country along with hundreds of craft beer fans to enjoy hop-forward beers that are all brewed with Salmon-Safe certified ingredients. A family-friendly session from 12-4 pm kicks off the festivities with educational panels from 4-5 pm, and a 21+ session closes out the day from 5-9 pm. More information and tickets are available online at: http://salmonsafeipafest.com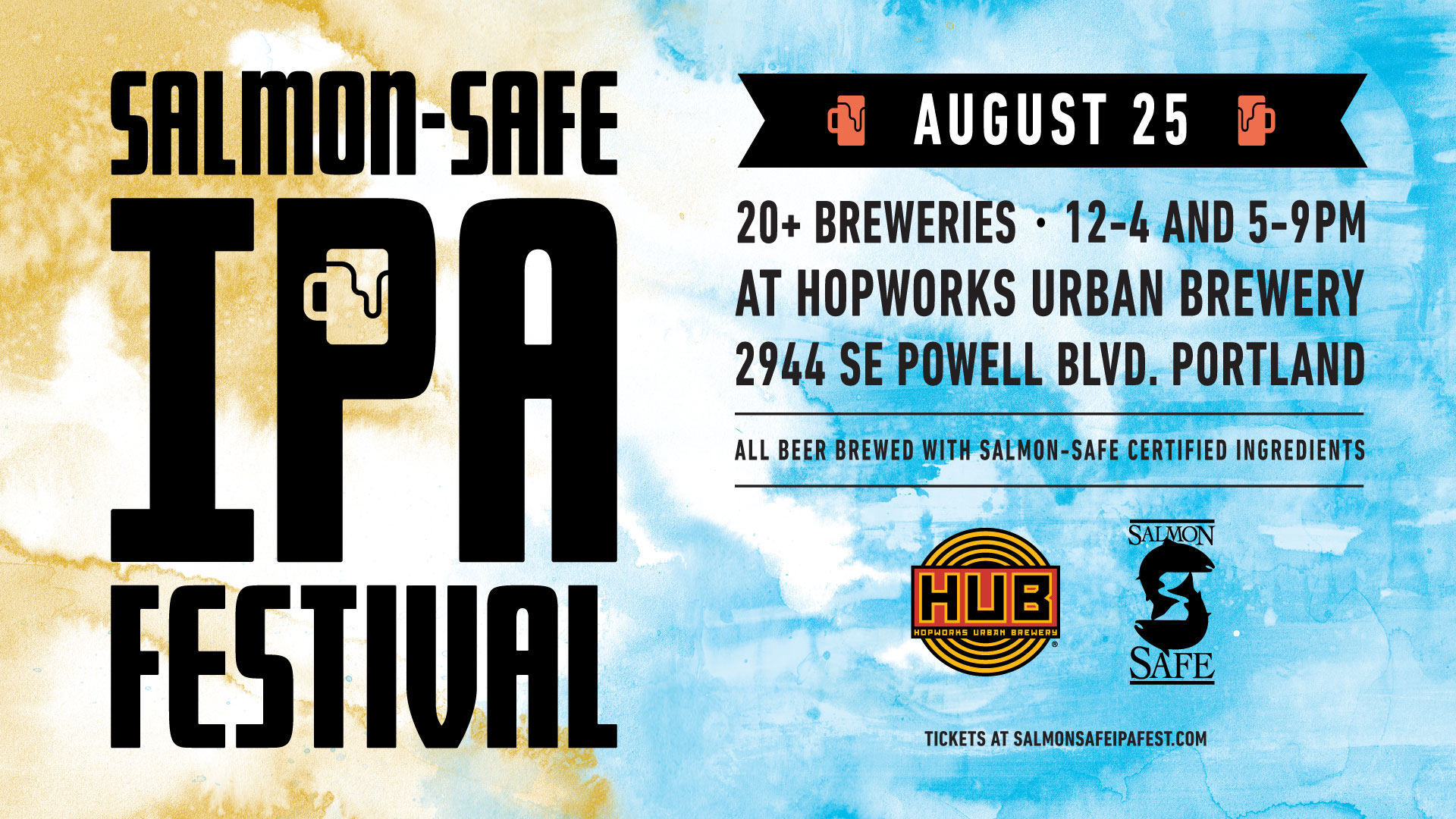 Salmon-Safe IPA Festival Details
Saturday, August 25, 2018
Session 1: 12-4 pm (all ages)
Panel talks: 4-5 pm (Panels with limited beer releases, separate admission)
Session 2: 5-9 pm (21+)
Where: Hopworks Urban Brewery – 2944 SE Powell Blvd, Portland, OR 97202.]
Tickets: $25 in advance | $30 at the door | $5 for the panel talks.Tickets are available at: http://salmonsafeipafest.com
Parking: Due to the festival location in the brewery parking lot, festival goers will need to park on adjacent streets in the surrounding neighborhood or take advantage of a lot that our friends at Trillium Family Services have made available to Salmon-Safe attendees. This lot is a six minute walk from the event (located at 3415 SE Powell Blvd, Portland, OR 97202). Please bike in, caravan or take public transportation if possible. A pedestrian and bike crossing at Powell Blvd. on 28th St. is part of the City's new 20's Bikeway project.
About Hopworks Urban Brewery
Hopworks Urban Brewery creates world-class beer and food with sustainable business practices that protect the environment and inspire the community. Utilizing organic malts and a combination of locally-sourced, organic, and Salmon Safe hops, the company's 20-barrel brewery in Portland, and 7-barrel brewery in Vancouver, produce 13,500 barrels of beer and cider a year for HUB's brewpubs and distribution throughout the West. Hopworks is a family-owned and operated business, the first Certified B Corporation brewery in the Pacific Northwest, a member of 1% For The Planet, and a gold-level bike friendly business.
About Salmon-Safe
Salmon-Safe has become one of the nation's leading ecolabels with more than 95,000 acres of farm and urban lands certified in Oregon, Washington, California and British Columbia. Through our peer-reviewed certification and accreditation program, we are leading a market-based movement to transition to farming and urban development practices that protect water quality, maintain watershed health and restore habitat. More information at: https://salmonsafe.org