Hopsteiner Presents Hoppy Topics – A Webinar Speaker Series
|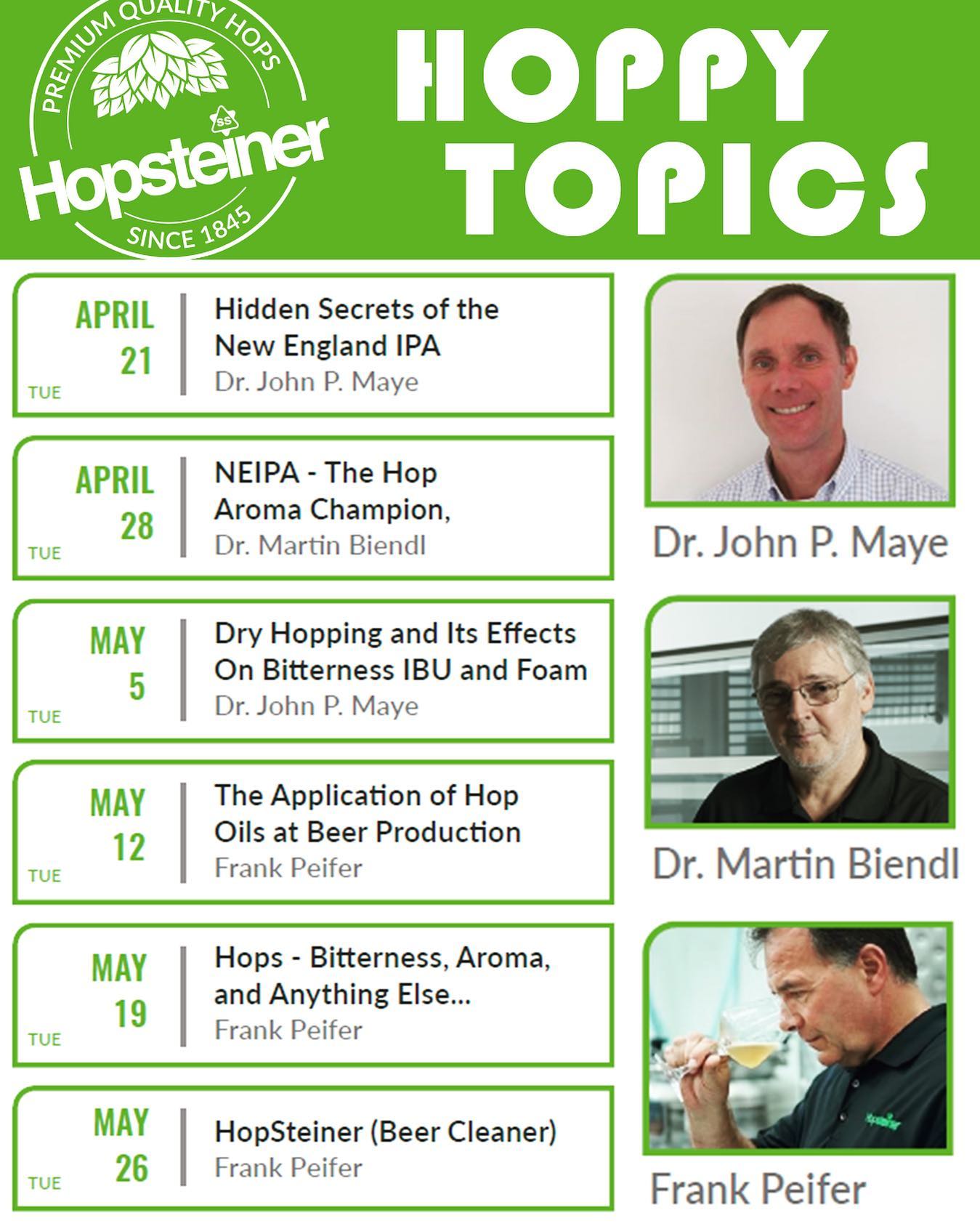 Education for brewers is coming each Tuesday morning at 8:00am PST for the next six weeks with topics that will intrigue brewers of various experience. Hopsteiner presents Hoppy Topics – A Webinar Speaker Series with weekly brewing topics led by Dr. John Paul Maye, Dr. Martin Biendl, and Frank Peifer.
Hoppy Topics is a free online educational speaker series with presentations from Hopsteiner's lead researchers and hop scientists that unravel the mysteries behind hoppy brewing and the many challenges brewers face on a daily basis. Attend one or more of the following webinars.
Hoppy Topics Weekly Schedule:
Apr 21 – Hidden Secrets of the New England IPA with Dr. John P. Maye
Apr 28 – NEIPA – The Hop Aroma Champion with Dr. Martin Biendl
May 5 – Dry Hopping and Its Effects on Bitterness IBU and Foam with Dr. John P. Maye
May 12 – The Application of Hop Oils at Beer Production with Frank Peifer
May 19 – Hops – Bitterness, Aroma, and Anything Else… with Frank Peifer
May 26 – Hopsteiner (Beer Cleaner) with Frank Peifer
Registration for the weekly Zoom seminars is free and can be done by clicking here.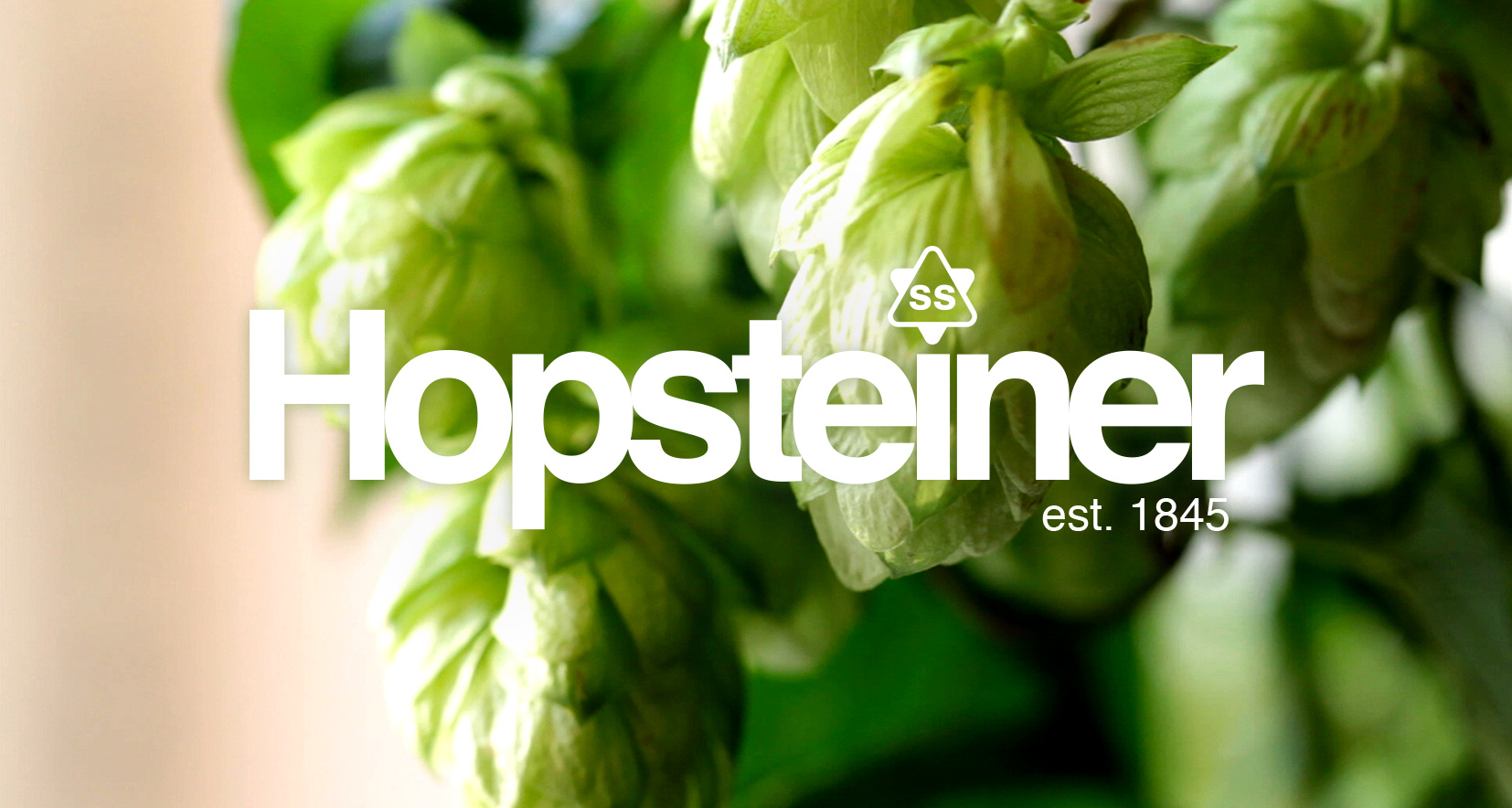 Here's a bit of background on the three presenters during this six-week seminar series.
Dr. John Paul Maye
Technical Director – USA @Hopsteiner
Dr. John Paul Maye, Technical Director at Hopsteiner and passionate home brewer, helps explain in detail his latest research on this phenomenon found in the link to the podcast below. Dr. Maye has over 23 years of experience in the hops industry, dating back to 1993 after receiving his Ph.D. in organic chemistry from Purdue University. Dr. Maye started his work as a hop chemist and has since developed many hop related products used both inside and outside the brewing industry and also holds many hop product patents. Dr. Maye is a recipient of the ASBC's Eric Kneen Memorial Award for his work on preparing stable HPLC calibration standards for isomerized and reduced alpha acids and is also a founding member and the secretary of the International Hop Standards Committee.
Dr. Martin Biendl
Head R&D Researcher/Analytical Department – DE @Hopsteiner
Martin Biendl received a Ph.D. in Organic Chemistry from Regensburg University in 1990. Dr. Biendl is the Senior R&D Researcher for the Analytical Department at Hopsteiner DE. His research covers any and all hop-related needs for the brewing industry and beyond. He is the representative of the International Hop Industry Cooperation in the EBC Analysis Committee and, since 2001, chairman of the Hops Subcommittee. As EBC representative he is also co-chairman of the International Hop Standards Committee. In 2007 he was elected to the Board of the Association of the German Hop Trade. Besides of many papers published in international brewing journals, he is also the co-author of two books on hops and their many applications in brewing.
Frank Peifer
Technical Director – DE @Hopsteiner
Frank Peifer started his brewing career 35 years ago after receiving his degree as an Engineer in Brewing Science and Beverage Technology from the Technical University of Munich. Prior to his career at Hopsteiner DE, Frank worked at the Bayerische Staatsbrauerei Weihenstephan as director of operations. In 2015, Frank joined the Hopsteiner DE team as Technical Director. Frank provides technical support to the brewing industry as a trusted advisor for many breweries across the globe. Frank supports R&D activities for new product development and technical applications, many of which have been published in international brewing journal. Frank is also responsible for the processing and packaging plants with competence as a technical advisor for optimizing processes and technologies. For more than 20 years he has been working on the exams of master brewers at the IHK in Munich.