Montavilla Brew Works Barrel-Aged Tasting & Discussion
|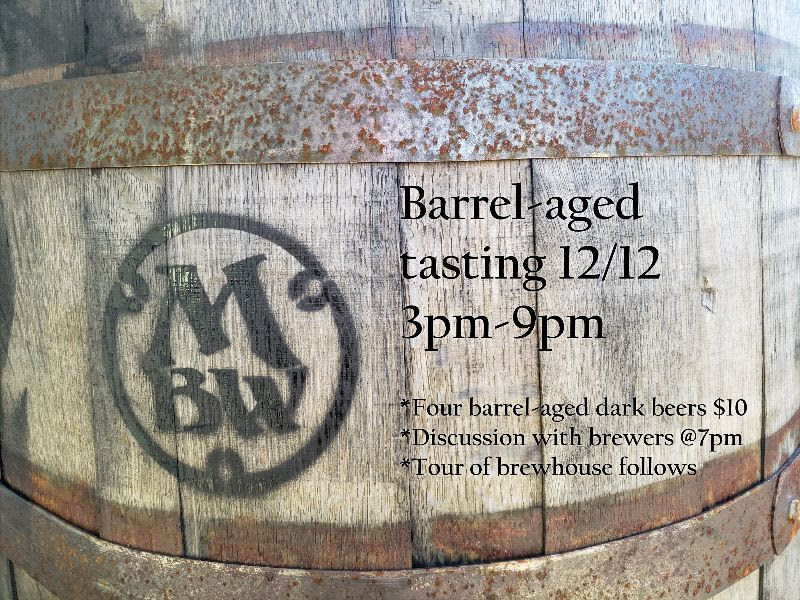 Montavilla Brew Works has been offering various seminars on brewing techniques and its next seminar will take place on Thursday, December 12th. For this event the brewers at Montavilla Brew Works will present its Barrel-Aged Tasting & Discussion.
From 3:00 – 9:00pm, the brewery's tasting room will be serving four, 4oz samples of a few of its barrel-aged beers. Each taster tray will be $10. Freshly baked pretzels from Fressen Artisan Bakery & Cafe will also be available for purchase. Then at 7:00pm, brewers Michael Kora and Alex Graham will give a talk on the art of barrel aging beer. This will be followed by a tour of the brewery's 10-barrel brewhouse.
Barrel-Age Beers Tap List:
2019 Hallowed Be Rye Name Bourbon & Rye Barrel-Aged Porter
2019 Stark Street Oaked Stout Bourbon & Rye Barrel-Aged Stout
2018 Old Montavillain Bourbon Barrel-Aged Strong Ale
2017 Ben's Barleywine Bourbon Barrel-Aged/Blended Barleywine
Ben's Barleywine will be also available in single 16.9oz bottles and 12pk cases to go.
Montavilla Brew Works
7805 SE Stark St.
Portland, OR 97215