The Oregon I Am – Oregon Craft Beer Project
|
A new project that brings together eight Oregon craft breweries and the Coalition of Oregon Land Trusts (COLT) launches today. These eight beers celebrate Oregon's diverse landscapes as part of COLT's adventurous The Oregon I Am craft beer project.
The beers that are part of the project were inspired by a special place in Oregon and celebrate the brand new The Oregon I Am Map. This map is the first-of-its-kind that features 81 outdoor places across the state that anyone can visit, thanks to the work of 30 land trusts. The map is available for download in English or Spanish when you enter your name and email at www.theoregoniam.org.
This project has been one that has been very well thought out all the way down to the beer label's artwork. COLT recruited Jolby, the Portland based creative firm, to create all of the imaginative imagery associated with The Oregon I Am.
At the onset of the project, COLT challenged the breweries to make beer inspired by Oregon. Each brewery tackled the challenge in their own way—by using all Oregon-grown ingredients, fermenting beer outdoors in a nature preserve using microbes from the air, capturing the essence of a sunny Oregon summer day, and/or collaborating with a local land trust.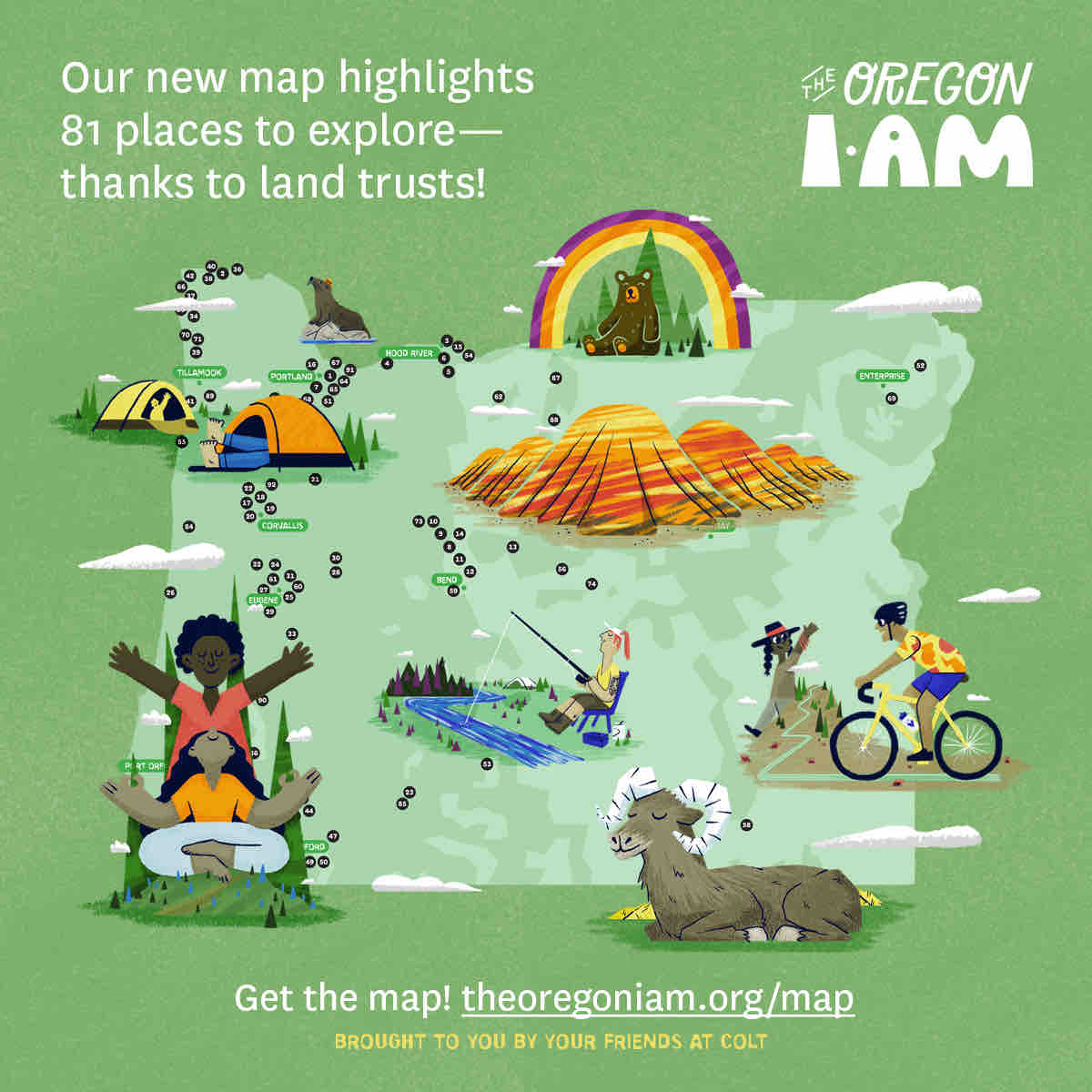 Participating breweries are Crux Fermentation Project (Bend); Ferment Brewing (Hood River); Little Beast Brewing (Clackamas/Portland); Ninkasi Brewing (Eugene); Oakshire Brewing (Eugene); Terminal Gravity Brewing (Enterprise); Von Ebert Brewing (Portland); and Wolves & People Farmhouse Brewery (Newberg).
"As Oregonians, we love our trees, we love our deserts, we love our mountains, and we love our beer," said Kelley Beamer, Executive Director at the Coalition of Oregon Land Trusts, in a statement. "Many of our land trust members have strong relationships with local breweries because brewers deeply understand the connection between healthy environments and the healthy water, hops, and malt that make great beer. As we built our beautiful map of accessible properties across Oregon, we knew that working with like-minded breweries would be the perfect way to celebrate the incredible bounty of our land and give cheers to these hidden gems in our state."
In honor of the beer release, COLT invites the public to grab The Oregon I Am beers and join brewers and land trusts for a free, statewide virtual happy hour on June 25 from 4:30-6:30pm PT via Zoom. Each of the breweries and the land trusts will be in attendance discussing their involvement in The Oregon I Am project. To attend the virtual happy hour register at https://theoregoniam.org.
Here are the beer descriptions along with the great design work created by Jolby.
Crux Fermentation Project – Experimental IPA with 95% Oregon-grown ingredients, fermented in the open air at Deschutes Land Trust's Camp Polk Meadow Preserve, finished with a Norwegian yeast strain. Released in 500ml bottles on June 25th.
Ferment Brewing – Hoppy Pale Ale brewed in partnership with Columbia Land Trust. The beer is made with Mecca Grade malt from Madras, and hop hash from Crosby Hop Farm in Woodburn. Released in 16oz 4-pack cans.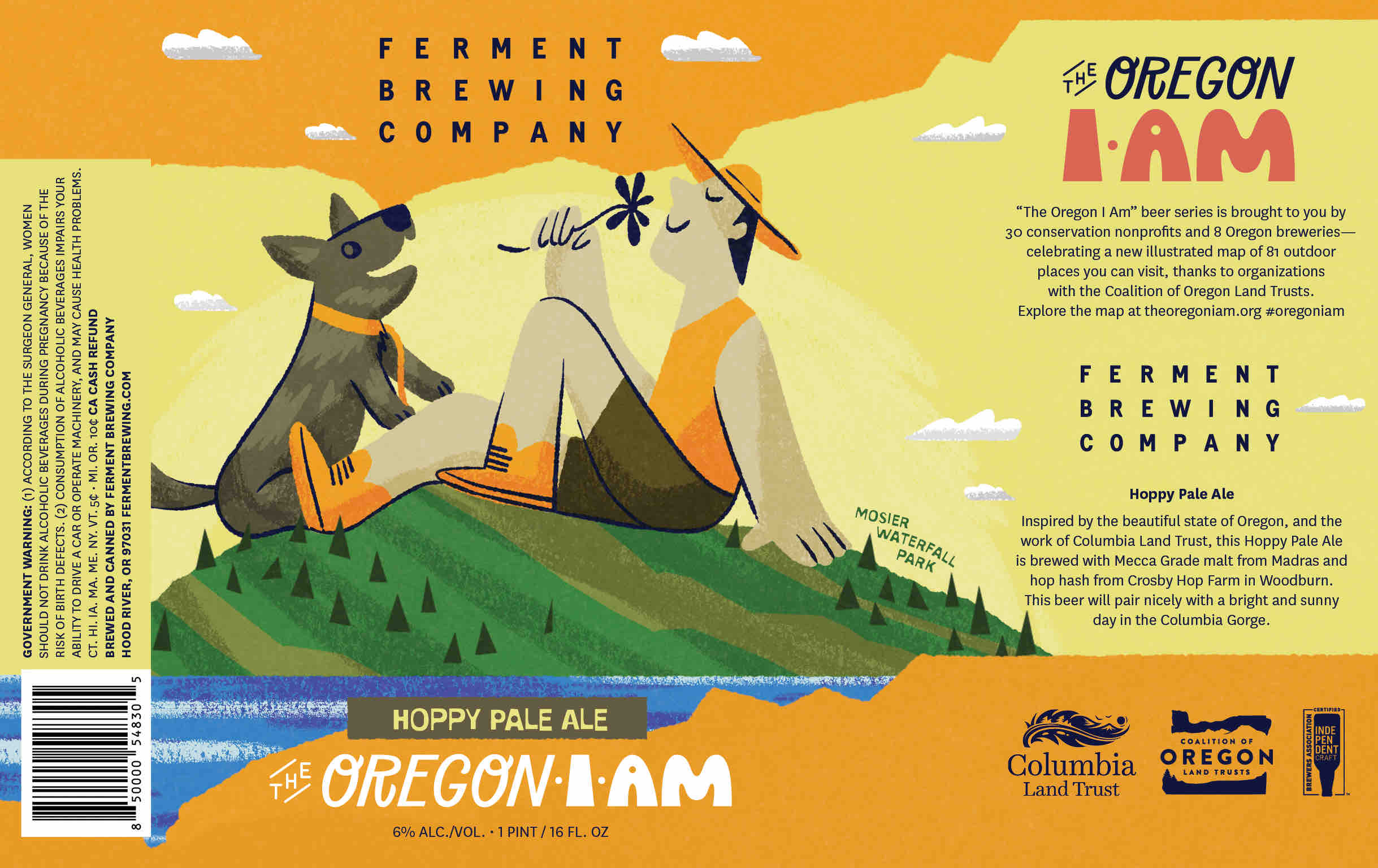 Little Beast Brewing – Sour ale inspired by the bounty of fruit that grows in Oregon. The beer is packed full of marionberries, Oregon's "unofficial state berry." Released in 16oz 4-pack cans.
Ninkasi Brewing – Unfiltered NW Pale Ale brewed in partnership with McKenzie River Trust and inspired by volunteer days at Green Island—a diverse ecosystem where the McKenzie and Willamette rivers meet. Released in limited edition 32oz crowlers available exclusively at Ninkasi's Better Living Room restaurant and taproom.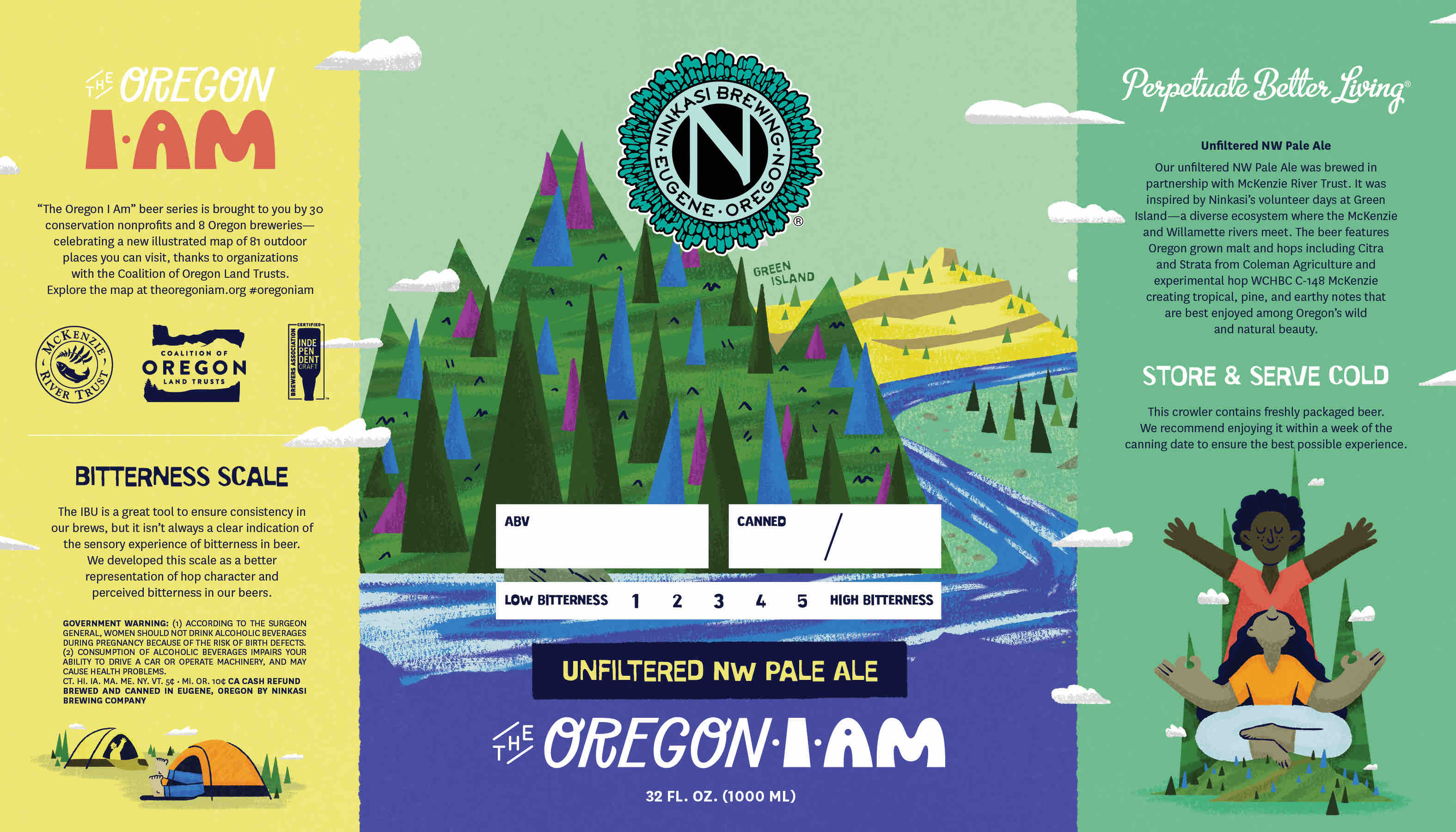 Oakshire Brewing – Hazy Extra Pale Ale brewed with all Oregon-grown ingredients in honor of the McKenzie River Watershed and the McKenzie River Trust. Released in 16oz 4-pack cans.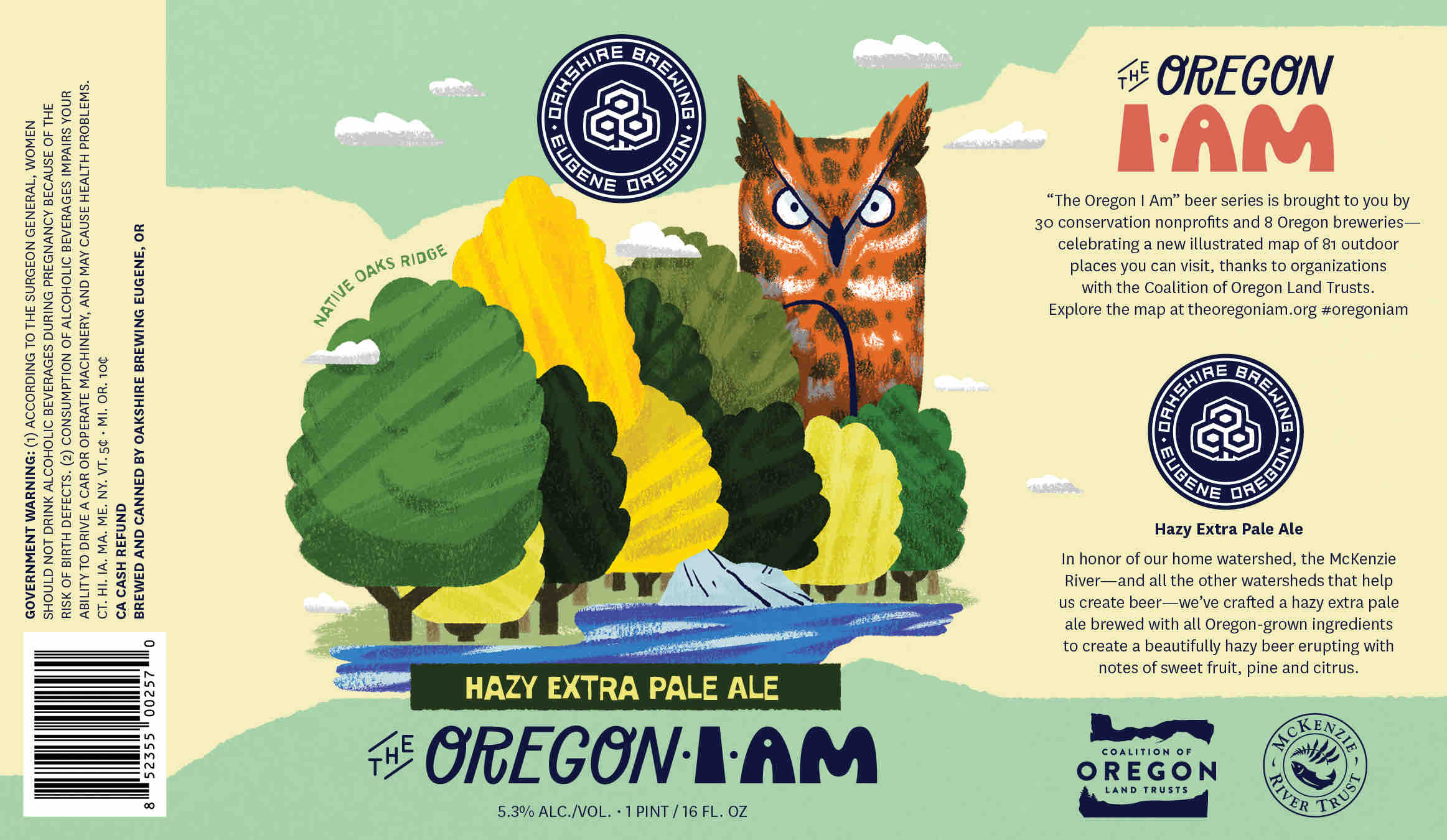 Terminal Gravity – Light and fruited sour ale brewed with huckleberries and wheat, inspired by a favorite Oregon past-time—picking huckleberries. The beer celebrates the important work of Wallowa Land Trust. Released in 12oz 6-pack cans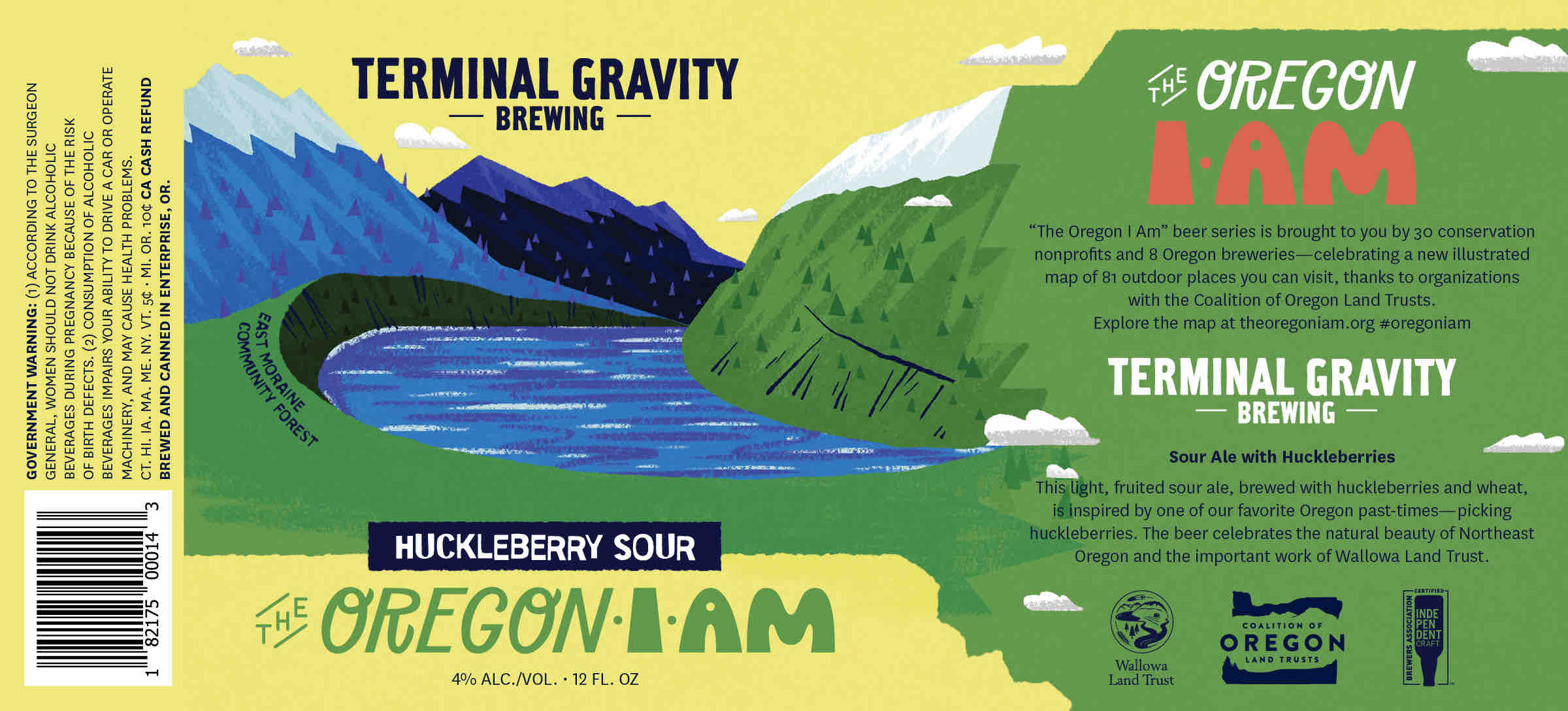 Von Ebert Brewing – Designed to remind us of being outdoors in Oregon. Modern Mosaic Pils, is a 5.2% ABV American-style pilsner that showcases the Mosaic hop by using two different formats of the hop. Mosaic Incognito, an extract of hop oils, and Mosaic Cryo, concentrated hop pellets to mimic flavors of pine, evergreen, berries and cannabis, were both used in conjunction with Australian Enigma hops in the beer. Released on draft and in 16oz 4-pack cans.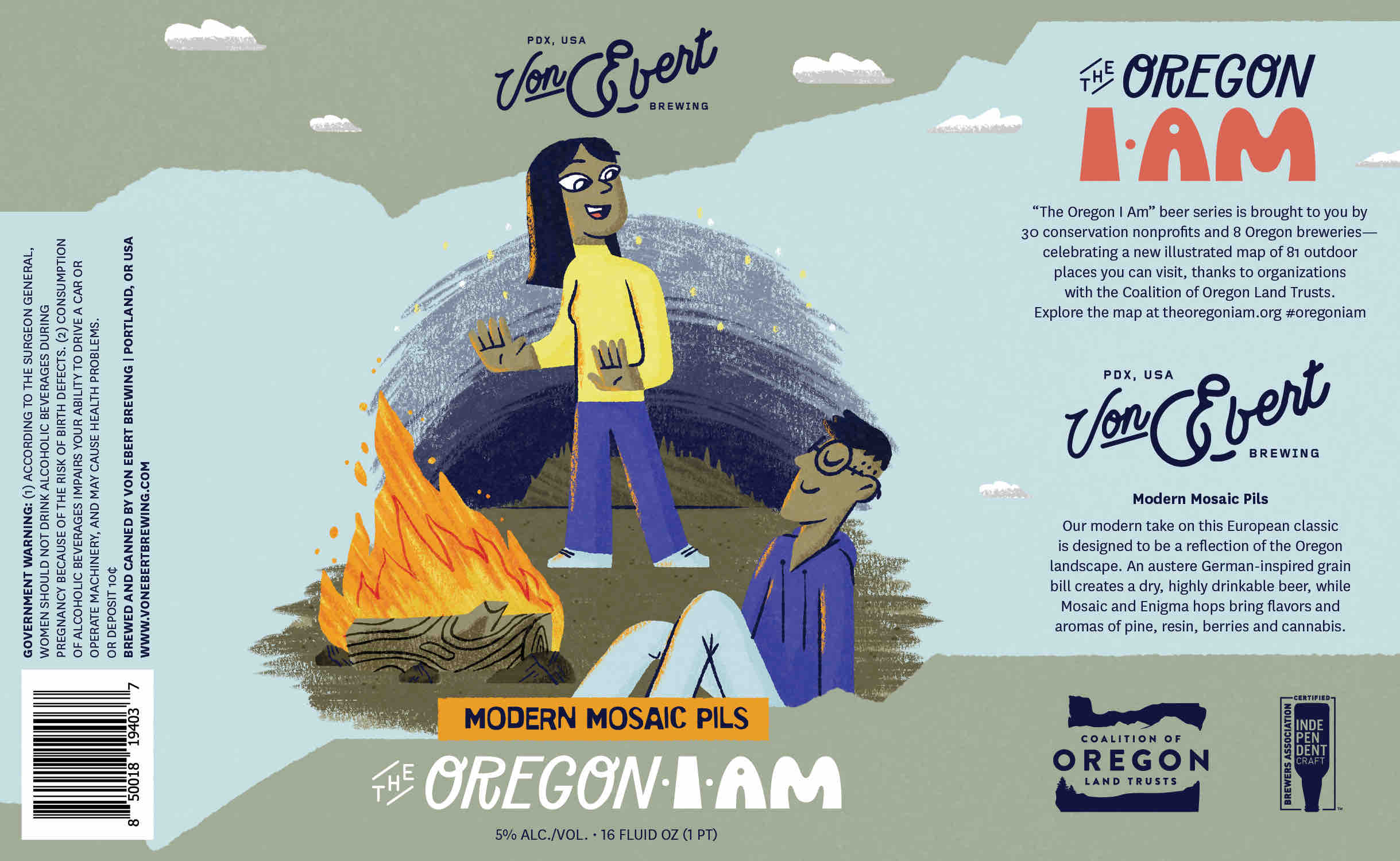 Wolves & People Farmhouse Brewery – Unfiltered Farmhouse India Pale Ale with Oregon-grown Mecca Grade estate malt, Oregon-grown Crystal, Meridian, and Cashmere hops, and wild mustard flowers. Released in 16oz 4-pack cans.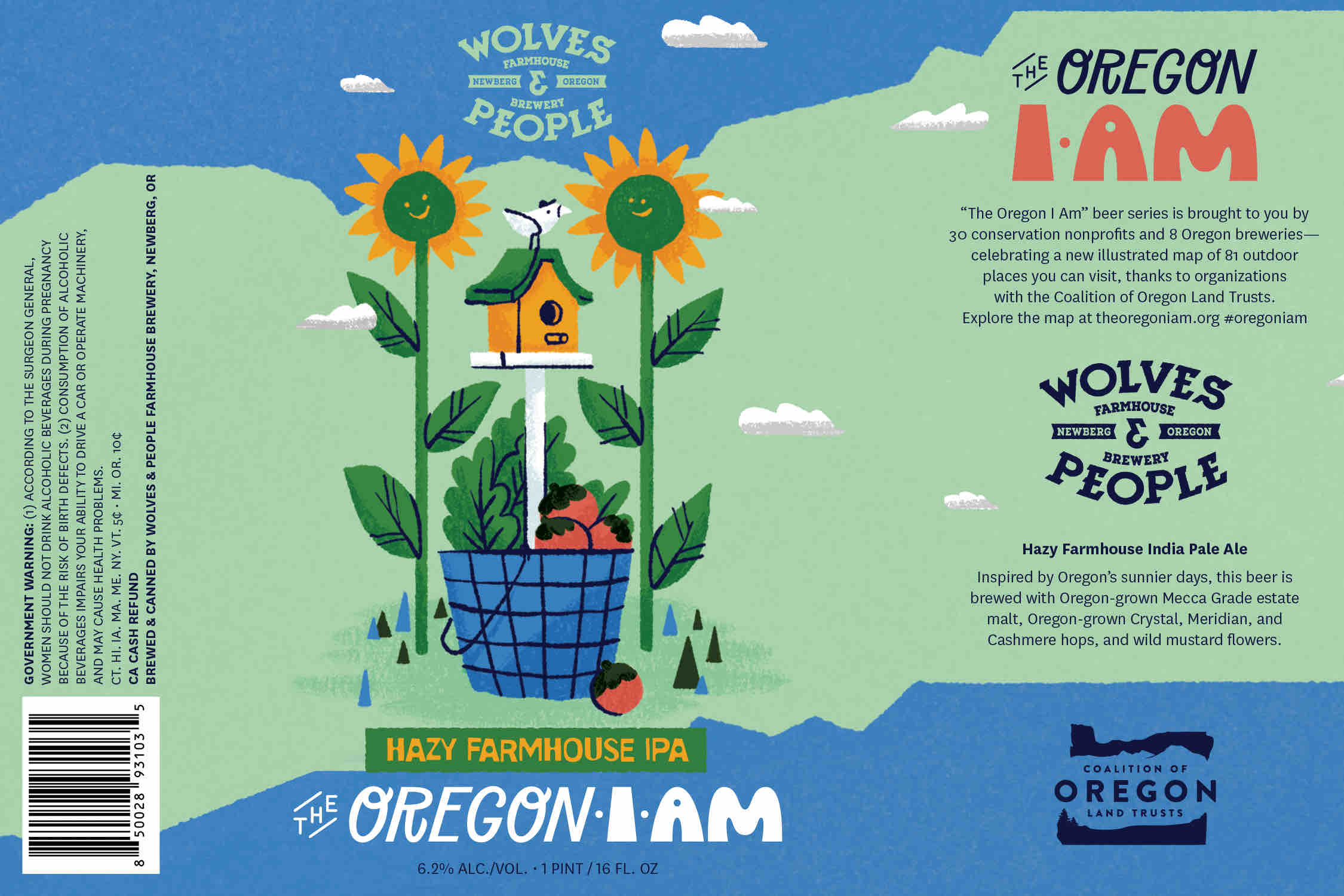 The Coalition of Oregon Land Trusts serves and strengthens the land trust community in Oregon. At COLT, we build connections and advance policies that help protect our natural world—our water, wildlife and open space—for all people, forever. This work helps our 30 coalition conservation members do what they do best: protect wildlife and wild places, defend working farms and forests, provide recreation and parks, drive climate solutions and science, champion clean water for all and engage communities to protect our natural world.
Seven of the eight beers are now available in a limited run of cans, bottles, or crowlers respectively at each brewery's taproom. Most of the eight offerings, except the beer from Ninkasi Brewing, will receive limited distribution to specialty beer shops throughout the state. Crux Fermentation Project Experimental IPA will be released on June 25.