The Upper Lip September 2019 Events – Heineken in Africa, WH?T UPP, and Beer Symposium: Fruit
|
This coming week is a big week for The Upper Lip as it is set to host three events at the quaint beer bar located above Bailey's Taproom. Tonight, Tuesday, September 17th the bar will host author Oliver Van Beemen who will discuss his new book Heineken in Africa: A Multinational Unleashed; on Thursday, September 19th Bill Murnighan, former manager of Bailey's and The Upper Lip returns to Portland for WH?T UPP; and on Sunday, September 22nd The Upper Lip Beer Symposium: Fruit will take place.
Here are additional details on all three events provided to us by The Upper Lip…
Book Event: Heineken in Africa: A Multinational Unleashed
Tuesday, September 17, 2019 at 6:30 PM – 8 PM
Join us at 6:30 PM on Tuesday, September 17th when we host Award-winning Dutch Journalist Olivier Van Beemen as he presents his new book: Heineken in Africa: A Multinational Unleashed!
About the Book:
For Heineken, 'rising Africa' is already a reality: the profits it extracts there are almost 50 per cent above the global average, and beer costs more in some African countries than it does in Europe. Heineken claims its presence boosts economic development on the continent. But is this true?
Investigative journalist Olivier van Beemen has spent years seeking the answer, and his conclusion is damning: Heineken has hardly benefited Africa at all. On the contrary, there are some shocking skeletons in its African closet: tax avoidance, sexual abuse, links to genocide and other human rights violations, high-level corruption, crushing competition from indigenous brewers, and collaboration with dictators and merciless anti-government rebels.
Heineken in Africa caused a political and media furore on publication in the Netherlands, and was debated in the Dutch and European Parliaments. Leading international media, such as The Guardian, Financial Times, BBC, Le Monde and El País reported on it. The revelations made the Global Fund, a multi-billion dollar organization that fights AIDS, TB and malaria with the support of the Bill & Melinda Gates Foundation, decide to suspend its partnership with Heineken.
It is an unmissable exposé of the havoc wreaked by a global giant seeking profit in the developing world.
More information: heineken-africa.com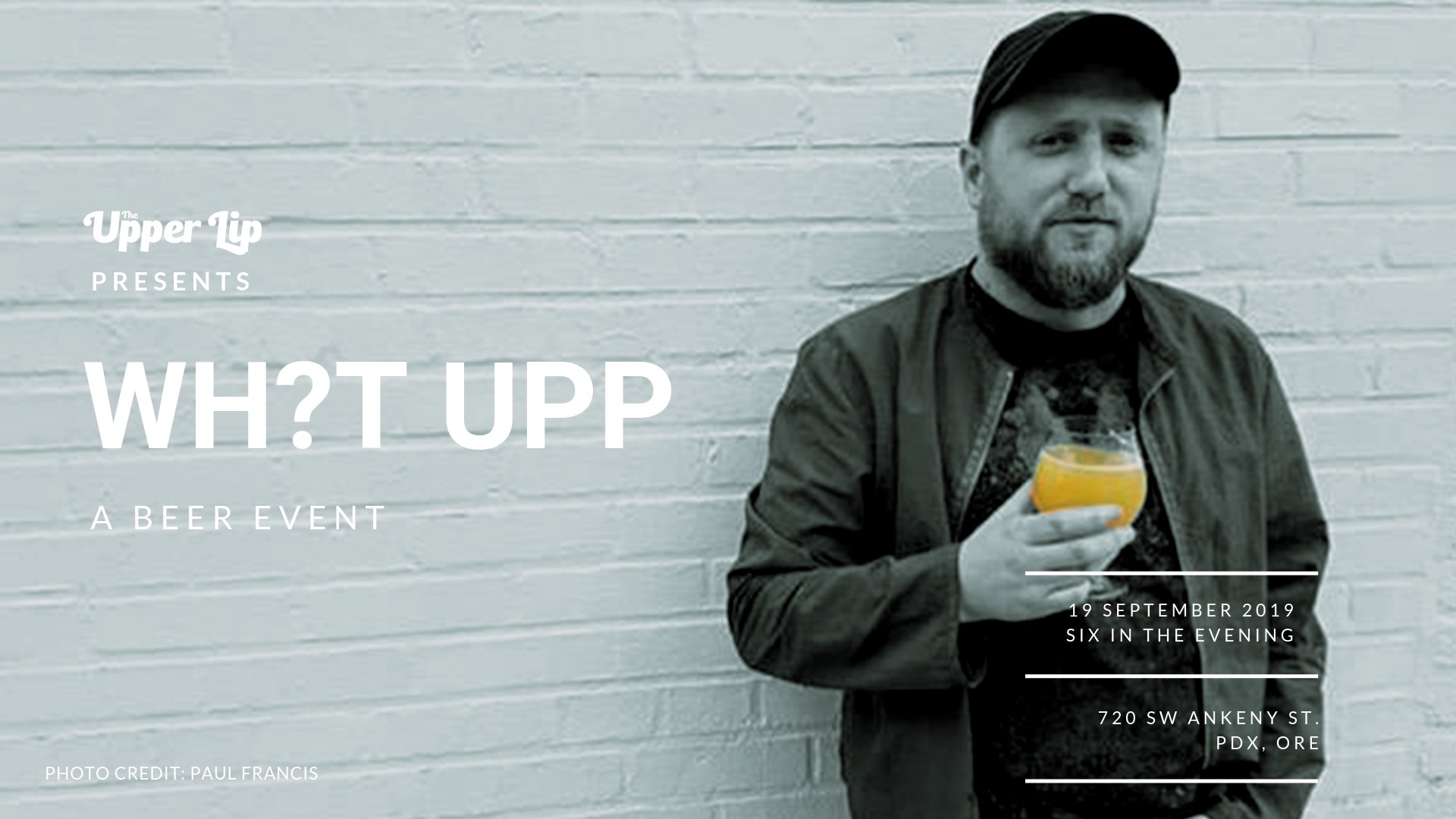 WH?T UPP
Thursday, September 19, 2019 at 6 PM – 11:59 PM
A Collaborative Event Celebrating Creativity in the Beverage Industry!
On Sept. 19th we're excited to bring back our old coworker, boss, friend, and beer lover Bill Murnighan for a night of amazing beer, great people, and sick beats!
Special beers from our good friends at Culmination, Upright and a guest appearance from BillyWhat!
Chuckanut Nutburger
Georgetown Johnny Utah
Breakside Fresh Hop Simcoe IPA
Culmination/Bailey's Taproom OG/OJ Hazy IPA
Hill Farmstead Arthur
Bill's Irish Goodbye
The Commons Eleanor
Fort George Matryoshka
Upright WH?T UP! Blend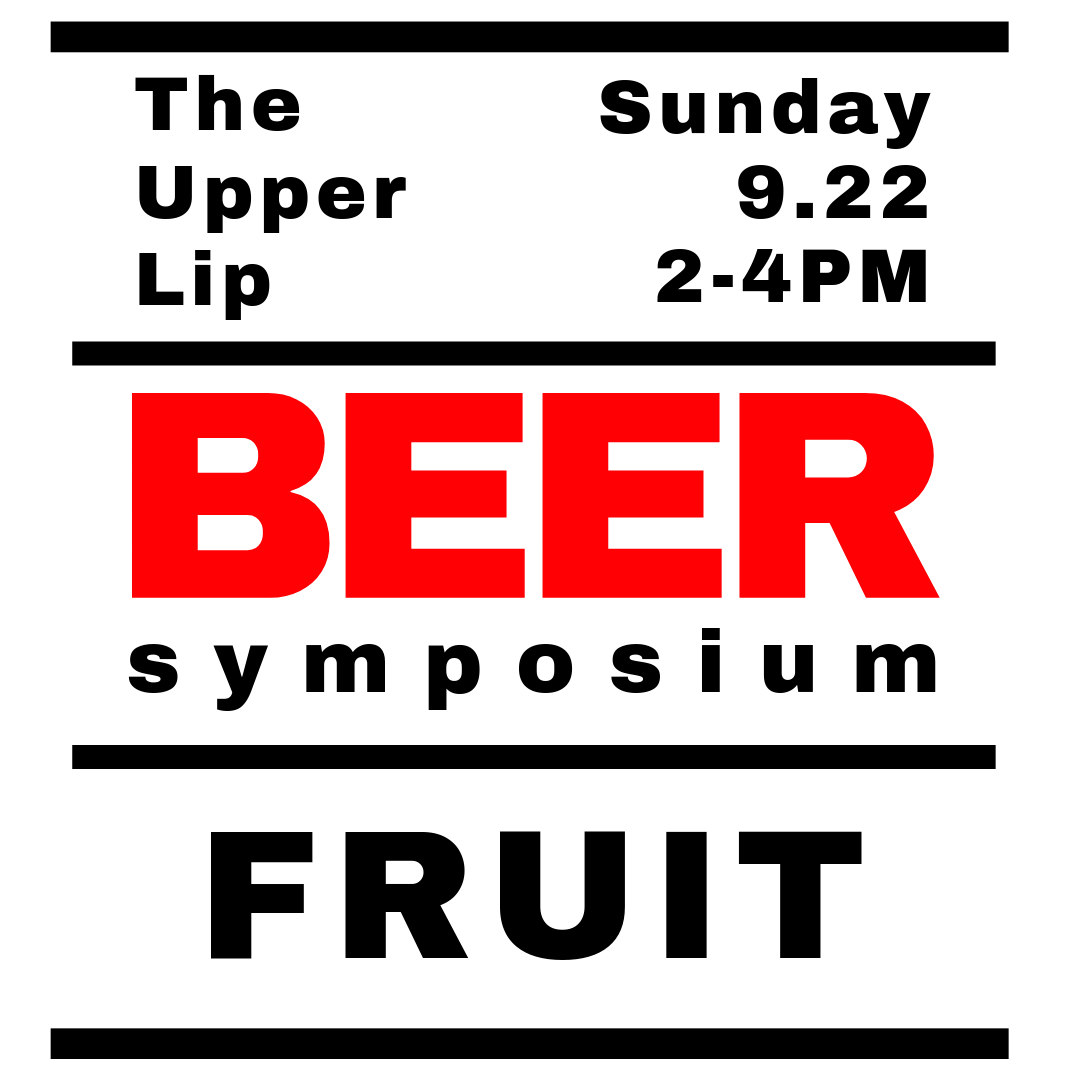 The Upper Lip Beer Symposium: Fruit
Sunday, September 22, 2019 at 2 PM – 4 PM
For the next installment of our quarterly beer symposium, we plan to explore the wide world of fruited beers. As fruit harvest periods come to a close, we typically see a wide variety of fruited beers released in the fall. We thought this would be a perfect time to delve into this diverse and complex category of beer.
Resident moderator Ryan Spencer and The Upper Lip will host Sean Burke (Von Ebert), Gavin Lord, (pFriem ), Shaun Kalis (Ruse), and Shilpi Halemane (Logsdon Farmhouse Ales). We plan to touch on our panel's approach to fruit beer production, the history of fruit in beer, and the relationships between brewers and fruit growers.
Each seminar features a unique list curated to drive home some of the topics discussed by the panel. Attendees of the event will get an opportunity to participate in a thirty minute Q&A session at the end of the discussion.
The price of entry is $10 and also includes one pour from one of the featured beers available during the symposium. Tickets are available online or can be purchased in-store at either Bailey's Taproom or The Upper Lip. Doors at 1:45pm. Event from 2-4pm.
Space is limited so please reserve your tickets soon! We look forward to seeing you!
The Upper Lip
720 SW Ankeny St,
Portland, OR 97205