The Washington Brewers Guild Presents 2017 Washington Cask Beer Festival
|
Fans of cask beer are in for a treat when the Washington Brewers Guild presents the 2017 Washington Cask Beer Festival on Saturday, March 25th. This day of naturally conditioned beers will feature two sessions, one in the afternoon from Noon to 4:00pm and then an evening session from 5:30 to 9:30pm.
Held at the Seattle Center Exhibition Hall in Seattle, Washington, the Washington Cask Beer Festival brings together over 40 breweries from the Evergreen State. Each and every beer served at the festival are beers that are conditioned naturally, without artificially introducing CO2 into the cask. Many of the beers are poured by gravity from a firkin or a pin however a beer engine will pour a few of the beers.
Tickets are currently on sale in advance for $40.00 each that includes a commemorative tasting glass and 15 4oz tastes. If tickets are still available the day of the event, admission will be $45.00 at the door. Designated driver admission is $5.00 and available at the door only. Advance tickets are available online here.
2017 Participating Breweries:
7 Seas Brewing
Anacortes Brewery
Bainbridge Brewing
Bale Breaker Brewing
Black Raven Brewing
Boundary Bay Brewery
Cash Brewing
Cloudburst Brewing
Crucible Brewing
Diamond Knot Craft Brewing
Elliott Bay Brewing
Elysian Brewing
Figurehead Brewing
Fish Brewing
Flying Bike Cooperative Brewery
Flying Lion Brewing
Fremont Brewing
Georgetown Brewing
Hellbent Brewing
Hi-Fi Brewing
Hop Nation Brewing
Jellyfish Brewing
Mac and Jack's Brewery
Machine House Brewery
Maritime Pacific Brewing
McMenamins Breweries
Mollusk
North Sound Brewing
NW Peaks Brewery
Odin Brewing
Old Stove Brewing
Pike Brewing
Postdoc Brewing
Rainy Daze Brewing
RAM Brewery
Rooftop Brewing
Schooner Exact Brewing
Silver City Brewery
Slaughter County Brewing
Sound To Summit Brewing
Stoup Brewing
Triplehorn Brewing
Two Beers Brewing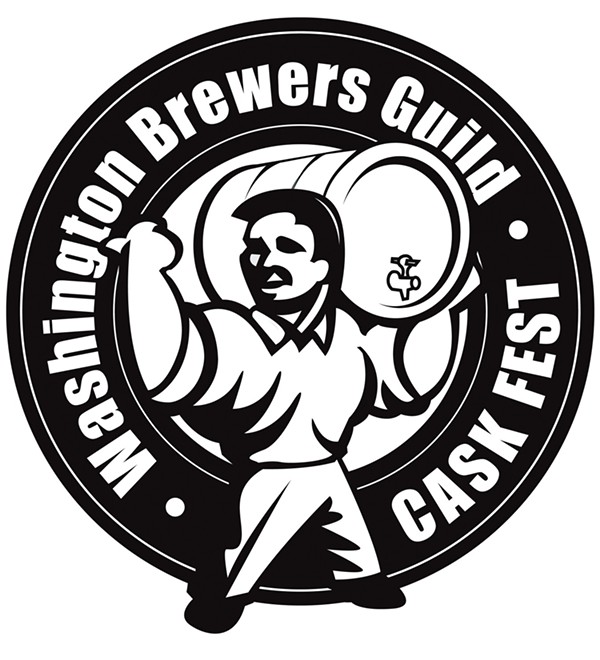 There will also be food offerings at the festival from Woodshop BBQ, Dante's Inferno Hot Dogs, Brewmaster's Bakery, and Friday Harbor House of Jerky.
Organizers are still seeking volunteers for the Cask Fest. Volunteer shifts are filled on a first come, first serve basis. Volunteers receive admission to the event upon completion of their shift. 2nd session volunteers also receive admission to a future event. If you're interested in volunteering, please email the Washington Brewers Guild at beer@washingtonbrewersguild.org with your shift preferences.
Seattle Center Exhibition Hall
299 Mercer St
Seattle, WA 98109