UC Davis Offers New 2018 Summer Brewing and Online Courses
|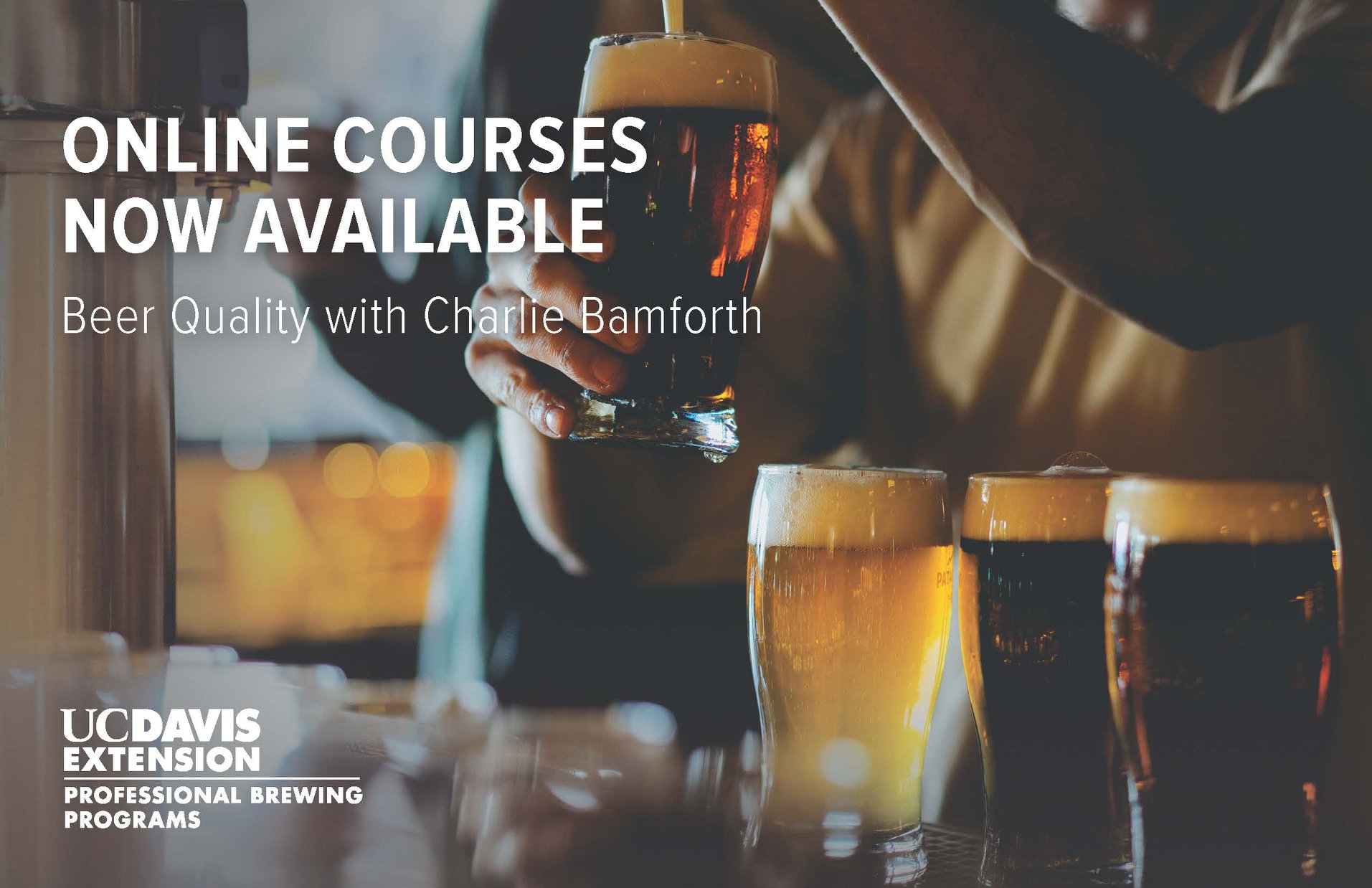 The University of California, Davis has announced its Summer Brewing Courses. These courses include a few new offerings of sensory science and consumer research, brewing chemistry and online courses in beer quality. To round out the new course offerings, UC Davis will return with many other courses to round out one's knowledge of the brewing process.
The brewing courses held at UC Davis are part of the UC Davis Extension that is the continuing and professional education division of the university. As one of the world's most respected providers of brewing programs, UC Davis Extension offers comprehensive brewing education courses for novice and experienced brewers and brewing industry professionals. Its onsite classes are held in Davis, California, just outside of Sacramento.
Here are additional details on the summer brewing courses from UC Davis Extension.
Beer Quality: Foam New and Online!
Learn from "The Pope of Foam," Charlie Bamforth, how to ensure excellent foam performance on your beers. Examine the underpinning physics and chemistry, how to measure foam, how the raw materials and process impact head retention and how to prevent over-foaming, otherwise known as gushing.
May 21-Aug. 10. $385
Intensive Brewing Science for Practical Brewing
Receive an intensive introduction to the sciences of brewing, drawing a direct connection between brewing science and brewing practice in this popular short course. Build your understanding of the technological and biochemical aspects of the brewing process, including raw materials, malting, brewing, fermentation and finishing. Receive a tour of a famous craft brewery and participate in beer tasting with a professional sensory scientist. Note: You must be 21 years of age or older to enroll and attend.
June 11-15: Mon.-Fri., 9 a.m.-4 p.m. $1,400.
Sensory Science for Craft Brewers New!
Sensory evaluation skills should be an essential part of your brewing operation and are critical for maintaining consistent quality, developing new brews and more. Learn to easily apply fundamental sensory science to your craft brewing operation. Class exercises include demonstrations of sensory evaluations of brews and the chance to discuss your actual research and production issues with professional sensory scientists. Note: You must be 21 years of age or older to enroll and attend.
June 23: Sat., 9 a.m.-4 p.m. $450.
Brewing Microbiology Workshop
Explore the microbial world of brewing. Receive microscope training and practical exercises for identifying beer microorganisms. Lecture topics include yeast and bacteria strains, fermentations and brewery sanitation. In the lab, explore the use of sterile techniques, plating of cultures, isolation of microorganisms, microbial spoilage and more.
June 25-27: Mon.-Wed., 9 a.m.-4 p.m. $585.
Beer Quality: Flavor New and Online! 
Learn how to control and improve the flavor of beer from Charlie Bamforth, who has been researching beer quality for more than 40 years. You'll learn how our senses detect beer flavor, the many substances that impact flavor and how they can be assessed and measured. You'll also explore the role of malt, hops, yeast and water in determining the aromas and taste of beer, as well as how to ensure that you achieve the desired smell and taste in your products.
July 2-Sept. 21. $385.
Beer Quality: Freshness New and Online! 
Discover how to achieve flavor stability in your products from Charlie Bamforth, a pioneer in beer freshness. Learn why flavor stability matters, the changes that can occur in beer over time and why these changes occur. You'll also look at how to assess flavor change using your senses, how to address raw materials and process in enhancing stability and how to prevent the skunking of beer.
Aug. 6-Nov. 2. $385.
Brewing Chemistry: Water and Mash
Examine the basics of brewing water and mash chemistry for commercial and advanced homebrewing. Learn the fundamentals of the underlying chemistry critical to successful all-grain brewing. Review basic chemical interactions and equilibriums, and explore their influence on water chemistry, potential water treatments for the small commercial and home producer, the complexities of mash pH and the activity of malt enzymes vital in the production of quality wort.
Aug. 25: Sat., 9 a.m.-4:30 p.m. $280.
Brewing Chemistry: Hops and Boil New!
Study the fundamentals of the underlying hop and boil chemistry critical to successful brewing. Examine hop biology, as well as the chemical constituents, bitterness units, dry hopping and chemistry of wort boiling, wort cooling and wort aeration vital in the product of quality wort. With the variability of online brewing calculators, it is critical to understand the underlying science that goes into crafting your next great beer recipe.
Aug. 26: Sun., 9 a.m.-4:30 p.m. $280.
Introduction to Practical Brewing
Learn from one of the world's foremost brewing experts, Charlie Bamforth, in this in-depth course for advanced homebrewers and early career professional brewers, using the amazing resources of the 1.5 barrel pilot brewery in the state-of-the-art brewing facility on the UC Davis campus. This class combines clear and detailed lectures with practical, hands-on brewing and laboratory tests. Go all the way from raw material selection through to the quality and stability of the finished beer. Note: You must be 21 years of age or older to enroll and attend.
Aug. 27-31: Mon.-Thurs., 9 a.m.-4 p.m., and Fri., 9 a.m.-12 p.m. $1,400.
Consumer Research for Craft Brewers New!
Understanding your customers and target market is essential for developing a successful craft brew or cider business. Acquire the skills for conducting market research and how to turn those results into fact-based selling presentations. Learn how to assess your position against the competition and how to identify which flavors and attributes really click with your target audience. You will also explore how to develop and test new labels, names, packages or containers that will communicate your brand's personality and appeal to your customers. Note: You must be 21 years of age or older to enroll and attend.
Sept. 5: Wed., 9 a.m.-4 p.m. $450. CCBA members eligible for a discount.

For more information or to enroll, call (800) 752-0881, email extension@ucdavis.edu or visit the UC Davis website: extension.ucdavis.edu/brewing