10th Annual Cheers to Belgian Beers Releases Beer Lineup
|
PORTLAND, Ore. – The 10th annual Cheers to Belgian Beers festival has announced the beer lineup for this year's event, taking place May 13 and May 14 at The North Warehouse, 723 N Tillamook St. Hours are 1 to 9pm on Friday and Noon to 8pm on Saturday.
The festival features up to 70 Belgian-style beers all brewed by Oregon craft brewers, the majority of which use the same single yeast strain: Imperial Organic Yeast 58 Lioness, a yeast that produces white fruit esters that are balanced with clove phenolic aromas.
The list of participating breweries, their beer name and their style follows; this list is continually updated as more breweries sign up. For a complete up to date list, including ABV and yeast strain, please visit this link. 
13 Virtues Brewing: Guatemala Steve | Belgian Dark Specialty
Agrarian Ales: Leaena | Belgian Golden
Alameda Brewing: Donk and Donk | Dubbel
Ambacht Brewing: G++ | Belgian Golden Strong Ale
BackPedal Brewing: 99 Problems | Belgian Strong Brown Ale
Baerlic Brewing: Stark Black | Belgian Stout
Base Camp Brewing: Monk's Brunch | Belgian Dark Session
Bent Shovel Brewing: Namesake Dark Strong Ale | Belgian Dark Strong Ale
Breakside Brewery: Bunk's Wit | Witbier
Buoy Beer: Sort of Brunette | Belgian Blonde
Burnside Brewing: Immaculate Decoction | Belgian Strong Ale
Caldera Brewing: Vas Deference | Belgian Ale
Cascade Brewing: Lioness Ritchie | Blonde
Coalition Brewing: Trifecta | Tart Belgian Pale with Lychee Fruit
Craft Kitchen and Brewery: Red Dawn Saison | Barrel Aged Belgium (Soured)
Crux Fermentation Project: CBS (Cranberry Belgian Stout) | Belgian Stout
Culmination Brewing: Pinot Evil | Belgian Tripel
Deschutes Brewery: Lumiere du Centre | Belgian Tripel
Double Mountain Brewery: TBD | Belgian Quad
Ecliptic Brewing: Hyades Belgian Golden Ale | Belgian Golden Ale
Ex Novo Brewing: TBD | Strong Gold with Papaya
Falling Sky Brewing: Big Ripple Tripel | Tripel
Fat Heads Brewery: Dark Gnome | Belgian Session CDA
Fort George Brewery: Spring Fever | Belgian Strong Ale
FOTM Brewing: Une Biere Pour Adelaide | Belgian Strong Pale
Gigantic Brewing: Black Pieter | Belgian Black Ale
Golden Valley Brewery: Rode Distel | Flanders Style Red
Green Dragon Brew Crew: Special Agent Moriarty | Belgian Dark Strong
Hair of the Dog Brewing: Rose | Belgian Tripel
Howporks Urban Brewery: Xocolatl Xake Up | Spiced Quad
Laurelwood Brewery: TBD | Imperial Belgian Chocolate Stout
Leikam Brewing: Moonshadow Belgian Chocolate Ale | Dark Belgian
Lompoc Brewing: Mystical Apricorn | Belgian Pale
Lucky Labrador Brewing: High Ryes | Belgian Rye
McMenamins Concordia Brewery: Triple Lindy | Belgian Tripel
McMenamins Crystal Brewery: Damned in Black Belgian Rye | Belgian Rye
Migration Brewing: Azaca Kahn IPA | Belgian IPA
Montavilla Brew Werks: Jerry Runs the voodoo Down | Belgian Extra Pale Ale
Mt Tabor Brewing: Oranje Leeuwin | Belgian Blonde
Oakshire Brewing: Save the Bees | Tart Dry-Hopped Farmhouse Ale
Occidentall Brewing: Zwarte Betje | Belgian Dark Strong
Old Town Brewing: Gargamel's Revenge | Belgian Stout
Pelican Brewery: Pelican Saison | Saison
pFriem Family Brewers: Flanders Red | Flanders Red
PINTS Brewing: Belgian Breakfast | Belgian Breakfast Beer
Plank Town Brewing: Trubbel | Dubbel
Portland Brewing: Honey Badger | Belgian Braggot
Rock Bottom Brewery: TBD
Rogue Ales: TBD | Belgian Dark Strong Ale
Sasquatch Brewery: Grand Cru | Belgian Style Strong Blonde
Solera Brewery: The Five Foot Assassin | Sour Brown
Stickmen Brewing: La Sticke | Belgian Tripel
Storm Breaker Brewing: Tripel Impact | Belgian Tripel
Sunriver Brewing: Willie the Red | Belgian Strong Red Ale
The Commons Brewery: Zeven | Dubbel
Three Mugs Brewing: Belgian from the 'Burbs | Coffee Belgian Dark Strong
Thunder Island Brewing: The Hoppy Monk | Belgian Dark Strong
Unicorn Brewing: The Unicorns Drinking Pale | Belgian Dry Hopped Pale
Upright Brewing: Sunset Saison | Saison
Uptown Brewing: Wam Bam Thank You Tam | Black Saison
Vagabond Brewing: Belgian Blonde | Belgian Blonde
Widmer Brothers Brewing: Sansho No Sezon | Saison with Sansho Peppercorns
Wild Ride Brewing: Dark Dynasty Belgian Dark Strong Ale | Belgian Dark Strong Ale
Wolf Tree Brewery: Donker Boom | Belgian Strong Dark Ale
Worthy Brewing: Three Legged Table Bier | Belgian Dark
Yachats Brewing: Jasper Wave | Belgian Blonde
Zoiglhaus Brewing: Chocolate Blood Orange Candi Biere | Chocolate Orange Ale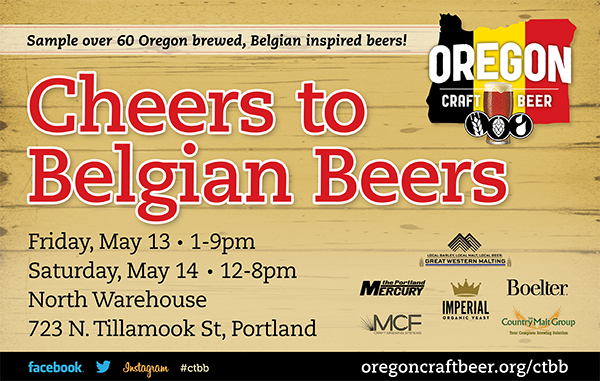 Admission to the event is free. In order to drink, it costs $20 for a souvenir glass tasting goblet and 10 drink tickets. Beers are available by taster only; most beers cost one ticket for a taste, though some may cost double. Additional tasting tickets are available for $1 apiece. Advance tickets are on sale now at http://oregoncraftbeer.org/ctbb. The event is for ages 21 and over.
Cheers to Belgian Beers takes place in The North Warehouse as well as outside in the tented parking lot. Food is available from Monk's Deli and the Urban German Grill. Street parking is available, but limited. Attendees are encouraged to take public transportation — the TriMet Bus Line 35 stops one block away and the Yellow Max Line stops two blocks away — or ride their bike, with complimentary bike parking available.
Cheers to Belgian Beers is sponsored by MCF Craft Brewing Systems, Boelter Beverage, The Country Malt Group, Great Western Malting, Imperial Organic Yeast and Portland Mercury. The event is organized by the Oregon Brewers Guild, a non-profit organization whose mission is to promote the state's craft brewing industry and the common interests of its members. Founded in 1992, the Oregon Brewers Guild is one of the nation's oldest craft brewers associations. The Guild, which receives no state funding, comprises 154 brewing companies, 122 associate or supplier members and more than 3,500 enthusiast members or S.N.O.B.s (Supporters of Native Oregon Beer). To learn more, visit www.oregoncraftbeer.org.
Twitter: @OregonCraftBeer
Facebook: OregonCraftBeer
Facebook Event: www.facebook.com/events/1710290302518492/
Hashtag: #ctbb16