14th Annual Leavenworth Ale Fest Returns on April, 18, 2020
|
Located in the foothills of the Cascade Mountains east of Seattle, Leavenworth is a Bavarian influenced village that is perfect for a weekend getaway. Once again, the town will host its 14th Annual Leavenworth Ale Fest and Home Brew Competition on Saturday, April 18, 2020.
This yearly festival is a non-profit fundraiser that will feature approximately 40 regional breweries and cideries, live music, and food, all in support of the Arts. The Leavenworth Ale Fest supports the Icicle Creek Center for the Arts, a Leavenworth based non-profit that presents year-round arts education and programming that impacts more than 5,000 students throughout North Central Washington each year. A portion of proceeds also go to support the Leavenworth Nutcracker Museum which founded the event 14 years ago.
The 14th year of this event will be the largest as the festival will expand to two sessions in the year 2020. Last year's Leavenworth Ale Fest was a sell out so organizers decided to offer two sessions on Saturday, April 18th. The first session runs from noon to 4:30 p.m. (general admission only). The second session runs from 6:30 p.m. to 10:30 p.m. (general admission), with a special VIP ticket granting access an hour earlier at 5:30 p.m.
Here's a preview of the breweries and cideries that will be part of the 14th Annual Leavenworth Ale Fest.
Leavenworth Ale Fest Brewery & Cidery List:
Bad Granny Hard Cider
Icicle Brewing Co.
Dru Bru
Ten Pin Brewing
Tieton Cider Works
Pear UP
Hop Capital Brewing
Single Hill Brewing Co.
Perihelion Brewery
Scuttlebutt Brewing Co.
Berchman's Brewing Co.
Timber Monster Brewing Co.
Independent Perry Co.
Doghaus Brewery
Stormy Mountain Brewing
Bale Breaker Brewing Co.
Old Schoolhouse Brewery
Loowit Brewing Co.
Bron Yr Aur Brewing Co.
Milepost 111 Brewing Co.
San Juan Seltzer
Breakside Brewery
No-Li Brewhouse
Payette Brewing Co.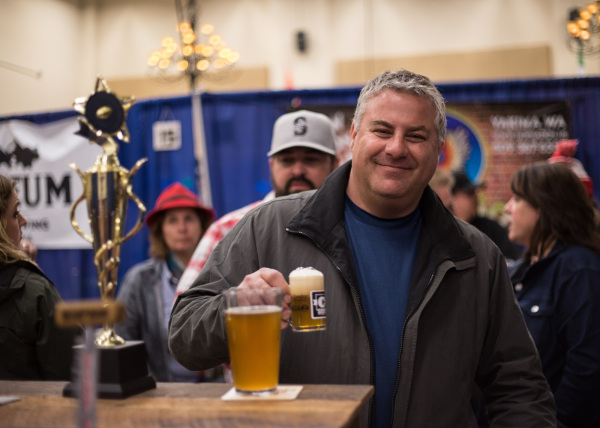 Tickets are now on-sale for the Leavenworth Ale Fest. General Admission tickets are $40 and includes a tasting glass and 8 taster tokens. VIP tickets cost $60 and include the glass and tokens as well as an hour earlier start time for the event. A special Designated Driver ticket is available for $5 and includes free non-alcoholic beverages for the duration of the event. Additional tokens may be purchased at the event. All attendees must be 21 or older and must show valid ID at the door in order to participate.
Tickets and more information are available online at icicle.org and at leavenworthalefest.com.
This year's Leavenworth Ale Fest is sponsored by Anderson Landscaping, with additional support from Icicle Brewing Co., The Bavarian Lodge and Think Twice. Think Twice will be on hand for the second year in a row, offering free onsite breath alcohol testing and information to encourage safe driving to and from the event.
Leavenworth Festhalle
1001 Front St.
Leavenworth, WA