2015 Edition of BridgePort Stumptown Tart with Raspberries
|
Returning to store shelves for its eighth year is BridgePort Brewing Company's Stumptown Tart. For this year's edition the brewers at BridgePort chose to bring the focus back on this fruit beer back to only one fruit, raspberries from the Pacific Northwest.
Part of BridgePort's Big Brews series, Stumptown Tart is a limited release only available in 22oz bottles. The 2015 version of Stumptown Tart is a Belgian-style ale that is infused with Pacific Northwest grown raspberries. To keep in tradition, this year's label will once again feature pinup model Bernie Dexter.
Available in limited quantities, this year's Stumptown Tart is a Belgian Style Ale infused with northwest grown raspberries. As in previous years, the fermentation process for Stumptown Tart has delivered a subtle yet noticeable Belgian yeast character. This year is no different delivering a nice, pleasant raspberry character that is not overpowering that sits superbly against its slight tartness.
"It's hard to believe that we have been making this beer for eight years now," commented brewmaster, Jeff Edgerton. "We knew it was only a matter of time before we would want to bring back a fan favorite like the raspberry."
BridgePort will host a Tasting with the Tart party on Wednesday, May 20th from 5:30 to 8:00pm at the BridgePort Brewpub in Portland. Come by to taste this year's Stumptown Tart on draft, which is a rare occurrence. Giveaways will be plentiful, and bottle model Bernie Dexter will be there ready to pose with guests for a Stumptown Selfie and to sign bottles of BridgePort's new brew from its Big Brews series.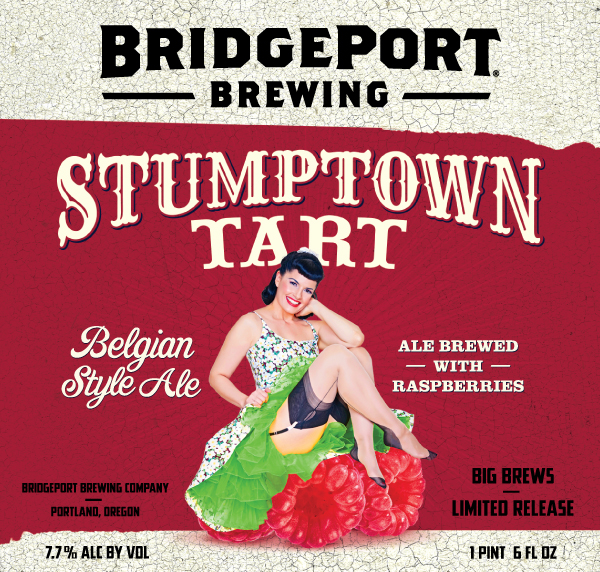 BridgePort's Stumptown Tart Stats:
IBUs: 15.0
ABV: 7.7%
OG: 17.0
Color: Pink
Ingredients: Pale malt, wheat malt, crystal hops, Belgian yeast and raspberry puree.
BridgePort Brewing
1313 NW Marshall Street
Portland, OR 97209