2017 Holiday Ale Festival Announces Its Brewery and Beer List
|
It's hard to believe that the Holiday Ale Festival is now in its 22nd year serving up the best in holiday cheer to all of Portland and beyond. The 2017 edition of the Holiday Ale Festival will return to Portland's Living Room at Pioneer Courthouse Square from Wednesday, November 29 – Sunday, December 3, 2017.
The Holiday Ale Festival is the Northwest's largest outdoor winter beer festival all taking place under tented, heated cover serving up 55 craft beers, ciders and meads in the main lineup, all of which are made or blended specifically for the event.
Regarded as one of the best beer festivals no matter which season of the year, each year the Holiday Ale Festival brings in over 14,000 attendees to downtown Portland. Under the tents festival attendees will take in Meet the Brewer events and dozens of specialty and rare beer tappings. The Holiday Ale Festival is highly regarded as presenting one of best lineups of winter beers and ciders anywhere in the nation.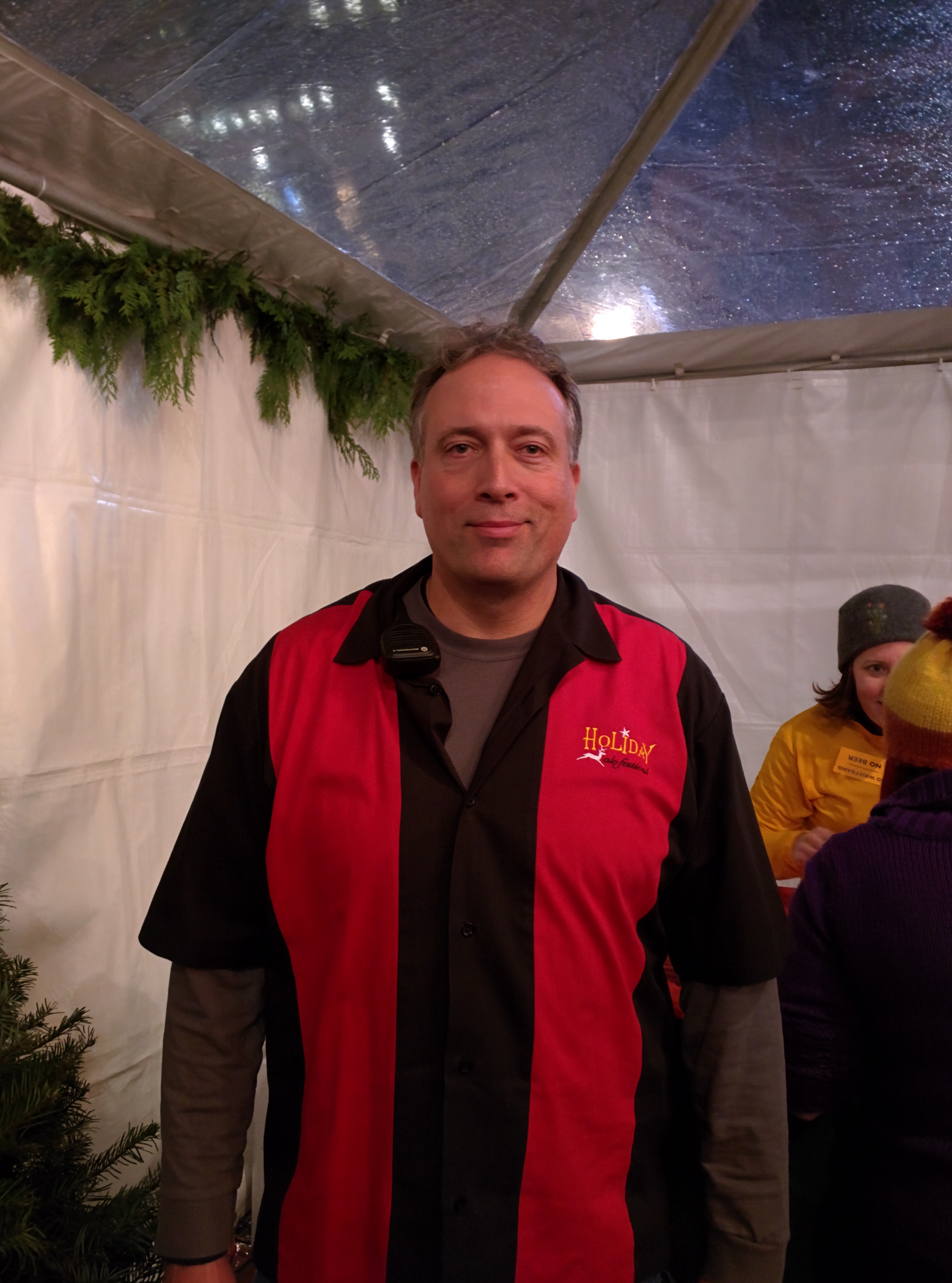 Holiday Ale Festival organizer Preston Weesner works with every brewery involved to make sure they send a product that has either been made or blended specifically for the event, or is a rare or vintage beer that isn't commonly tapped in the state. Here's a peek at the beer and cider list for the 2017 Holiday Ale Festival.
Holiday Ale Festival Brewery & Beer List:
2 Towns Ciderhouse (Corvallis, OR): Bourbon Barrel Nice & Naughty, Imperial Cider
54°40′ Brewing Co. (Washougal, WA): Restoration Bock, Dopplebock
Ancestry Brewing Co. (Tualatin, OR): Horchata Winter Stout, Spiced Stout
Anthem Cider (Salem, OR): Honey Crisp Holiday Spirit, Unfiltered Cider
Base Camp Brewing Co. (Portland, OR): Barrel Aged Imperial S'more Stout, Bourbon Barrel Imperial Stout
Bear Republic Brewing Co. (Cloverdale, CA): Olive the Other Reindeer, Dark Sour
Burnside Brewing Co. (Portland, OR): Owd Cappy Mac, Whiskey Barrel Aged Wee Heavy
Caldera Brewing Co. (Ashland, OR): Caldera Pink Peppercorn, Lavender, Chocolate Imperial Stout, Imperial Stout
Cider Riot! (Portland, OR): Winter Orchard Imperial Cider, Barrel Aged Cider
Collaborator (Portland, OR): Moore Holiday Ale, Imperial Bohemian Pilsner
Crooked Stave Artisan Beer Project (Denver, CO): 5 Golden Rings, Golden Sour Ale aged in White Wine Barrels with Mulberries, Candied Ginger, Orange Peel, and Muscat Raisins
Defeat River Brewery (Reedsport, OR): Firry Sweater, Experimental Ale
Deluxe Brewing (Albany, OR): Bock The Holidays!, Pilsenbock
Depoe Bay Brewing Co. (Depoe Bay, OR): Hakari nui pia, Wheat IPA
Drake's Brewing Co. (San Leandro, CA): Vin-Drak, Wine Grape Fermented Imperial Stout
Drinking Horse Brewing Co. (Clackamas, OR): Jack Horner's Imperial Porter, Imperial Porter
Ecliptic Brewing (Portland, OR): Cosmic Bog Sauce, Sour Brown Ale
Eel River Brewing Co. (Fortuna, CA): Conspiracy of Ravens, Chocolate Coconut Bourbon Barrel Aged Imperial Oatmeal/Milk Stout
Falling Sky Brewing (Eugene, OR): Cranberry-Juniper Gose, Cranberry-Juniper Gose
Finnriver Farm & Cidery (Chimacum, WA): Finnriver Disco Peach Cider, Sour Fruit and Spice Cider
Firestone Walker Brewing Co. (Paso Robles, CA): Single Hop Pale, Pale Ale
Fort George Brewery (Astoria, OR): Breaking the Mulled, Barrel Aged Spiced Strong Ale
Fremont Brewing (Seattle, WA): Winter Fuego, Imperial Winter Ale
Gigantic Brewing (Portland, OR): The Cat Ate My Stash & Pissed On The Christmas Tree, IPA
Gilgamesh Brewing (Salem, OR): Charlie Bruin, Oud Bruin
Golden Valley Brewery (McMinnville, OR): Tickle my Dickel, Whisky Barrel Aged Old Ale
Hopworks Urban Brewery (Portland, OR): Yule Only Live Once, Imperial Dessert Beer
Kells Brewery (Portland, OR): The Selfish Giant, Bourbon Barrel Aged Irish Stout with Cherries
Lagunitas Brewing Co. (Petaluma, CA): The Devil Came to Petuluma, Barrel Aged Blend
Logsdon Farmhouse Ales (Hood River, OR): Gnome For the Holidays, Bourbon Barrel Aged Belgian Strong Dark with Cocoa Nibs
Lompoc Brewing (Lompoc, OR): Top Shelf Dubbel, Old Sport, Belgian Dubbel
Migration Brewing (Portland, OR): Hazy Holidays Lager, Imperial Lager
Modern Times Beer (San Diego, CA): Black House Vanilla Macadamia Nut Latte, Oatmeal Coffee Stout with Vanilla and Macadamia Nuts
Montavilla Brew Works (Portland, OR): Severe Concussion IPA, Triple IPA
Natian Brewery (Portland, OR): Old Grogham, Wood Aged IPA
Nectar Creek (Corvallis, OR): Top Bar, Coffee Session Mead
Ninkasi Brewing Co. (Eugene, OR): These Hips Don't Lie, American Hopped Belgian Style Pale Ale with Rose Hips and White Pepper Corns
Oakshire Brewing (Eugene, OR): Florgia Borgia, Chocolate Milk Stout with Orange and Coffee
Pelican Brewing Co. (Pacific City/Tillamook/Cannon Beach, OR): Dark Hearted Blonde, Pale Stout
pFriem Family Brewers (Hood River, OR): Juicy Winter Ale, Winter Ale
PINTS Brewing Co. (Portland, OR): Christmas Down Under, Session IPA
Portland Brewing (Portland, OR): The Dude Abides, White Russian Imperial Stout
Portland Cider Co. (Clackamas, OR): Cranberry Sauced, Spiced Fruit Cider
Reverend Nat's Hard Cider (Portland, OR): Warm Abbey Spice with Cranberry, Cider
Rogue Ales (Newport, OR): Woodsman's Wine, Whiskey Barrel Aged Barleywine
Santiam Brewing (Salem, OR): Hibernal Druid, Braggot
Sixpoint (Brooklyn, NY): Mad Scientists Ale #22 Pina Colada, NE IPA with Experimental Hops
Stickmen Brewing Co. (Lake Oswego, OR): Tryptophantastic, Stout
StormBreaker Brewing (Portland, OR): Barrel Aged Kilt By Death, Barrel Aged Scotch Ale
Three Mugs Brewing Co. (HIllsboro, OR): Mrs Claus's Peppermint Desire White Chocolate Ale, Blonde Ale with White Chocolate and Peppermint
Trap Door Brewing (Vancouver, WA): Holidank, Double IPA
Vanguard Brewing Co. (Wilsonville, OR): Uninhibited, Imperial Oatmeal Stout
Wayfinder Beer (Portland, OR): Rotorvator Doppelbock, Doppelbock
Wild Ride Brewing (Redmond, OR): Twist & Shout Coffee Blonde Holiday Edition, Coffee Blonde Ale
Wolf Tree Brewery (Seal Rock, OR): The Barrel Aged Belgian Dip, Belgian Dark Strong
There will also be two food vendors, as well as self-guided cheese and beer pairings. Event hours are 11am to 9:30pm Wednesday through Saturday, and 11am to 5pm Sunday. To avoid lengthy lines, the festival encourages patrons to attend Wednesday, Thursday and Sunday. The Holiday Ale Festival is for ages 21 and over.
Advance general admission costs $35 and includes the 2017 tasting glass – a flexible BPA & BPS-free polymer "glass" – and 14 taster tickets, plus expedited entry all five days with the print at home ticket. General admission at the door is the same price, but only includes only 12 tickets and no expedited entry.
Advance VIP packages cost $100 and include the tasting glass, 30 taster tickets, special VIP beer lines with little to no waiting, exclusive VIP only vintage beers, bottled water, and express entry all five days. VIP tickets are limited to 250 and are not available at the door. Advance tickets are available at www.holidayale.com beginning today, October 20.
Once inside the festival, most full pours costs four tickets, and a taster costs one ticket. Certain limited release and special tappings may not be available in full pours, or may cost extra tickets. Additional taster tickets can be purchased for $1 apiece. Previous years' mugs or glasses will not be filled. Express re-entry requires a wristband and the 2017 tasting glass, and is subject to the festival's capacity.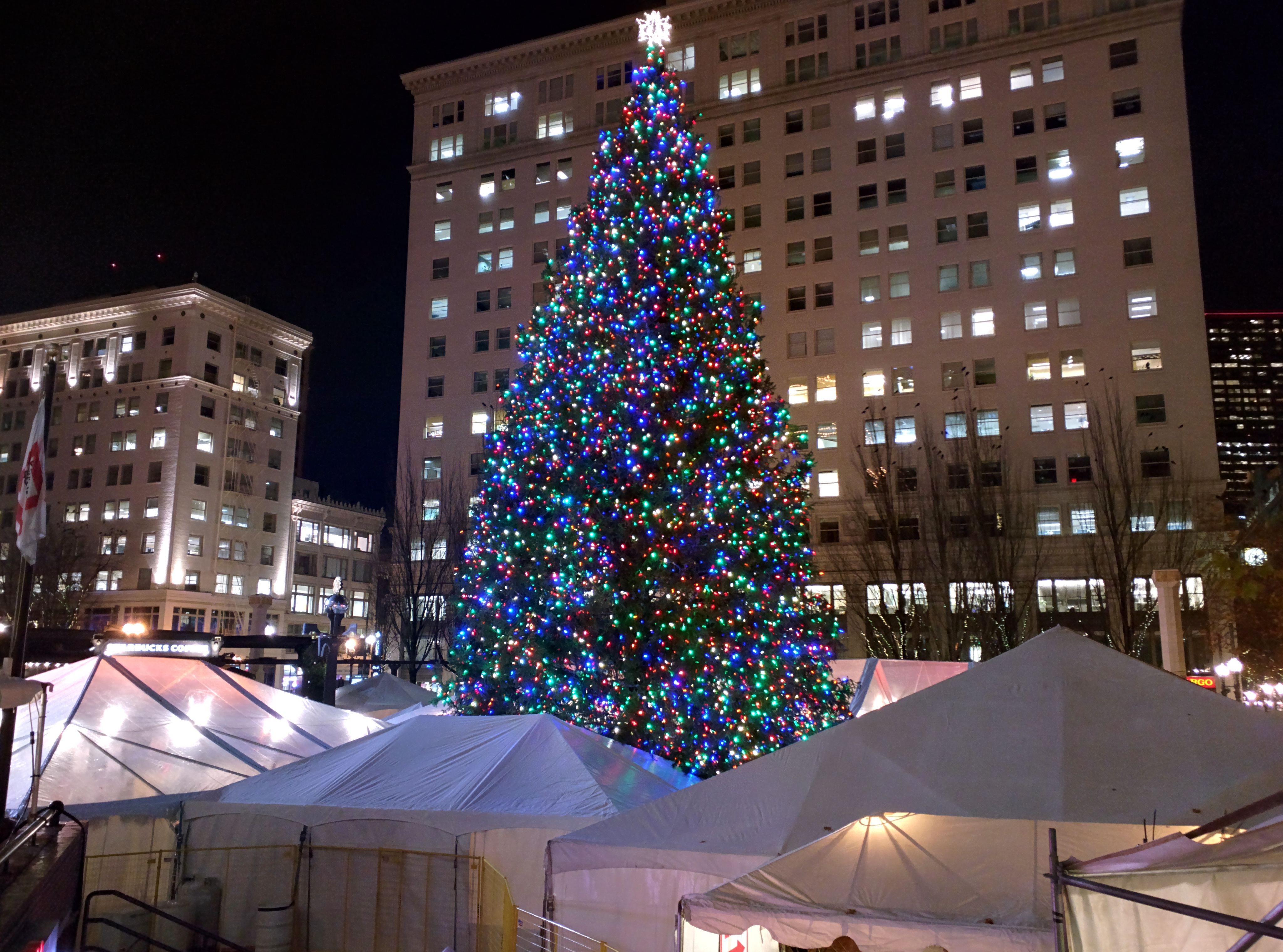 Designated drivers in a party of two or more may purchase a designated driver wristband for $10, which includes Crater Lake Soda or bottled water for the duration of the stay. One hundred percent of the money raised by the DD program, as well as from the onsite coat and bag check and the Crater Lake Soda Garden, is donated to the Children's Cancer Association's MyMusicRx Program, which delivers the healing power of music to the bedsides of children and teens facing cancer and other serious illnesses.
Holiday Ale Festival
Pioneer Courthouse Square
701 SW 6th Ave.
Portland, OR 97205