2017 Portland Fresh Hops Fest Announces Its Festival Beer List
|
Still searching for the best selection of Oregon brewed fresh hop beer? Look no further than the 14th annual Portland Fresh Hops Fest when it returns to Oaks Amusement Park from September 29-30, 2017.
Hosted by the Oregon Brewers Guild, organizers have unveiled the 64 fresh hop and wet hop beers that will be pouring during the two-day Portland Fresh Hops Fest. Hours of the fest are 5:00-9:00pm on Friday and Noon-8:00pm on Saturday.
The Portland Fresh Hops Fest also features a homebrew demonstration by Portland U-Brew on Saturday until 5:00pm along with merchandise and information from Brewed Oregon, Illustrated Playing Cards, Oregon Hop Commission, Shirts on Tap, and Timbers Army No Pity Van. There will also be on-site food from Urban German Grill and HOTLIPS Pizza.
2017 Portland Fresh Hops Fest Beer List:
13 Virtues Brewing – Al Lupo
Agrarian Ales – Richard Fuggle
Alameda Brewing Co. – Solar Cones Fresh Hop
Ancestry Brewing – Best Coast
Back Pedal Brewing – Fresh Hop Tropic Thunder
Baerlic Brewing Co. – Pioneer Fresh Hop ESB
Base Camp Brewing Co. – Fresh Hop IPA
Breakside Brewery – Fresh Hop Cascade Wanderlust
BridgePort Brewery – BridgePort Hop Harvest
Buoy Beer Co. – A Tide That Bines
Burnside Brewing Co. – TBA
Caldera Brewing Co. – Caldera Fresh Hop Pale Ale
Cascade Brewing – SLAMARILLO
Cascade Lakes Brewing Co. – Sizzle Juice
Coalition Brewing Co. – Wet Fruit
Coin Toss Brewing – Catch A Tiger
Crux Fermentation Project – Dr. Jack
Deluxe Brewing – Deluxe Fresh Hop Pils
Deschutes Brewery – Fresh Hop Mirror Pond
Double Mountain Brewery – Killer Green
Ecliptic Brewing – Altair Fresh Hop Pale Ale
Falling Sky Brewing – Nuggets of Wisdom
Fat Head's Brewery – Fresh Hop Fourhundo
Fort George Brewery – Fresh IPA
Full Sail Brewing Co. – Eight Pound Pale
Funhouse Brews – Jennifer's Ale
Golden Valley Brewery – Amarillo Fresh Hop
GoodLife Brewing Co. – Fresh Hop Descender
Great Notion Brewing – Juice Jr. (Wet Hop)
Grixsen Brewing Co. – Fresh Hop Saison
Hopworks Urban Brewery – Total Blackout
Kells Brewery – Captain Kolsch
Klamath Basin Brewing Co. – Fresh Hop IPA
Leikam Brewing – Misty Mountain Fresh Hop Pale
Little Beast Brewing – Fresh Hop Fera
Lucky Labrador Brewing Co. – Red Sky at Night
Mazama Brewing – Green Magic
McMenamins Breweries – Thundercone Fresh Hop Ale
Migration Brewing  – Fresh Outta Portland IPA
Montavilla Brew Works – Pocketful of Goschies!
Mt Tabor Brewing Co. – Lupulin Communion
Old Market Pub and Brewery – Der Herbst
Ordnance Brewing – Citra Fresh RX
Oregon City Brewing – Dark 'Vator
pFriem Family Brewers – Mosaic Fresh Hop Pale
PINTS Brewing Co. – Fresh & Funky IPA
Pyramid Brewing Co. – Outburst Fresh Hop IPA
RiverBend Brewing – Straight Outta Crosby
Rock Bottom Brewery – Amarillo by Mornin'
Rogue Ales – Oregon Uncommon
Royale Brewing Co. – Fresh Prints
Rusty Truck Brewing Co – Simcoe Fresh Hop IPA
Sasquatch Brewing Co. – Nugget Me Another
Stickmen Brewing – Haze-C
StormBreaker Brewing – Fresh Hop House Martell
Sunriver Brewing Co. – D'Bomb Fresh Hop IPA
Three Creeks Brewing Co. – Cone Lick'r
Three Mugs Brewing Co. – Fresh You, Too!
Vanguard Brewing Co. – Cascade Redhead
Widmer Bros. Brewing – Rada Strata
Wild Ride Brewing – 3 Sisters Wet Hopped Red Ale
Worthy Brewing  – TBD
Yachats Brewing – Fresh Hop Amarillo Sour
Zoiglhaus Brewing Co. – Oktoberfresh
A full beer list can be viewed with descriptions along with being sorted by clicking HERE.
Admission to the Portland Fresh Hops Fest is free. Drinking packages cost $20 for a souvenir tasting glass and eight drink ticket and may be purchased online at www.oregoncraftbeer.org/freshhopsfest. Additional tasting tickets are sold on-site for $2 each or four for $5. Event parking is free. Kids are welcome on Saturday until 5:00pm but remember that Oaks Amusement Park is closed that day, but the train will be running from Noon-5:00pm for kids accompanied by adults. Well-behaved dogs on leashes are welcome.
The Oregon Brewers Guild organizes the Portland Fresh Hops Fest each year. Learn more at www.oregoncraftbeer.org; follow the Oregon Brewers Guild on Twitter, Facebook and the Portland Fresh Hops Fest Facebook Event (#freshhops and #oregoncraftbeer).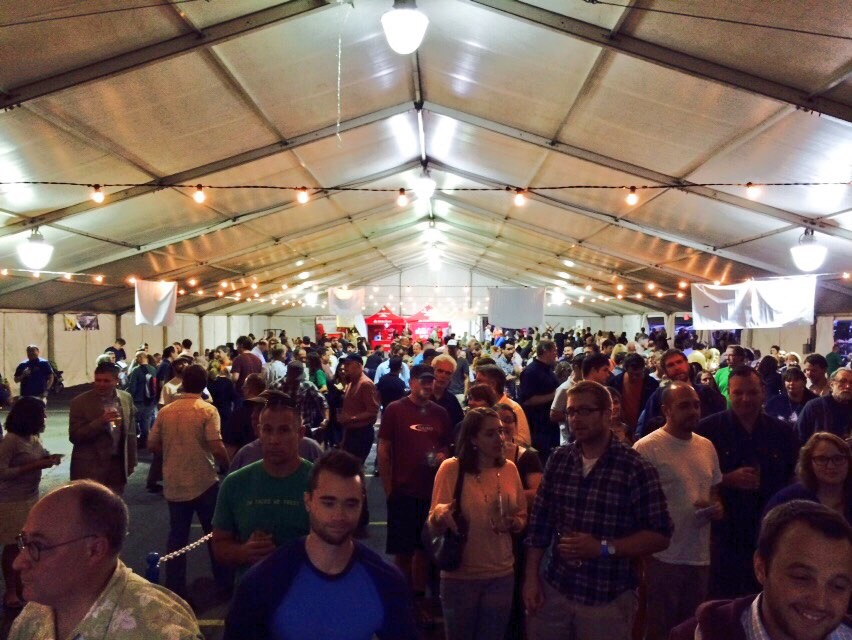 Oaks Amusement Park
7805 SE Oaks Park Way
Portland, OR