2019 Bend Brewfest Brewery & Beer List
|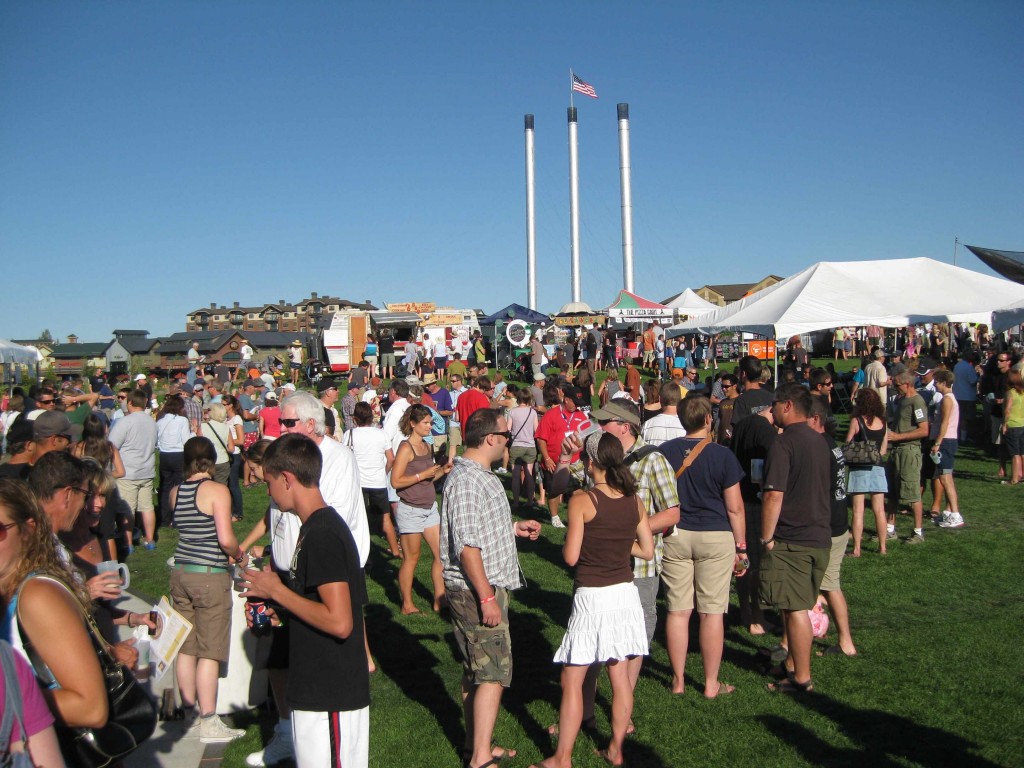 Wild fires kept the air a bit smoky during last year's Bend Brewfest but the beer kept flowing all three days to the delight of the attendees. The 2019 Bend Brewfest will return to the Les Schwab Amphitheater in Bend, Oregon's Old Mill District from August 15-17.
The three-day beer festival will feature around 70 beverage producers pouring over 200 beers, ciders and wines from around the region and country. Each provider will pour at two selections while many will also provide an X-Tap Beer that is a rare offering that will be poured at select times during the festival.
"There are several very special beers being featured in our X-Tap tent this year that patrons will be ecstatic about," said Marney Smith, director of the festival in a statement. "We love that our annual festival is the place to find the most unique beers from our region, and we look forward to another year of celebrating craft beer culture with our community."

Founded in 2002, the Bend Brewfest has raised $85,000 dollars for charity since its inception. Money raised in 2019 will serve the following four nonprofit organizations: Deschutes River Conservancy, Big Brothers Big Sisters of Central Oregon; Neighbor Impact; and Bend Fire Department's Community Assistance Program.
Admission into the Bend Brewfest is free. For beer tasting the purchase of a 2019 Brewfest tasting mug for $20 is required that includes five tasting tokens. Limited edition Deluxe mugs are available for $30 and include 10 tokens. Additional tokens are sold in packs of five at $5 each.
Here's a preview of the breweries and beers that will be poured during the three day Bend Brewfest.
2019 Bend Brewfest Beer List: (XT = X-Tap Beer)
10 Barrel Brewing Company
Profuse Juice Hazy IPA
Shaken Not Stirred
XT: Castaña 
21st Amendment Brewery
SOMA IPA
Spark Ale
Ancestry Brewing
Best Coast IPA
Irish Red
XT: Barrel Aged Triple Cherry Vanilla 
Anderson Valley Brewing
AVBC Framboise Rose Gose
AVBC Brut IPA
XT: Anderson Valley Thribble Currant 
Arch Rock Brewing Co.
Gold Beach Lager
Pistol River Pale Ale
AVID Cider Co.
Watermelon Rhubarb
AVID Summer Seasonal TBD
XT: Tropical Smash 
Bale Breaker Brewing Company
Hop Country Session IPA
Sesiones Del Migrantes Mango IPA
Barbarian Brewing
Mo' Hops, Mo' Problems
Juniper Gose
XT: Cry Of The Blackbirds 
Bend Brewing Company
Ching Ching
Alpha Blonde
XT: Chocolate Cherry Trade War Export Stout 
Block 15 Brewing Company
The DAB Lab, Desert High
Wonka's Peach Wit
XT: Pyrus 
Boneyard Beer
Hop Venom
Sticky Zwickel
Breakside Brewery
Passion Fruit Sour
Thirst Trap
Bridge 99 Brewery
Fly Rod IPA
Tiramisu Porter
XT: Blood Knot Hef 
Cascade Lakes Brewing Company
OG Kush
25th Anniversary IPA
XT: TBA 
ColdFire Brewing
Cumulus Tropicalus
46 Stone
XT: Seeds Of Infinity 
Craft Kitchen And Brewery
Mosaic Pale Ale
Granola Porter
XT: Craft Kitchen And Brewery 
Crux Fermentation Project
Vicky's Gone Troppo
Apricot Golden
XT: [BANISHED] Better Off Red 
Deluxe Brewing Company
Resurrection Pre-Prohibition Pilsner
Deluxe Oktoberfest
XT: Lil' Pucker 
Deschutes Brewery
Teensy Weensy
Marionberry Lavender
XT: TBD 
Double Mountain
Double Mountain And Barley Browns Collab IPA
Double Mountain Rosé Cider
XT: Barrel Aged Bret Saision 
Ecliptic Brewing
Io Experimental IPA
Tucana Tangerine Sour Ale
XT: Peach For The Stars 
Eel River Brewing Company
Hazy By Nature
Craft Clarity Meyer Lemon
Ex Novo Brewing Company
Cactus Wins The Lottery
Aperture
Firestone Walker Brewing
Mind Haze IPA
Rosalie Rose Beer
Forbidden Fruit LLC.
Suns Out Saison
Strawberry Haze
XT: Cellar Series – McIntosh Single Varietal 
Fort George Brewery And Public House
City Of Dreams
3-Way IPA – 2019
Fremont Brewing
Sky Kraken
Lush
XT: Bourbon Barrel Aged Dark Star: Coffee Edition (2018) 
Georgetown Brewing Co.
Meowsa! DIPA
Fruit Gose
Gigantic Brewing
The Tighten UP
Gigantic IPA
XT: Pipewrench 
Gilgamesh Brewing
Hazy IPA
Mamba
GoodLife Brewing Co.
Brewer's Breakfast
Sippy Cup
XT: Man Of The Hour 
Ground Breaker Brewing
IPA No. 5
Olallie
Hop Valley Brewing
Cryo Stash IIPA
Bubble Stash IPA
Immersion Brewing
River Rider
Sexy Girlfriend
XT: Sour Bunch 
Incline Cider Company
Incline Hopped Cider
Incline Lemongrass Cider
XT: Incline White Peach Cider 
Klamath Basin Brewing Co.
Backroad Vanilla Porter
Hazy Imperial IPA
XT: Belznickle Belgian Stout (2018 Vintage) 
Kobold Brewing
Krazy Haze IPA
Kobold Bohemian Pilsner
Laurelwood Brewing Company
Fruited IPA
Summertime Pilsner
Lompoc Brewing
C-Note IIPA
Proletariat Red
XT: Viognier Saison 
Migration Brewing
Straight Outta Portland IPA
Big Hazy Kane
XT: Maltbec Nouveaux 
Modern Times Beer
Critical Band IPA
Fruitlands Rosè Edition
Monkless Belgian Ales
Meet Your Maker
Capitulation
XT: Curtain Closer 
Oakshire Brewing
Reclaim The Fame
Smoke'N Hell
XT: Hellshire IX 
Occidental Brewing
Edel-Hell
Hefeweizen
Ordnance Brewing
Canopy Shaker
Bloops
XT: Blackfiskey 
Pelican Brewing Company
Pelican Pilsner
Can't Get No Stratisfaction
pFriem Family Brewers
Hazy Guava IPA
Rauch Helles
XT: La Mure 
Plank Town Brewing Co.
Blue Pool Pilsner
Alpine Trail Pale Ale
Porter Brewing Co.
Irish Redmond Ale
Best Bitter
RiverBend Brewing
Capri Fun
They Serve Mojito's In Hell
XT: Moriturus 2018 (II) 
Rogue
Batsquatch Hazy IPA
Honey Kolsh
Rusty Truck Brewing Co.
Double Berry
Fender Bender Amber Ale
Santiam Brewing Company
Captain Pit – The Cherry Pirate
Peach Fuzz
XT: Framboise De Willamette 
Schilling Hard Cider
Excelsior
Grapefruit And Chill
XT: Imperial Pear 
Side A Brewing Company
The Fifth Horsemann Black Lager
In The Yard Pilsner
XT: Colonial Fire 18th Century Ginger Beer 
Sierra Nevada Brewing Co.
Oktoberfest Collab With Bitburger
TBD
Silver Moon Brewing
Tropic Zombie
Bangarang
XT: Dark Tranquility 
Spider City Brewing
Pavuchky Polish Wheat
Sneaky Deer Hazy Double IPA
Sunriver Brewing Company
Everything's Right Hazy IPA
Trending Upwards German-Style Pilsner
XT: Mi Casa Es Su Casa Mexican Mocha Barrel Aged Blend 
Three Creeks Brewing Company
Stonefly Session Ale
Crowdpleaser IPA
XT: Caskmates: Pear Brandy & Chardonnay, Barrel-Aged Saison 
Tumalo Cider Co
Huckleberry Lemon
Prickly Passion
Virtue Cider
Virtue Rosé Cider
Virtue Washington Cherry
Walking Man Brewing
BEND The Knee
Homo Erectus
XT: 2018 Jaywalker 
Wandering Aengus Ciderworks And Anthem Cider
OMSI Rose Cider
Anthem Cider Watermelon
XT: JUN 
Wild Ride Brewing
Nut Crusher Peanut Butter Porter
Tarty To The Party Cherry Lemon Sour Ale
XT: Red Ryeno Barrel Aged Imperial Red Ale 
Wolf Tree Brewery
Joe Pechie
Widespread Haze
XT: Rake The Forest 
Worthy Brewing
Sol Power Pilsner
Experimental Hop Session IPA (Bend Brew Fest Exclusive)
Yakima Craft Brewing Co
1982 Amber Ale
Wizrd IPA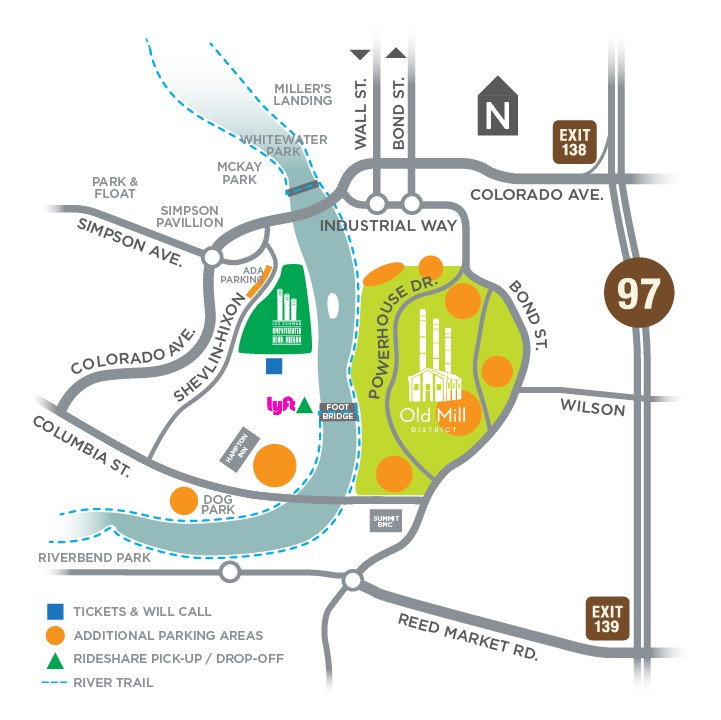 Volunteers are needed for the Bend Brewfest as it is currently seeking volunteers to pour beer during various three to four hour time slots throughout the three days of the event. Volunteers will receive Brewfest swag and tokens for the event in exchange for their time: https://bendbrewfest.com/volunteer.html
Bend Brewfest takes place from August 15-17, 2018. On Thursday the fest will take place from 4:00pm-11:00pm and on Friday and Saturday from Noon-11:00pm. The fest is family friendly each day until 5:00pm.

Les Schwab Amphitheater
344 SW Shevlin-Hixon Drive
Bend, OR 97702