2021 American Craft Beer Week Returns in May
|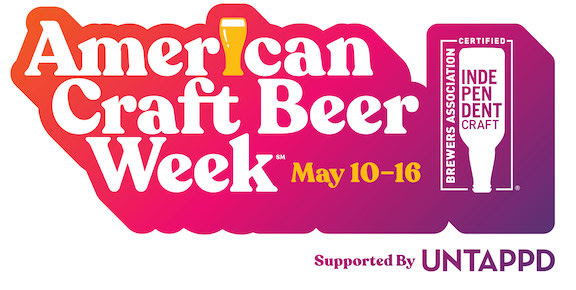 In mid-May, the Brewers Association returns with its 15th Annual American Craft Beer Week (ACBW). Taking place from May 10-16, 2021, this year's beer week is sponsored by the popular social media app Untappd. This annual beer week brings craft beer fans out to visit brewery taprooms and brewpubs to seek out their favorite beer or to discover a new offering. And since we are still in the midst of the COVID-19 pandemic and local regulations will vary, beer will be able to be enjoyed on-premise, to-go or possibly via home delivery.
Following a tumultuous year, this year's holiday honors the creativity, community, and resiliency of America's small and independent craft breweries. As loyal community supporters, many craft breweries responded quickly to the pandemic by producing hand sanitizer for local first responders and collaborating to raise funds for frontline, restaurant, and hospitality workers. U.S. craft breweries are community gathering places and job creators as well. According to the 2020 Brewers Beer Industry Production Survey, the industry provided over 138,000 direct full and part-time jobs this past year.
"America's small and independent craft breweries have faced many hardships over the past year," said Ann Obenchain, marketing director of the Brewers Association, in a statement. "When COVID-19 hit, many breweries were forced to change their entire business models overnight. Fast forward to 2021, and we are finally able to envision gathering with friends and family at local breweries again, now or in the near future. This year's American Craft Beer Week, more than ever, is about more than just delicious craft beer; it's about community and showing support for hometown taprooms, brewpubs, and breweries."
With 85% of legal drinking age adults living within 10 miles of a brewery, almost every American has a local brewery they can support. Consumers can look for the Independent Craft Brewer Seal as a way to help identify beer brewed by small and independent brewers.
During past years, ACBW is seldom celebrated by our local breweries in the Pacific Northwest as only a handful will join in on the festivities. That said to locate breweries that will be celebrating with new beer releases, discounts, and other creative ideas. Use this map to find a local independent craft brewery to support American Craft Beer Week.