21st Annual Holiday Ale Festival Returns November 30 – December 4
|
We are fast approaching the holiday season and the premiere winter beer festival, Holiday Ale Festival held underneath clear roofed tents that offer views of the Portland Christmas Tree at Pioneer Courthouse Square. This year the annual celebration of winter beers comes of age with its 21st annual edition that will take place from Wednesday, November 30 through Sunday, December 4 each day beginning at 11:00am.
The Holiday Ale Festival was founded in 1995 as the Winter Ale Festival that ran for two years and then took a year off in 1997. When the festival returned the following year in 1998 it went by the current name and has grown ever since bringing in 14,000 visitors per year. The 2016 edition will feature 53 beers and ciders ranging in styles that will be pouring on the regular festival floor. Festival organizers describe the beers and ciders featured as being rich, robust and full of complex flavors. To bring in craft beer fans the festival organizers work with each brewery and cidery to make sure that its offering is unique to the festival itself or is a rare or vintage selection.
Entry to the 2016 Holiday Ale Festival is the same as it was last year. Advance general admission costs $35.00 and includes the 2016 tasting glass and 14 taster tickets, plus expedited entry all five days with the print at home ticket. General admission at the door is the same price, but includes only 12 tickets and no expedited entry. A full mug of beer costs four taster tickets, and a taster costs one ticket. Certain limited release and special tappings may not be available in full pours, or may cost additional tickets. Additional tickets can be purchased for $1.00 each.
For those with a bigger beer budget the festival returns with its Advance VIP packages. Each VIP ticket costs $100.00 and includes the tasting glass, 30 taster tickets, special VIP beer lines with little to no waiting, exclusive VIP only vintage beers and aged cheese, bottled water, and express entry all five days. VIP tickets are limited to 250 and must be purchased in advance. Advance tickets sales are available at http://holidayale.com/advance-tickets.php until 10:00am PST on November 30.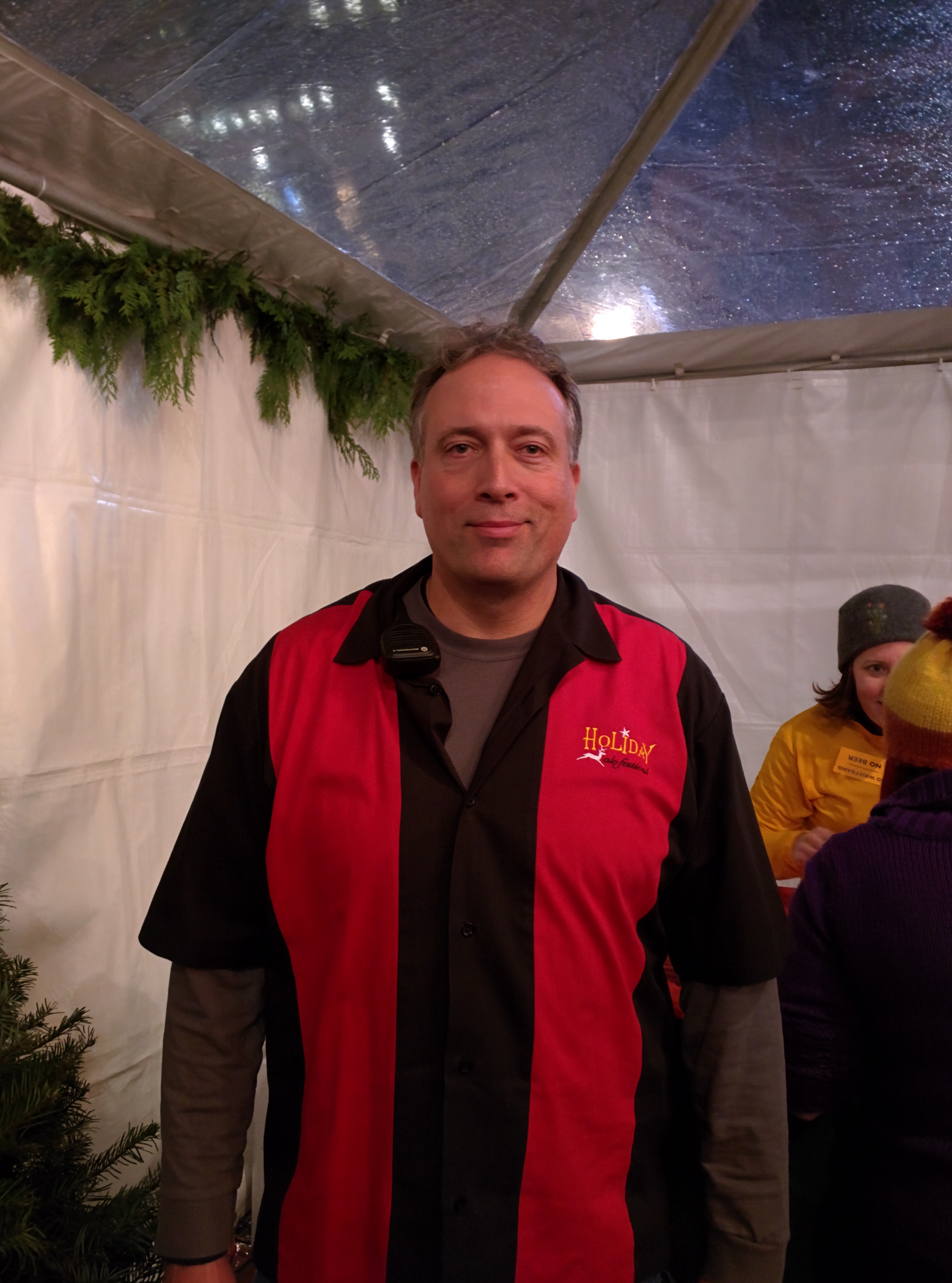 Here are some interesting stats provided to us by the festival organizers. There are nearly as many beer styles represented, as there are breweries. The lowest alcohol products is 54° 40′ Brewing Co.'s de Prune Oud Bruin at 5.2% ABV as the highest alcohol product is Falling Sky's Satyr Sauce Smoked Barleywine at 12.5% ABV. Speaking of big beers and ciders, 35 are at 8% ABV or higher.
Listed below is a rundown on the 53 offerings on the regular festival floor. A downloadable spreadsheet with full descriptions and stats is available here.
2 Towns Ciderhouse, Bourbon Barrel Nice & Naughty, Imperial Cider
54° 40′ Brewing Co., Hill de Prune Oud Bruin, Oud Bruin
Alameda Brewing Co., Papa Noel's Special Reserve, Session Barrel-Aged Porter
Bear Republic Brewing Co., 'Twas the Beer Before Christmas, Blended Dark & Sour Ale
BridgePort Brewing, Ruckus, Wheat Wine
Burnside Brewing Co., Keg Nog, Whiskey Barrel-Aged Barley Wine
Collaborator, Bacon Cigar, German Rauchbier
Deschutes Brewery, Ginger Cookie Imperial Porter, Spiced Imperial Porter
Double Mountain Brewery, Rennervate, Imperial Stout with coffee, vanilla beans and cinnamon sticks
Drake's Brewing Co., Grape Fermented ZinDrakonic, Barrel-Aged Imperial Stout
Drinking Horse Brewing Co., Yule's Gold Belgian Holiday Ale, Belgian Golden Ale
Ecliptic Brewing, Barrel-Aged Tarantula Belgian Dubbel Ale, Belgian Dubbel Ale
Eel River Brewing Co., Glass Trees, Oaked Kristall Märzen
Falling Sky Brewing, Satyr Sauce Smoked Barleywine, Smoked Barleywine
Fat Head's Brewery, Master Bolt of the Solstice, Pinot Noir Barrel-Aged Belgian Golden Strong
Feckin Brewery, Feckin De Los Muertos, Whiskey Barrel-Aged Espresso Horchata Porter
Finnriver Farm & Cidery, Winter Ruby Cider, Oak Aged Cranberry Cider
Firestone Walker Brewing Co., F1, Double IPA
Fort George Brewery, All Seeing Pie, Barrel-Aged Stout
Fremont Brewing, "S'mores" Bonfire Ale, Winter Ale
Full Sail Brewing Co., Bourbon Aged Northwest Red, Bourbon Barrel-Aged Imperial Red Ale
Gigantic, Holy Cow!, Imperial Milk Stout
Golden Valley Brewery, Dundee Bypass, Barrel-Aged Imperial Porter
Heater Allen Brewing, H-E-Doppelsticke, Doppelsticke
Hopworks Urban Brewery, Cedarcalifragilistic, Imperial Winter Ale
Lagunitas Brewing Co., Barrel-Aged Imperial Pils with Ginger and Quenepa, Barrel-Aged Imperial Pilsner
Lompoc Brewing, Cherry Christmas, Belgian Style Farmhouse Ale
Loowit Brewing Co., Snow's Ghost, Golden Stout
Mazama Brewing Co., Kind of a Fig Deal, Aged Belgian Brown Ale
McMenamins Edgefield Brewery, Lord of Misrule 2016, Imperial Stout
Migration Brewing, Bridgetown IPA, West Coast IPA
Natian Brewery, Communion, Imperial Red Ale
Nectar Creek, Top Bar, Bourbon Barrel-Aged Coffee/Bourbon Mead
Ninkasi Brewing Co., Griswold, Imperial Red Ale with Cherry
No-Li Brewhouse, #WhiteRazzMocha, Coffee Stout
Old Town Brewing, Kris KringAle, Spiced White Ale
Ordnance Brewing, Imperial Bloops, Imperial Fruit Wheat Ale
Pelican Brewing Co., Abuela's Casita, Holiday Stout
Plank Town Brewing, Bock the Halls, Honey Doppelbock
Portland Cider Co., Holiday Juniper, Cider
Reverend Nat's Hard Cider, Where Apple Pies Go When They Die, Cider
Rogue Ales, Piece de RYEsistance, Rye Whiskey Barrel-Aged Belgian Dubbel
Ross Island Brewing with Culmination Brewing, Ross Island Strong Ale, English Strong Ale
Rusty Truck Brewing Co., Milk Chocolate Baltic Porter, Baltic Porter
Santiam Brewing, Pirate Stout: Govna's Reserve, Rum and Bourbon Barrel-Aged Stout
Sixpoint Brewery, Big Raspy Bourbon, Barrel-Aged Russian Imperial Stout with Raspberries
StormBreaker Brewing, Zero Visibility, Winter Warmer
Vanguard Brewing Co., Lee's Coconut Snowballs, American Strong Ale
Wandering Aengus Ciderworks, Golden Door, Cider
Widmer Brothers Brewing, Winter Happiness, Doppelsticke Alt/Glühbier
Wolf Tree Brewery, King of the Forest, Oud Bruin
Worthy Brewing, French Press Dark Saison, Black Saison with Coffee
Zoiglhaus Brewing/PINTS Brewing, A Tipple for Nikolaus, Barrel-Aged Fruit and Spice Lager
In addition to these 53 beers and ciders there will also be an additional 16 or so limited special tapping beers that will be available Wednesday through Saturday, typically tapped at two different times per day at the three main bars. These tappings will be promoted via the HAF website and its social media.
There will also be an additional number of limited specialty beers offered at Meet the Brewer events on Wednesday through Friday at the upstairs Brewer's Lounge. These events will also be promoted via the website and social media.
Once again there will be a couple of onsite food vendors. Urban German Grill is already lined up with another one that will be selected in the coming weeks. There are also fresh roasted nuts and self-guided cheese pairings available.
On Sunday, December 4, the annual Sunday Beer Brunch returns for an intimate, exclusive beer tasting and feast. Now in its 13th year, the Sunday Beer Brunch takes place from 11:00am until 1:00pm on the upper level of Pioneer Courthouse Square.
The Sunday Beer Brunch highlights rare beers, some in large format bottles that are poured for all in attendance. Here's a preview of some of the beers to expect.
Patrons are greeted at check-in with a warm Liege-style Belgian waffle to help take off the chill. Avec Les Bons Voeux, Brasserie Dupont's imperial saison, will be immediately pouring at the draft station to complement the sweet caramelized sugars in the waffle. The brunch also features an array of European pastries, cured meats and artisanal cheeses to accompany the beer. Brunch tickets cost $75.00 each and can be purchased here.
The Holiday Ale Festival is more than just meeting with friends to drink craft beer, the festival is also a fundraiser for the Children's Cancer Association. Last year the festival donated $20,000 to the organization. The festival matches, then quadruples, the proceeds from all designated driver tickets, the soda garden, the bag and coat check and raffle sales. These proceeds are then donated to the Children's Cancer Association's MyMusicRx program, which delivers the healing power of music to children battling cancer and their families.
Each day the festival opens at 11:00am for those that are 21 years of age or older and lasts until 10:00pm except for the final day when it closes at 5:00pm. To avoid lengthy lines, festival organizers recommend attending Wednesday, Thursday and Sunday.
Follow the Holiday Ale Festival on Twitter, Facebook, Instagram, and Snapchat at @HolidayAleFest. Stay up to date on all of the happenings at the festival's Facebook Event Page. The preferred social media hashtag is #HAF16.
Pioneer Courthouse Square
701 SW Sixth Ave.
Portland, Oregon